Grandpa visited in early March and repaired a clogged drain. The kids watched.
Grandpa showed them his new shop in their backyard.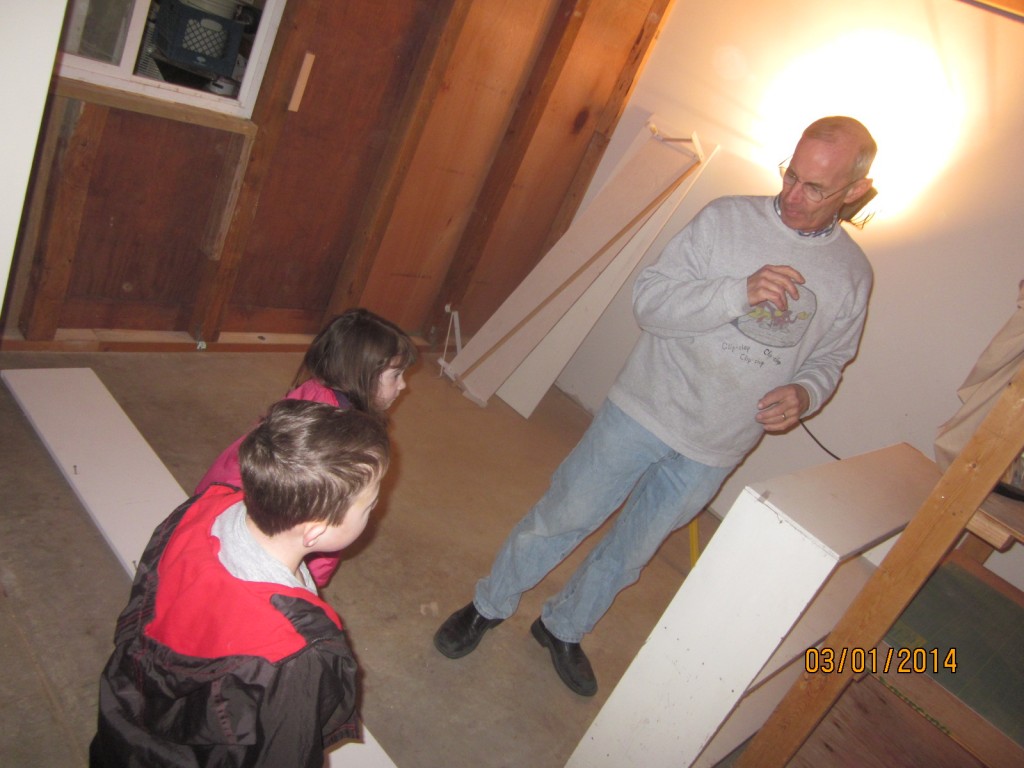 And Grandma read a book to them.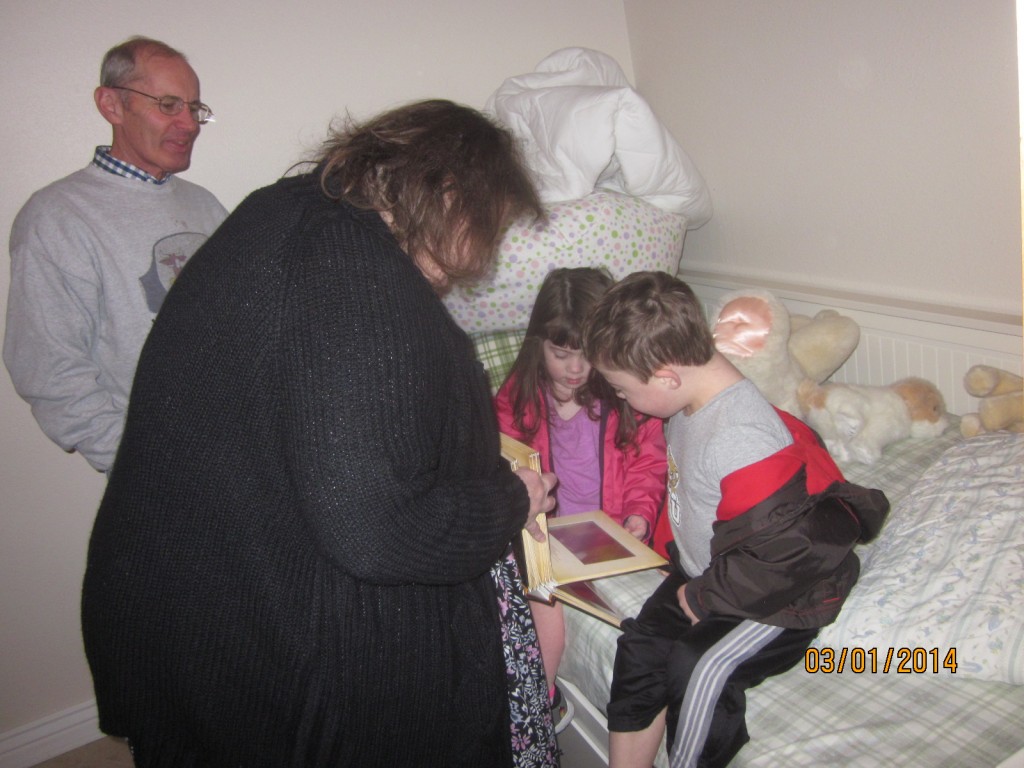 Wes is 6 1/2 years old. He likes to do things by himself. This teaches me much patience, as it is always easier and faster to do it myself, but not better for him. Lately he has been practicing making his own bagel in the morning. I help him put it in the toaster, but he can get the plate, knife, and cream cheese out himself and spread the cream cheese (with a little help). I'm proud of him.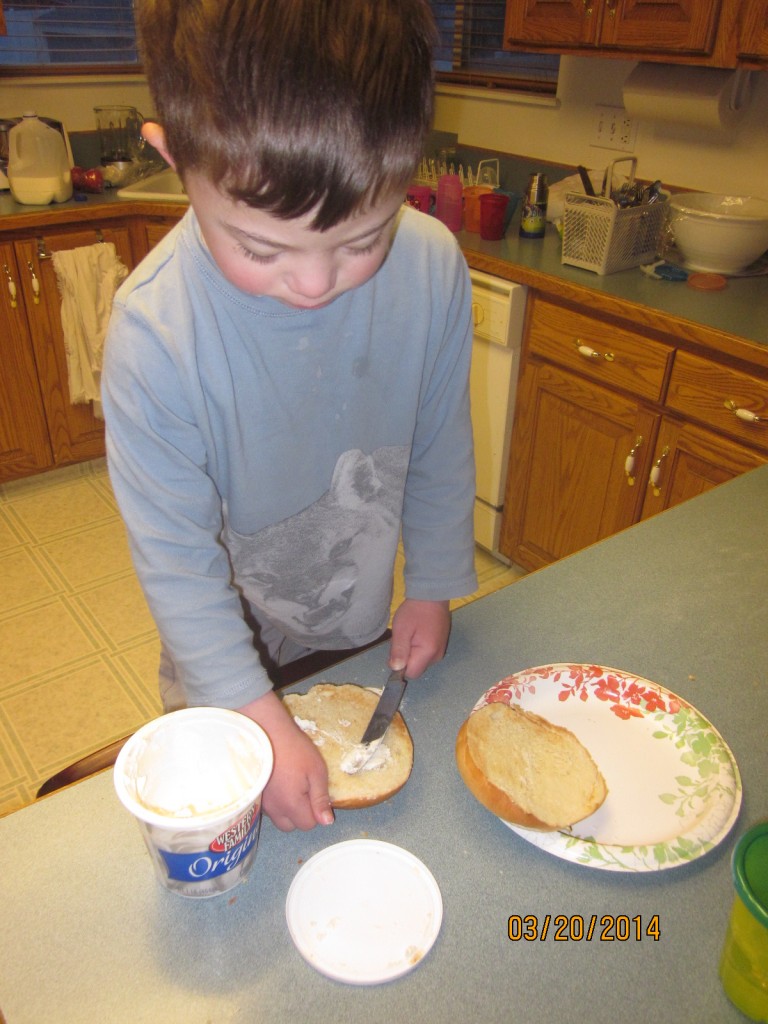 Recently Carissa wanted breadsticks for lunch. I told her we'd have to make them, and she said that was OK with her. Thankfully I have a nice 1-hour bread recipe. She liked helping shape the breadsticks and putting them on the pan to bake. She likes to help in the kitchen and sometimes comes in while I'm cooking dinner and says, "Mom, can I help?" She especially likes stirring and tasting (especially when I'm not looking).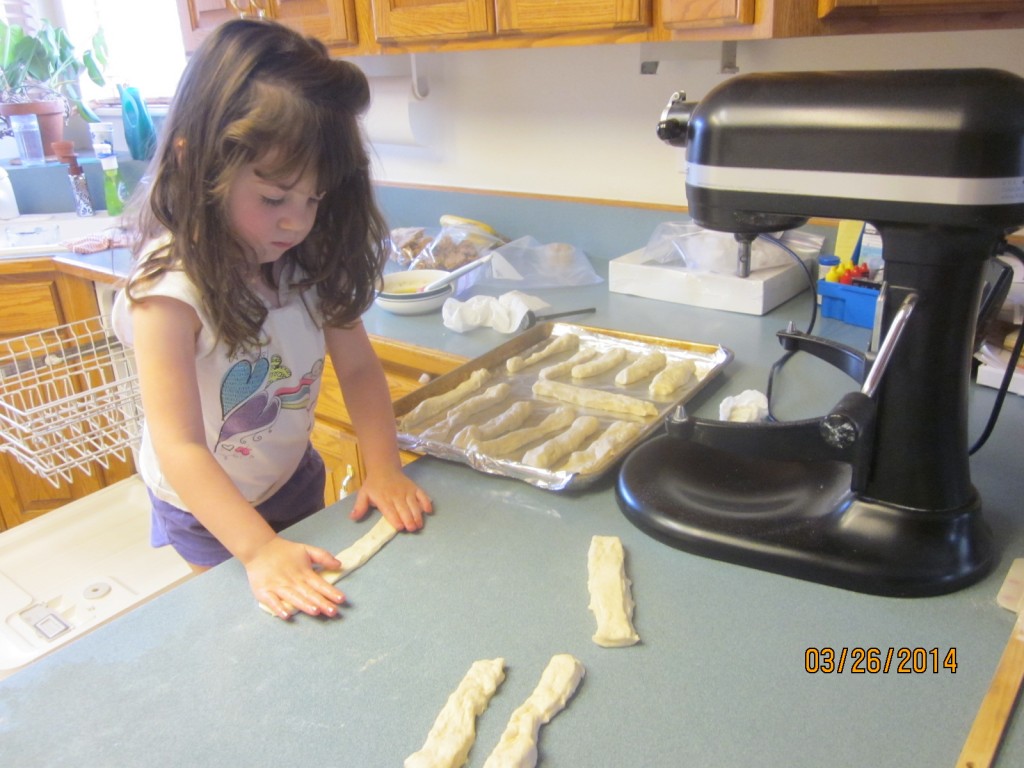 We made some no-bake cookies (which usually have peanut butter in them) from Biscoff cookie spread, which is nut-free.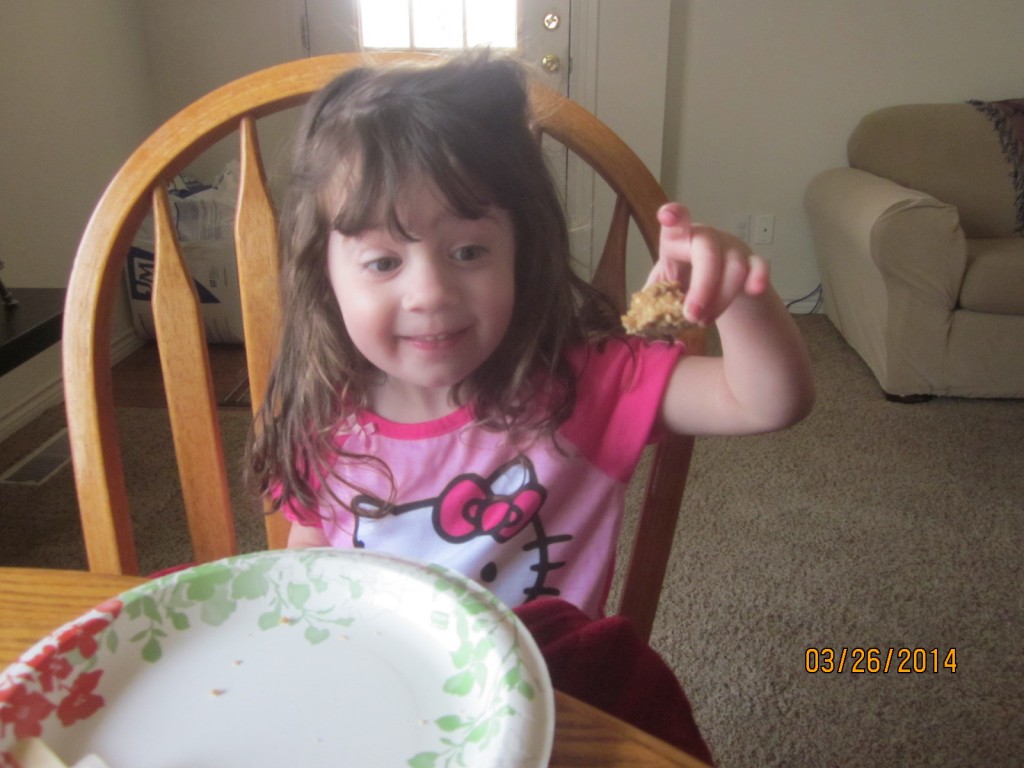 Elizabeth likes to eat but it is messy.
In March we visited a yummy cupcake shop with Aunt Tara.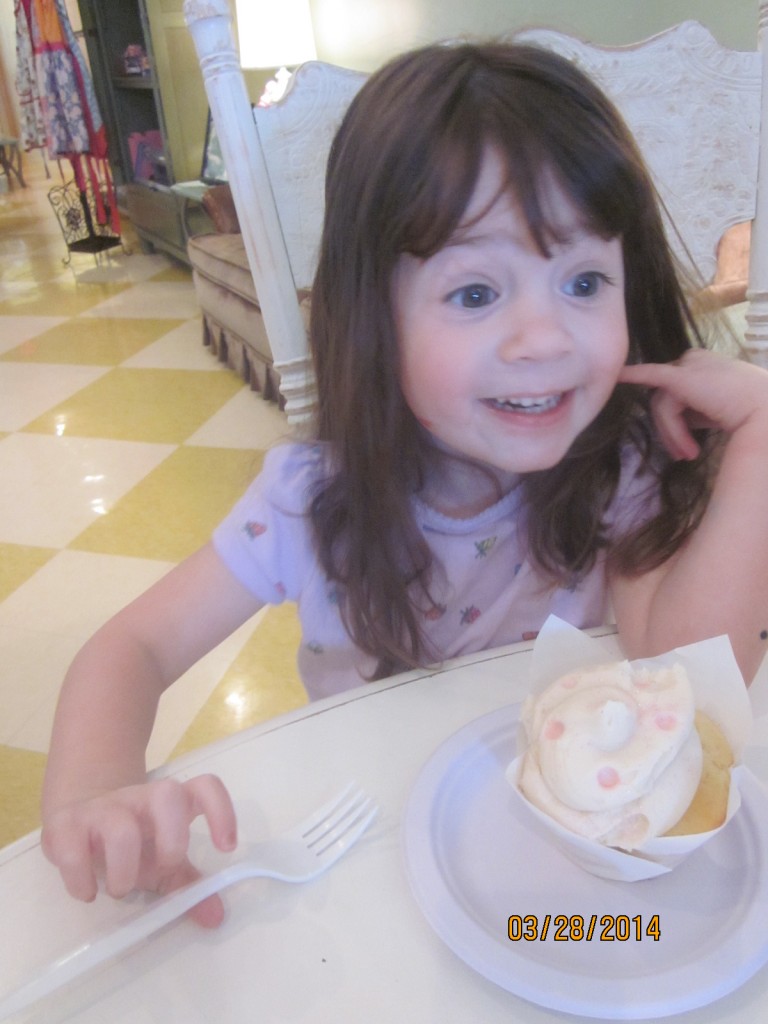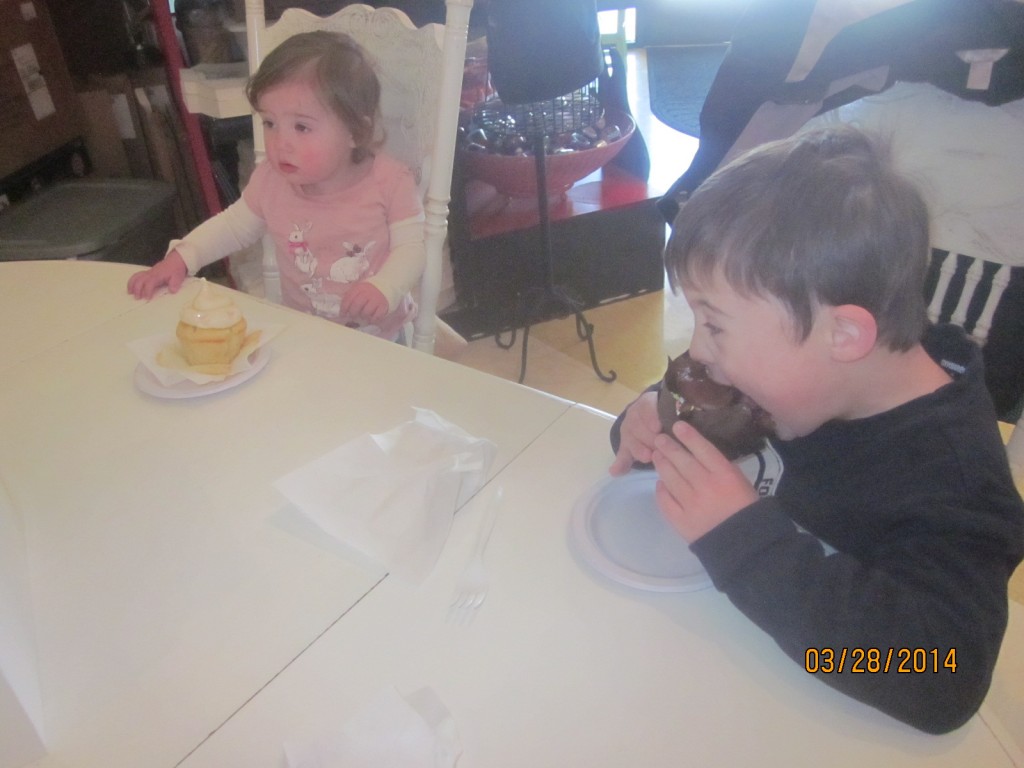 Elizabeth is 17 months today and what a wonderful handful she is. Bright, robust, and talking with a million words of her creation. She loves to say "bye-bye" to everyone and everything, and she squeals whenever she sees our cats outside. She gets really excited to see buses (because Wes rides a school bus and we look for it five days a week) and calls them "Ba ba." Also known as "Ba ba" is her favorite crocheted blanket. She can identify the nose and calls it "no." When she wakes up at night crying John is really diplomatic (and more patient than I am) and gets her to calm down by asking her what she wants, going through "no, no, no" until he gets a "Yes!" and problem is solved.
There's a garden plot in our backyard that serves as a hole-digging paradise.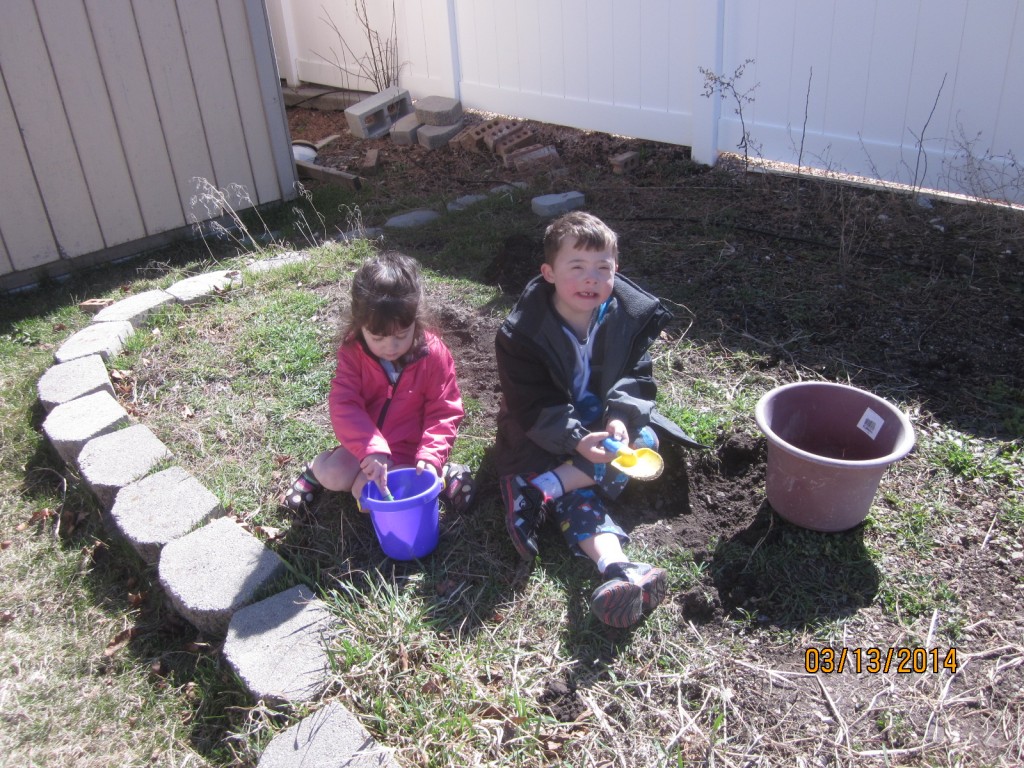 Also a place where the kids can explore for wriggling worms.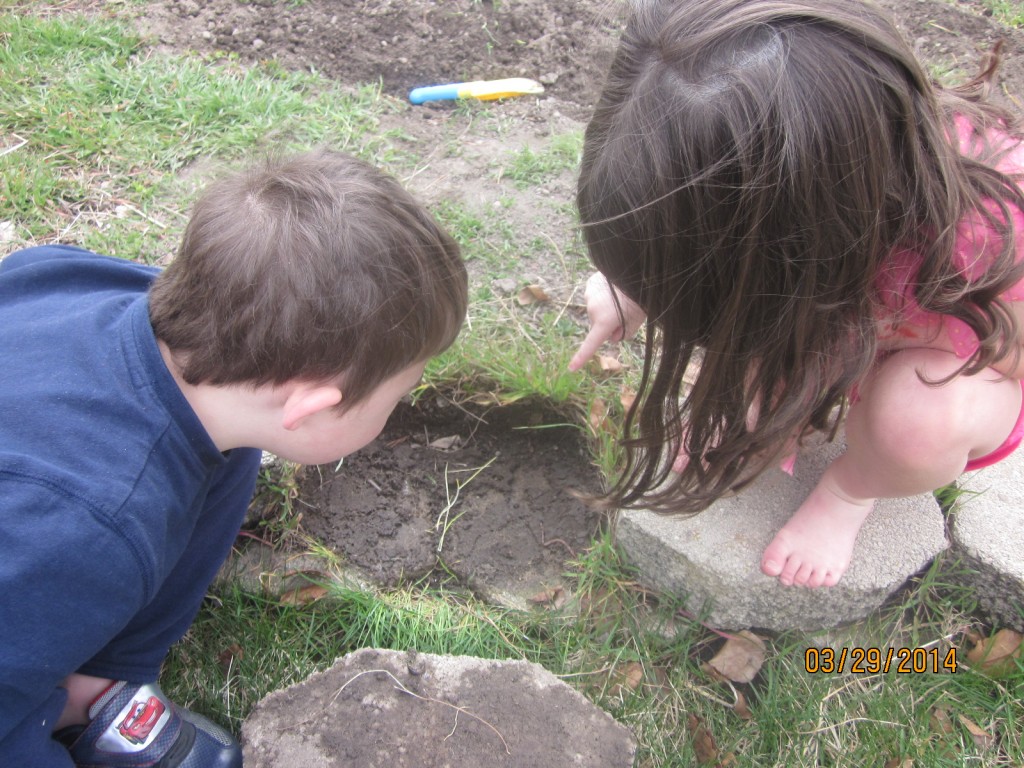 We found a cheap remote-controlled Angry Birds balloon that the kids enjoy flying in our living room.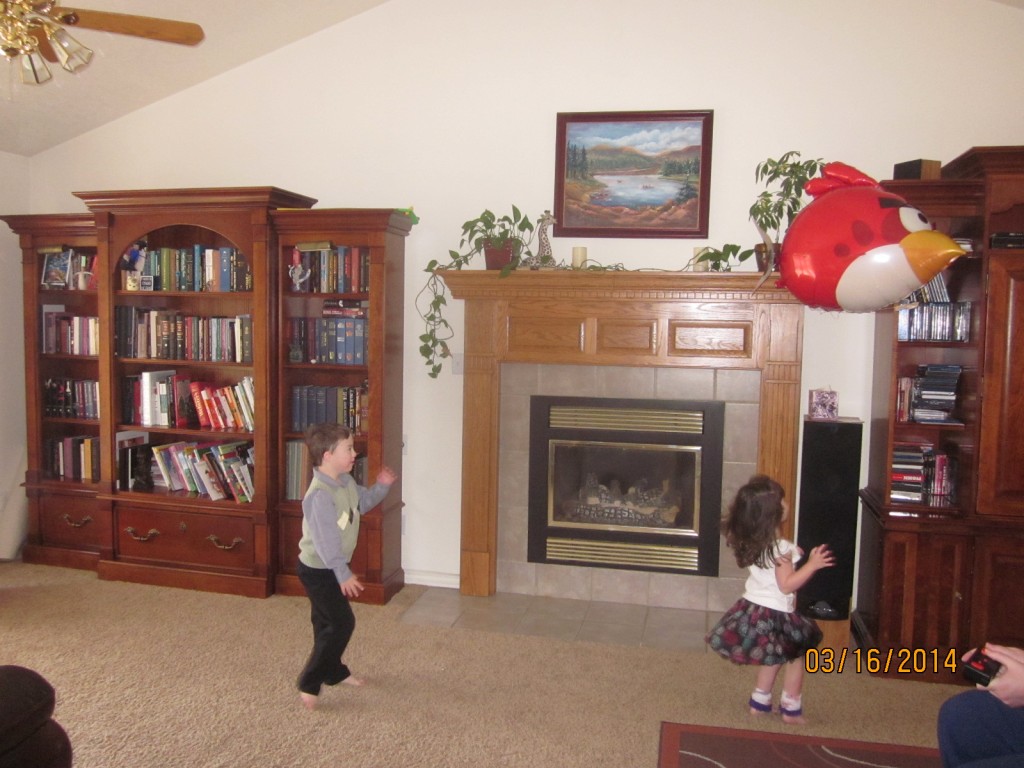 One day Carissa started crying hysterically, saying her thumb hurt. She said she pinched it in the DVD case. It took a lot to calm her down and she refused to use her thumb all evening. But by nighttime I saw her using it again. The next day the same thing happened (not sure how she hurt it this time). And then it happened the next day a third time. We didn't know if there was something wrong, so John took her to instacare (wish we had insurance). They took xrays and wrapped her hand in a pink bandage. Nothing seems to be wrong, although she might have had a strained tendon. John said Carissa was an absolute ANGEL at the doctor's office and the nurses loved her–until it was time to go home and she still had the pink bandage on. She cried and cried that she wanted it off, but we wouldn't let her. She pulled it off herself after bedtime. We put it back on the next day, but she pulled it off again. As far as we can tell her hand is fine.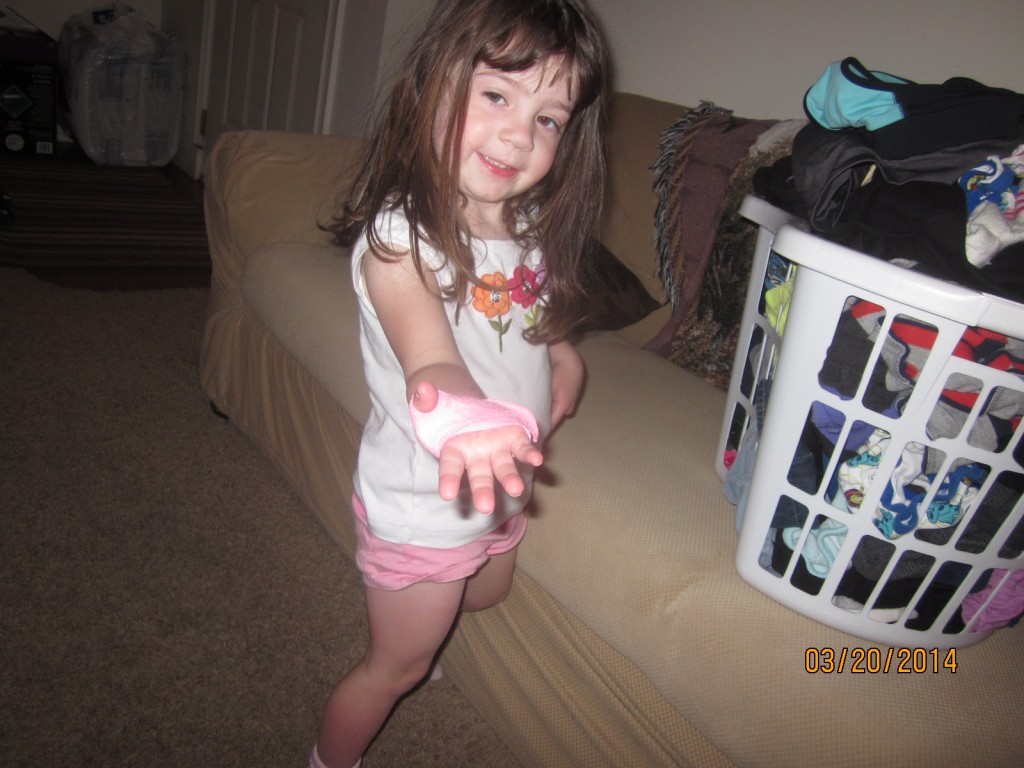 I took the kids swimming a couple weeks ago, which is one of their most favorite things in the world. Especially Wes. Usually transition times (like when it's time to stop doing something and start doing something else) are REALLY HARD for Wesley. And for me, getting him to transition. It is like dragging a donkey through the snow. But all you have to do is say, "Wes, wanna go swimming?" and he is 100%, perfectly compliant and willingly goes potty and puts on his swim trunks and runs to the garage door saying, "READY!" all by himself without any push from me. And once he is in the water Wes is as happy as in heaven, swimming and jumping and splashing and doing everything that brings him joy. This time he met a boy there about his age and they had so much fun running around the pool together. It's a great toddler-sized pool that even Elizabeth can stand in and walk around. After about an hour Carissa got up courage to go up the stairs to the slide area (because water rains down on the steps–she was nervous to go through that). But I couldn't get her down a slide because of the water that periodically dumps from above. I can understand that, but I sure loved going down those slides, and so did Wes. We stayed a couple hours and got ice cream on the way home (which is literally the only way to help Wes transition happily from swim-time to go-home-time). I tried to get a good picture of them before we left for the pool but this was the best I got.
This is a game in the lobby of the rec center where you try to touch lights that move.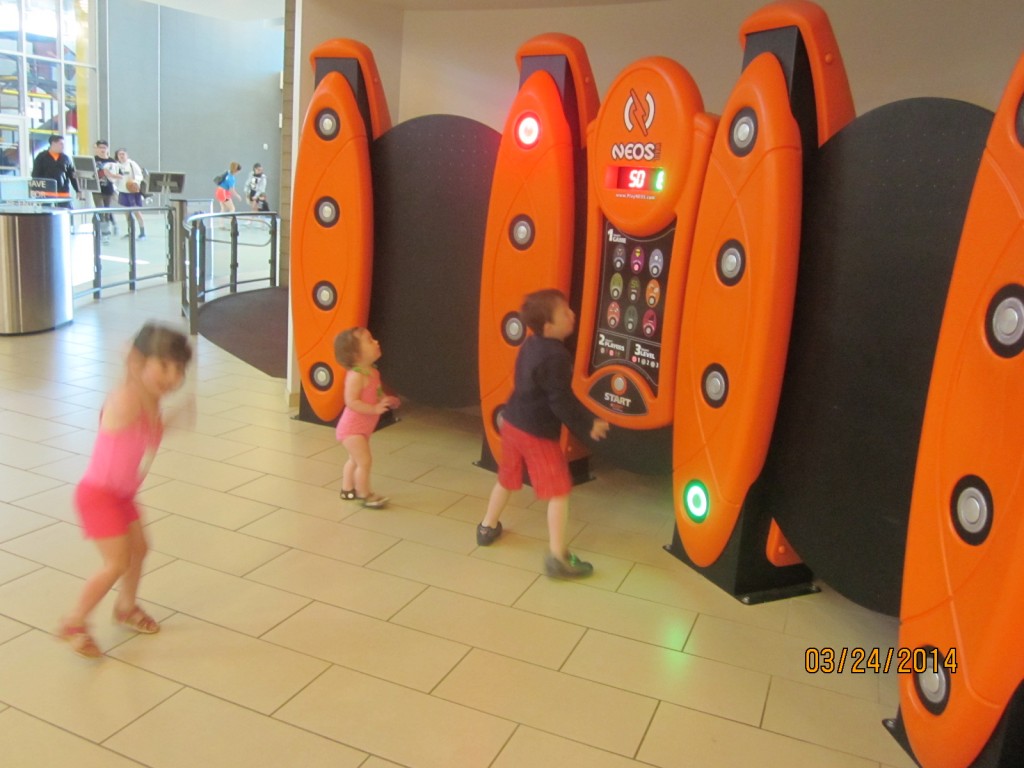 Wes on the way home from the pool.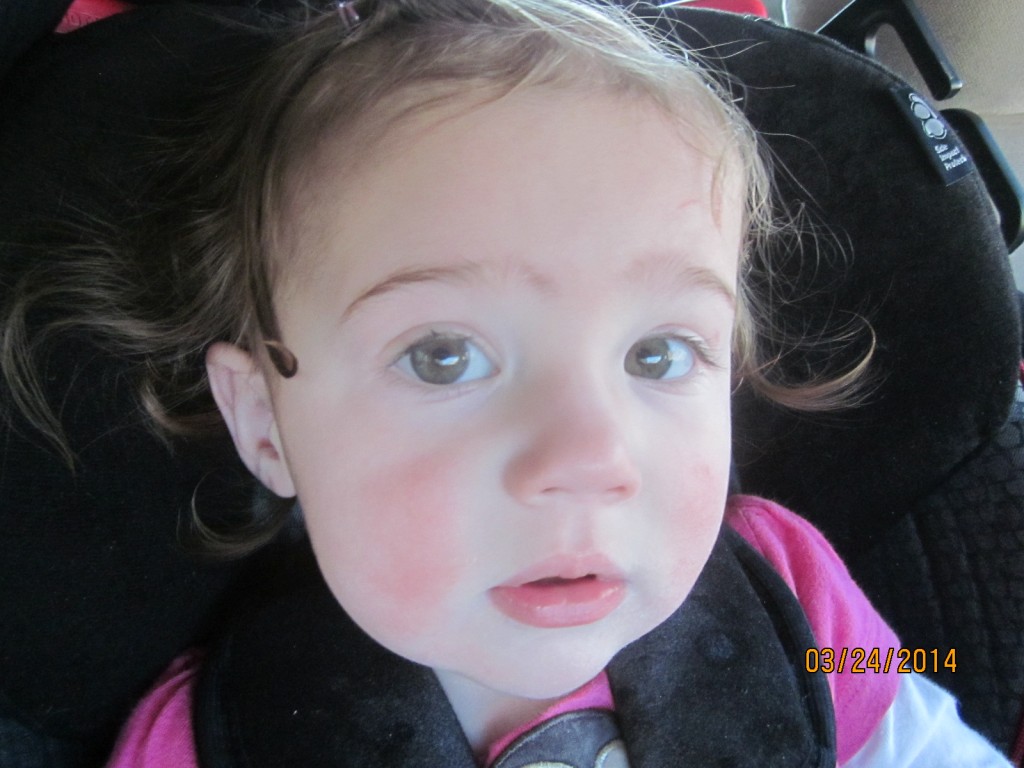 Some artwork:
Carissa recently learned how to make rainbows.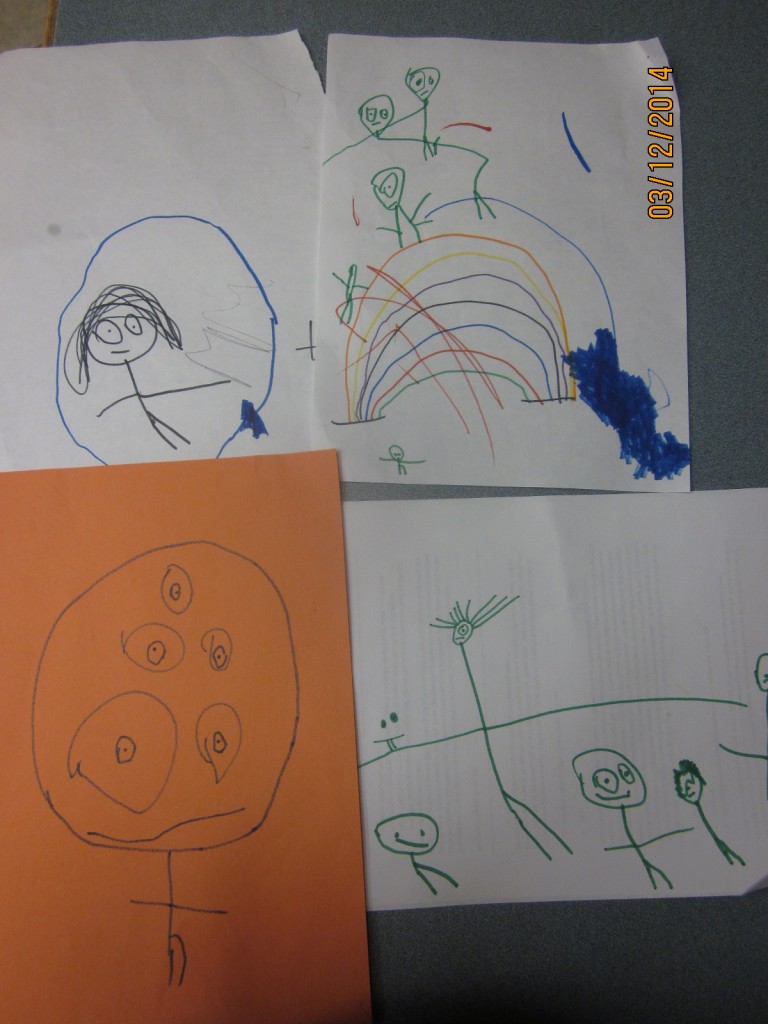 Carissa also recently discovered eyebrows.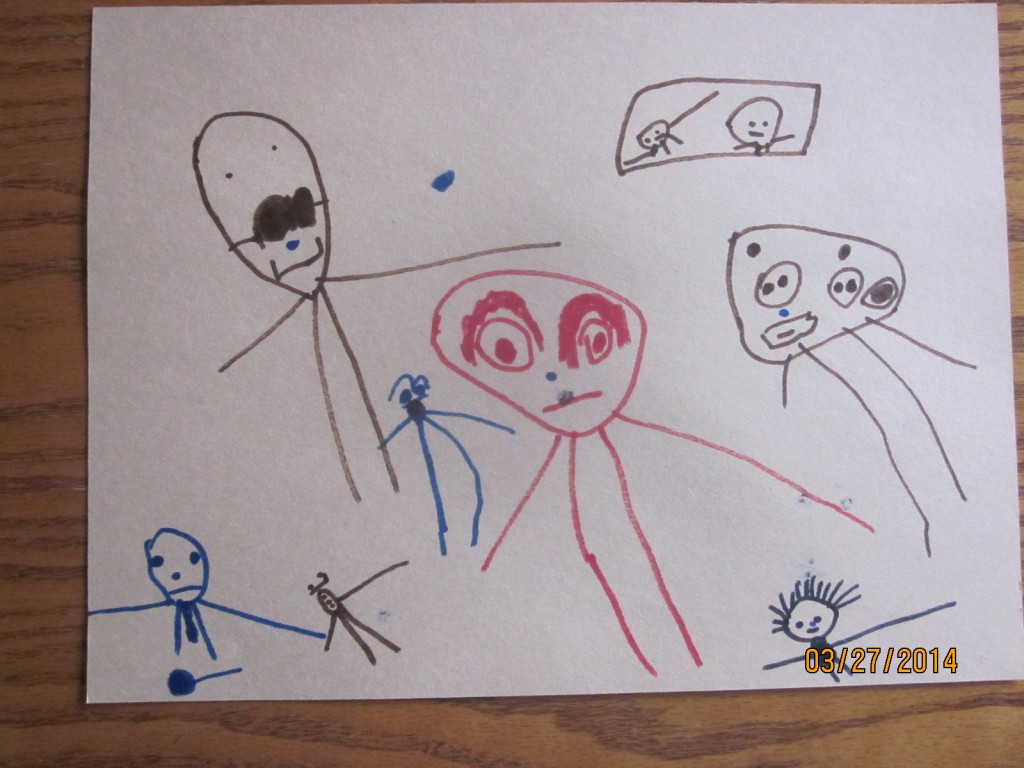 Wesley doesn't love coloring like Carissa does but sometimes he gets into it. He is getting good at writing letters.
Playing at a friend's house.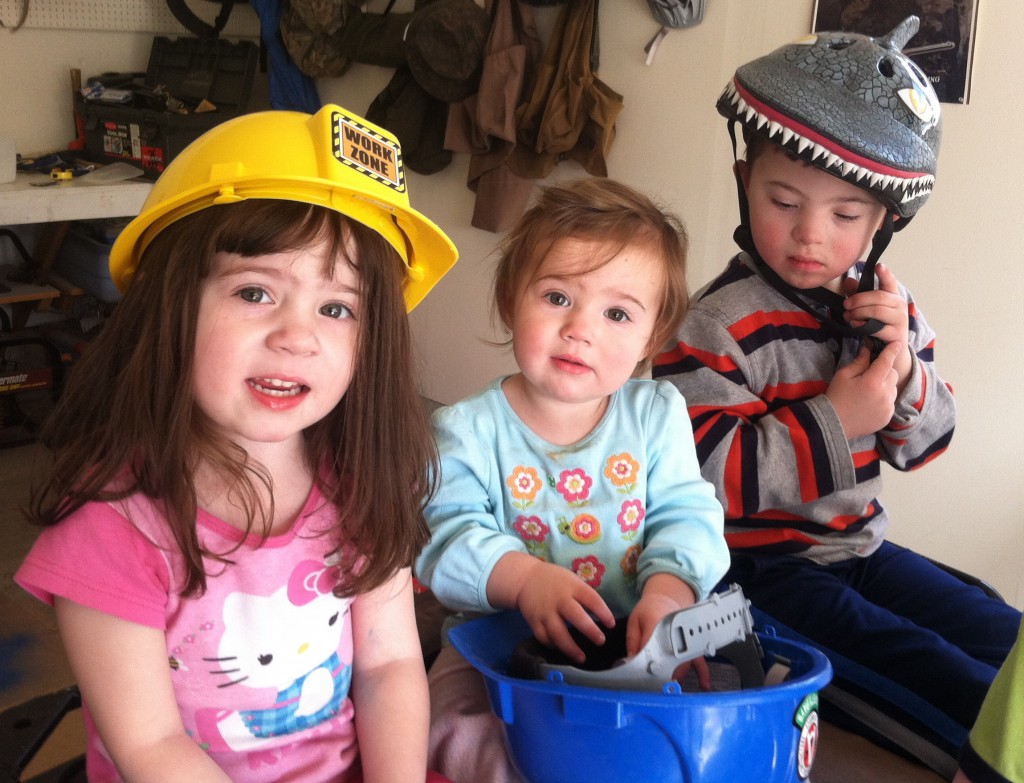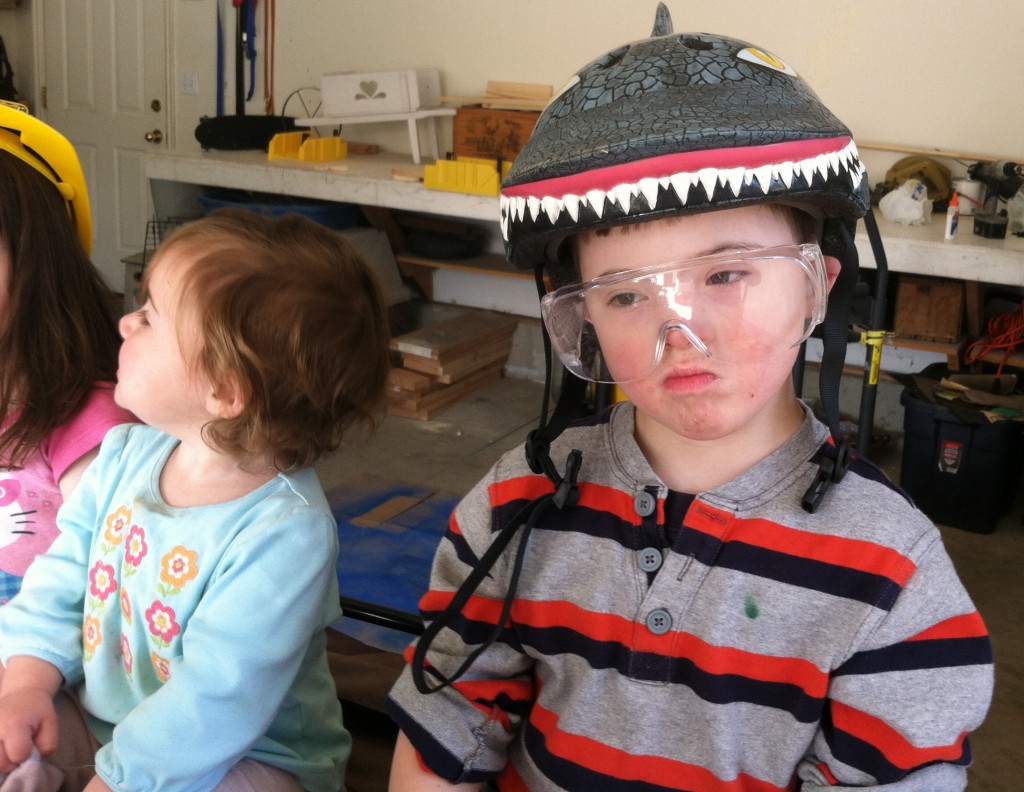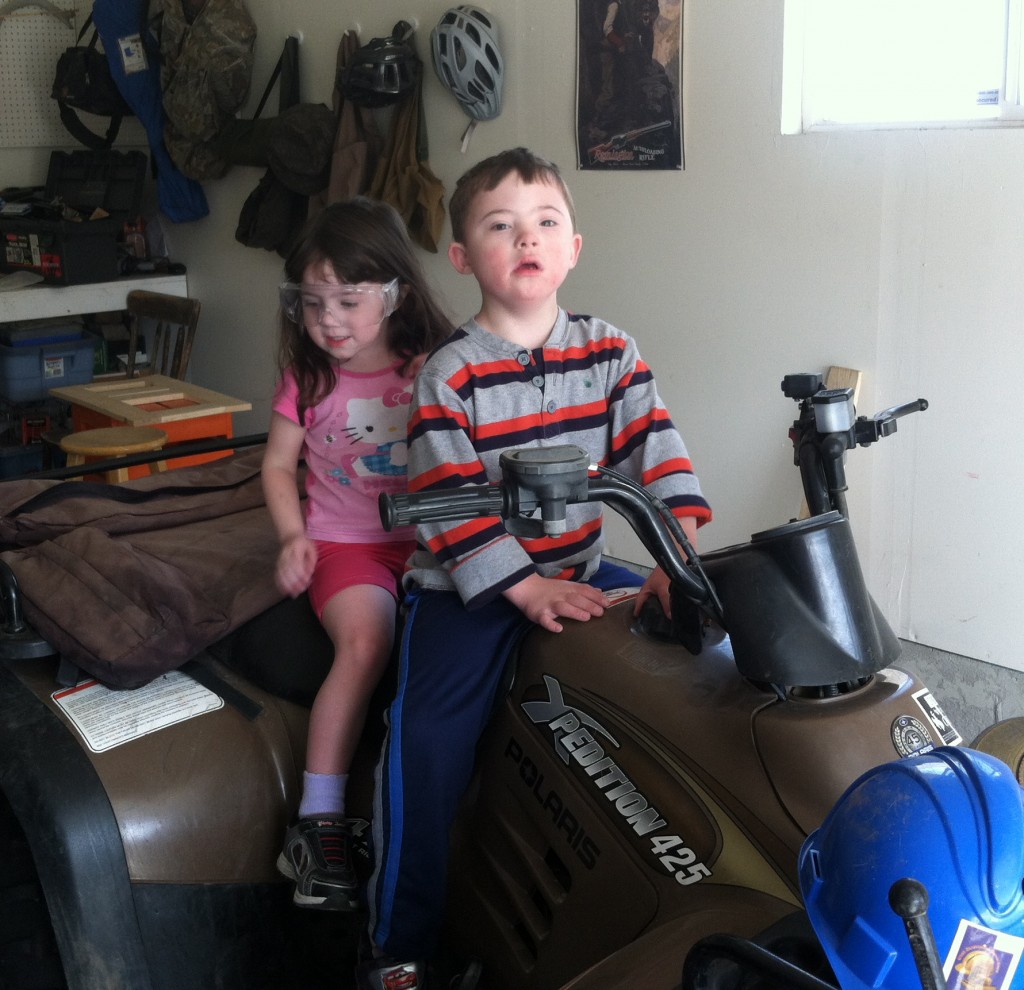 Wes got to hang out with the BYU cheer squad. They played red light/green light and Wes had fun. Usually the BYU athletes tower over the people with Down syndrome (because they're typically short) but these cheerleaders were just the right size.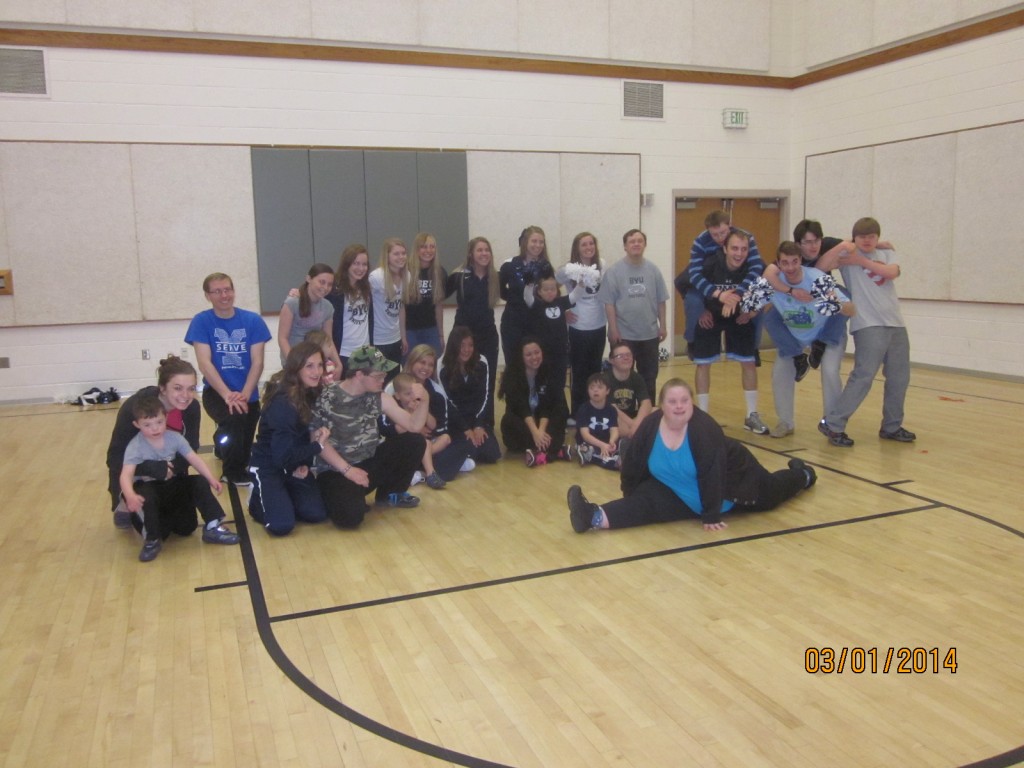 In Feb-March Wes played in a basketball league for kids with special needs. To say Wes loved it would be an understatement. He lived for that every Saturday for six weeks. He was the only 6-year-old who could make baskets in the tall regulation-height hoops. At the end of the six weeks he got a medal.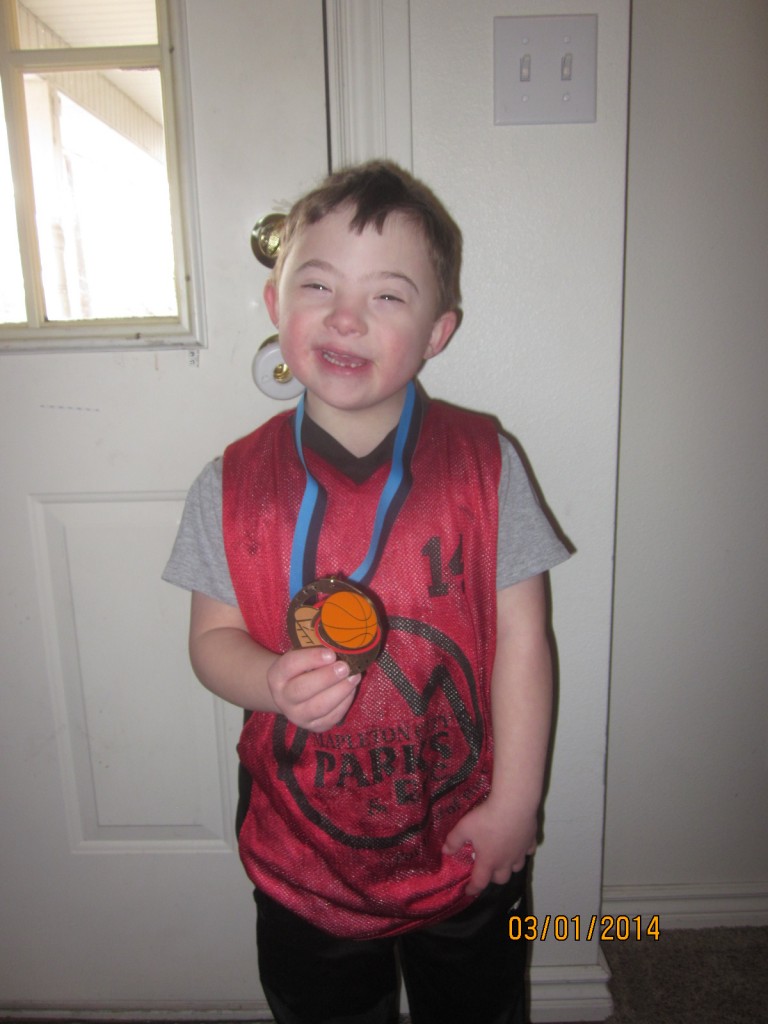 Wes is really good at writing his name. This a sign of great progress from the start of his school year. However, he did it with permanent marker on our coffee table and I haven't been able to get it off yet.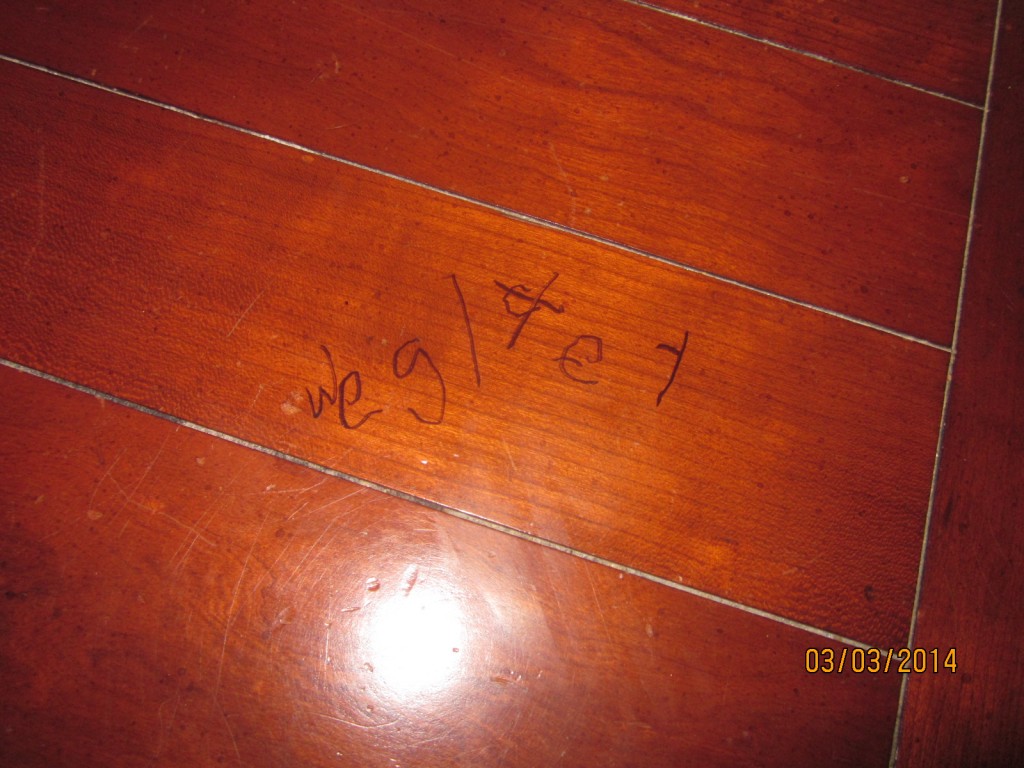 We went bowling with his BYU Athletic Connection group one week. Wes loves bowling.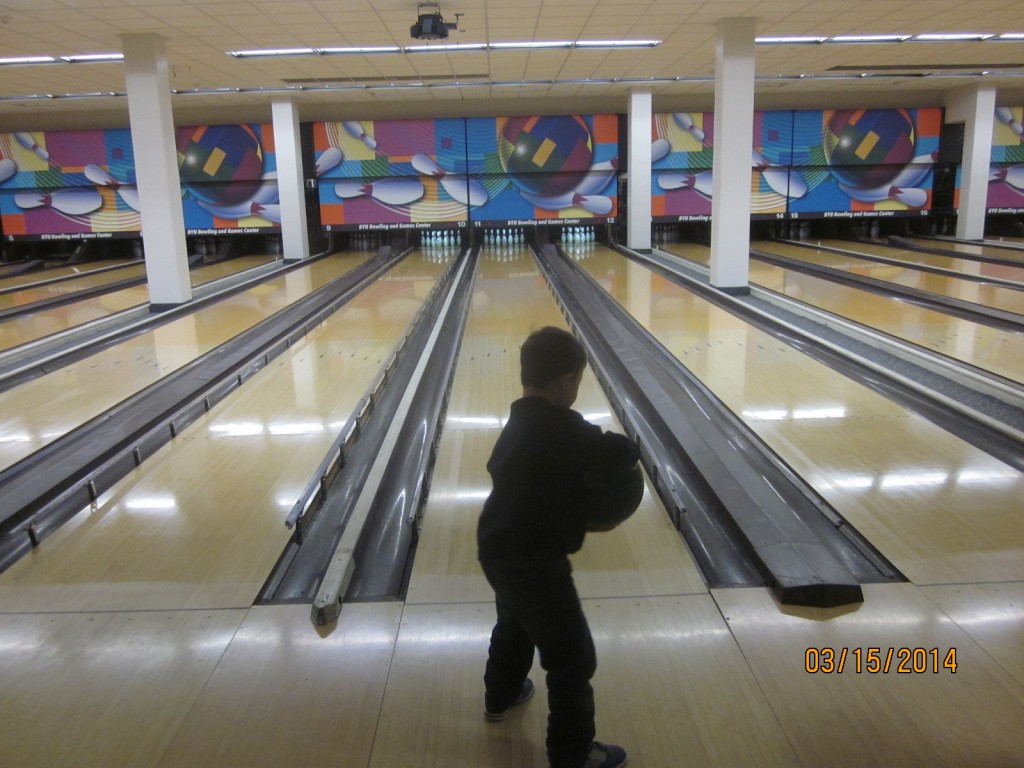 Wes cheering for himself.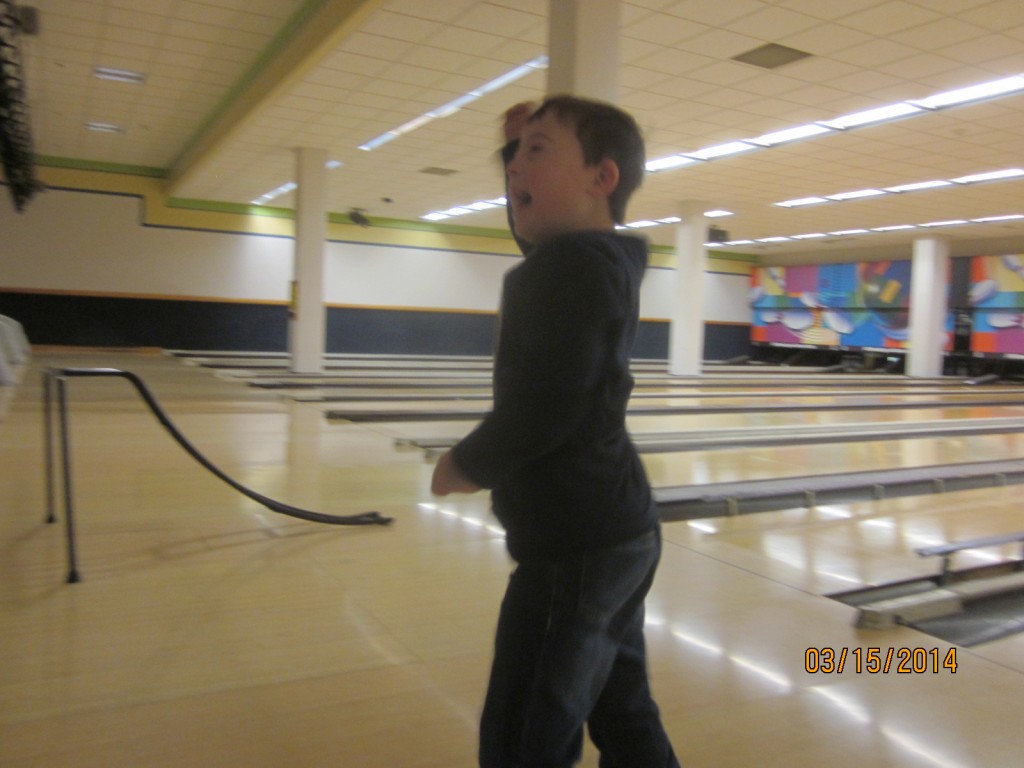 Carissa had more fun in the arcade section. We spent a few dollars playing Ski-ball (I played, she watched and collected tickets) so she could "win" a red slap bracelet. She also won some bouncy balls. Afterward, naturally, we got ice cream from the Creamery and visited the BYU Bookstore. We bought a couple Pinkalicious books, which are some of Wesley's current favorites.