On Saturday I usually plan out my dinner menu for the upcoming week, and then I get groceries for it. If I'm organized, I try to compose my grocery list by section: produce, dairy, cans, frozen, etc. Then I walk around the store with my list and pen in hand, crossing off each item when I put it my cart.
This weekend I couldn't make it to the grocery store until 10:30 pm Saturday night. I went through each section, starting with the dairy and working my way around the store. Finally I had just two more stations to visit: meat and produce.
My week's menu revolved around chicken: a fauxtisserie chicken (whole chicken cooked in the crock pot) for Sunday night, then using the leftover chicken in a white chili the next night. Later in the week I was planning to make chicken tacos with homemade tortillas.
Chicken was very important.
So when I showed up to the meat department at quarter to 11 at night with a nearly full cart and discovered that the store was completely out of fresh whole chickens and chicken breast, I was pretty put out. I wandered around for a little bit, trying to work out some way to adjust the menu in my hand to work without chicken, but it just wasn't happening.
I finally settled on a bag of frozen chicken breasts to use for the chicken tacos, an already cooked rotisserie chicken to use for the chili, and, at the very bottom corner of the freezer case, I discovered a row of Cornish hens that I decided to try instead of the Fauxtisserie chicken.
I've only cooked a whole chicken once, and you know how that turned out. I hoped I could pull off Cornish hens all right.
I pulled them from their wrapping (and I have to say, they are so cute!) and wiped them with a damp cloth. I mixed a couple tablespoons of soft butter with 2 cloves minced garlic, 1 Tbsp. chopped fresh parsley, and a little dried rosemary and basil and then I smeared it over and inside the hens, trying to get it under the skin. I popped a little bit of chopped carrots and onions inside the cavity and rubbed the hens with a lot of salt and pepper. Then it cooked for a little over an hour at 350 degrees until the meat registered at over 170 degrees inside.
When it was time to eat John admitted he was nervous that the hen would be more like rooster, which he had too much of when he served a mission in Central America and didn't care to ever taste again.
Which made me nervous, of course.
But, to my relief, the Cornish hen tasted exactly like a miniature chicken, all tender and garlicky and buttery and yummy.
Success.
This might not be the most flattering angle of the hens, but I had to document. (And, yes, I think I accidentally cooked the chicken upside down again.)
\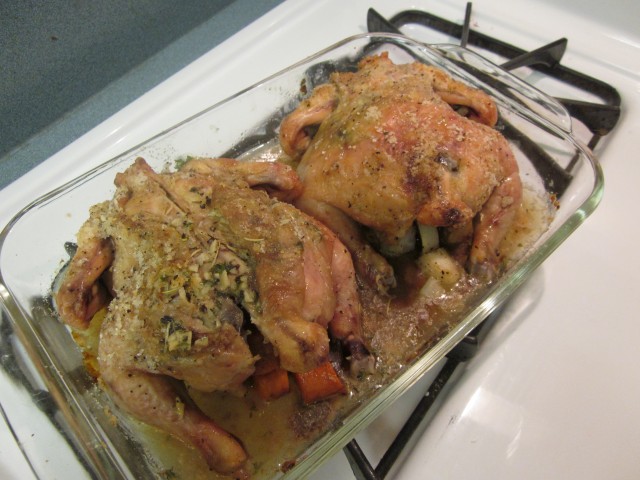 This is Carissa eating her own dinner. No qualms about messiness.