Carissa's preschool class at their Easter Egg hunt. I asked Carissa if she knows why we celebrate Easter, and she said "So the Easter Bunny can come." There's a little boy in her class with Down syndrome. I know the boy's family because his older brother is autistic and was in Wes's preschool class. I asked Carissa about this boy and she said, "He is silly. He doesn't listen to the teachers or help clean up." Sounds just like Wes!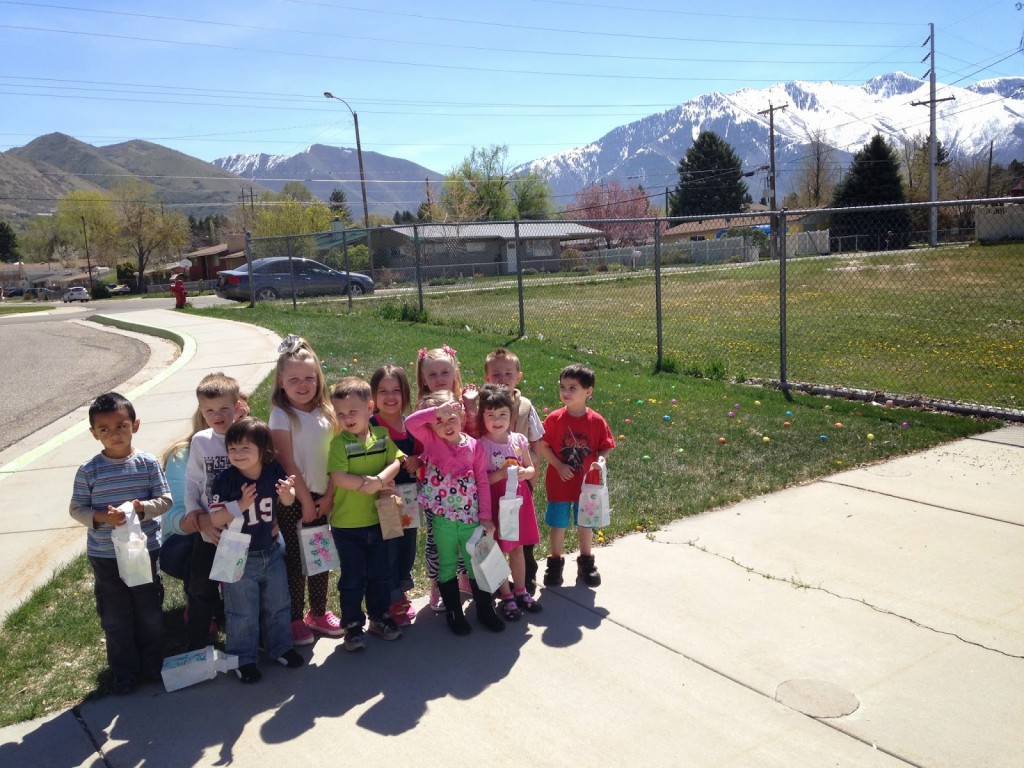 Carissa's winter gear in spring.

I bought Carissa this book that she picked out from the BYU Bookstore. It came with an ink pad. She makes fingerprints, and then follows the directions to turn the fingerprints into cute animals or objects. I was unsure if she was mature enough to really get it, but trust me–she really got it. I love looking through the book and seeing her creations. Carissa is very creative and getting more creative all the time.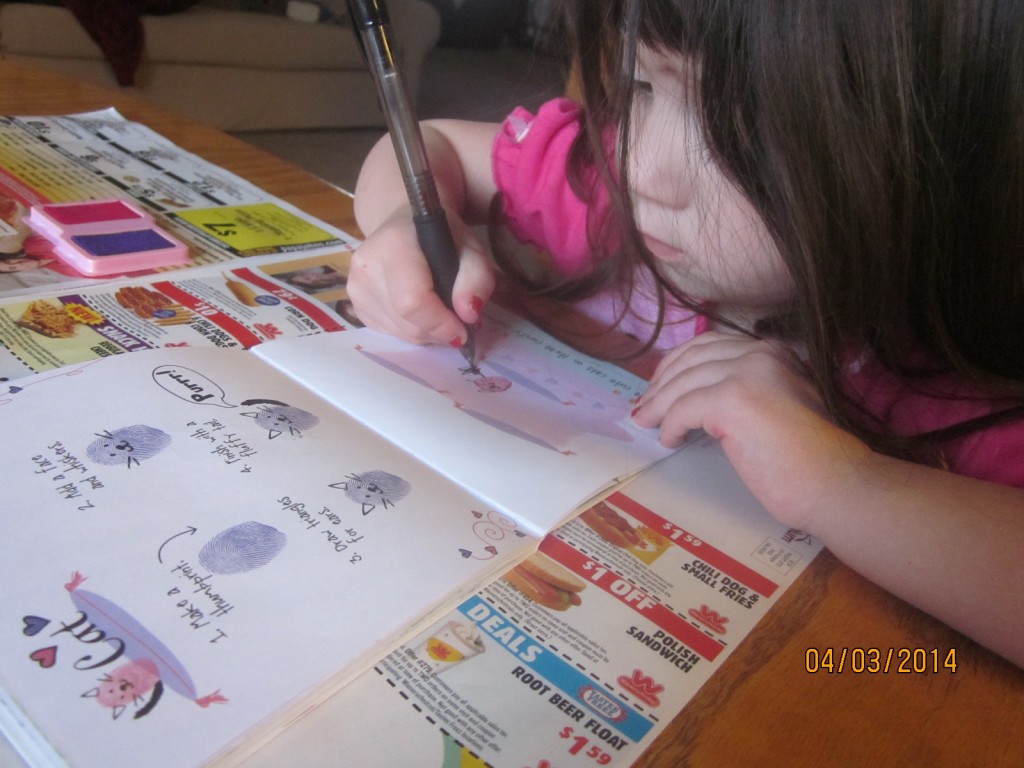 She gets a little carried away sometimes, though. I've also noticed Elizabeth starting to draw on herself, which I'm sure she's learned from her big sister.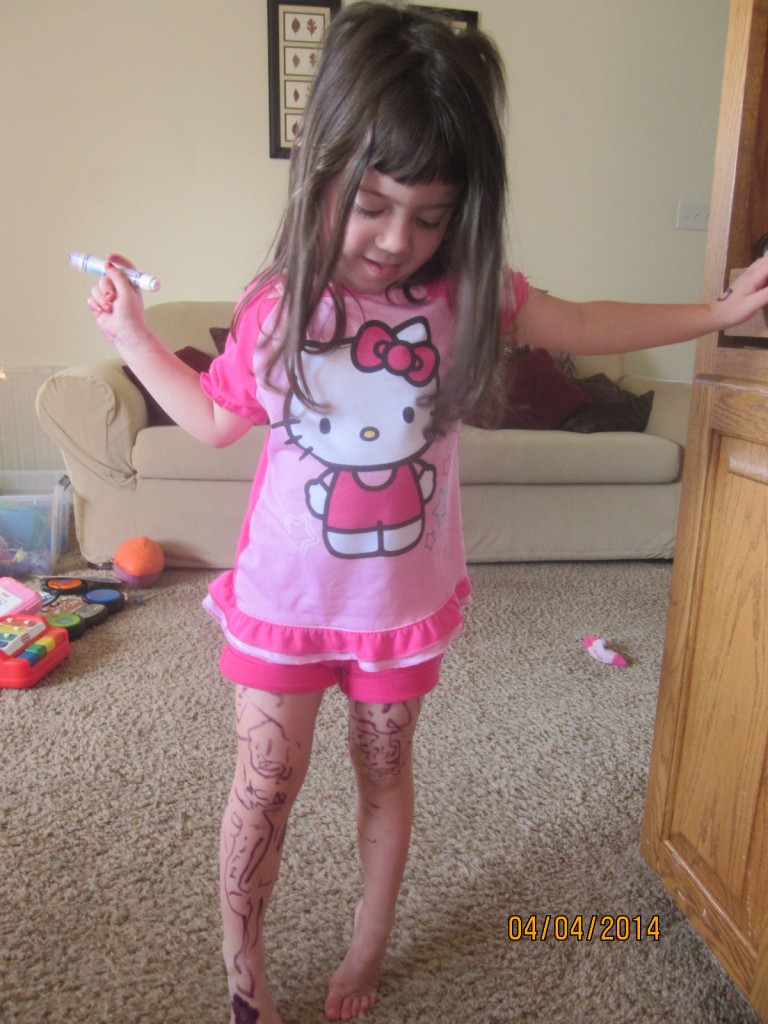 One day we made blue Jigglers from a zoo Jell-O mold.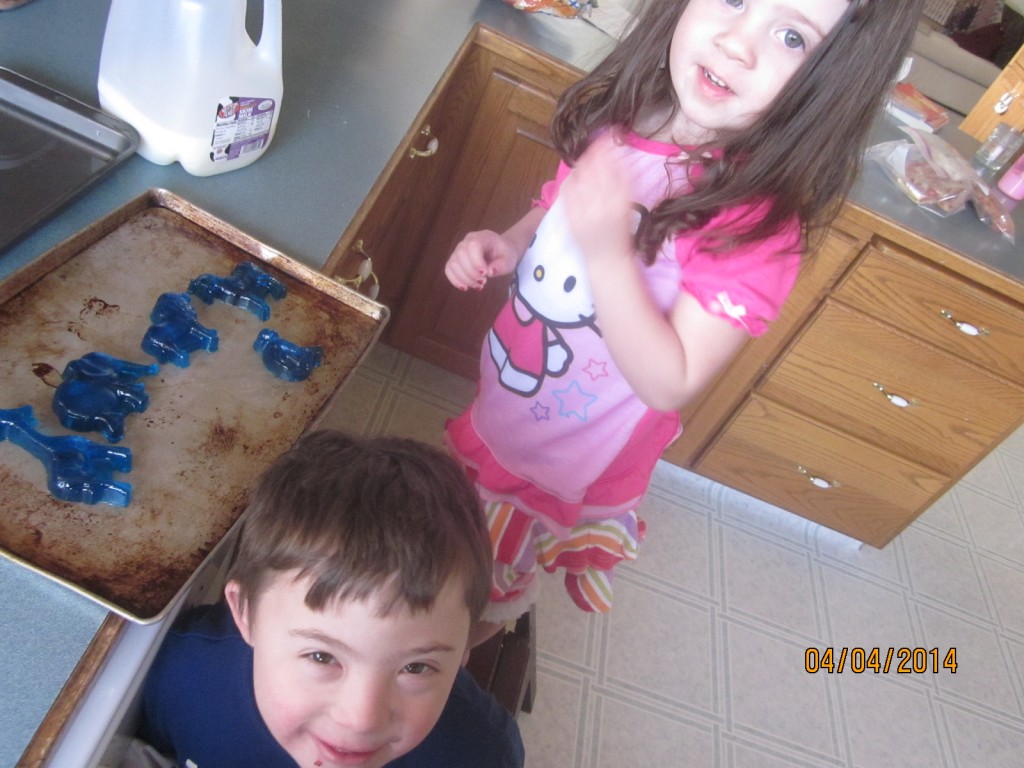 Elizabeth has learned self-reliance. She is often seen toting a chair around so she can reach something she's expressly not allowed to get into. I've started stacking the little red chairs on tables out of her reach so she can't do this anymore, but she can still push the big kitchen chairs where she wants them.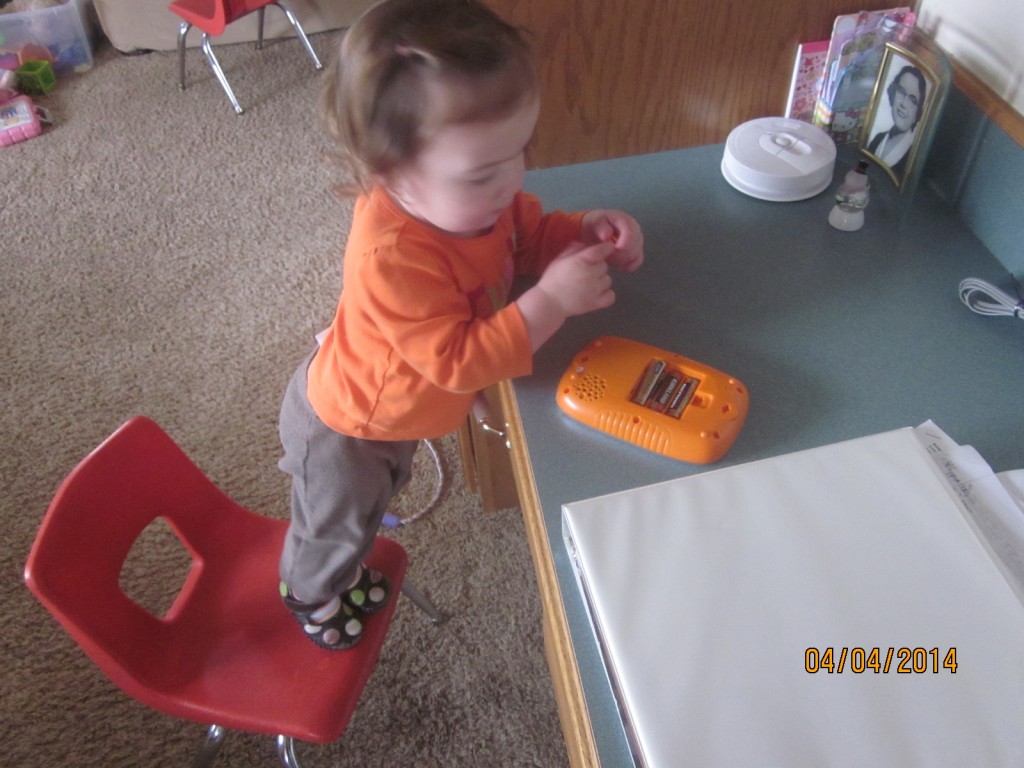 One day I needed to get out of the house so I took the kids to Kiwanis Park near BYU. The kids had so much fun. There was a little neighborhood girl who was selling Otterpops, but she was giving them away free to kids three and younger. So Carissa had a little treat.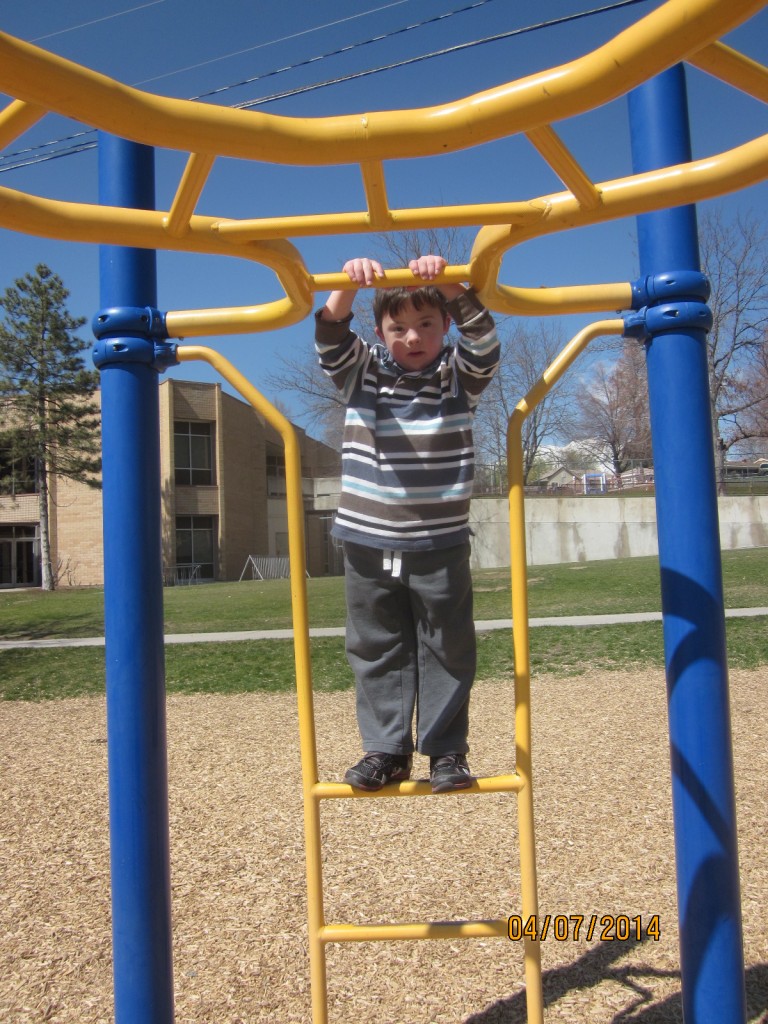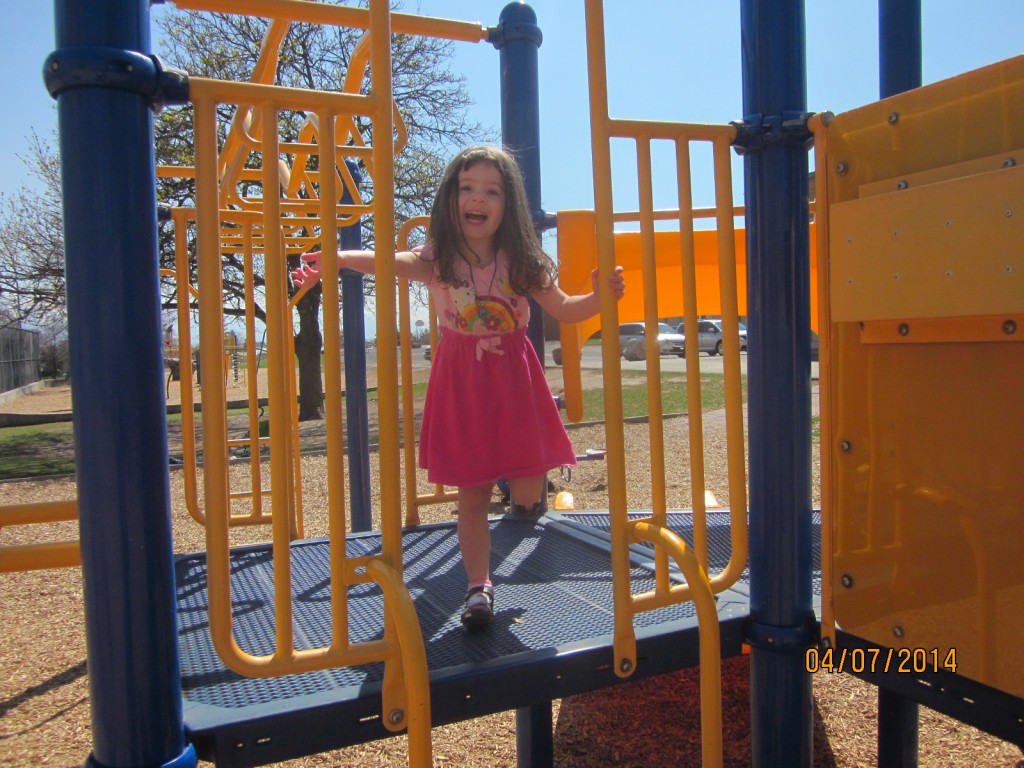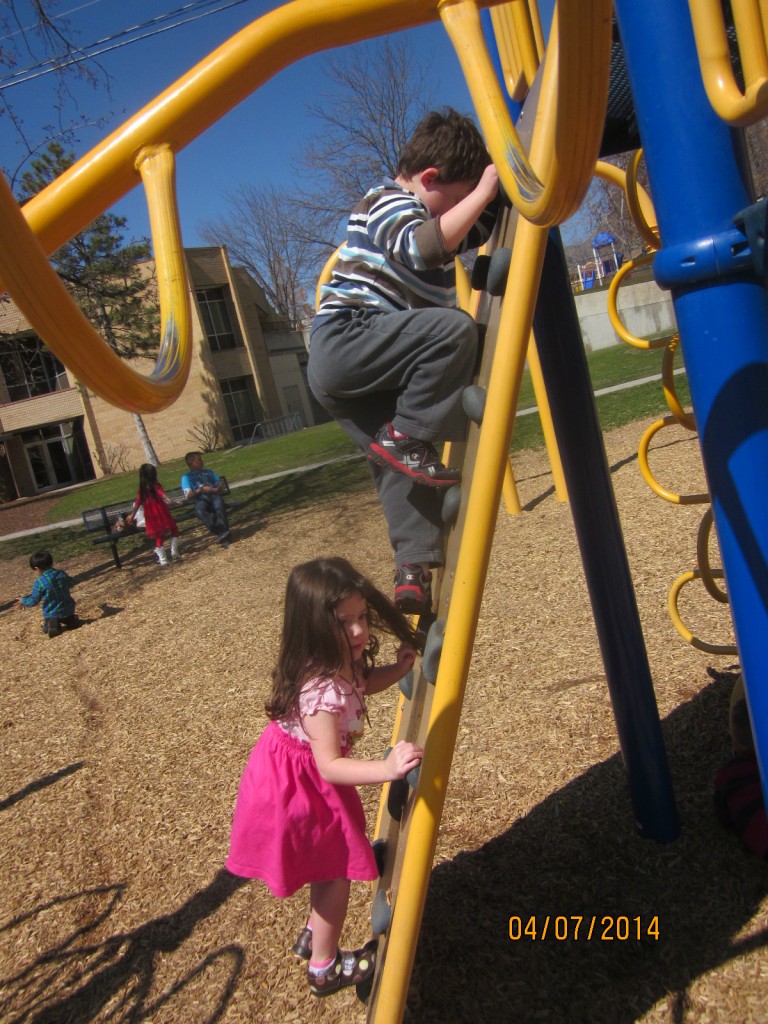 Carissa loves goggles. And all accessories. She also loves her swimsuit. Sometimes she'll wear it to bed, either by itself or over her pajamas.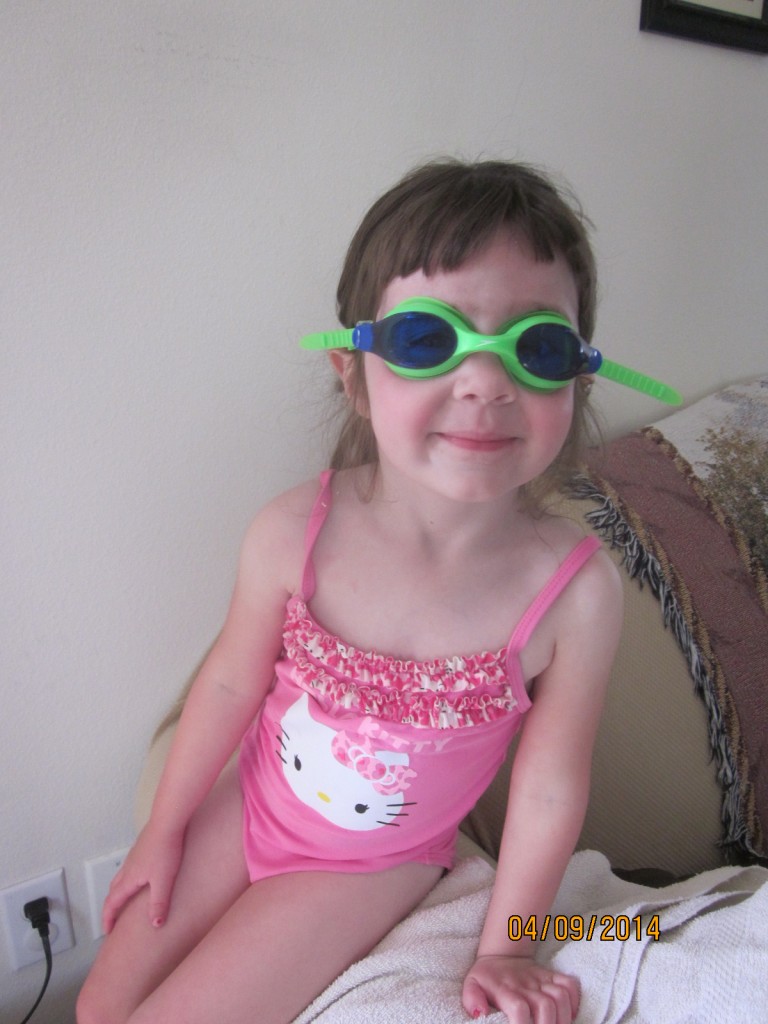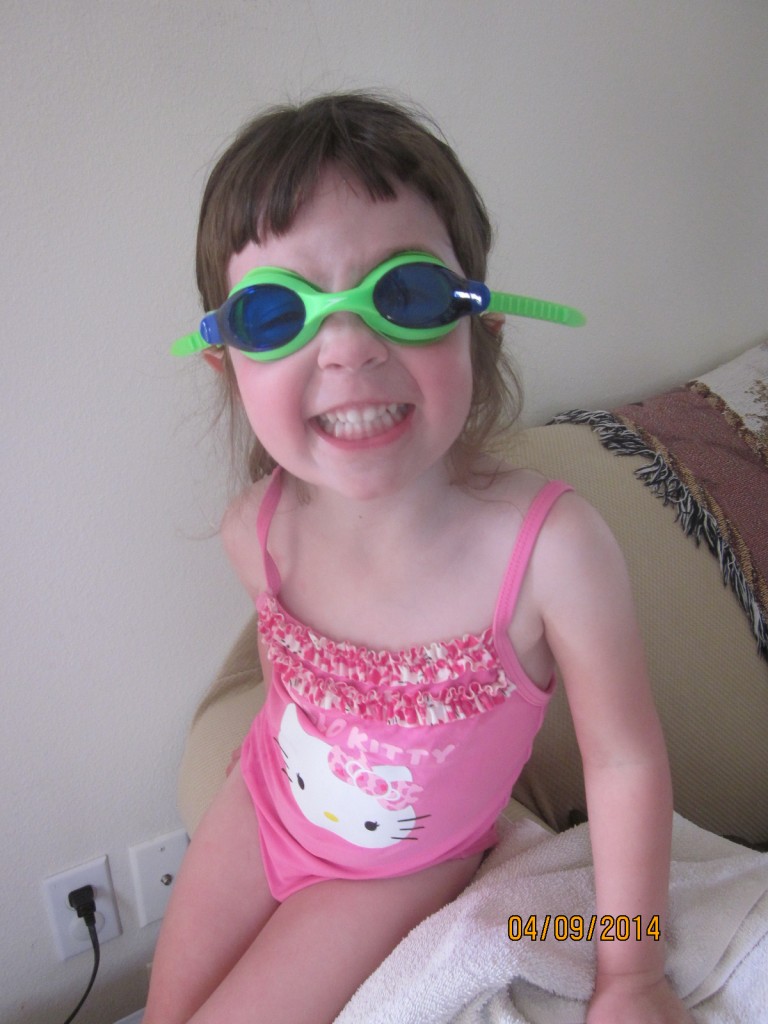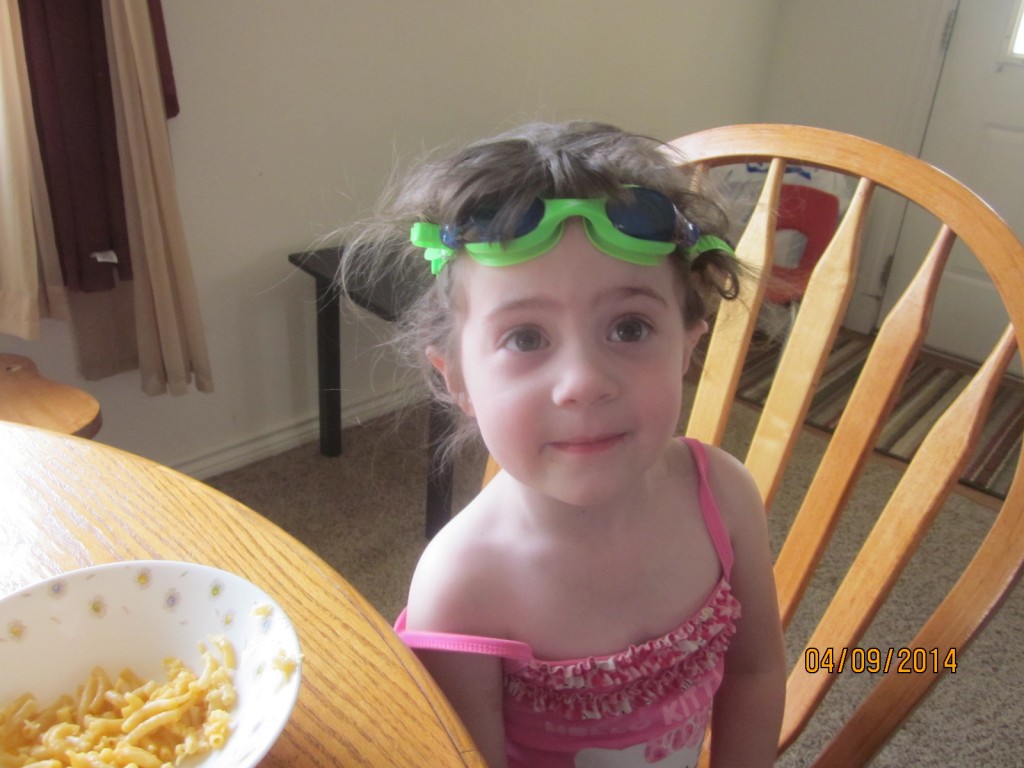 John and I had this crazy idea to take our kids backyard camping. We wanted a practice run before we go real-camping.
Wes and Carissa were BEYOND excited. Carissa helped Dad set up the tent.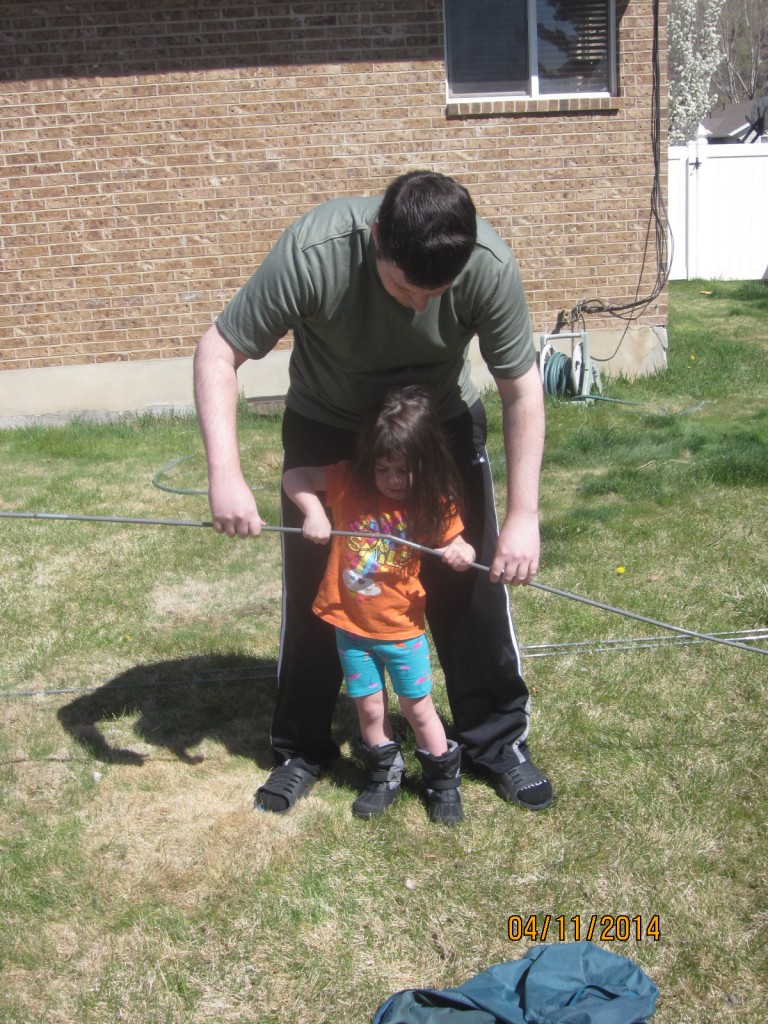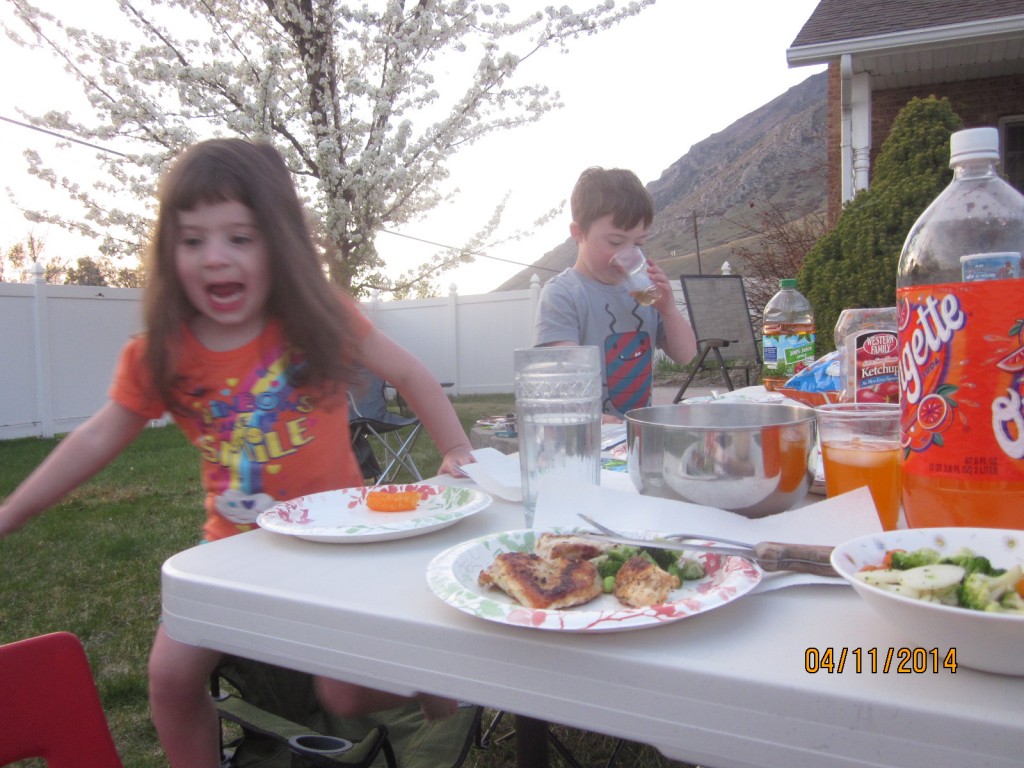 We put Elizabeth in the playpen in the tent for bedtime. Which didn't work at all, but Carissa took care of her without me asking her to by running back and forth between the other tent (the "toy tent") and the playpen, getting toys she thought Elizabeth might like. When it came time for her to really fall asleep, John held her until she did. The kids slept really well in the tent, even though it was a chilly night.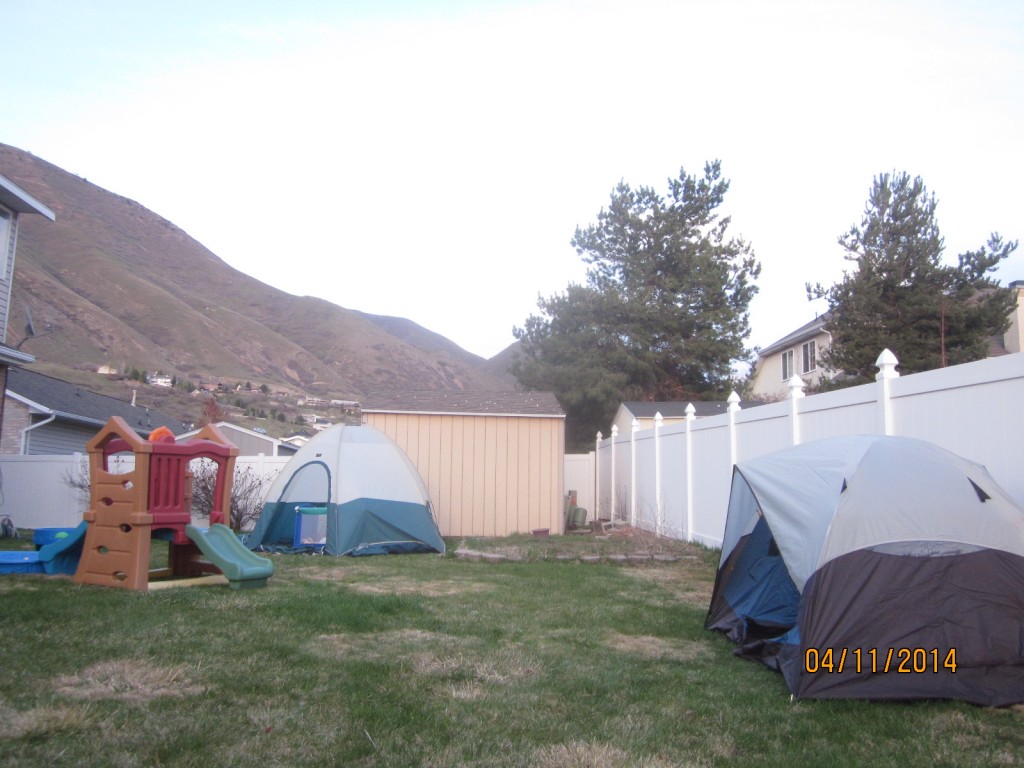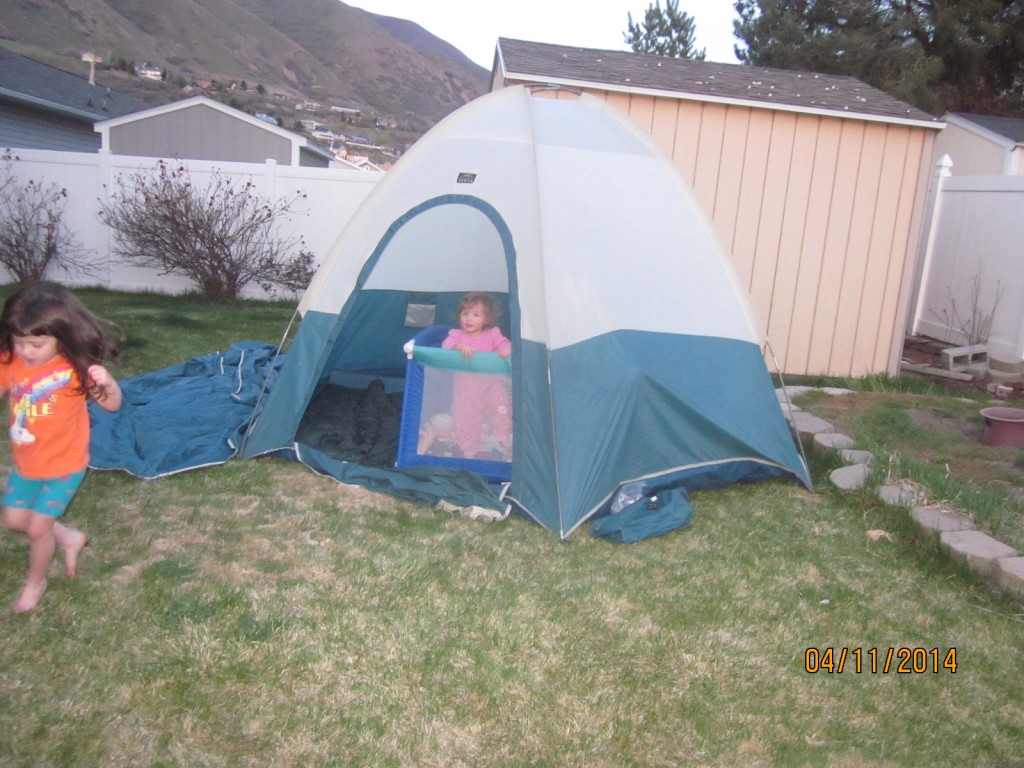 Once it was dark we gave the kids new little flashlights and explored the backyard. It was so cute to hear them say things like, "Look! A rock! Mom, check out this stick!" Everything is cooler in the dark, with flashlights. Wes kept saying, "Spooky!"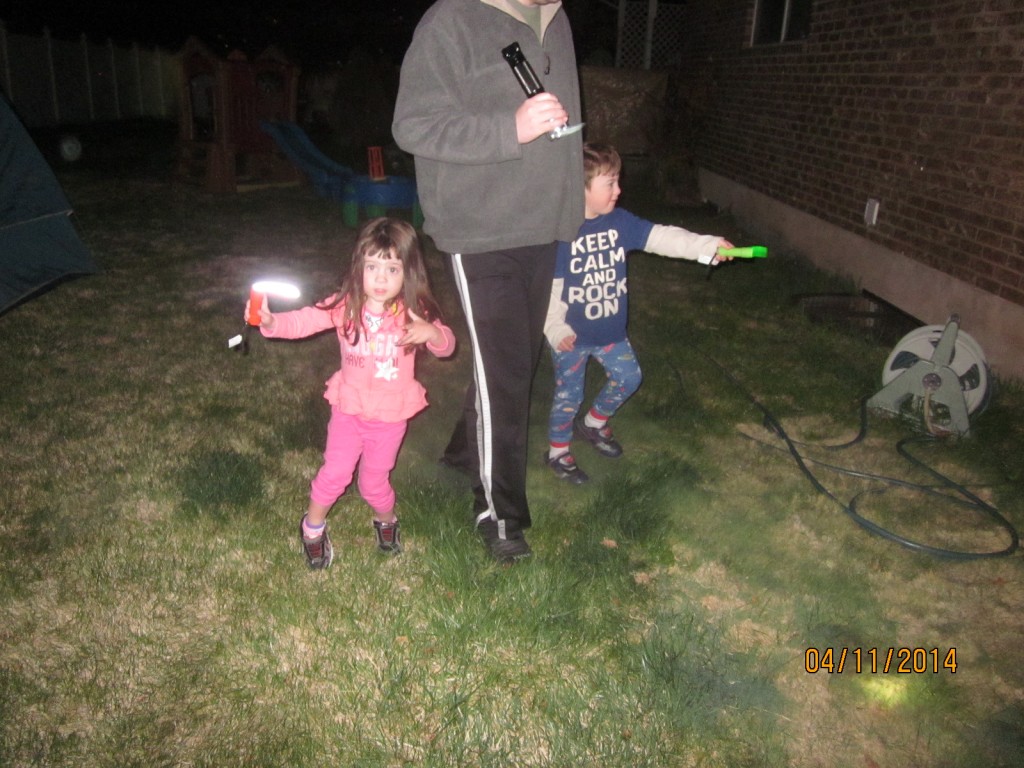 Then we roasted marshmallows.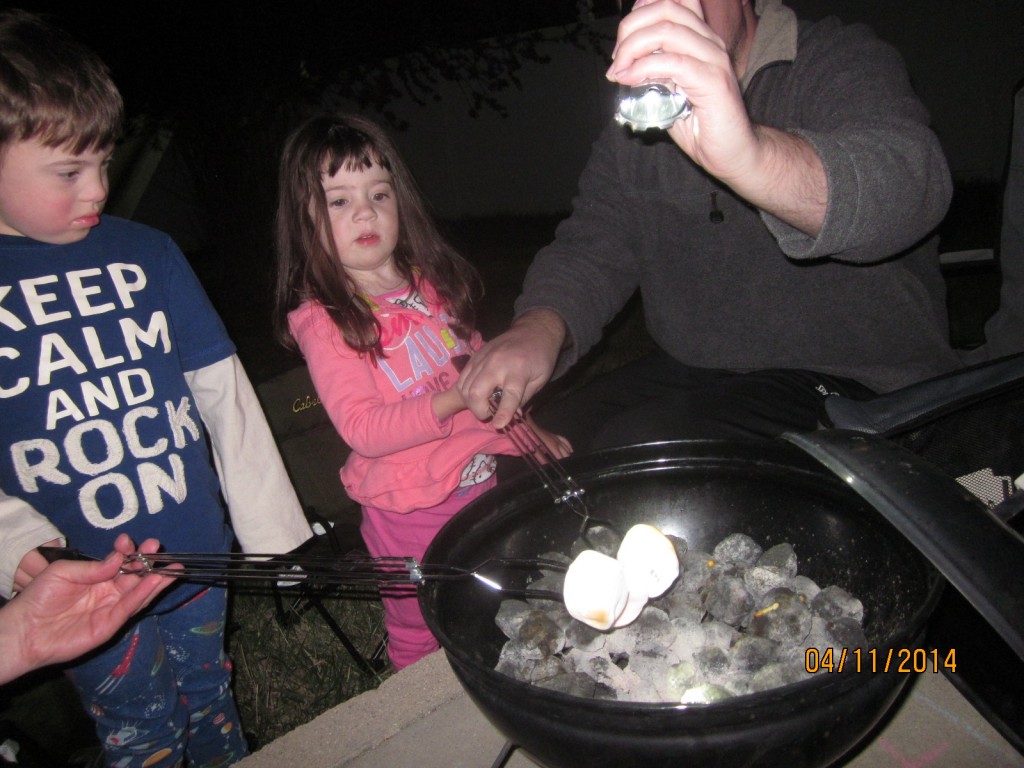 This was their first time making and eating s'mores. I even found pink marshmallows for Carissa.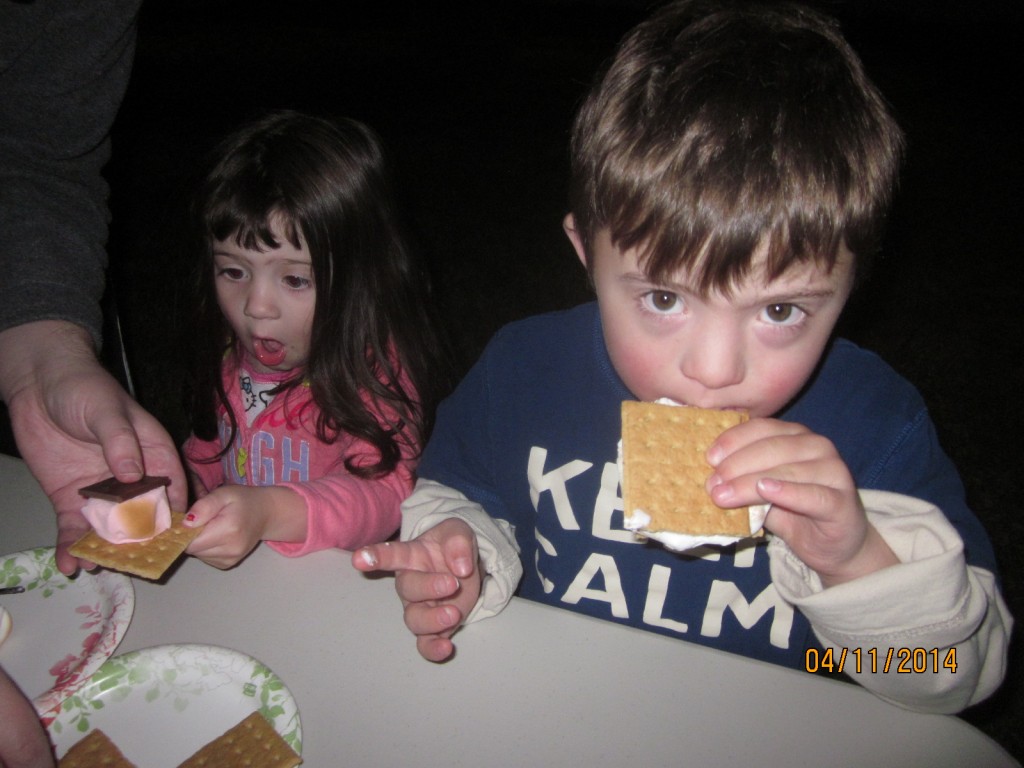 We sang a song together ("Row, Row, Row Your Boat"–in a round, even!) and then it was bedtime. We will probably do this again sometime. The kids loved it.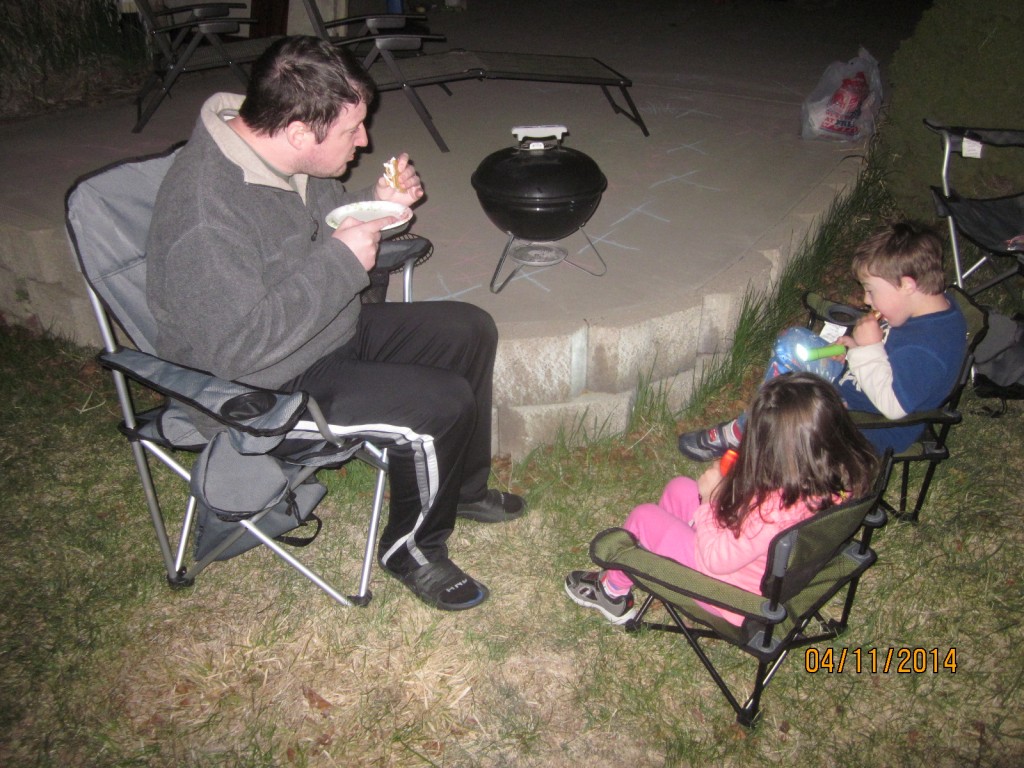 The day after camping was our annual Easter egg hunt at BYU with Wesley's Down syndrome group.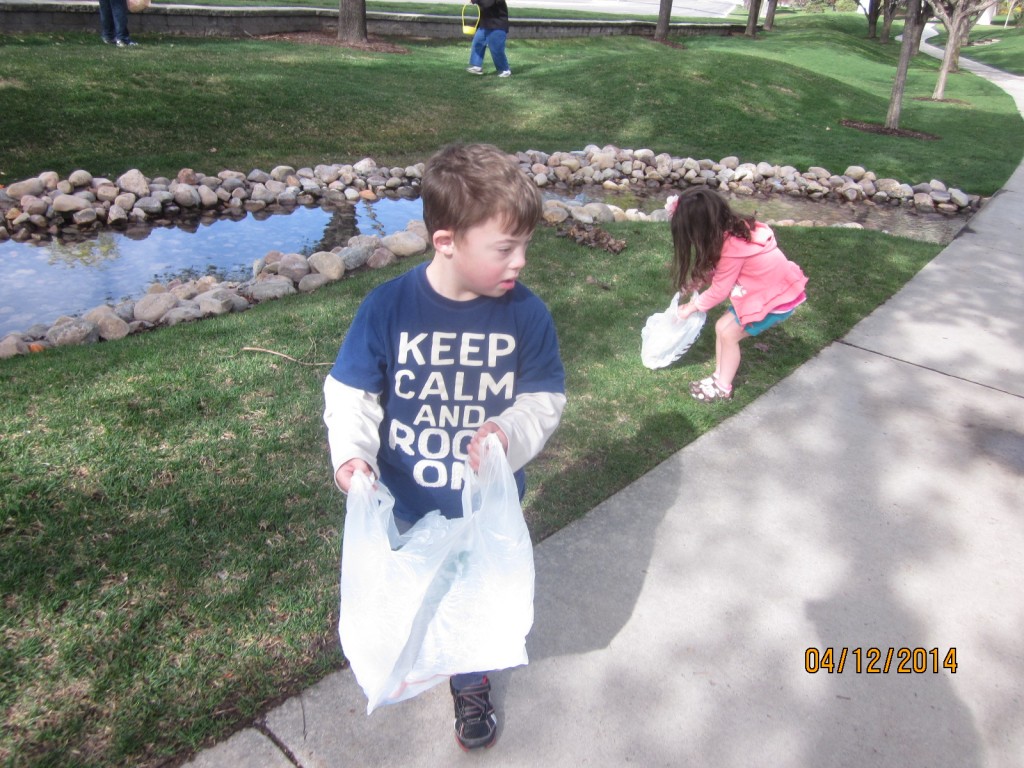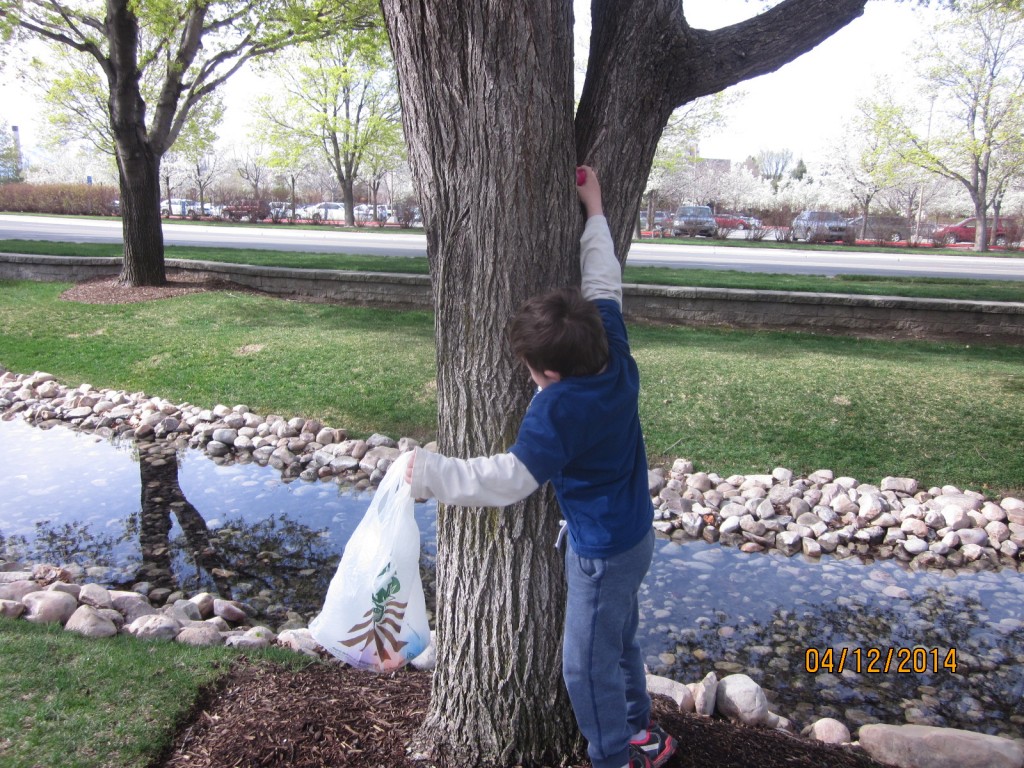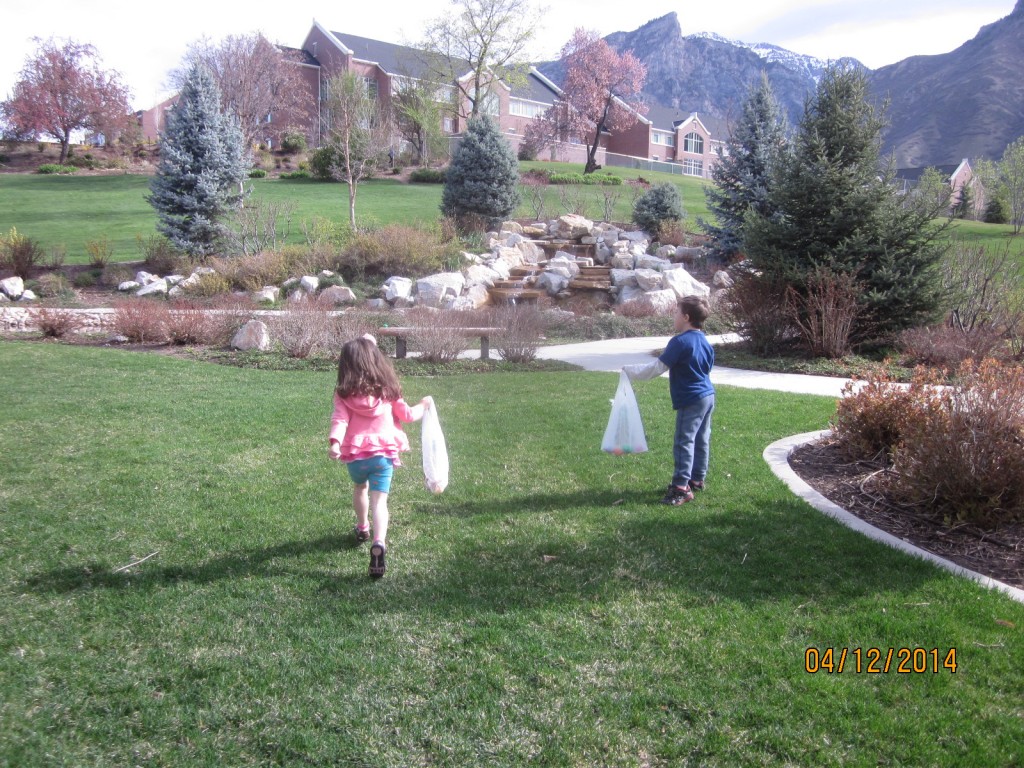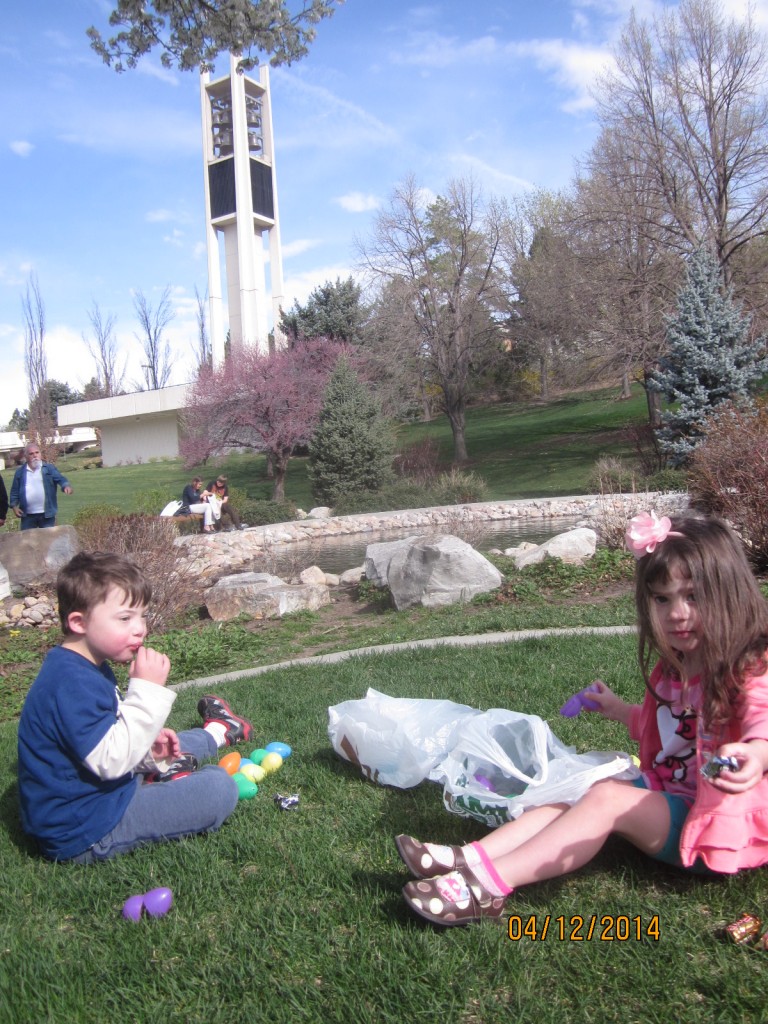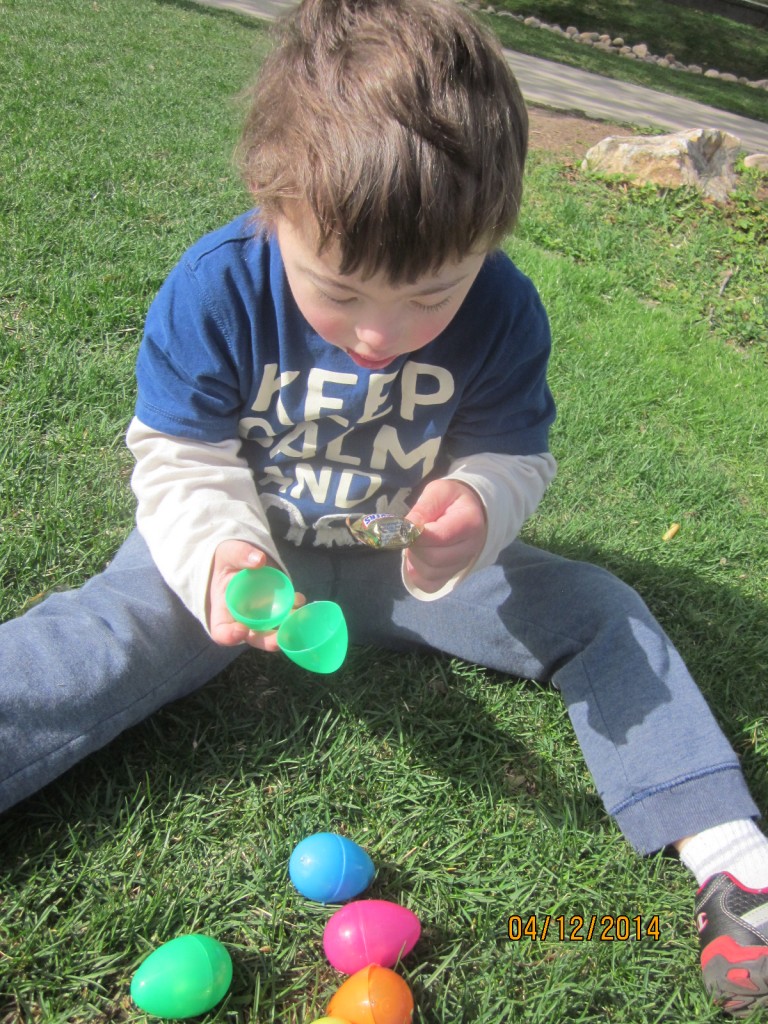 Carissa knows she's allergic to nuts (or, at least, that they "make her sick" and she can't have them). So with every egg she opened she showed me the candy and asked, "Does this have nuts?" Good girl.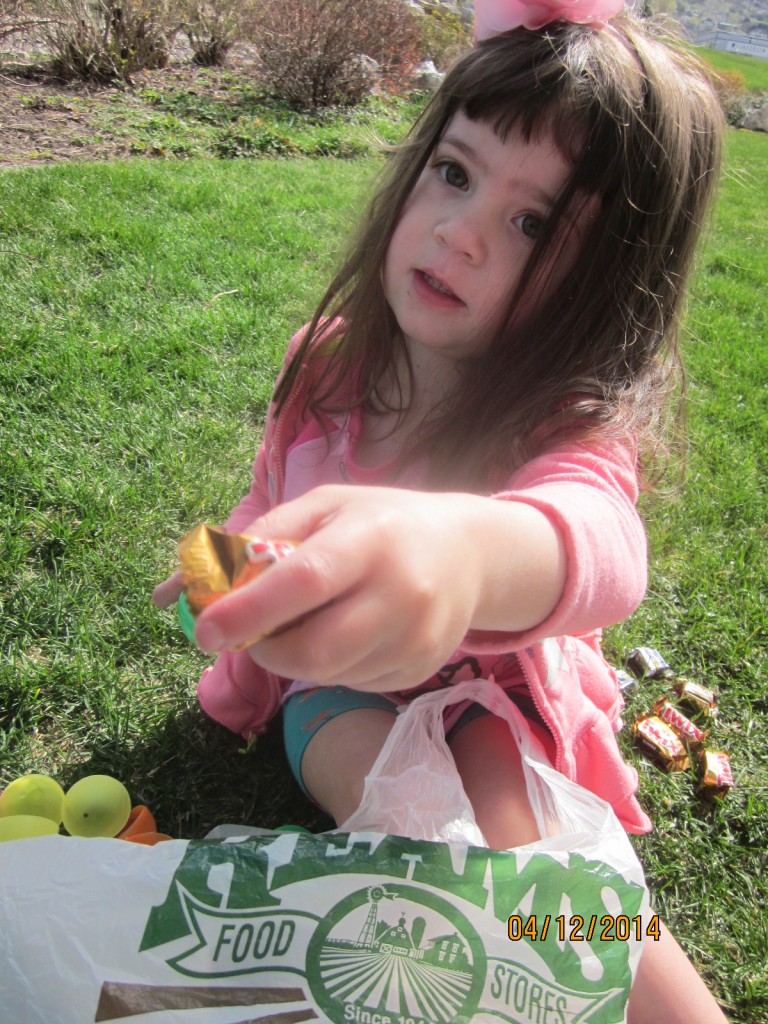 Carissa loved chasing the ducks in the stream. There was a mama duck with about fifteen ducklings. Fifteen!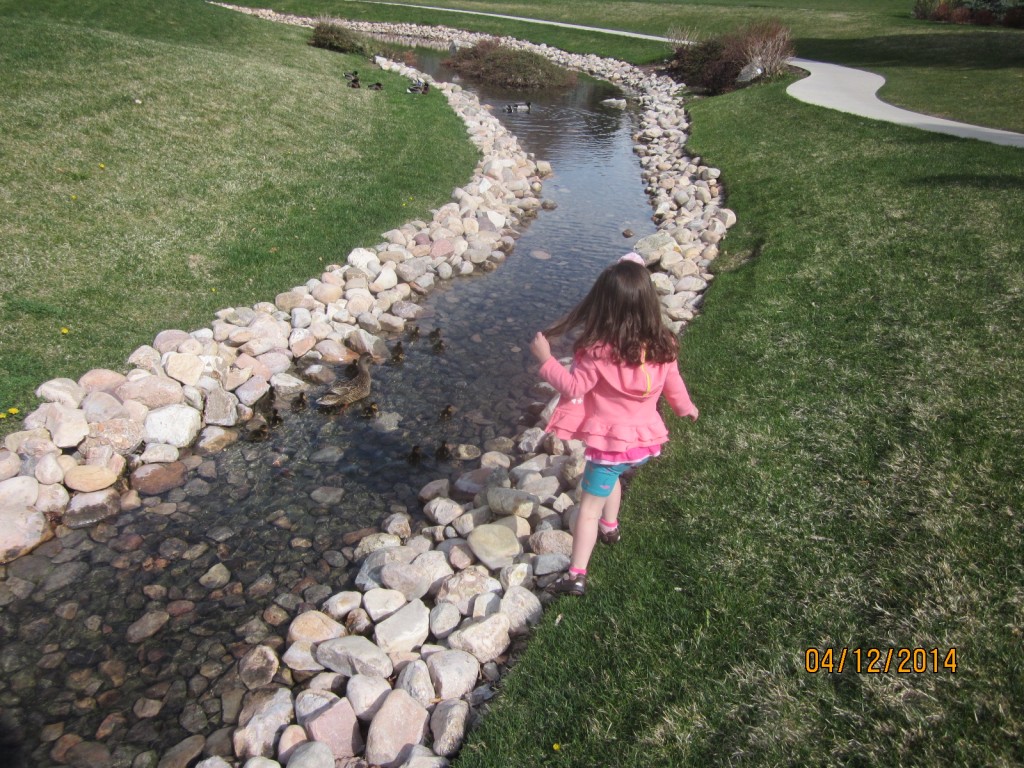 We walked through the Wilkinson Center and posed by Cosmo Cougar on the steps. Wes loves BYU football.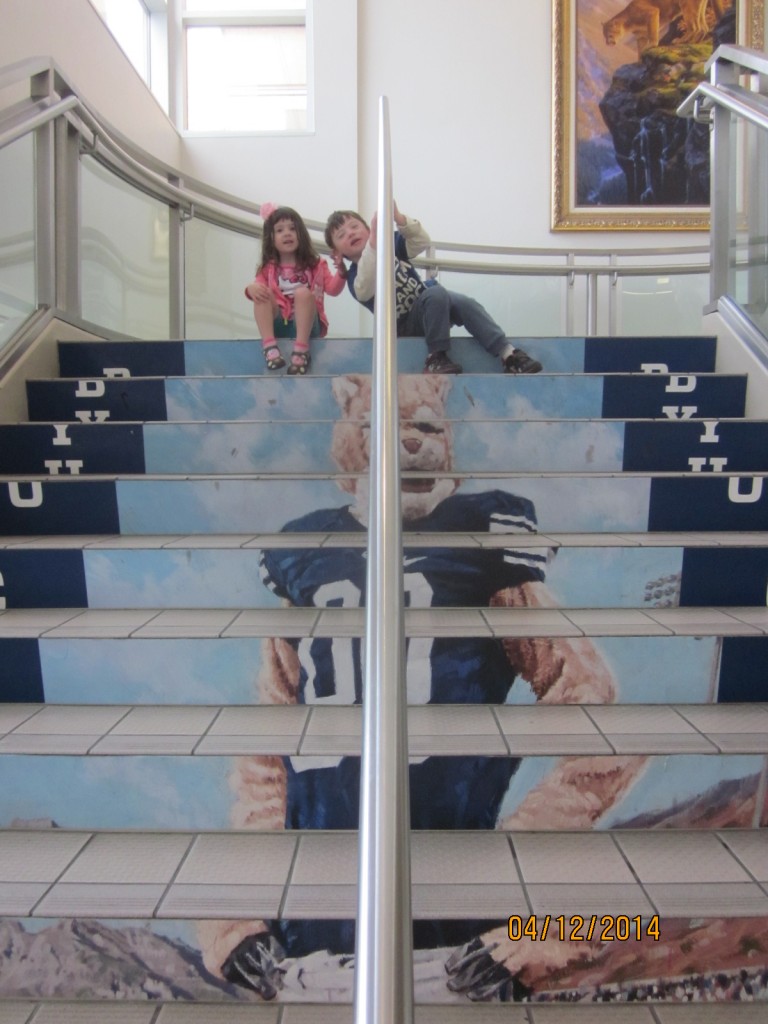 Then we got ice cream at Baskin Robbins and ate it outside. Good times.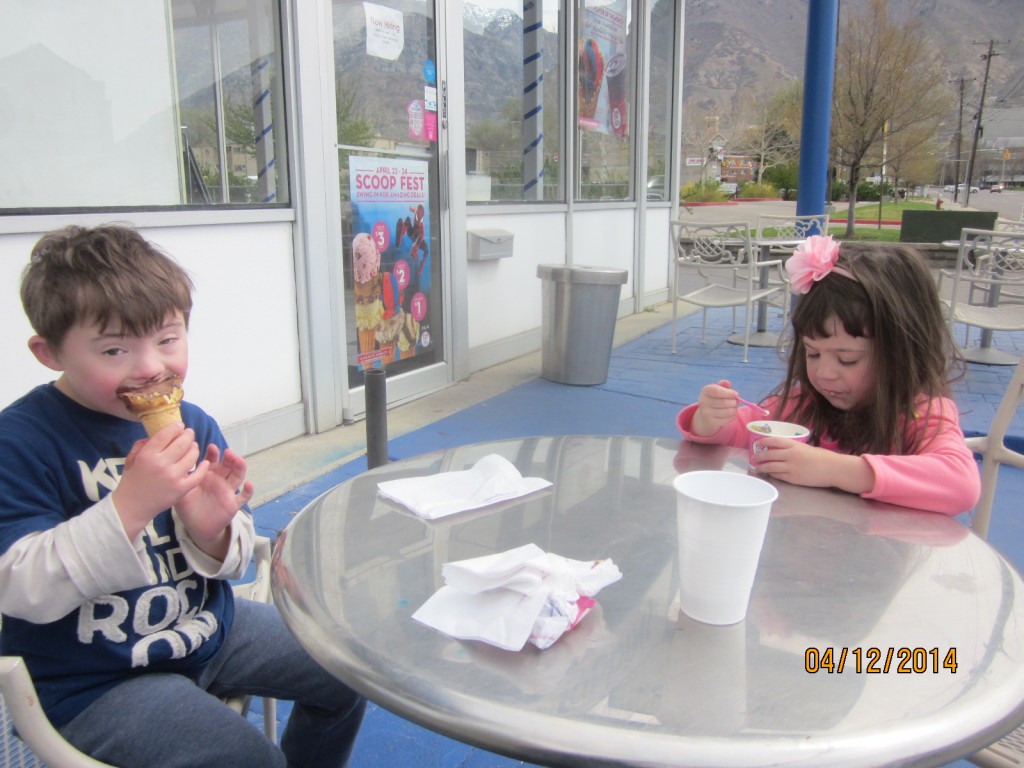 The big news around here is two new scooters. John took Carissa for her inaugural ride down our street.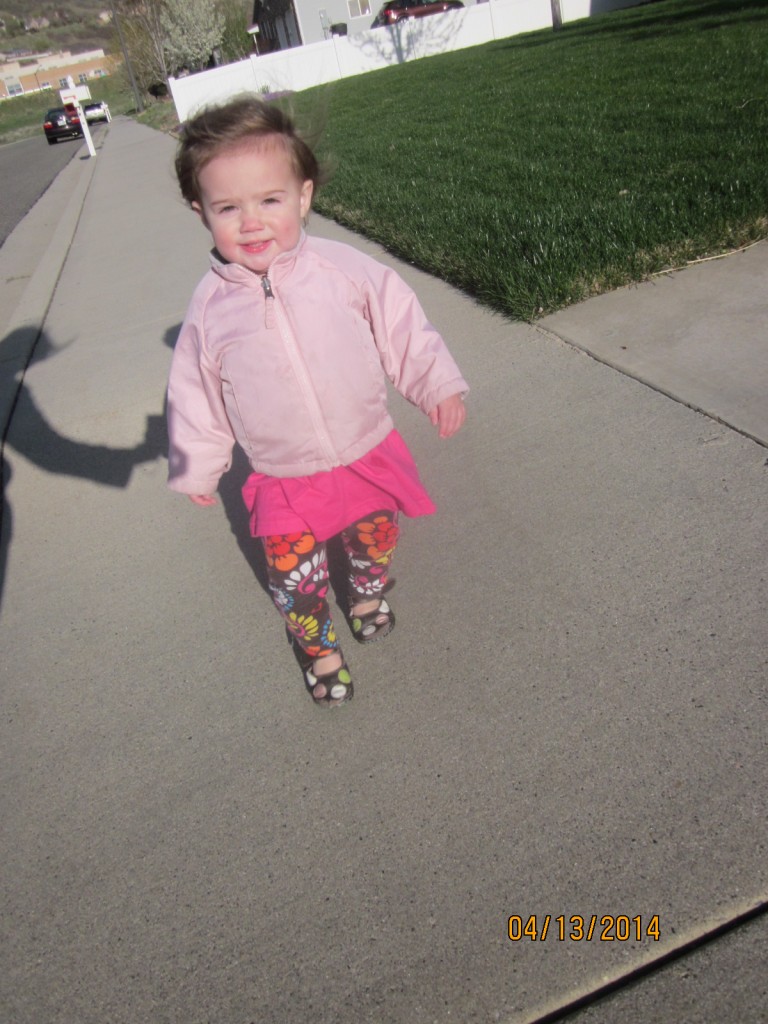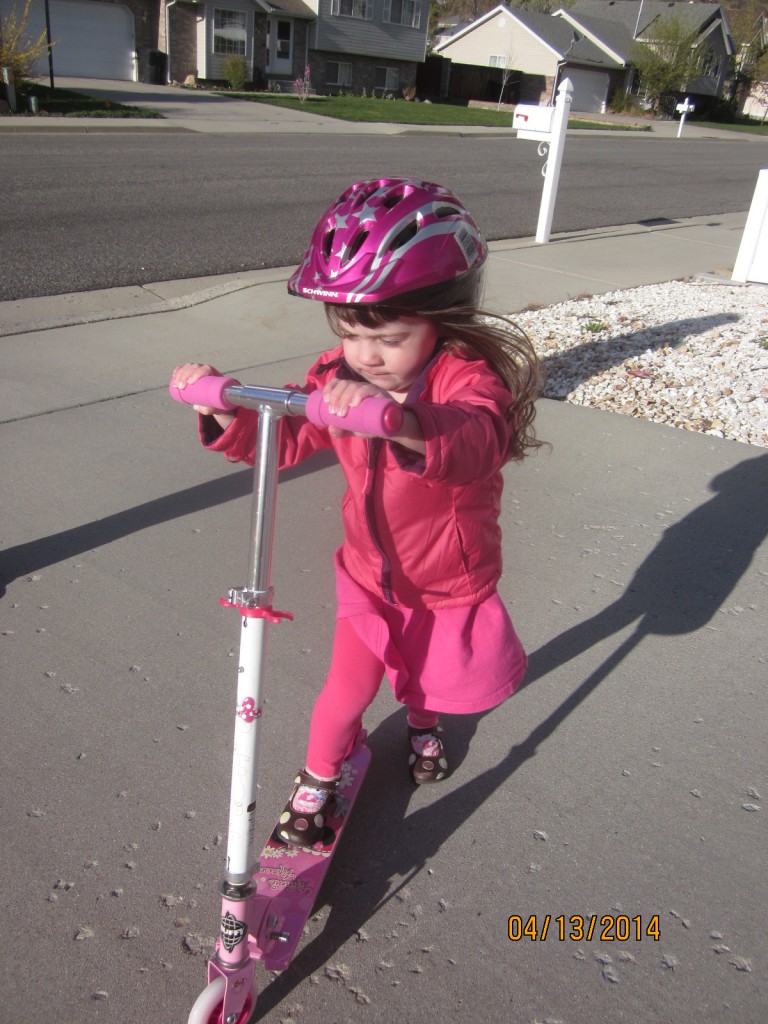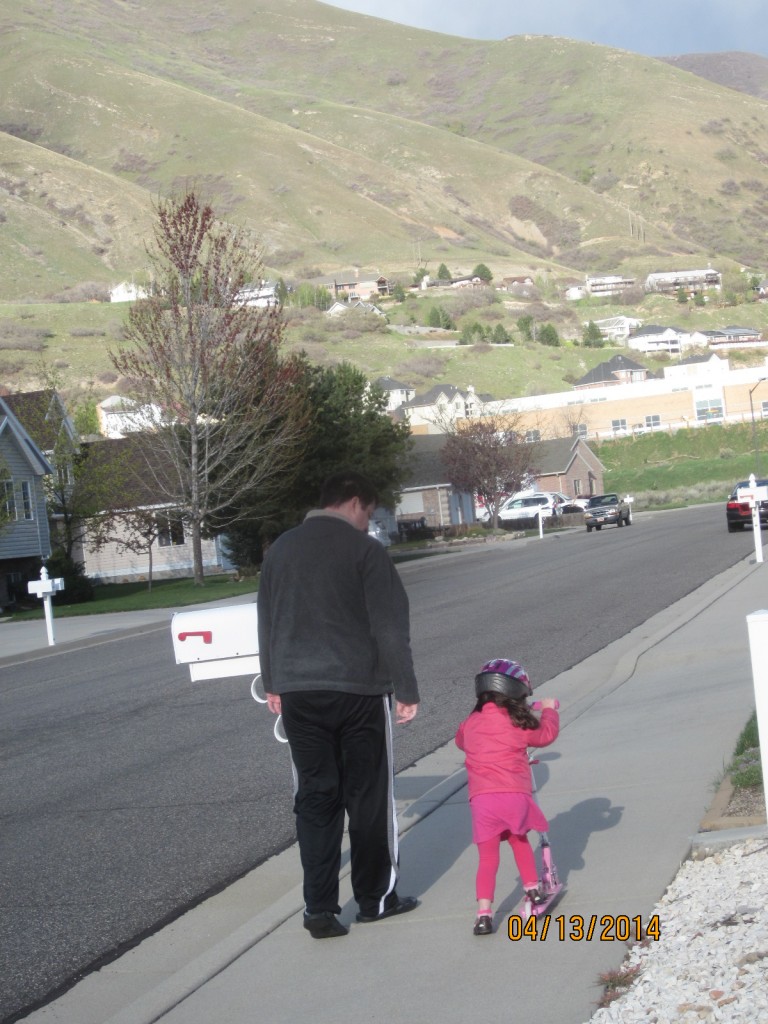 The park by our house on another day when I just needed to get out.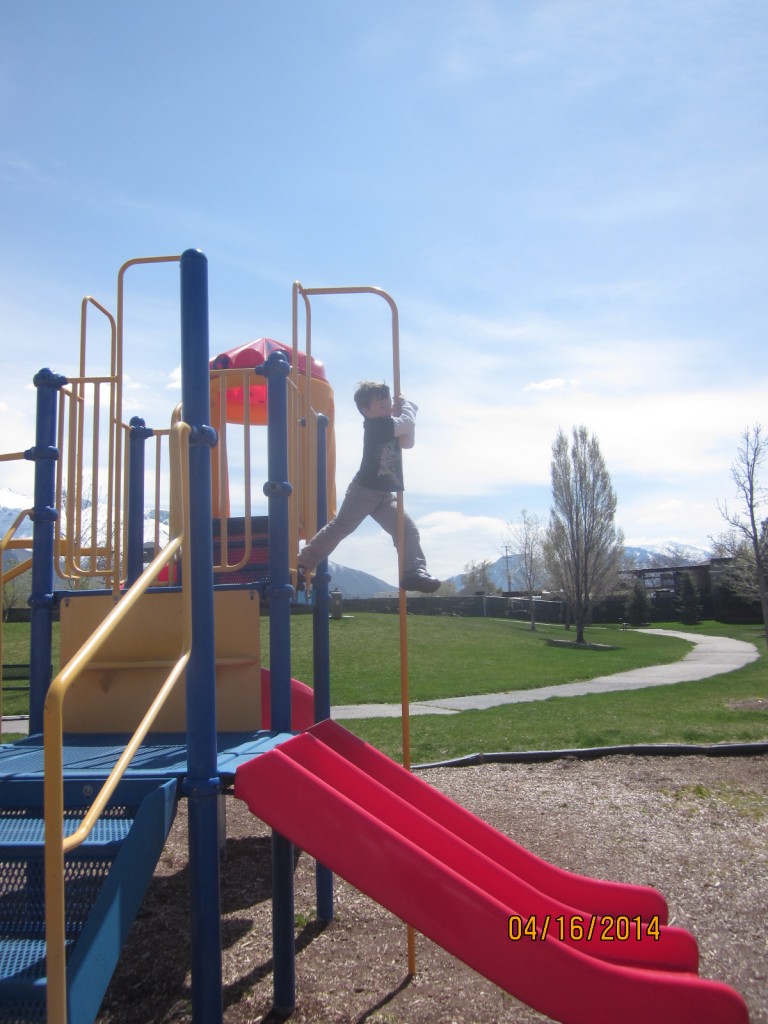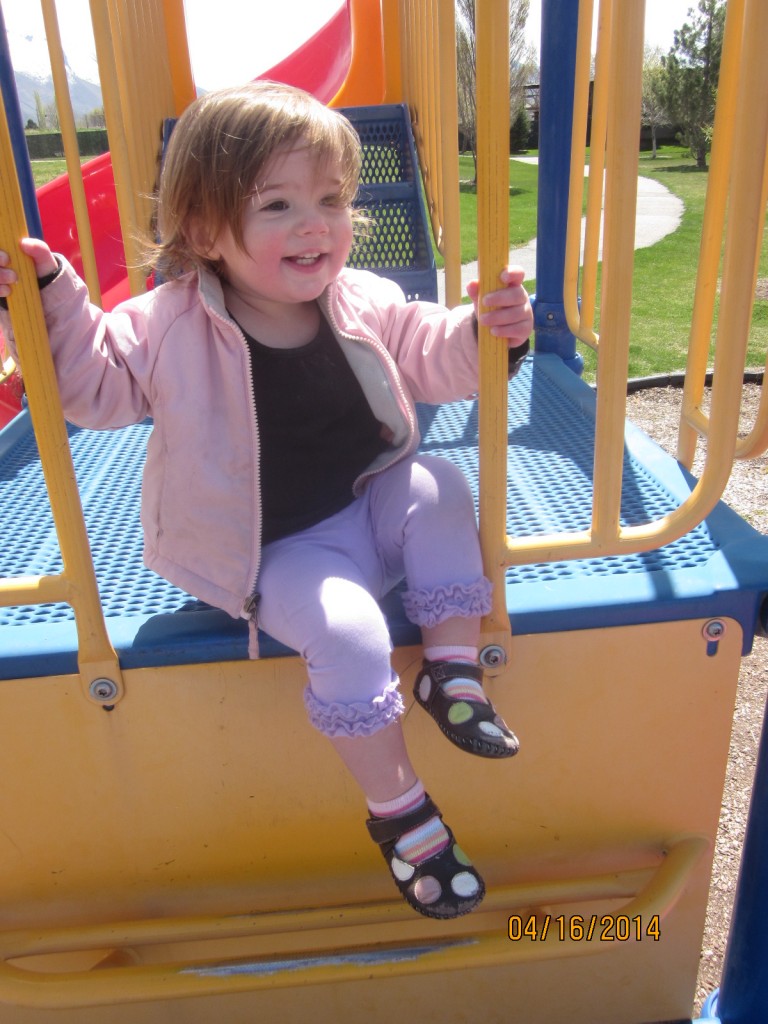 Carissa has great poses.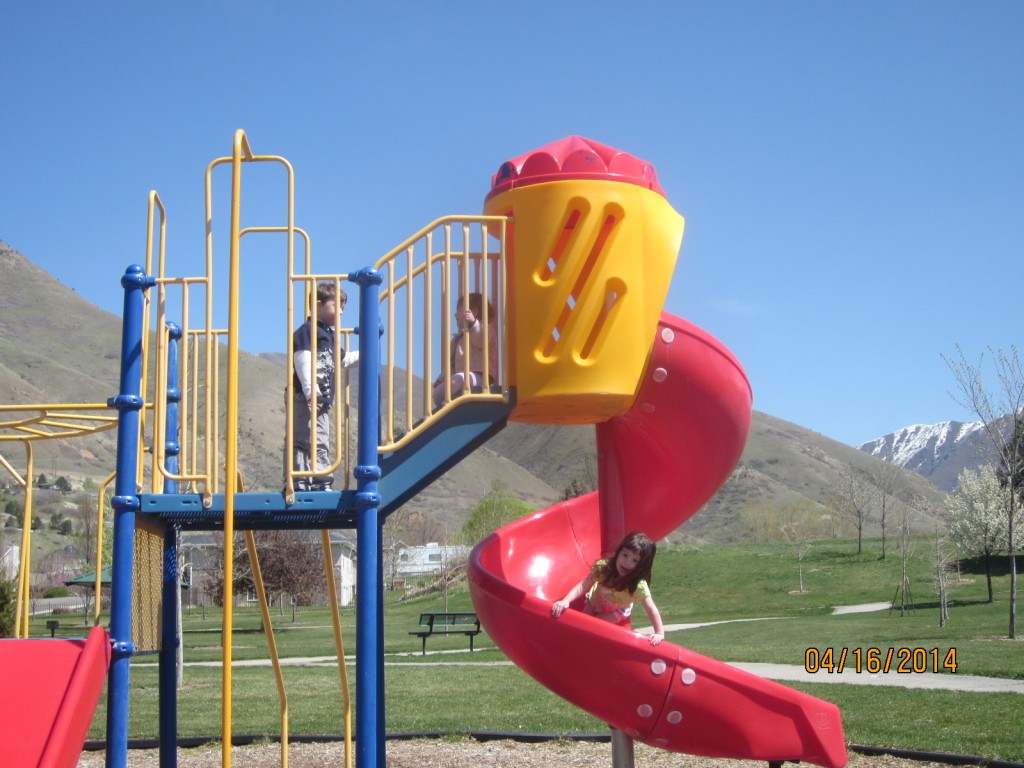 Native American Baby. Carissa says she didn't do this, but I'm not so convinced.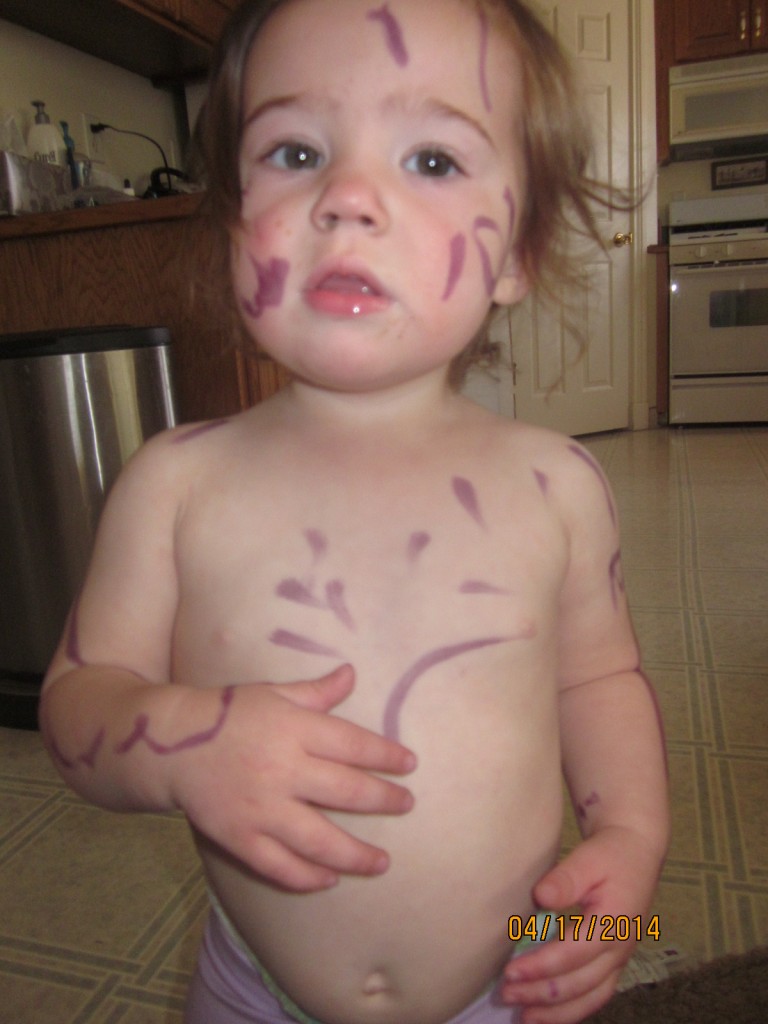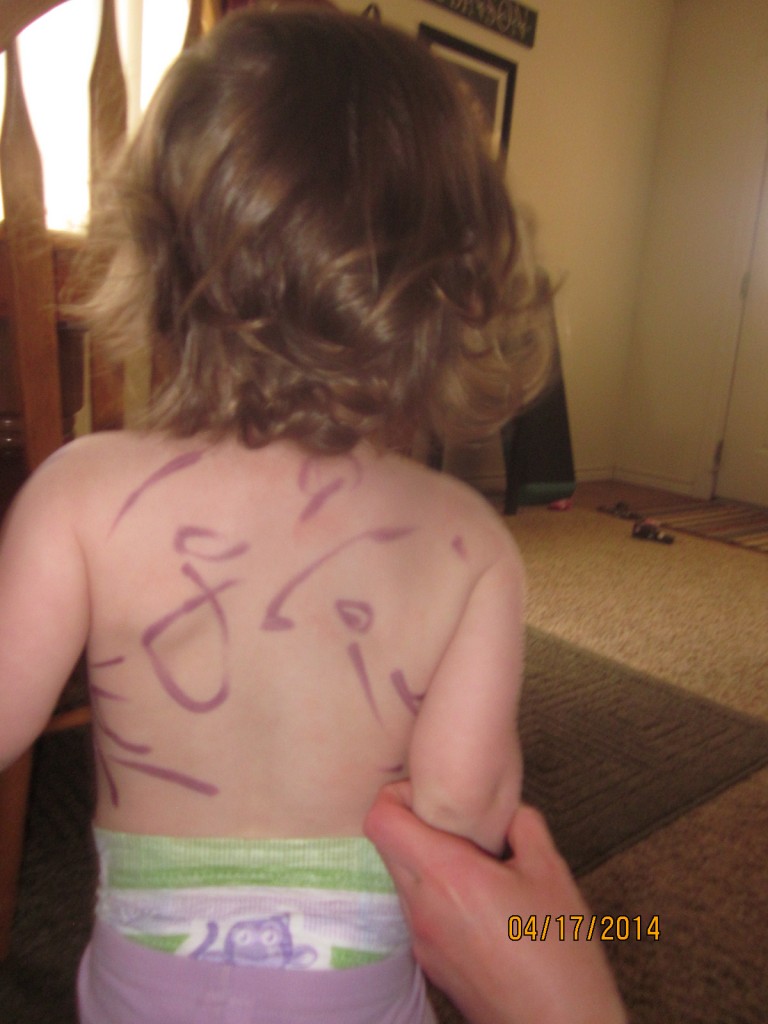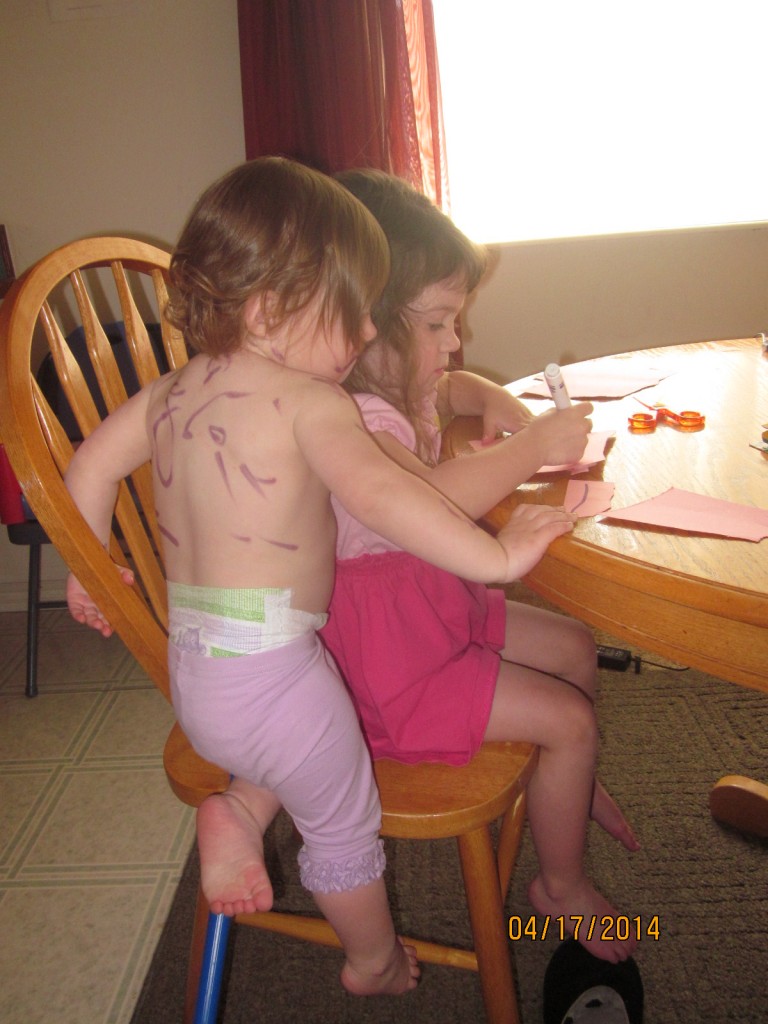 Eating cereal.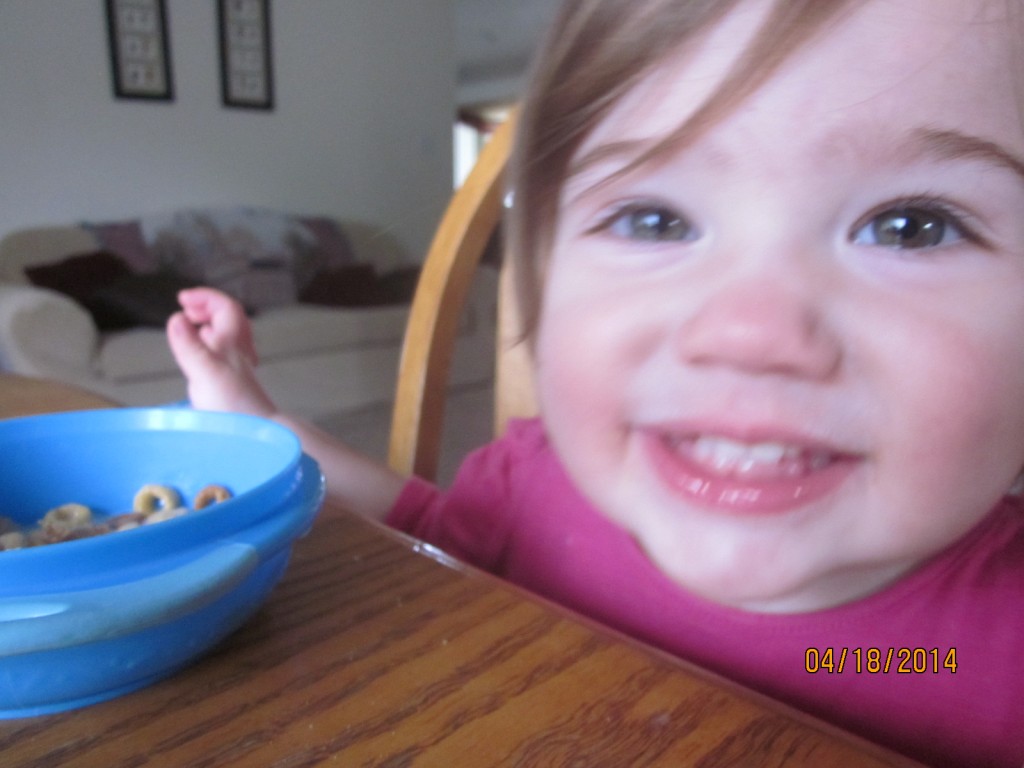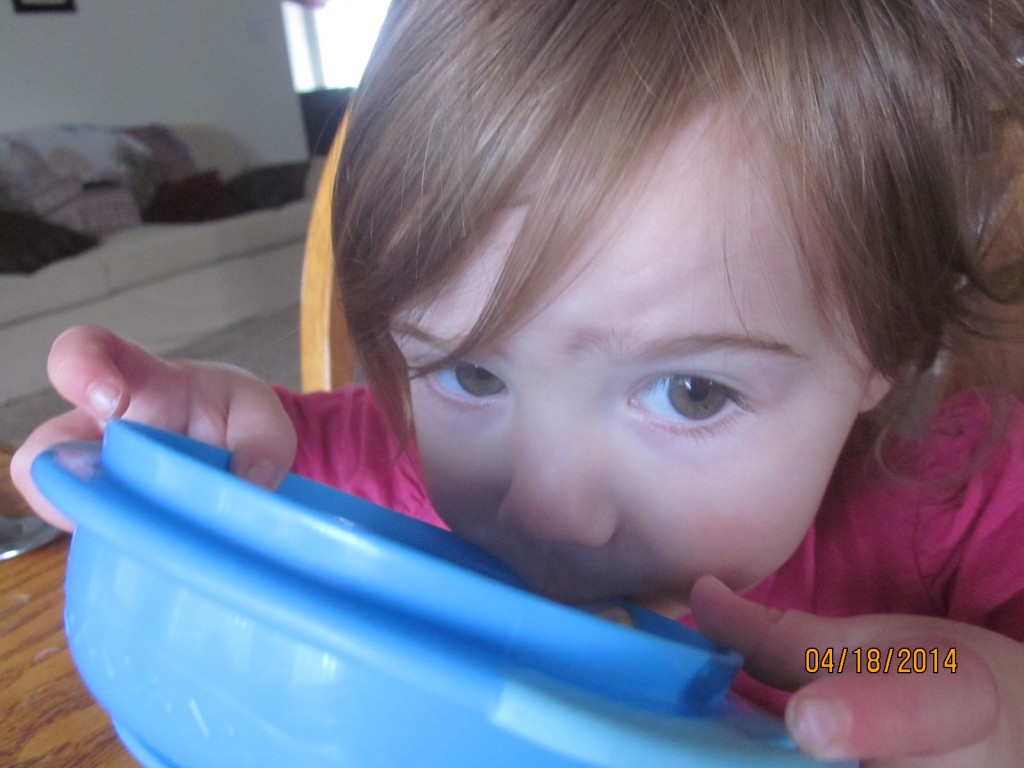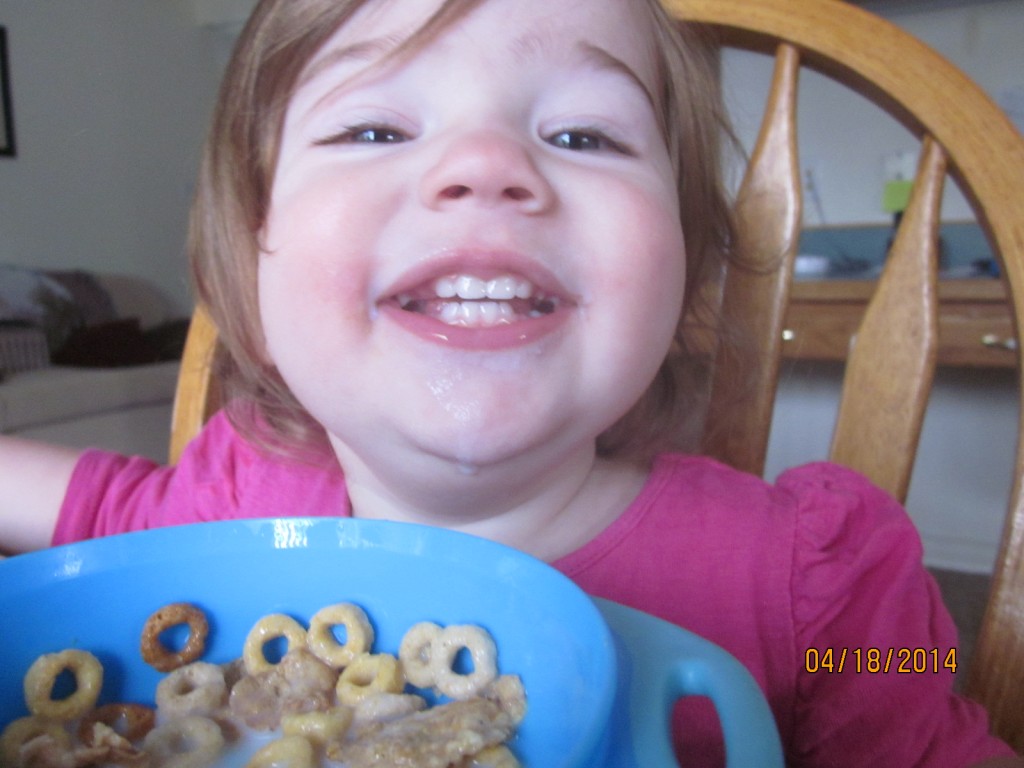 Carissa made this lion. I think it kind of looks like one, too! She's getting better with scissors and glue and tape.

Easter! During the Easter egg hunt Carissa insisted on only collecting purple ones. She helped Wes find all the rest. Wes and Carissa both got watches in their Easter baskets. Wes's is Angry Birds (his favorite game) and Carissa's is…well, can you guess? Hello Kitty.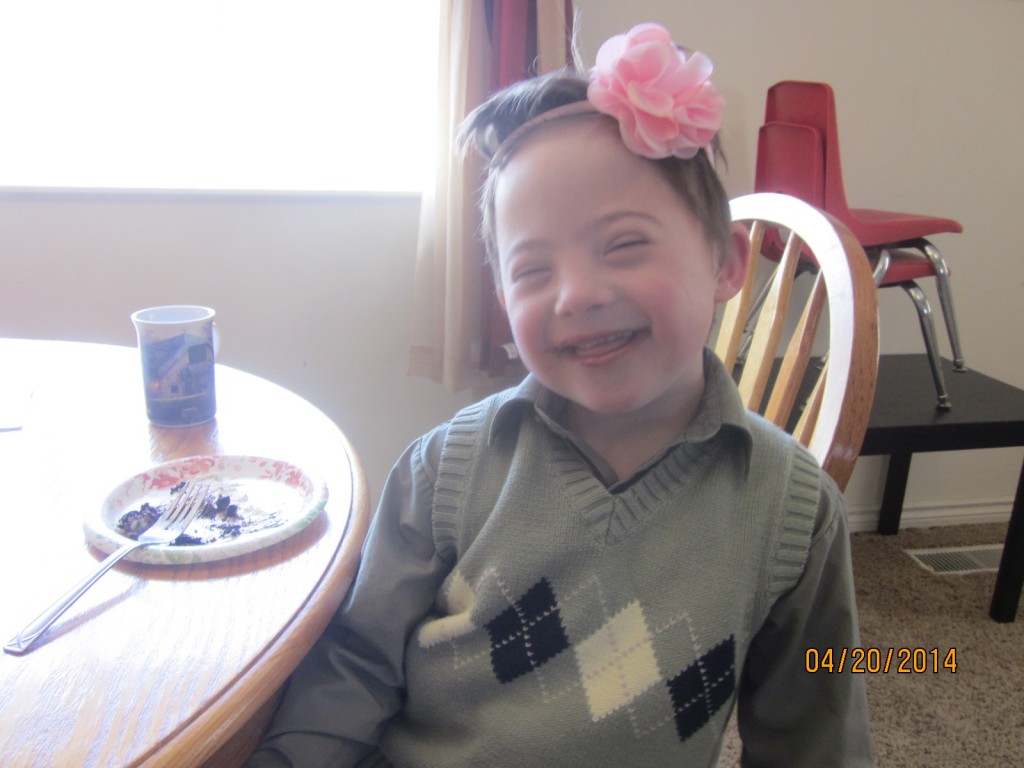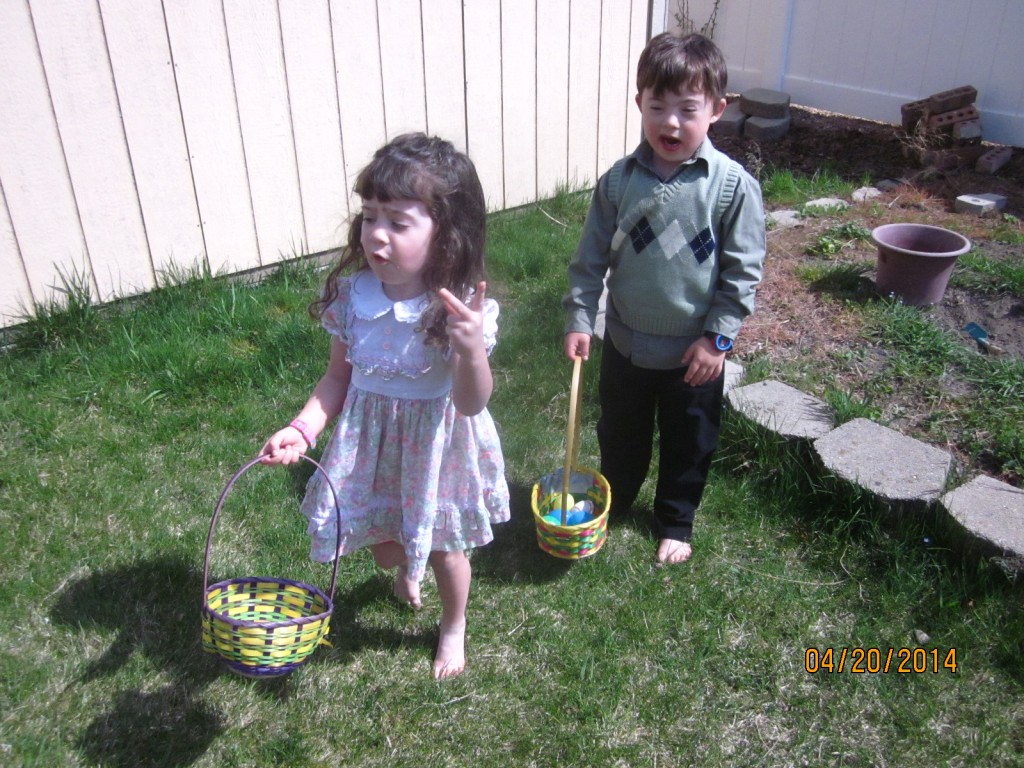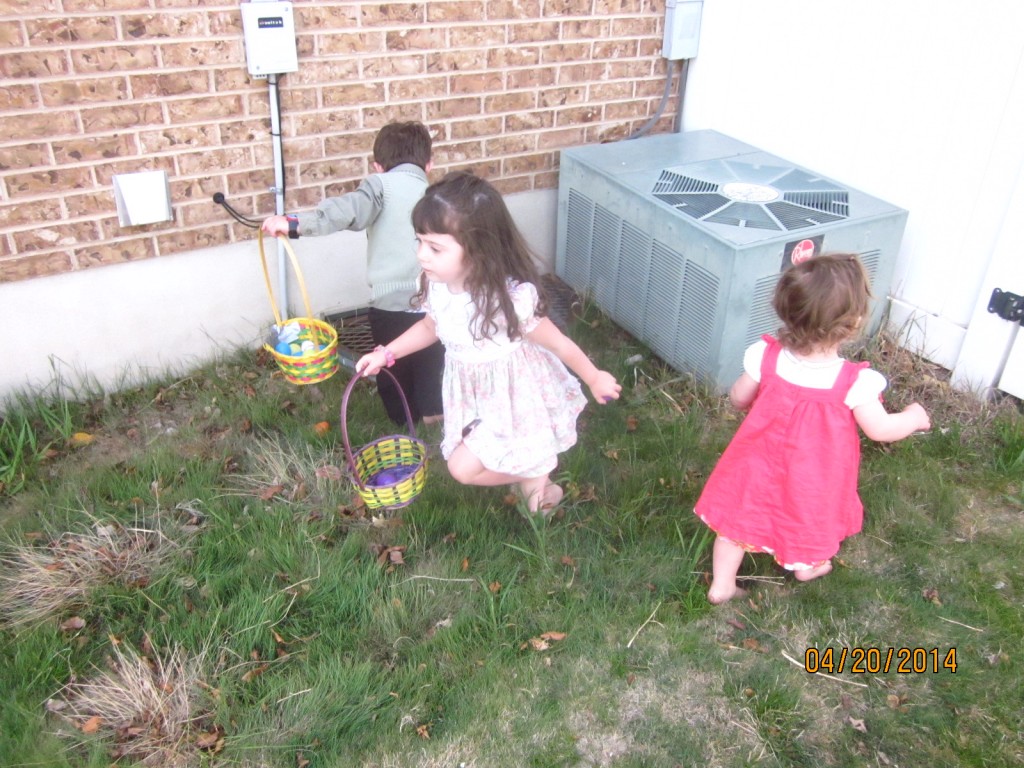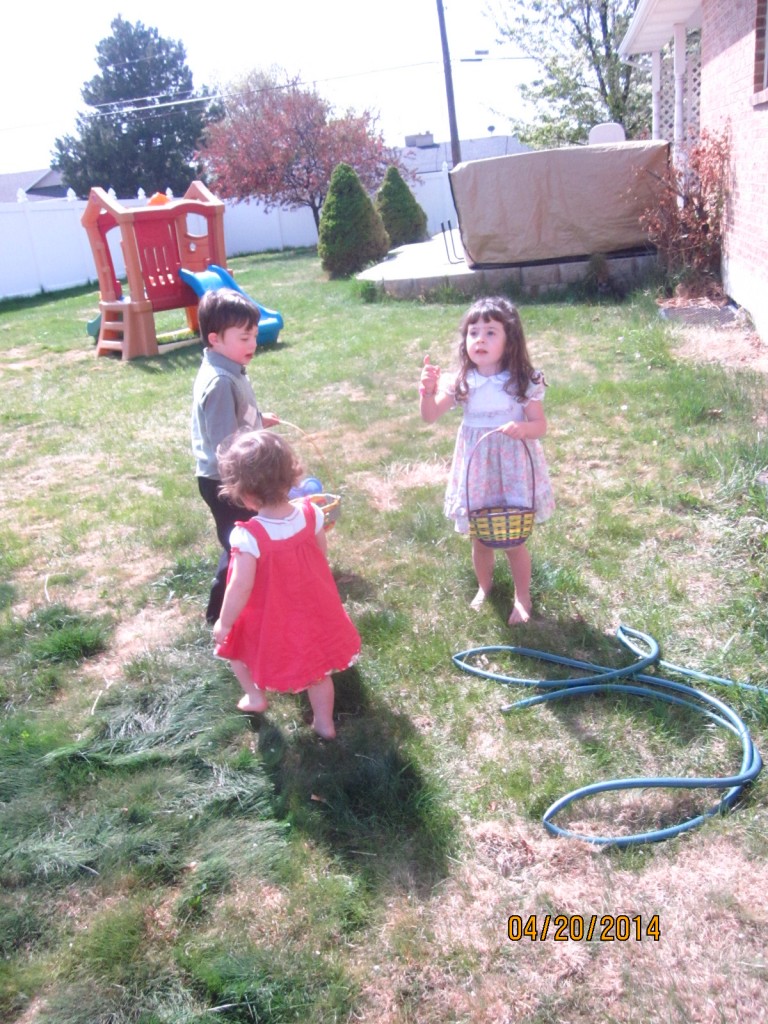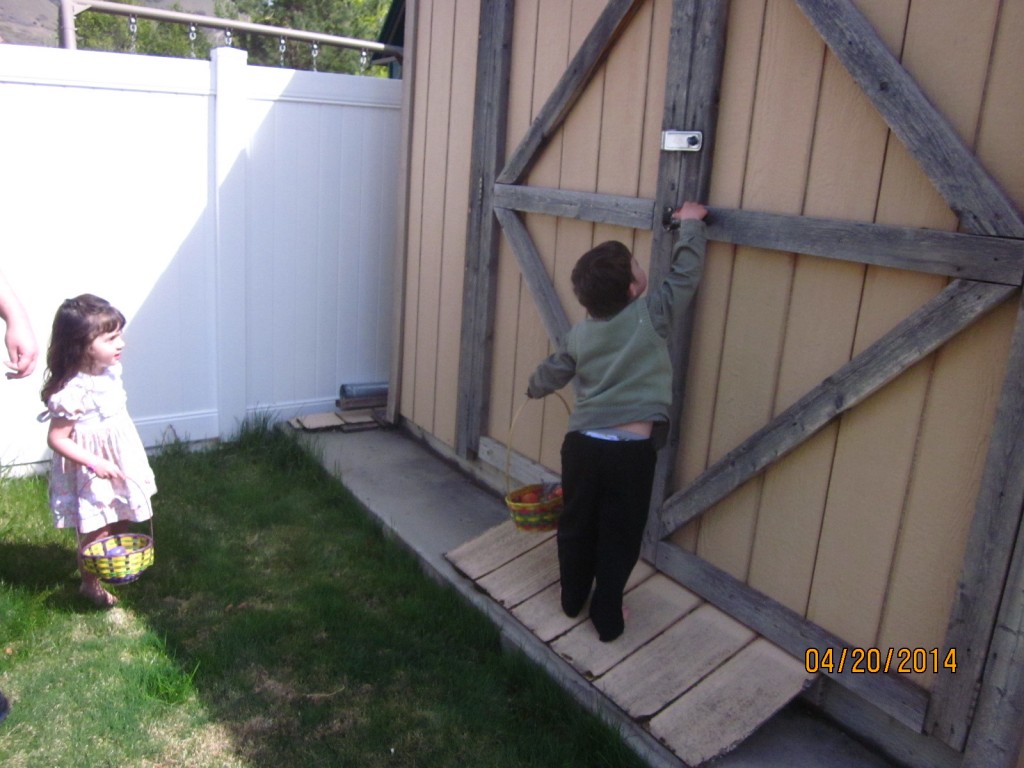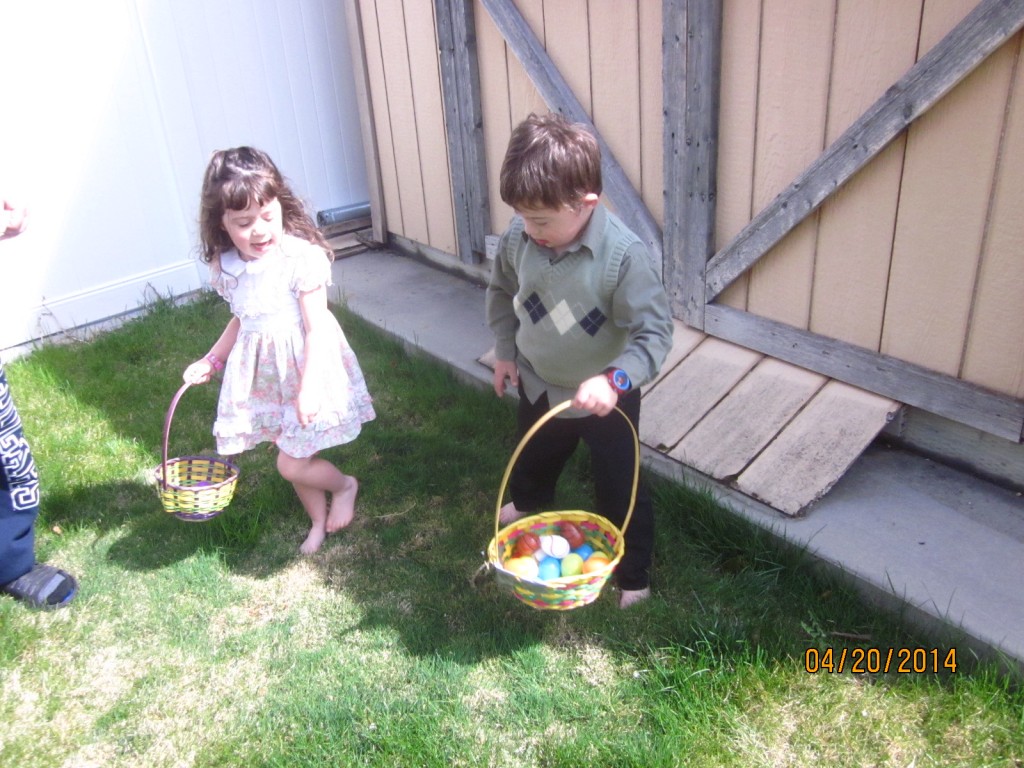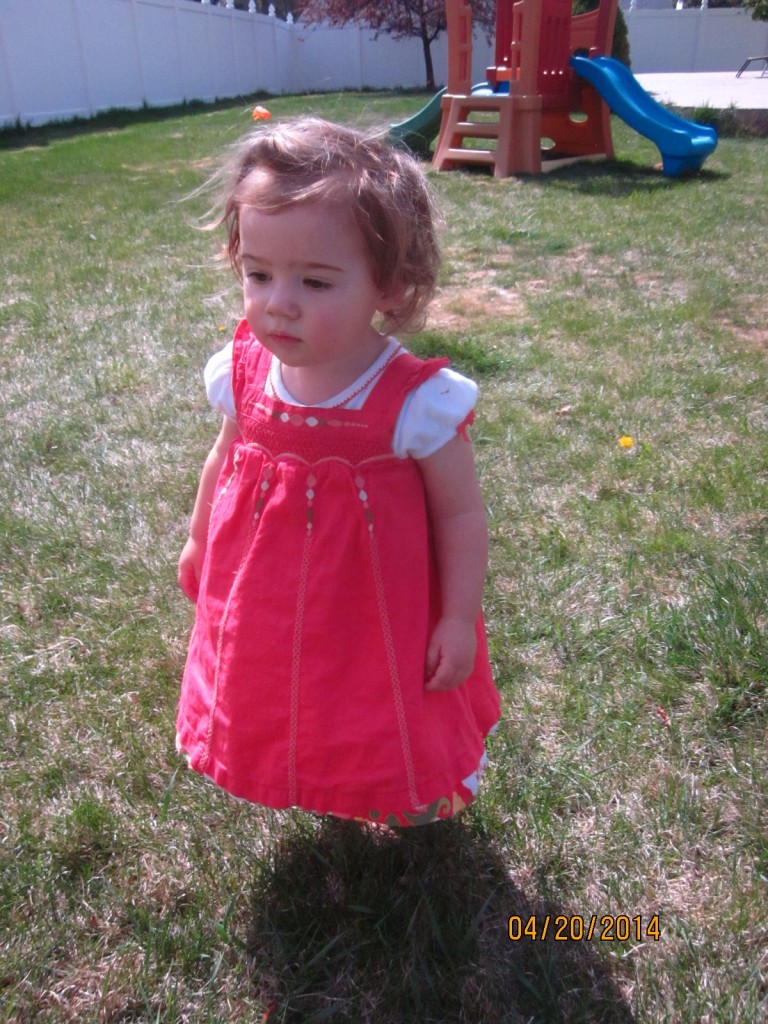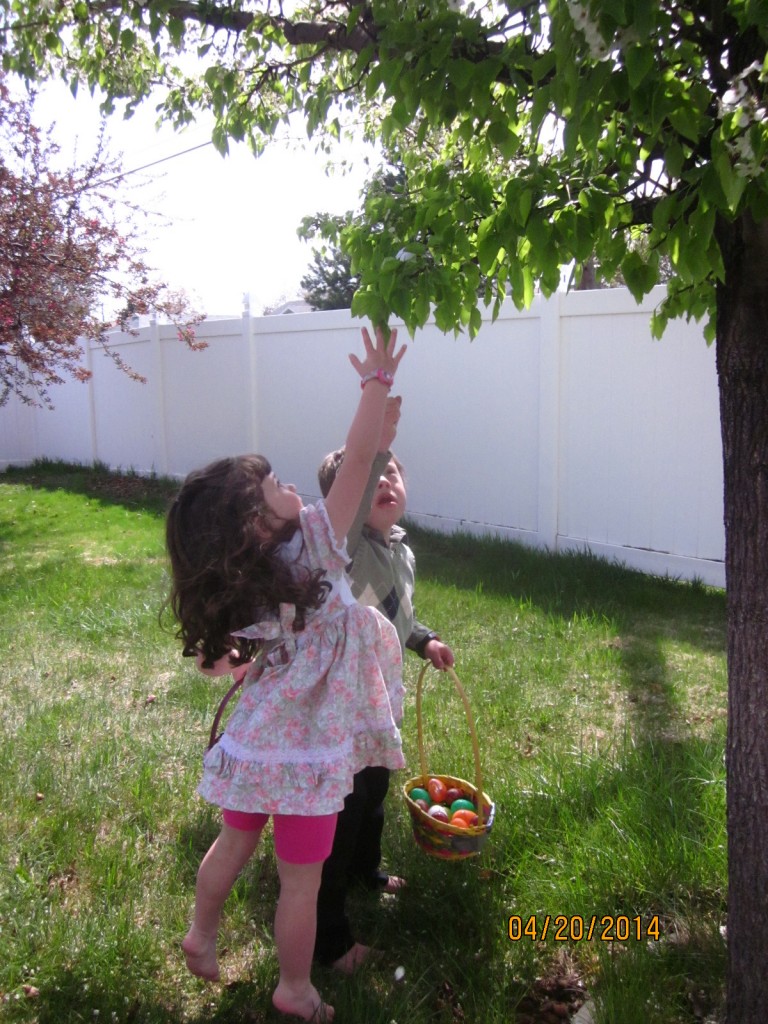 Carissa has finally mastered writing her name. I thought she had it down a while ago, but in February when she was signing her name on Valentines I discovered she writes her name backward. It was perfect, just backward (even her S's were backward). Her preschool teacher says it's really common, and they worked on it at school. This week is the first time I saw her write it correctly (even her S's!), so I snapped a picture. (Then, the next day or so I saw her write her name backward again. But now I know she can do it forward.)
Oh, and check out her picture. She told me this is a picture of herself. She has bangs, and a rainbow on her shirt like the one she's wearing. What a great artist!

Elizabeth enjoys the sandbox.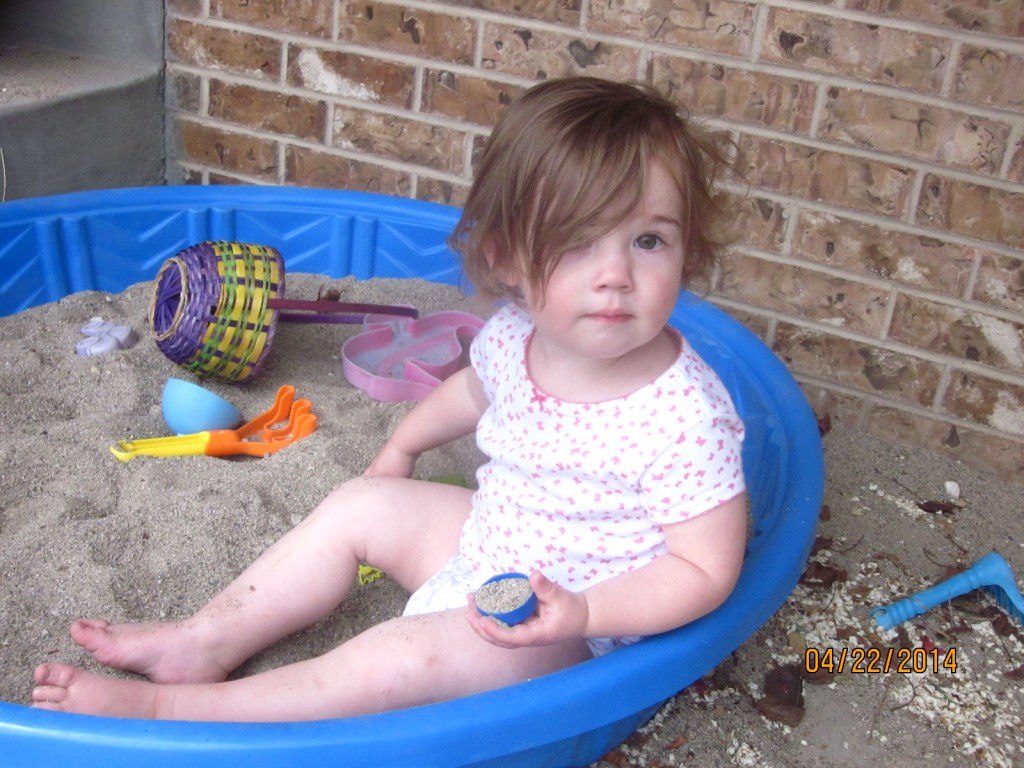 Wes is really liking bubbles lately. This is great because blowing bubbles was a really hard skill for him to learn. But he can do it now all by himself!

Three kids on a couch.