Today I had the privilege of throwing my sister a baby shower for her soon-to-come twins.
Arriving for the party.

I set up a welcome table where guests could take a size 1 diaper and write encouraging notes for my sister to see later when changing her babies' bums. She's thinking of two names that start with "N" and "K."

Then there was the food. She's having a boy and a girl but instead of blue and pink I opted for teal and purple (her favorite color). It was fun to put this together.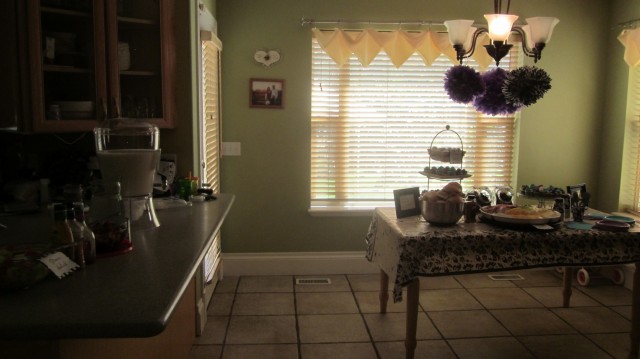 Her mother-in-law made the salad and our cousin brought the fruit salad.

In addition we had sandwiches, cupcakes, cake truffles, and chocolate.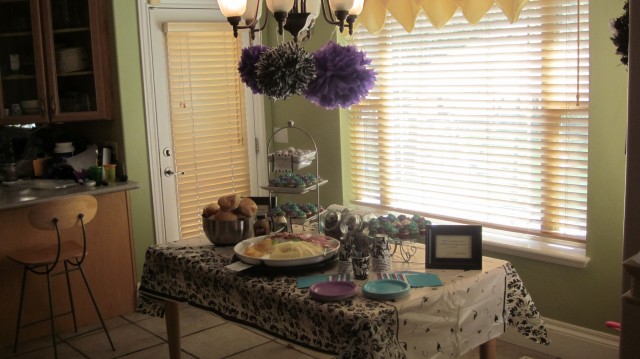 I can't ever have a party without displaying quotes. We had two: "Twice as much to love, two blessing from above" and "There are two things in life for which we are never truly prepared: TWINS." The one I left out was a Chinese proverb: "It is not economical to go to bed early to save the candles if the result is twins."

I couldn't resist these candy jars when I saw them.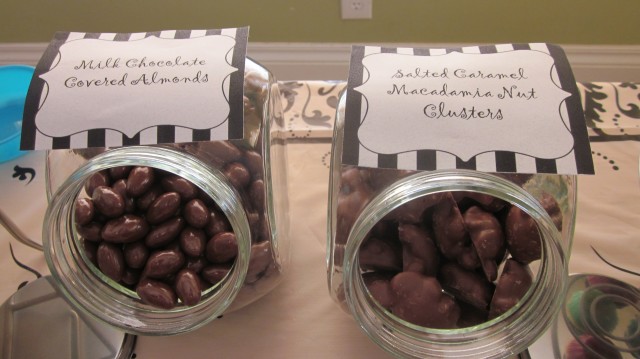 I made these cake truffles from this recipe.

I made the mini cupcakes, too. Secret: It was just a French vanilla cake mix. But the frosting I made using this recipe. (I had to triple the recipe to cover the whole batch of cupcakes.)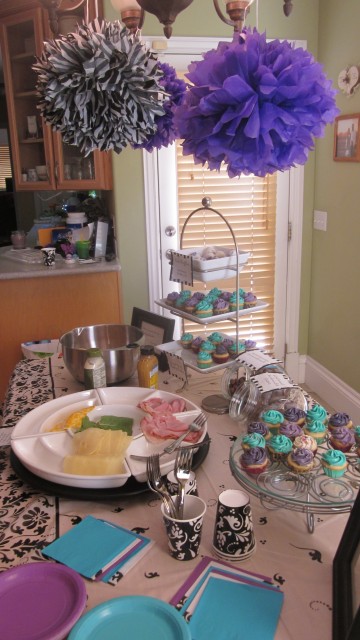 Wes only ate the frosting.

That was the setup, but the party was all about…

…and the "you" was my sister, Tara. She's about 32.5 weeks pregnant.

We played a mad lib game called "The Birthing Adventure of Twins."

And then we got down to business: PRESENTS! People were very generous and brought Tara a variety of diapers, meals to freeze, and other baby items (especially for boys, since this is her first boy).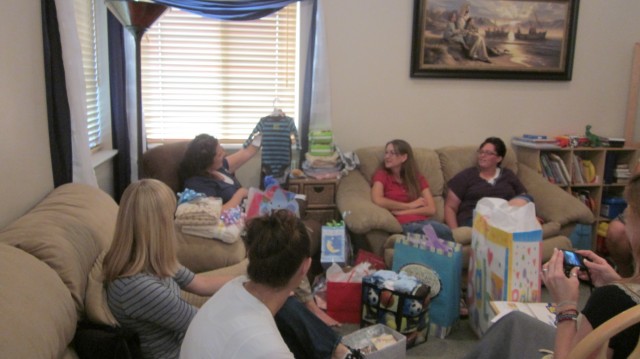 She got some really great loot!

Meanwhile the kids… Well, they were actually rarely here, in front of the TV, which was too bad. More often than not Wes was where he shouldn't be, such as inside the horse pen tossing rocks into the horses' water trough (NOT allowed).

Carissa was good, often reading or playing with cars or the baby stroller and doll.

And that's a wrap! I hope Tara had a fun baby shower and that she felt loved and supported by the many friends and family who came.