My sister told me about a cooking class she was going to hosted by the Food Nanny (a.k.a. Liz Edmunds). She's a local chef who has a TV show on the BYU channel ("The Food Nanny"; you can watch full episodes here) where she helps families establish family dinnertime as a regular and important part of their routine. My sister said there was a discount deal for the class, so I signed up too and we went together.
The cooking class I took with John a few weeks ago was fun and educational. But this cooking class with the Food Nanny was not only fun and educational, it was also kind of life changing.
Cooking for my family has never been my strength. My usual routine: pull open the cupboard and pantry around the time we're hungry and stand in stupor, wishing dinner was already made, and by somebody else. We've never had a regular mealtime at night, but I know it's important. At our house, where John works from home, we're essentially all home together all day long, every day. We have a lot less structure than other families who expect dad to come home from work around mealtime, and then it's time to eat! We just kind of do our own thing. Since we haven't had structured dinner time, I would let Wes snack whenever, and John and I would eat whenever.
After taking Liz's class I decided I wanted to make dinnertime an important, established part of our daily family routine. And going to her class (and getting her cookbook, which was included) made me believe I could do it.
Wow. That's miracle #1, believing I could plan and prepare dinner for my family.
Meeting Liz, the Food Nanny, in person was awesome. I've seen her show, and she's just as likeable and adorable in person as she is on TV. We drove through some gorgeous (although treacherous) snow on the way to her house.
(Bridal Veil Falls on the left.)
This is Liz's house. Isn't it gorgeous? It was a family cabin that they eventually built onto to make their home.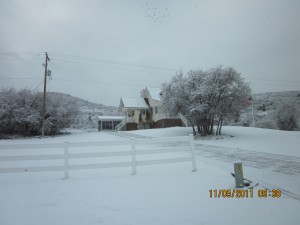 Liz made us feel so welcome, like we were part of her (very large) family. She let us roam around her house and take pictures. We felt right at home.
This is the kitchen where all the magic happened.
To give you an idea of what kind of hostess she is, when you went to dry your hands in the guest bathroom, this is the surprise you get when you reach for the hand towel.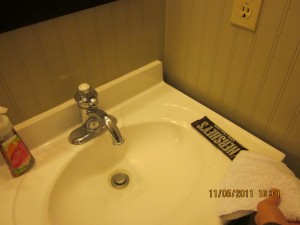 Liz spent some time explaining why family dinnertime is so important. She also told us about her background, and how family mealtime really kept her and her family grounded while her husband was a pilot and gone a lot. She's been following the basic guidelines shared in her cookbook for nearly 40 years. I think it's a good measure of her success that her grown kids' families all have routine family dinnertimes, too.
She had a lot of good points, and she truly is right: family dinnertime is a lost art and really important to establish and maintain in your family.
Liz's rule of thumb is to plan your meals one to two weeks in advance (two is better), and to aim to prepare meals at least five days a week (everyone deserves a night or two off, she says). She suggests having a theme for each night, and that makes it easy to pick food to prepare. Her basic guideline is:
Sunday: Family Traditions
Monday: Comfort Food
Tuesday: Italian
Wednesday: Meatless or Breakfast for Dinner
Thursday: Mexican
Friday: Pizza
Saturday: Grill Night
I think it's kind of brilliant, simple as it is. It makes it easy. And even easier is that you can go to her website and use this tool to create your themed menu for up to two weeks. And you can even print your grocery list from it.
Liz made an ambitious amount of food for us. It was so helpful to watch her demonstrate and share tips and information as she worked. It was a great experience, in part because she made it look so easy, like even I could do it!
First up, pie crust.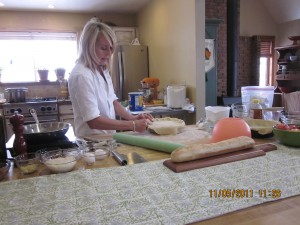 She made apple pie, apple crisp, and then used the leftover pie crust to make jelly rolls. The pie actually burned, but it was still delicious.
In the first picture, the apple crisp is on the bottom, pie on top.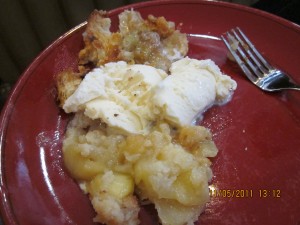 Next was french baguettes. They're simple to make (surprise!). Liz calls them her go-to bread because they only take about an hour from start to finish, including rising.
Liz is holding up a double baguette pan, which I am definitely investing in. Because now I, too, am One Who Bakes Baguettes.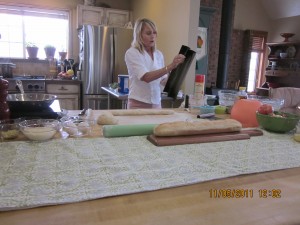 She used some of the baguettes to make fried bruschetta. It was actually the first thing we were given to taste. It was delicious. A little heavy on oil, but great in small quantities.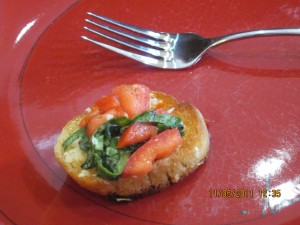 Then it was pizza. She uses a pizza peel to make the pizza on, and then she bakes it on ceramic tiles in her oven (bottom picture). She used to use a pizza stone a lot (which I use at home), but in her more recent travels to Italy she's discovered that they used tiles in their ovens. She bakes the pizza directly on them.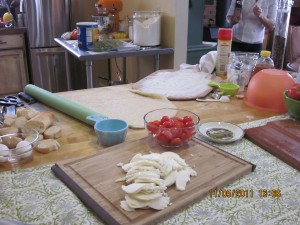 She made us arugula and tomato pizza. She said she got the idea for it when she was in Italy and asked a chef to bring her his healthiest pizza, and this was it. She didn't even know what arugula was at the time. It's a very strong-tasting, almost bitter, lettuce. The pizza was good, but definitely for grown-up palates.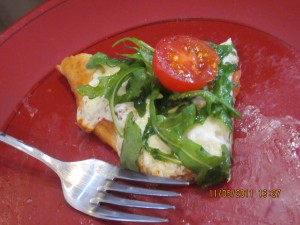 Lastly, she made us two pasta dishes: chicken marsala and spaghetti carbonara.
The chicken marsala was AMAZING, and I hope to recreate it in my own kitchen sometime. The carbonara was the only dish she made that I wouldn't try making at home. It was too spicy for me. She said some chefs make carbonara with cream, and others with water. She uses water, but I think I would prefer cream.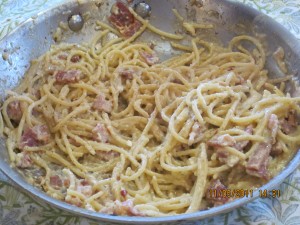 By the time we finished, the weather had cleared into a beautiful day.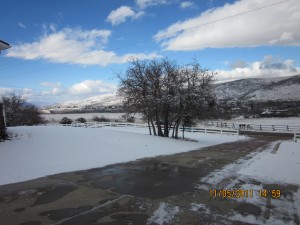 So, miracle #1 was that I believed I could do this for my family. Miracle #2 is that I actually am!