I stumbled on this article by the NY Times from a few years ago about the secrets behind the best chocolate chip cookies. They interviewed big-time bakers and learned what they did.
The #1 secret revealed was to let the cookie dough rest in the refrigerator for 36 hours prior to baking. It lets the ingredients soak together better, and you end up with a drier, more crumbly dough with richer flavor. They even did a test batch at 12, 24, and 36 hours, and the 36-hour cookies earned top marks.
They also talk about the use of salt and how it works to contrast and enhance the sweet flavors.
So I tried their recipe. I followed it as closely as possible, but I didn't have bread flour (although I did have cake flour). I didn't have bittersweet chocolate so I used regular ol' semi-sweet chocolate chips. And then I stored the dough in the fridge and waited patiently for 36 hours. I felt a little like a pioneer girl waiting for her seeds to sprout and grow into a bounteous harvest.
At just about the 36-hour mark I pulled out the dough and formed it into balls "the size of generous golf balls" as the recipe directs. Good thing the recipe specifies that this is about 3.5 ounces of dough, because apparently I don't know how big a golf ball is and would've made them much smaller. I topped each cookie dough ball with a sprinkling of fine sea salt.
I baked my four test cookies at 350 degrees for 18 minutes.
The result?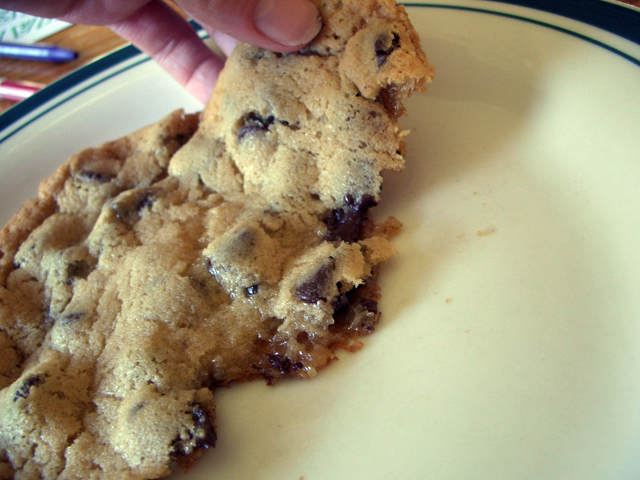 I so agree with the article, which stated that cookies baked at the 36-hour mark had "richer, more sophisticated taste, with stronger toffee hints and a definite brown sugar presence." I definitely tasted the toffee (caramel) and brown sugar flavor. These cookies are heavy on salt. Probably the saltiest cookies I've made. But I like it. The taste lingers in your mouth longer, and it complements the sweet toffee flavor. Then again, my favorite chocolate bar is Lindt Dark Chocolate with Sea Salt, so I already knew I liked the contrast of sweet and salty.
You should try it. See what you think.
Here's a link to the recipe, and the recipe in its entirety.
Chocolate Chip Cookies
Adapted from Jacques Torres
Time: 45 minutes (for 1 6-cookie batch), plus at least 24 hours' chilling
2 cups minus 2 tablespoons (8 1/2 ounces) cake flour
1 2/3 cups (8 1/2 ounces) bread flour
1 1/4 teaspoons baking soda
1 1/2 teaspoons baking powder
1 1/2 teaspoons coarse salt
2 1/2 sticks (1 1/4 cups) unsalted butter
1 1/4 cups (10 ounces) light brown sugar
1 cup plus 2 tablespoons (8 ounces) granulated sugar
2 large eggs
2 teaspoons natural vanilla extract
1 1/4 pounds bittersweet chocolate disks or fèves, at least 60 percent cacao content (see note)
Sea salt.
1. Sift flours, baking soda, baking powder and salt into a bowl. Set aside.
2. Using a mixer fitted with paddle attachment, cream butter and sugars together until very light, about 5 minutes. Add eggs, one at a time, mixing well after each addition. Stir in the vanilla. Reduce speed to low, add dry ingredients and mix until just combined, 5 to 10 seconds. Drop chocolate pieces in and incorporate them without breaking them. Press plastic wrap against dough and refrigerate for 24 to 36 hours. Dough may be used in batches, and can be refrigerated for up to 72 hours.
3. When ready to bake, preheat oven to 350 degrees. Line a baking sheet with parchment paper or a nonstick baking mat. Set aside.
4. Scoop 6 3 1/2-ounce mounds of dough (the size of generous golf balls) onto baking sheet, making sure to turn horizontally any chocolate pieces that are poking up; it will make for a more attractive cookie. Sprinkle lightly with sea salt and bake until golden brown but still soft, 18 to 20 minutes. Transfer sheet to a wire rack for 10 minutes, then slip cookies onto another rack to cool a bit more. Repeat with remaining dough, or reserve dough, refrigerated, for baking remaining batches the next day. Eat warm, with a big napkin.
Yield: 1 1/2 dozen 5-inch cookies.
Note: Disks are sold at Jacques Torres Chocolate; Valrhona fèves, oval-shaped chocolate pieces, are at Whole Foods.