We hosted Thanksgiving for my mom and sister's family. What is Thanksgiving without a formal table setting?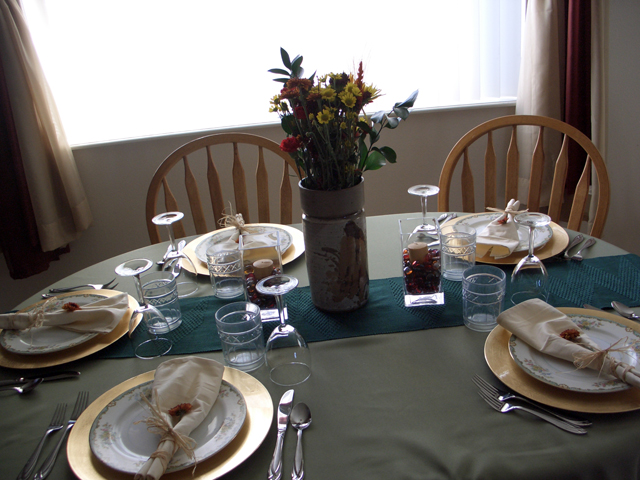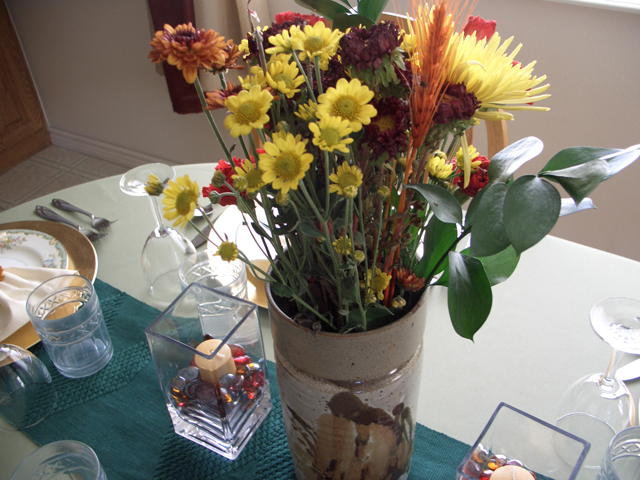 The kids were more informal.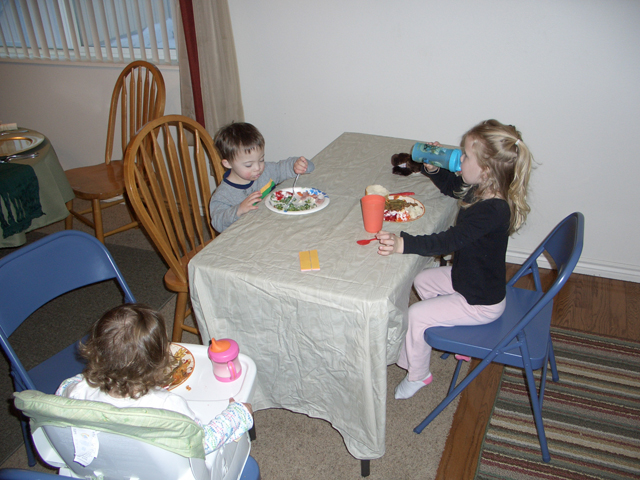 And because I'm a giver, here's the recipe I used to make Chocolate Bavarian Pie, the pie which, when John tasted it, caused him to exclaim, "It tastes good! I'm surprised!" Which basically sums up my sad baking skills.
But the reason it tasted so good is because I followed the recipe (from Hershey's Best Loved Recipes).
Chocolate Bavarian Pie
Ingredients
* 1 envelope unflavored gelatin
* 1-3/4 cups milk, divided
* 2/3 cup sugar
* 6 tablespoons HERSHEY'S Cocoa
* 1 tablespoon light corn syrup
* 2 tablespoons butter
* 3/4 teaspoon vanilla extract
* 1 cup (1/2 pt.)cold whipping cream
* 1 baked 9-inch pie crust or crumb crust, cooled
Directions
1. Sprinkle gelatin over 1 cup milk in medium saucepan; stand several minutes to soften.
2. Stir together sugar and cocoa; add to milk mixture. Add corn syrup. Cook, stirring constantly, until mixture boils. Remove from heat. Add butter; stir until melted. Stir in remaining 3/4 cup milk and vanilla. Pour into large bowl. Cool; refrigerate until almost set.
3. Beat whipping cream in small bowl on high speed of mixer until stiff. Beat chocolate mixture on medium speed until smooth. On low speed, add half of the whipped cream to chocolate mixture, beating just until blended. Pour into prepared crust; refrigerate until set, at least 3 hours. Just before serving, garnish with remaining whipped cream. Cover; refrigerate leftover pie. 8 servings.