Today I made something fantastic: Molten Chocolate Cake. But I can't take credit for it; it was just good ingredients and a good recipe. And it was SO EASY!
John and I both have this thing for Scharffen Berger chocolate. We had never heard of it until we were in San Francisco several years ago and took a tour of their factory. It. Was. Amazing. My favorite memory is the chocolate tasting where they gave us bits of different percentages of dark chocolate and helped us recognize features like "fruity undertones" or "smoky finish." I felt like a true chocolate connoisseur.
For a long time I couldn't find Scharffen Berger chocolate in Utah but now it's sold at Albertson's (or "Fresh Market," as some of stores have been bought out). I get a 6 oz. bar of 70% Bittersweet Fine Artisan Dark Chocolate in the baking aisle.
The recipe for molten cake is on a recipe card inside the package. Here's exactly how I made it.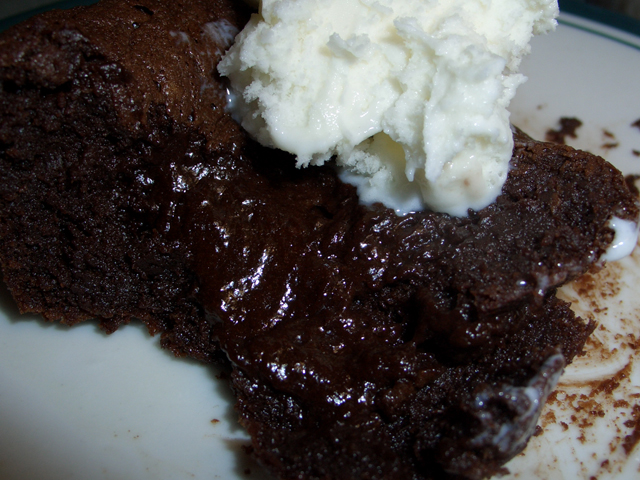 Scharffen Berger Molten Cake

6 oz. Scharffen Berger 70% Cacao Bittersweet Chocolate, coarsely chopped
8 Tbsp (1/2 cup) unsalted butter, cut into 1 inch cubes
2 eggs plus 2 egg yolks
1/4 cup white sugar
pinch of salt
1 to 1 1/2 Tbsp flour

Preheat oven to 400 degrees and move rack to lowest part of the oven.

Put the chocolate pieces and butter chunks in a microwaveable bowl and microwave for about 1 1/2 minutes, stirring every 30 seconds. Don't overheat; the chocolate will melt more as you stir it.

In a stand mixer with the whisk attachment combine the eggs, yolks, sugar, and salt and beat on high speed for 4-5 minutes, or until the mixture is thick and pale. When the whisk is lifted and the batter is run back and forth over itself, it will hold a slowly dissolving ribbon.

With the mixer on low speed, sprinkle the flour over the batter and mix until combined.

Fold the egg mixture one-third at a time into the chocolate mixture.

Generously spray four cavities in a jumbo muffin pan with non-stick cooking spray. (The recipe calls for 5-6 oz. ramekins, but I don't have ramekins. A jumbo muffin pan does the same thing. Or, you can use the regular size muffin pan; you'll get more than four cakes and you won't need to cook them as long.) Fill muffin cavities with batter within 1/4 inch of the top.

Bake 8-10 minutes until the sides of the cake are firm. Centers will be soft to the touch but set.

Let stand for 1 minute, then unmold each cake onto a serving plate. Serve immediately topped with a custard sauce or ice cream.
I'm not kidding–this stuff is so good. Perfect chocolate flavor, not too sweet. Try it!