Lately a few people in my Zumba classes have been asking how old I am. When I tell them they usually respond like this lady I taught on Friday (imagine Spanish accent): "Twenty-eight? You look like twenty. Or TEENager! No twenty-eight!"
But alas, it is true. Yesterday I turned 28. We didn't have any candles except for the ones leftover from John's 31st birthday, but John creatively made them do.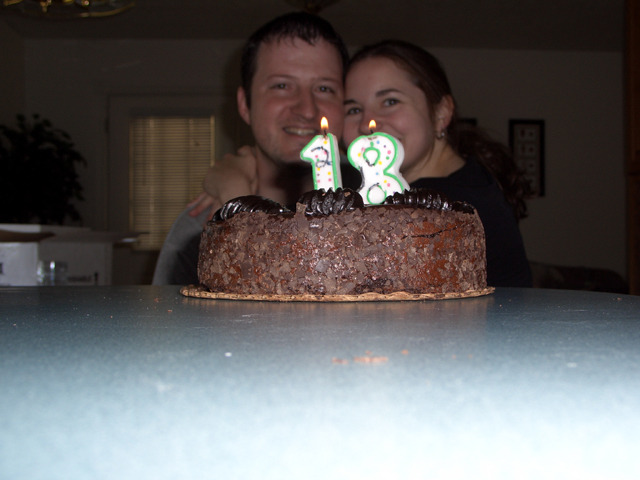 I admit I had low expectations for my birthday this year. I wasn't terribly excited. But it turned out to be one of the happiest days I've had in a long time.
First off, John took me shopping on Saturday. At the mall. With Wesley. Who was Fussy. I mean, does this man love me, or what?
I didn't know what he ended up buying until last night. I tried to argue that he didn't have to buy me anything, but I lost that battle pretty fast. I ended up with two nice (and inexpensive) dresses. He also got me a shirt that has stripes because he says I don't wear stripes enough. Problem solved.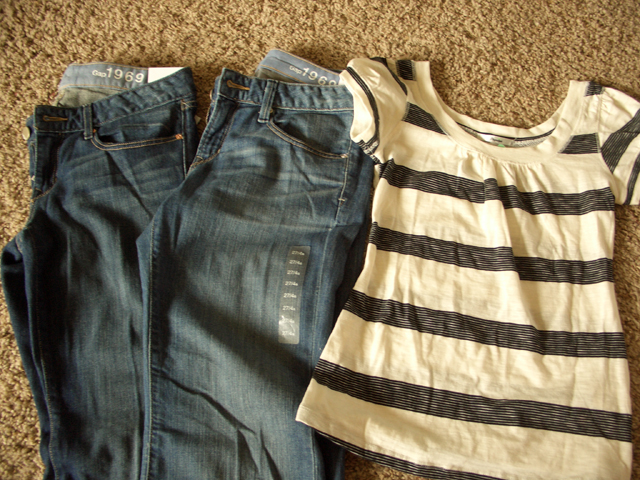 As for the jeans… Long, long ago when I started trying to lose weight I told John my goal was to fit into the same brand and size of jeans I vaguely recall wearing in high school, which were Gap size 5. By the end of high school (after I started working nights at a cafeteria) I had gained weight and didn't fit into those jeans anymore. And then I went to college and gained more weight. I know jean sizes vary greatly brand to brand, so sometimes the numbers are relative, but I think my biggest size was 11/12 in Juniors (which would be a 10 in Misses? Why are women's sizes so complicated?). Anyway, after I lost a little weight I was a size 8 for a long time. Then I remember a couple years ago visiting Gap (I usually don't shop there) and trying to squeeze into size 6 and ending up with baaaad muffin top, and I'm not sure I could even button them up. I probably blocked that memory. Since starting to teach Zumba my tummy has trimmed and toned up enough that I ended up with–Ta Da!–size 4 jeans. Now, it's possible that Gap has done that size inflation thing that's supposed to boost your self esteem (where they take a size 6 and rename it size 4). If they did, it worked. So this is how I ended up with two pair of Gap jeans for my birthday. Thank you, John.
The other thing he surprised me with was a box of hand-picked chocolates from See's Candy. No one has ever given me a box of chocolates before. Ever. I know it's a small thing, but it just made me feel kind of special. And, yes, that's a bite taken out of the piece in the middle. Because it's my own box and I can do that.
Plus my big brother sent me flowers. I don't remember ever having flowers delivered on my birthday. Again, I felt kind of special.
Lastly, I made my own birthday cake (which is different from the one in the picture above). I made a yellow cake mix in two round cake pans, split each layer in half so I had four layers, and then layered the cake with ice cream and frosted it with whipped cream cheese frosting (store bought). The piece pictured has chocolate chip cookie dough ice cream. It was dee-lish-ous.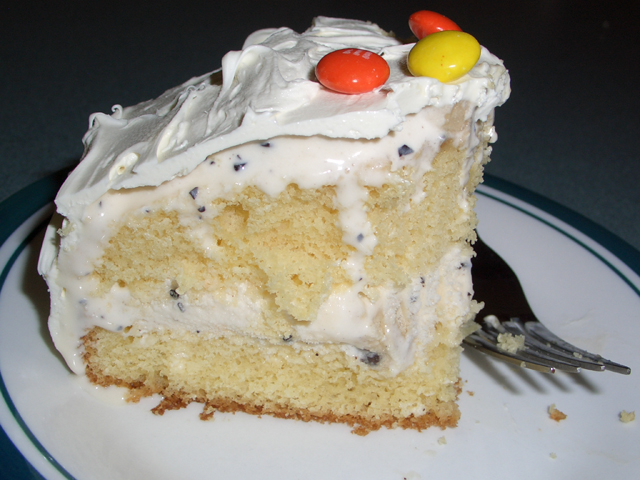 John made me feel like his most valuable person in the world, I got lots of love from family and friends, and now I can say I'm 28.