Wes is doing really well. Slower developmentally than other kids, of course, but for Wes he's doing great. His physical therapist came today and was happy to see his progress since last month.
He's squatting a lot more when he plays, and he can go from standing (with help), to squatting to pick something up, and stand back up again. He loves to walk with help. We usually just hold one hand when we help him walk, and she said it's better to hold his hand lower so it feels more natural to him (instead of way over his head). She showed me how to help him transition from the bear crawl to standing (pull back on his hips till his bum is sticking way out and then help him pull up). He responds well to this cue and stands right up. She said a lot of kids need you to push up their chest, too, before they'll pull themselves upright. But Wes seems to have good balance.
She helped him walk around the dining room and kitchen, going after toys, for a while, and then I told her that Wesley's favorite play place is the couch, and that he seems pretty brave in moving around on the couch. She was surprised, since the couch is less stable-feeling than the floor, but we put Wes on the couch and he seemed a little more fearless.
So we'll keep working on helping him walk, helping him stand, and squatting to pick up toys. She said he'll probably be an early walker (which in the world of DS is anytime before they're two). She thought maybe by the time he's 18 months.
I haven't posted pictures in a long time. So here are some old ones.
Wesley in his Christmas Santa hat on Christmas Eve: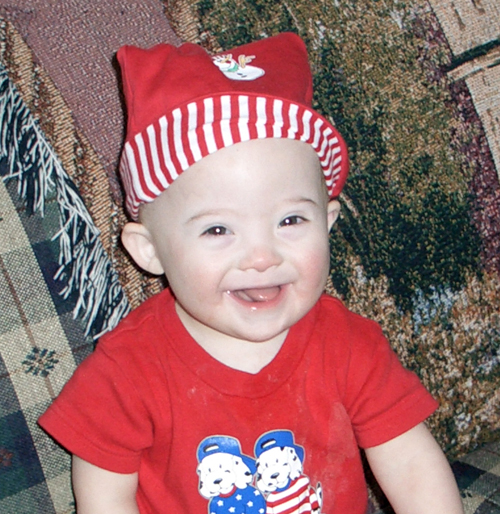 Wes sitting on John's lap on Christmas day: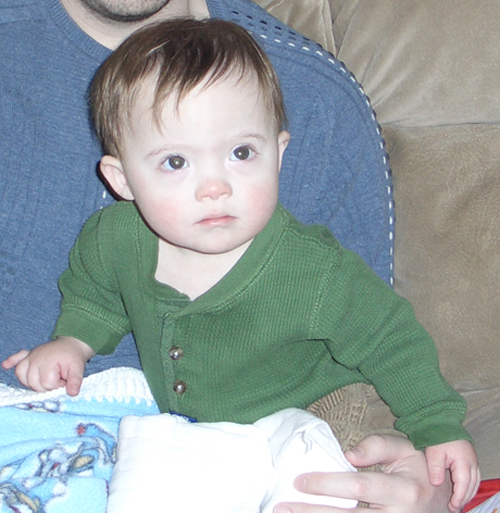 Wes planting a big wet one on me:
And Wes making a quick getaway after being caught in the act: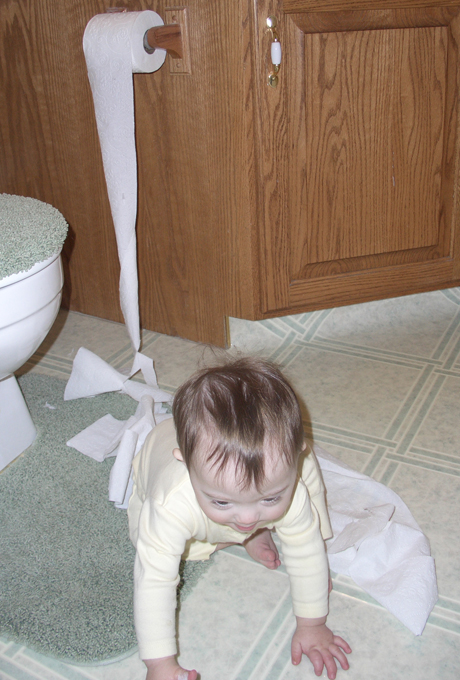 How can you be mad when he smiles up at you like this?