Wes and I arrived back yesterday from Iowa. So much more happened in Iowa that I had time to blog about while actually there.
Wednesday, May 21
Today my mom, Wes, and I visited a friend from our church in Dubuque whose 18-year-old son, Ty, has Down syndrome. I remember after Wes was born she wrote me an email saying what a wonderful gift Ty has been to her family. It was such a joy to visit with her and Ty and hear about the great things Ty's doing, including being on the high school swim team, playing baseball in the summer on a junior league, and playing soccer too. He was leaving the day after I saw him to be in the Iowa Special Olympics for biking and swimming. His mom told me that his HS swim coach has said that every team needs a Ty. No matter what his time is, no matter what place he comes in at, when he touches the pool wall and finishes the race he throws his arms in the air in exuberant victory. It's not all about winning; it's about finishing the race.
Here's Wes and Ty.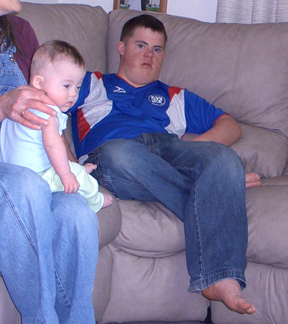 And here's Ty playing soccer (sort of) with Wes.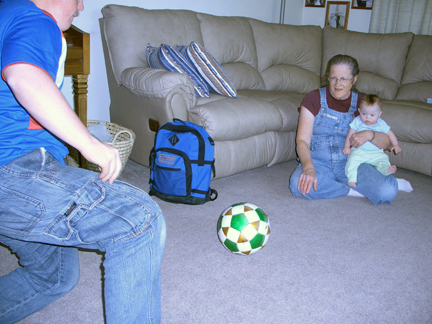 Thursday, May 22
Today we all drove 3 1/2 hours south to Nauvoo, IL to see the LDS temple (where John and I were married in 2002) and enjoy the historical sites.
We dressed for nice weather, but it turned cold and rainy on our way there. We stopped for lunch at the Nauvoo Mill & Bakery. It's our favorite place to eat in Nauvoo. They sell a lot of whole wheat bakery items, and their sandwiches are tasty.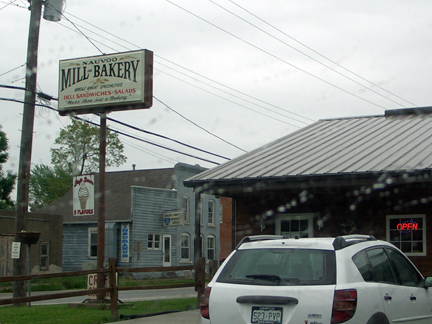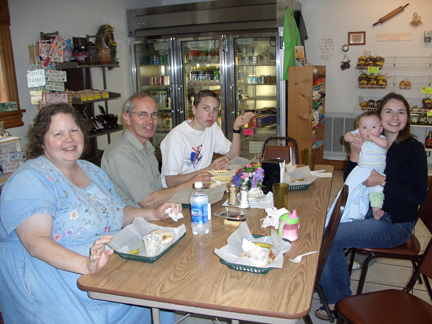 Then we bundled up as best we could and walked around the temple grounds.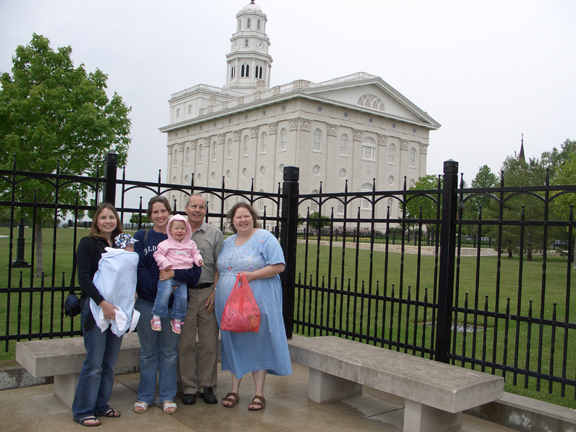 John and I posed for pictures on these stairs on our super-humid wedding day six years ago.
These statues of Joseph and Hyrum Smith have been added since I got married.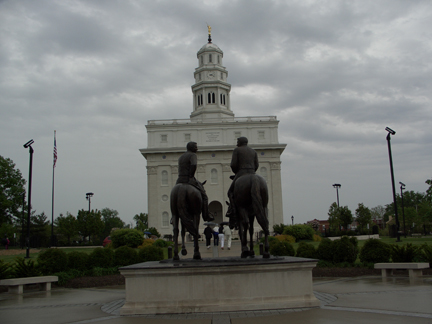 The temple is set high on a hill overlooking the Mississippi River valley. Here's my little bro Matt and me with the Mississippi River behind us. Matt's a great photographer.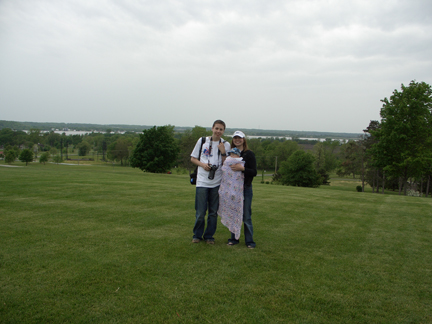 Friday, May 23
Today I had a party! My best friends growing up were in my girl scout troop, so we had a Troop 74 reunion that included all but one of us (we missed you, Katy!). Plus, this is the first reunion that included babies, since three of us had kids this year, and two significant others. Here we are with the Baby Girl Scouts (except only one of them's actually a girl) and The British Fiancé.
I was also so excited that four of our moms came (five if you count my own). Here's Cheryl with Wes.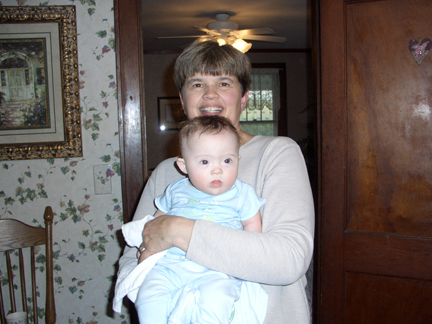 And here's me, Erin, and Steph.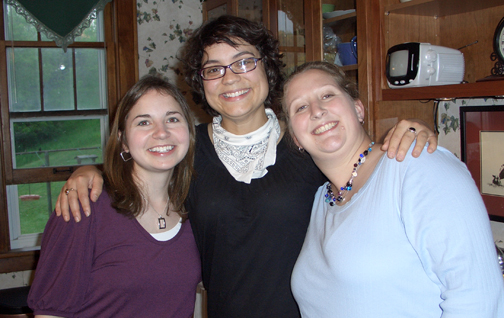 I had so much fun seeing everyone and am glad we could all get together. I didn't get many photos because I was having too much fun mingling. Thanks to all who came. I have the best friends on the planet.
Sunday, May 25
On our first day in Iowa we went to Walmart and I saw a whole shelf display of weather radios. I thought how odd that was, since we don't use weather radios in Utah. I bet no one there even knows what a weather radio is. It's a handy contraption to have when you live someplace like the Midwest where severe storms and tornadoes can form suddenly. Whenever the National Weather Service issues a watch or warning a super-loud alarm sounds, followed by the official information. Tonight, starting around six, my parents' radio was going off about every five minutes as a storm developed and drew nearer. We were glued to the TV for about three hours, waiting to see where the storm would go. As it happens, the worst of the storm missed us, but spawned an F5 tornado in Parkersburg about 120 miles due west that did extreme damage and claimed several lives.
I took some video of our evening. Here's Wes, completely oblivious, using his great new holding-up-his-own-bottle skill while the weather radio is blaring in the background.
Here you can hear the tornado sirens.
This shows a bit of the TV weather news. By the way he's dressed, the meterologist looked like he just came to work as quick as he could to get on air. You can hear the thunder outside.
And this is the coolest video because it shows the lightning and–right at the end–a lightning bolt. The flash of light that you see right before the bolt is so brilliantly bright that if you pause the video on that exact moment you can see my family's farm lit as bright as if it's mid-day. The flash of light actually startled me enough that my finger reflexively hit the "off" button on my camera, and I missed recording the super-loud BOOM of thunder that closely followed the lightning bolt.