Our small city recently opened a splash park downtown. I used to bemoan our downtown area, because it wasn't much. I always thought that the corner of Main Street and Center Street ought to have something of importance, but it didn't. But things are looking up. There is a new library on one corner, and this splash park is in the park across the street.
Today I ventured out with my three kids to check it out. We spent 20 minutes slathering on sunscreen and finding swimsuits, sunglasses, and hats.

I set Elizabeth in the shade while I waded in the water with the kids. She was a good baby and didn't fuss the whole hour and a half we were there. After a few minutes of arriving I saw some friends who happened to be there with their kids, and Elizabeth hung out in her car seat near them while I held Carissa's hand and kept an eye on Wes.

The splash park has a winding river area with water zero to about three inches deep. There are big rocks kids can climb on, water shooting up like geysers, a small waterfall, and a separate splash pad where the water shoots up from the cement. It was really nice and was apparently designed by someone who's won awards in various states and countries for his work.
Wes was fearless–running into the water, jumping off rocks, and never looking back to see if Mom was anywhere near. This is normal.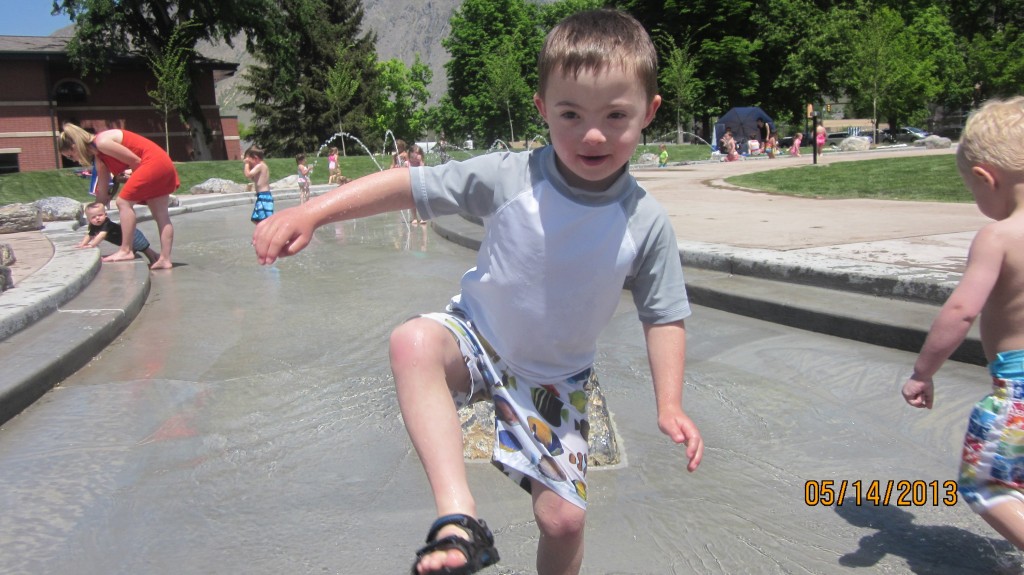 Carissa was timid and wanted to hold my hand and try to keep up with her brother, but she made it very clear she did not want to get wet. This is also normal.
After about 45 minutes she started to warm up and was starting to climb and jump off the rocks. After about an hour she got really brave and lay down in the water with Wes.
Then she and I headed to the splash pad, where she really enjoyed giggling as the water geysers turned on and off. She even started putting her hands and feet in the water and laughing. It was fun to see my kids having so much fun.
After the splash park we went to the grocery store and spent $1.07 on two giant ice cream cones for Wes and Carissa. A perfect day.
I really enjoyed being out in the sun. Even with SPF 30 on I got a slight tan. Being outside lifts the spirits, so I am happy summer is practically here. Tomorrow is Wesley's final day of preschool. In the fall, he starts transitional kindergarten and Carissa will go to preschool. But this summer I plan to do summery things with my kids, to soak up the time and savor experiencing fun things with my little people.