Our final Friday in Spain we spent at the resort, with a brief trip to the beach.
The kids and I started the day by taking a walk and going to the little playground at the resort.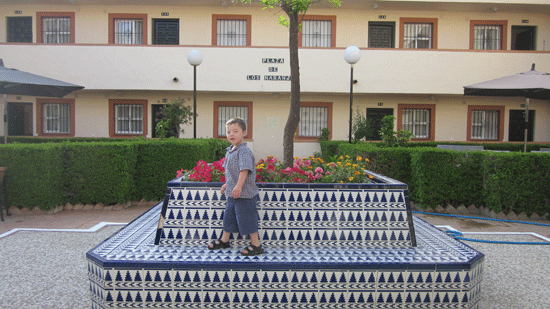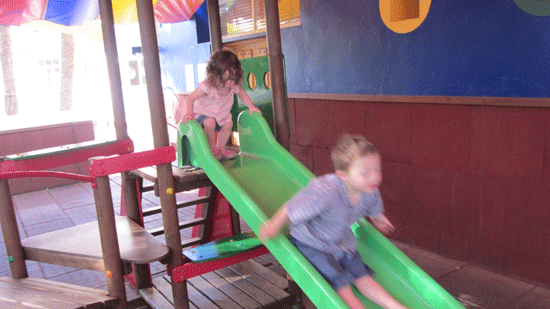 Then we went back to my in-laws' hotel room where we (I) made breakfast for everyone. I am not the greatest cook but the bacon, eggs, strawberries, toast, and OJ were a nice taste of home in Spain.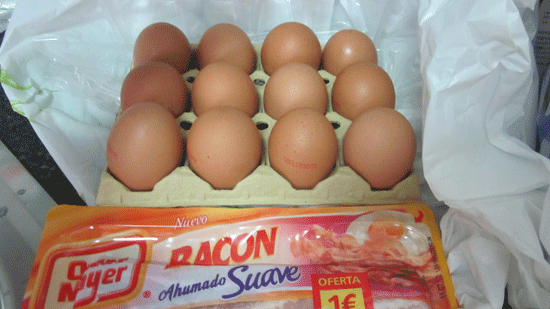 As I started cooking I noticed a pool of water at my feet. I looked under the sink and saw the pipe was leaking. I asked my mother-in-law if it had leaked before and she gave me a blank look and said, "I don't know. I haven't used the sink at all." Based on how many sippy cups and bottles and dishes I had washed in our own hotel room I was kind of shocked she hadn't even turned on the tap once the whole week we were there! That will be my life someday.
We were within a few short miles of the Mediterranean Sea, and I was determined we would go there.

We took the resort's free shuttle to the beach.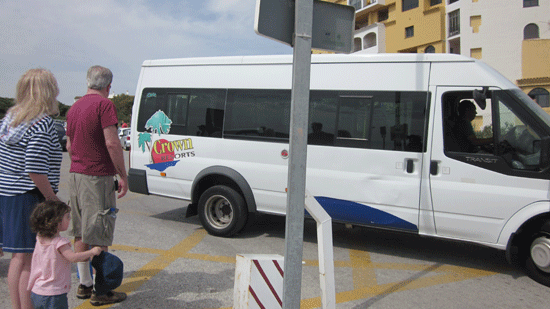 However, I was the ONLY adult person in our group who wanted to go to the beach. Which meant I had to compromise a little. Instead of spending all day there we took just a couple hours, most of which was spent eating lunch. So our actual beach time was limited to standing on the shore and letting the waves lap our feet. Wes and I had a marvelous time. Everyone else was party poopers and they missed out. I wish we had more time to play and enjoy, but it was still nice to be there at all.
Eating lunch: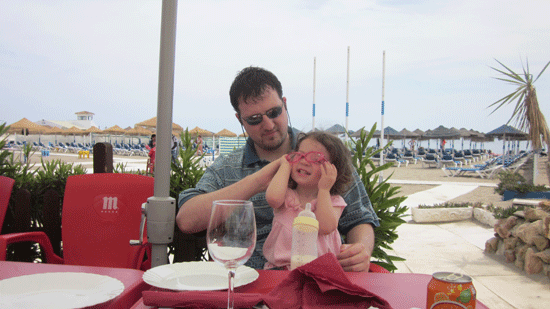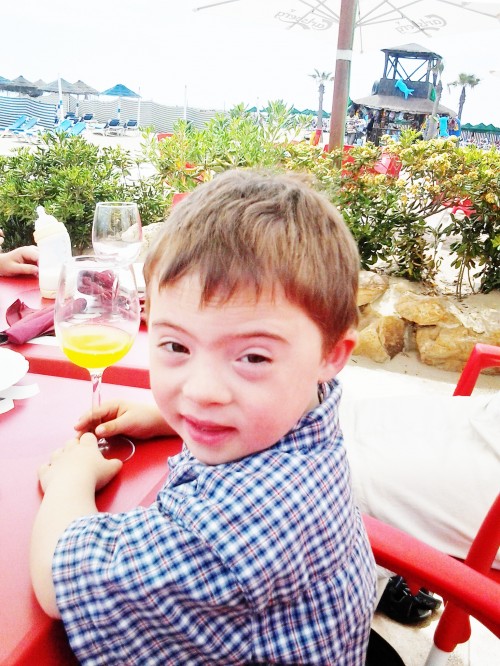 Lunch was pleasant and we had time to people watch. Which wasn't always a good thing, as this was a European beach. Before we left for our trip to Europe I watched a promotional video about this beach to see what it was like, and the narrator was saying how it's a family-friendly beach. However, even as the narrator said these words, the camera panned over a crowd of sunbathers, including topless ones. Which I thought was funny. And while there, yeah, we saw topless sunbathers. But not many.
We spent about a half hour on the beach with our feet in the water. It was cold, but Wes was CLEARLY in heaven. This man was made for the water. He was sad when it was time to go. Carissa was too timid to dip her feet in, or even to walk much in the sand.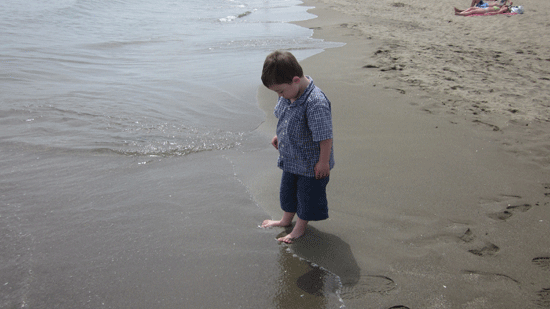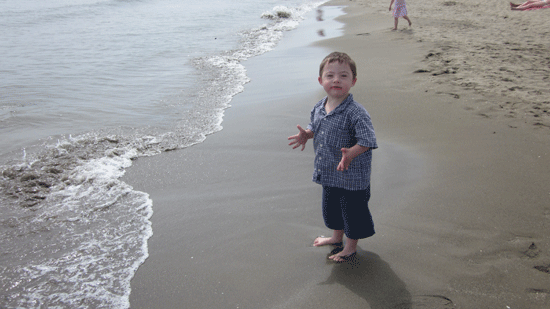 Wes really was the picture of happiness.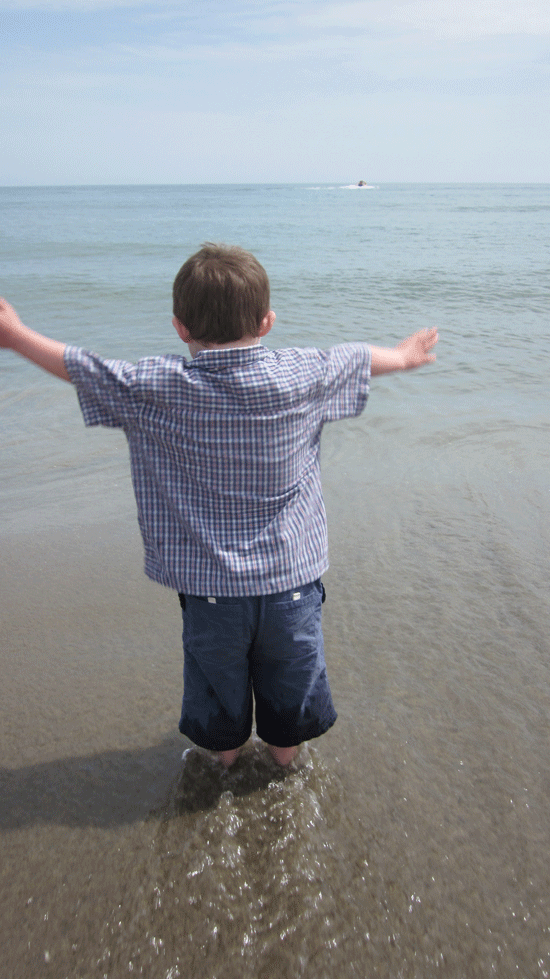 My in-laws.

Our family. We couldn't drag Wes away from the water for the picture.

Back at home we ate pizza for dinner, leftover from dinner the night before at the resort cafe.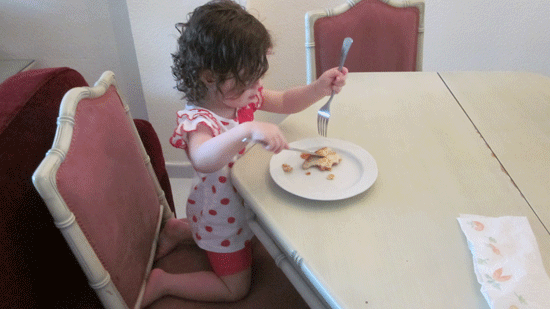 We hung out on the bed, playing games on Dad's tablet.

I caught Wes and Carissa giving hugs.

Friday night was one of those rare occasions whilst on vacation that John and I got out by ourselves for a short time. We walked down the street to a restaurant and ordered a big piece of chocolate cake (which was actually delicious) and ate it outside on a cushy couch while the sun went down. Such a nice time.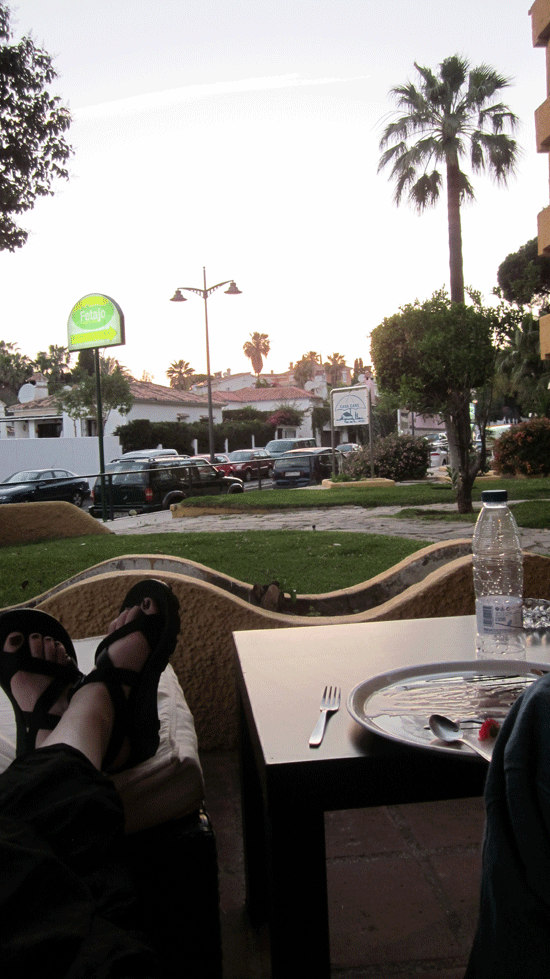 On Saturday we hung around the resort again and did things like relax, pack for home, and maybe I took the kids swimming again.
Breakfast:

Wes was up to his old tricks. He does this at home, too:

And, naturally, the kids ate (more) ice cream. These were Magnum ice cream bars, which are distinctly European. You can buy them in the States, too, but they taste better over there.

On our final night in Europe my father-in-law treated us to dinner at a Japanese restaurant where they prepare the food on a grill in front of you.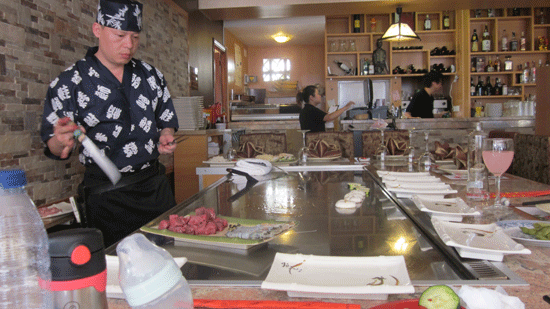 And that was it! Our time in Spain and England was over; the next morning we had an early flight from Malaga to Paris, and from Paris directly back home.
We stayed up late packing (of course–it seems like no matter how hard you try to be on top of things it still doesn't get done until the last minute) and making arrangements for our check-out in the morning. Our flight left Malaga at about 6:30 am, so we had to leave for the airport before 5 am. We tried to arrange a taxi service but at the very last second that didn't work out, and my in-laws agreed to get up early to drive us instead.
At the airport we bought a couple of inflatable neck pillows, recalling how poorly we slept on the overnight flight from NYC to London a couple weeks earlier. The flight to Paris was a couple hours, and once we landed in Paris we had to hoof it to get to our connecting flight. It was in a different terminal, not close by, and we couldn't figure out the shuttle system signs. So we walked. We made it with just enough time to get in line, use the bathroom, and buy one last, delicious European croissant pastry before boarding our final ELEVEN HOUR FLIGHT home. I am still missing those European croissants.
The kids were awesome travelers. I felt like we always had our hands full, but I think they did even better on this long flight than on our first overseas flight to England. We weren't sure how they'd do, since this flight left Paris at 10:30 am and we were scheduled to arrive home at 2:30 pm—which, to their bodies, would feel like 10:30 pm. Also, for whatever reason, this plane didn't have the in-seat entertainment devices like our flight to England had; it only offered the TV sets in the aisle, kind of far away, with the only choice of movie being the one that was playing.
The kids played and ate (we got two meals–lunch and dinner) and even napped. I think John and I got a little sleep, too. I have to say, the meals on AirFrance were so yummy. It's that European food advantage. For lunch we had turkey sandwhiches, which in the States would be served on bread, but because this was AirFrance, were served on fresh baguettes. Oh, my yum. They were good. And for dessert there was ice cream, so Wes was happy.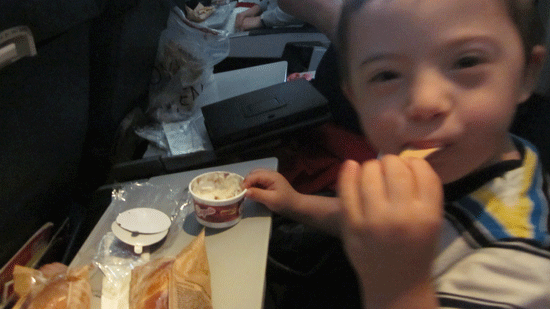 The only thing about this flight is that we were feeling ready to be home, and the sooner the better. About three hours before landing, while we were still over middle southern Canada, we hit a patch of shaky turbulence. If you know me, you know I do NOT do well with turbulence, any level of it, and this was on the higher end of shaky, enough to bounce you out of your seat. I like to travel but I don't like heights, and I prefer to be on the ground. It's a good thing that John takes it in stride and the kids are too little to know any differently because it means I'm really the only one scared by it. The pilot took the plane higher because (as he later reported on the PA) that's what the FAA controllers told him to do, but the air was worse up there. He did eventually pull us down and out of the bad air, but I was even more ready after that to hurry and get on the ground.
And, at last, we did.
Our pilot actually managed to cut the flight time down to less than 10 hours, so we got in early. We waited a long time in customs, but the kids handled things well. We were the very last people to get our luggage and leave the terminal.

My brother Matt picked us up and brought us home. I felt like my eyes were going to crash any second. We tried to keep the kids awake as long as possible, but they were out cold by 5 pm or so. It was so nice to be home. What wasn't so nice is that the kids' body clocks told them it was time to start waking up around midnight for the day (which would have been 8 am in Spain). Although I was so tired, at 1:30 am I gave up and got up with the kids. They watched TV for a bit, and at 3:30 am we went grocery shopping together at Walmart (open 24 hours!). We survived that first day home, which included a 7 am nap by Carissa (which I had to wake her up from), all of us going out for breakfast at Carl Jr.'s (just so we could have something to do to help pass the time until actual nap time), and an early bedtime that night. It took about two weeks for our bodies (mostly our kids') to adjust to being home again and sleeping more regularly.
Well, it took me five months but I have successfully blogged about every day of our England and Spain Adventure that we had last May. We have so many good memories and are so glad that we had that time together as a family.