By Wednesday we wanted to give our kids and ourselves a break from the many hours we had spent in the car, driving to and from Seville and Cordoba. We spent the day doing laundry, getting groceries, and just playing.
Our first order of the day was groceries. We had been eating breakfast at the resort's small cafe, which served a continental style breakfast including croissants, bread, fruit, and cereal. It was fine but we thought we could save money by getting our own cereal and croissants. Plus, John was hankering for bacon.
Our resort offered a free shuttle to a SuperSol market down on the main stretch closer to the ocean. It's a good experience to shop for food in a foreign country because it's always different than shopping at home.
For starters, you can buy sombreros in the entry.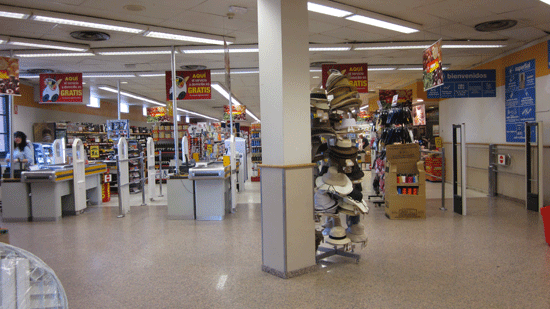 The grocery carts cost money.

So we used the handheld pull carts, which were free. The kids each took one, and they LOVED it.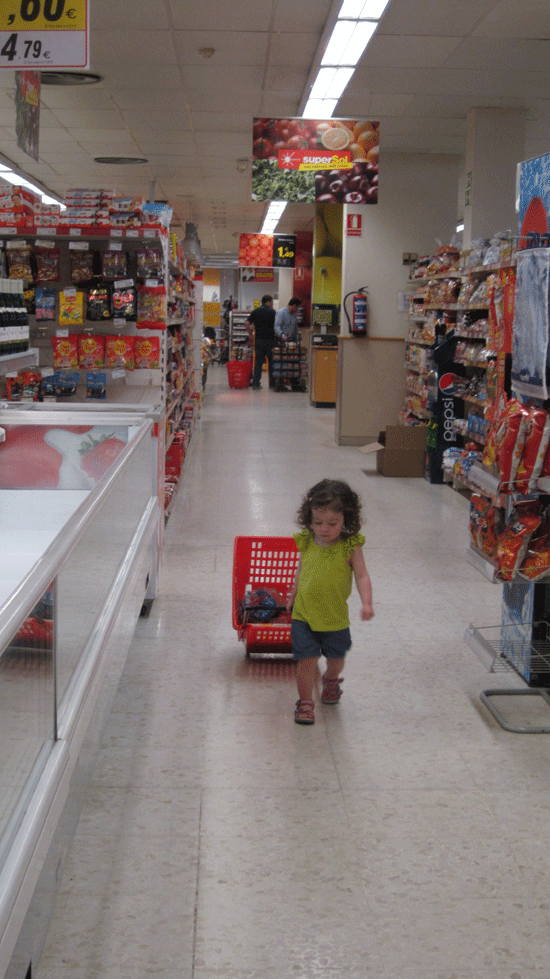 Some of the big differences in food between here and Spain:
1. The eggs are in the aisles, not the refrigerated section (as seen in the video above).
2. The milk is reconstituted dry milk, which I think tastes awful. It's the same in Mexico. We only bought milk that was imported from England and came from actual cows. SO much better. And we bought a lot of milk. Between John and the kids and a pregnant woman, we drank a ton.
3. We had the hardest time finding pretzel sticks, which if you know Wes, you know are kind of a major part of his diet. John finally tracked some down.
4. Ben and Jerry's Ice Cream is available, but it costs about 7 US Dollars. (And I bought one anyway.)
5. As we were checking out the clerk gave each of our kids a little package of party toys to take home, for free. I thought that was really nice. Until I opened it and found one of the main toys in each bag was a horn they could blow.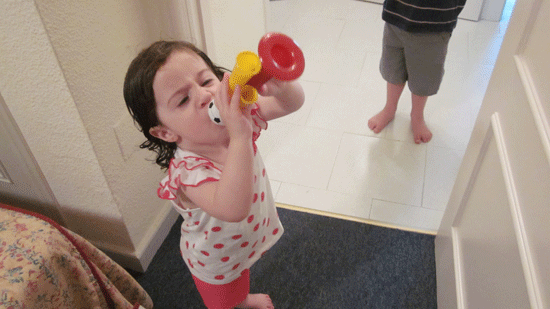 Afterward we waited outside for the shuttle to come pick us up again.

A peek at our fridge after groceries…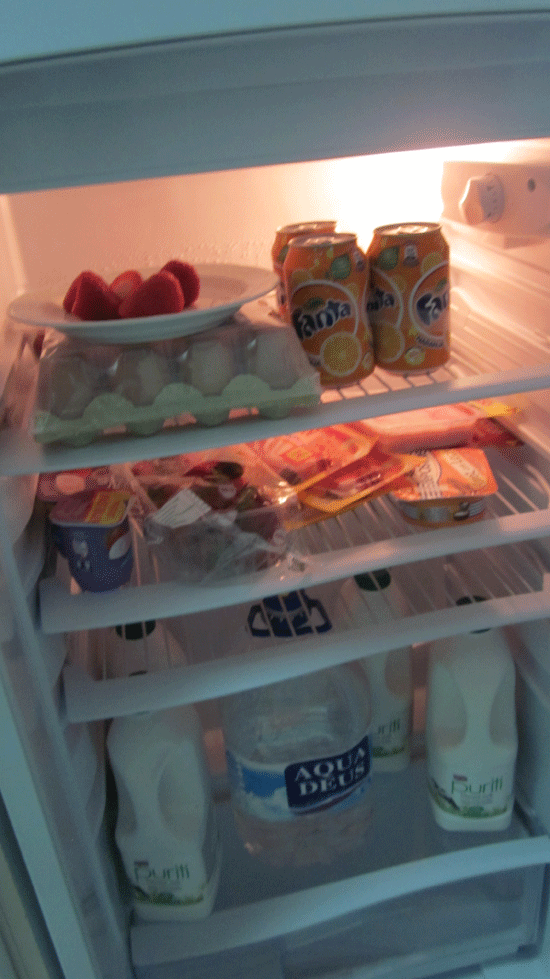 Yeah, we drink a lot of Fanta in foreign countries! We did in Mexico, too. It kind of grows on you.
After the kids' naps I took them to the kiddie pool at the resort. It was great because it was about 18 inches deep and it was often in the shade. The water was a little cool but that didn't stop Wes from getting in and wading across. Carissa was more timid, but after a while she got in, too. They both had a lot of fun. We took our beach ball, and Wes enjoyed kicking it around.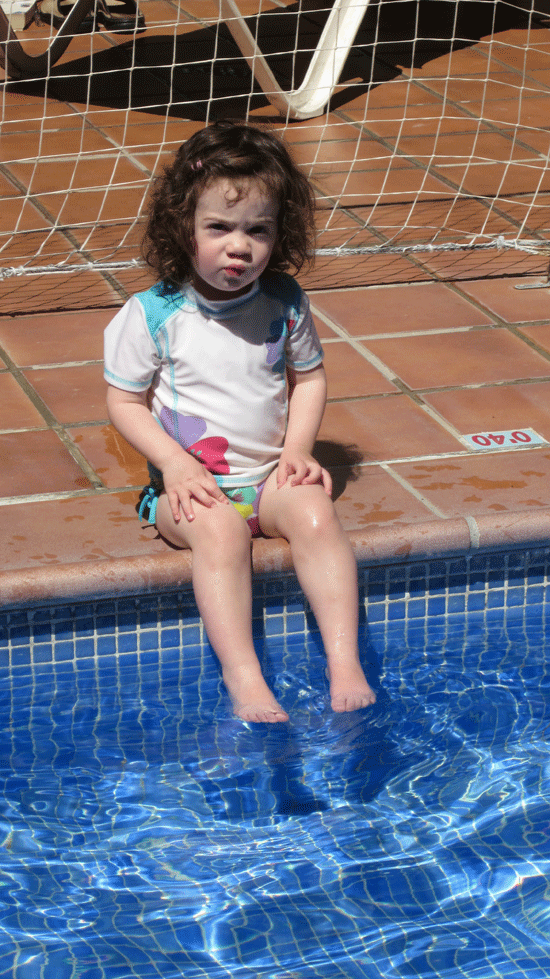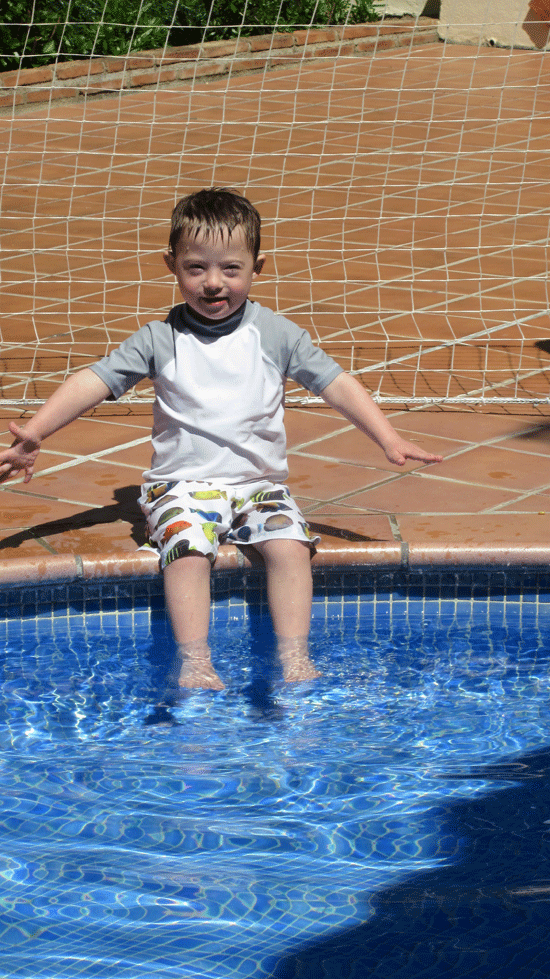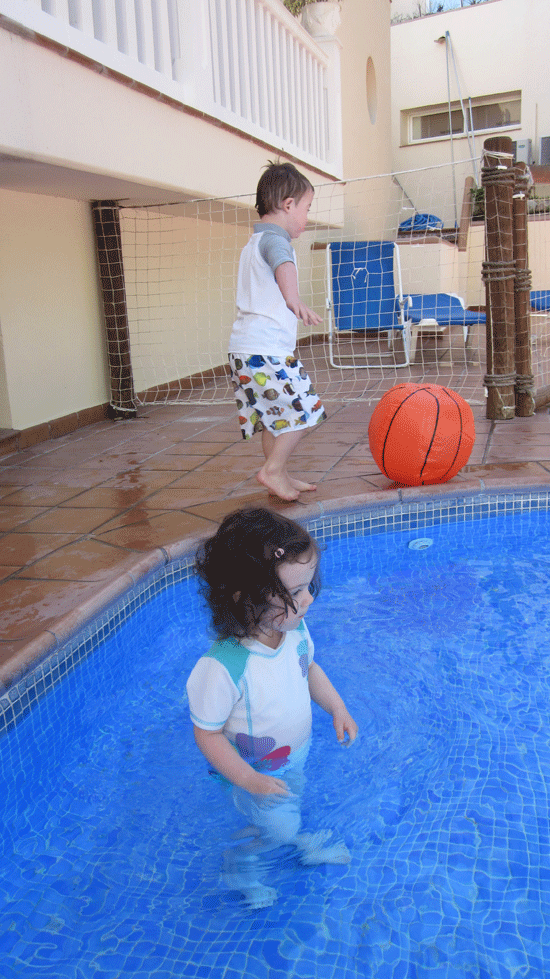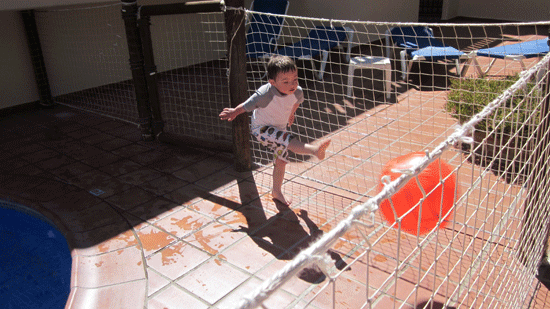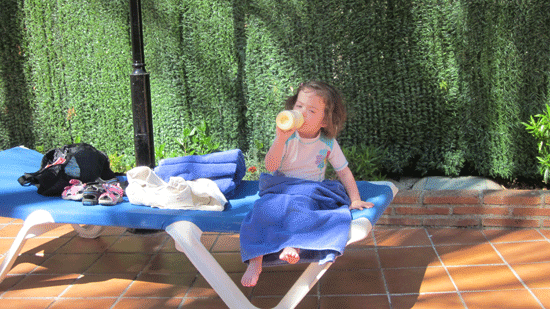 Right by the kiddie pool there was a small playground area that the kids liked playing on. It was also shaded. Wes actually kicked the beach ball over the fence here into an area of wilderness I couldn't reach and I had to work up the courage to ask the front desk employees to send someone out, into the brush, to get it back for me. But they did!
So much of a vacation is making it fun for the kids, and I'm glad we could.
Back in the room for a change of clothes, Wes was reading my Spanish/English dictionary. So smart!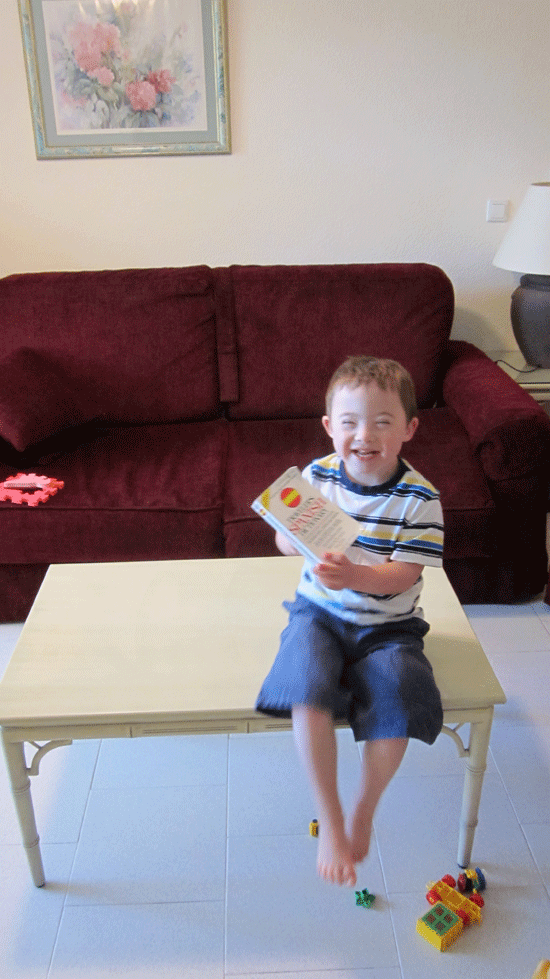 Then we took the kids back out for miniature golfing. This was their first time. Good thing the course wasn't busy because it took a while with two kids, and all rules were abandoned. We only had one club and one ball to share, but it was enough. The kids took turns, and occasionally Mommy or Daddy got a turn too. It took Carissa a while to learn that after someone hits the ball she shouldn't run over and pick it up, but leave it there. The kids loved mini golf.
(Our room is on the third floor overlooking the course.)

I love how Wes is jumping up and down in this picture. He is such a great cheerleader in sports.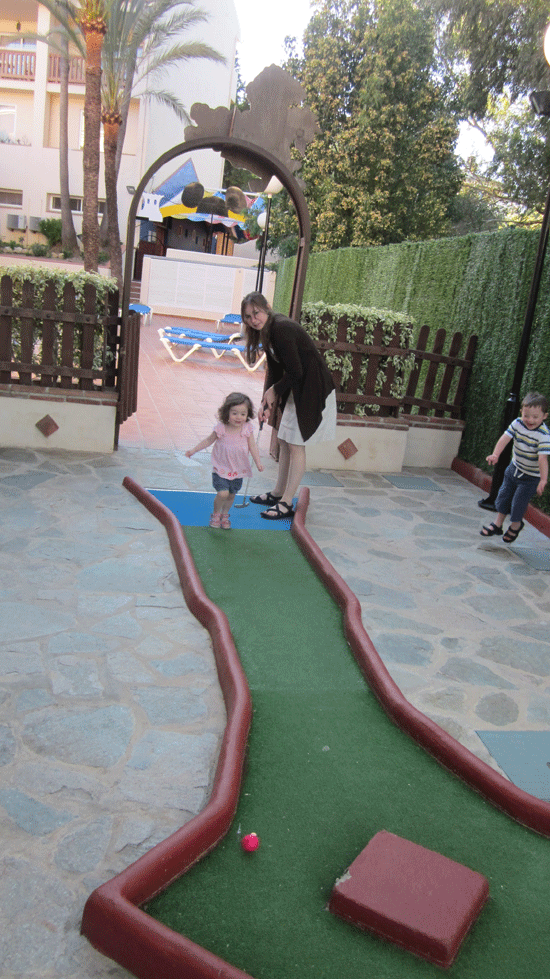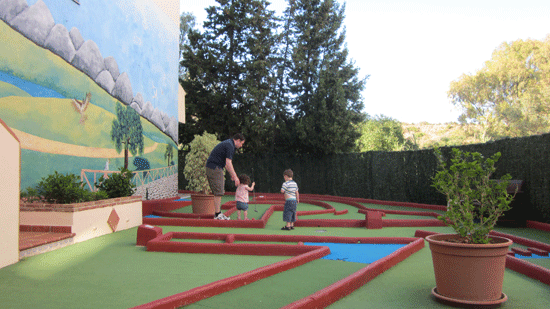 While we stayed home today John's mom and stepdad took an organized bus tour to Gibraltar, which is a British territory only about an hour and a half from our resort (think: Rock of Gibraltar). We were happy to stay and take a break, and were even more so when they got back and we heard all the drama of the day involving John's mom accidentally leaving her purse at a rest stop on the way to Gibraltar and having to abandon the tour to retrace her steps and find it again. It was not their most restful day. But we had fun!
It helped us get ready for one last road trip together, to the famous Alhambra in Granada, Spain.