On our second Sunday in Europe it was time to leave England and fly to southern Spain, to the area known as Costa del Sol.
We checked out of our Marriott in Leeds and got a taxi to the Leeds-Bradford airport. It's always nice to drive around the countryside in a car, to see more sights. About halfway to the airport I looked out the window and saw the ruins of a castle or something just off the side of the road. I asked the driver about it, and he said it was Kirkstall Abbey that was destroyed by King Henry VIII in the 1500's following the Dissolution of the Monasteries. A piece of history, just there, by the highway. That's England for you.
We decided to use the European airline Ryan Air to fly from Leeds to Malaga, Spain because it was by far the cheapest way to go. Ryan Air is purely a budget, no-frills airline. I did some research about them before purchasing our tickets and read up on their strict baggage policies (stricter than Delta's, so we had to make sure our luggage would meet Ryan Air's standards) and also their seating policies, which is that there are no assigned seats. I had read complaints from parents saying that they were separated from their young children on the flight because no other seats were open. So we splurged and paid about £10 more per seat to purchase assigned seats at the very front of the plane (only seven seats are available for purchase).
So glad we did! We thought we had plenty of time when we arrived at the airport to make our flight, but wow, Ryan Air's check-in service was SLOW. Only one person was there at first to serve a long line of people and the express check-in machine was broken. Finally a second person showed up. They kept asking people not on the Malaga flight to stand aside and let others ahead, but virtually everyone in line was there to get on the same flight.
Somehow, miraculously, we got checked in and dashed through security. Then we followed everyone outside and walked along the tarmac to find our plane. It was kind of a long walk. Again, so glad we had assigned seats so we were all together.
Once on board I didn't feel like the flight was "cheap" or "super budget," except that there were no pockets on the seat in front of us to stow books or toys, and you had to pay for anything you wanted to eat or drink. They also offered merchandise for sale, which I'd never seen on a plane before.
The kids were good. They really are little troopers.
On our flight to Malaga:

About two and a half hours later we were in Spain! My first time. Our first task was to get our car rental, but I what I really wanted more than anything was some water. We drank all we had on the plane and were too cheap to buy another bottle on board. After we landed we exchanged money (pounds to euros) but we didn't have any small change for the vending machine with drinks. Oh my goodness, that water looked amazing sitting in that machine, all shiny and cold and drinkable. I watched other people get water from it and it was the coolest machine, with a special robotic arm that reached inside and picked up the drink before dropping it down the shaft.
Arranging the car rental took a long time. In the meantime, Wes and Carissa got their wiggles out. You can see my coveted vending machine behind Wes.

Finally we got everything sorted, picked out the appropriate sized car seats for the kids, and found our car. A minivan, actually–emphasis on MINI. It seats seven (we had six) but wow, it was a tight squeeze. Especially considering our luggage. With our strategic specialist (John) in charge of packing the car, we managed to fit everything in. Barely.
Southern Spain reminded us at once of Southern California. It's warm and dry and right on the water, except here instead of the Pacific Ocean it's the Mediterranean Sea.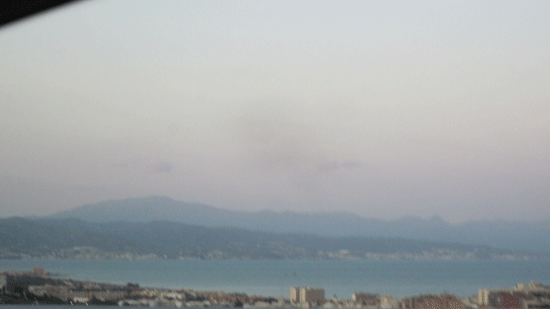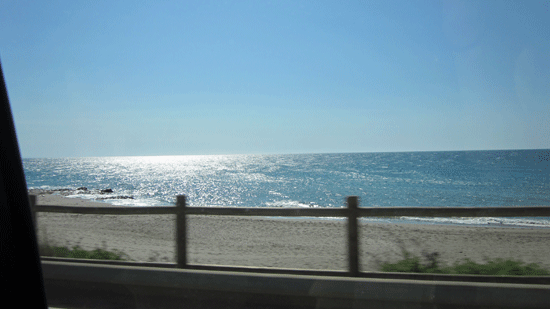 A bit of desert and mountains…

…and palm trees.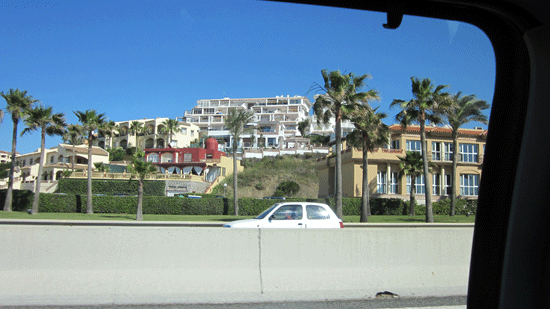 And we saw something Spain is famous for: lots of white cities.

Because we went to England AND Spain, we had to pack clothes for the 50-degree wetness of England plus the 85-degree sunniness of Spain. Now in Spain the kids finally got to pull on their sandals.
In England we stayed overnight in three different cities, but in Spain we stayed the entire week in one place. It was a timeshare that John's mom had access to, and it was one of the main reasons we decided to take a trip to Europe in the first place.
Our new home was a small resort called Club Marbella by Crown Resorts, 25 minutes from the Malaga airport in Sitio de Calahonda.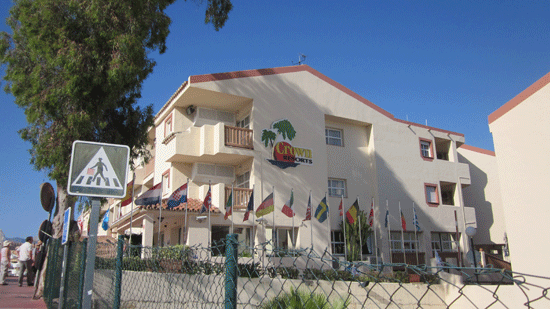 It wasn't a bad place to stay. It was on top of a hill with some restaurants and small shops down the hillside.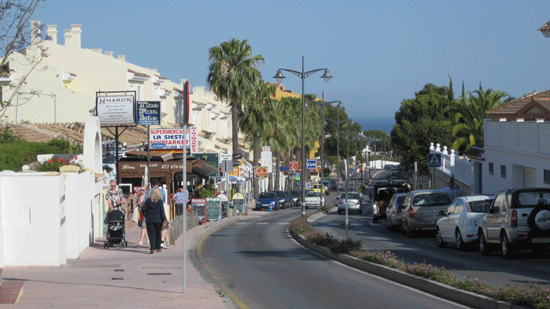 We were super surprised when we arrived in southern Spain and discovered its huge British influence. Many of the restaurants advertised "Full English Breakfasts" and offered traditional British fare like kebabs and afternoon tea. But we met a lot of British people, so I guess it makes sense. If I lived in a cool, damp country like England I would probably want to vacation in sunny Southern Spain, too.
Our little hillside had a restaurant style to suit pretty much everyone–Asian, British, Spanish, even American. On our first night in Spain we opted for, of all things, Swiss fondue.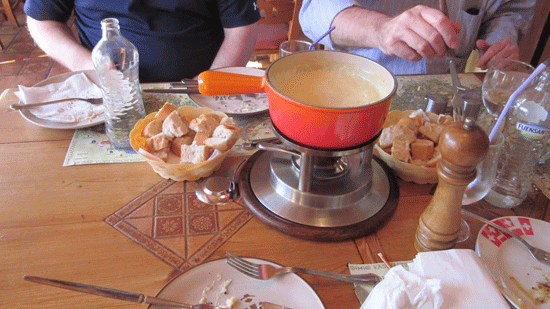 Our hotel room had two bedrooms, two bathrooms, a living area, dining area, kitchen (with washing machine!), and a balcony overlooking greenery. After being in cramped hotel rooms in England it was nice to spread out and let the kids play more freely.
I didn't think to snap photos of the place while it was actually tidy.
Living/dining area. The kids loved taking the cushions off the sofas. It was definitely the play area. The TV offered a mix of Spanish, English, and German stations, but the English channels were very British and not American. The kids found a British children's show they liked to watch in the morning, and sometimes there were decent shows or movies on at night for us. And sometimes not; it was hit and miss.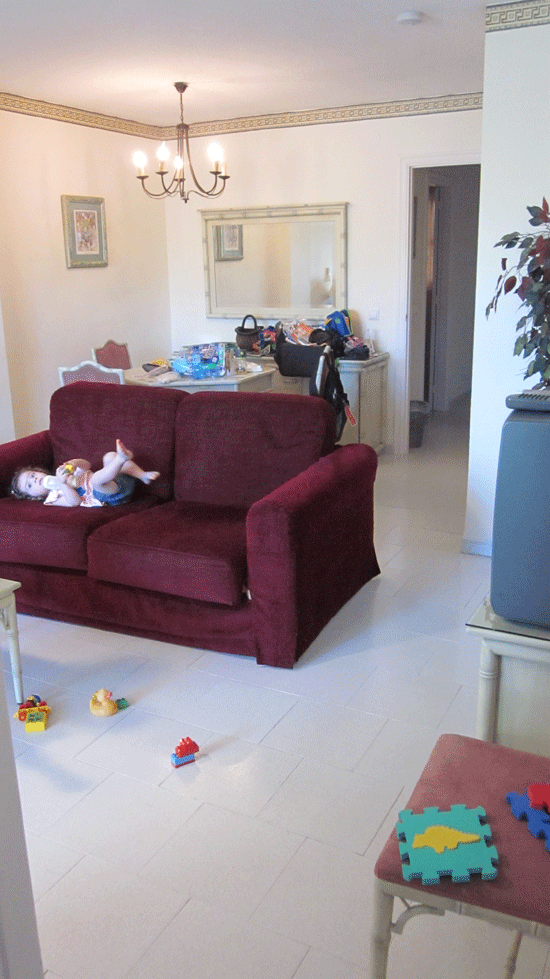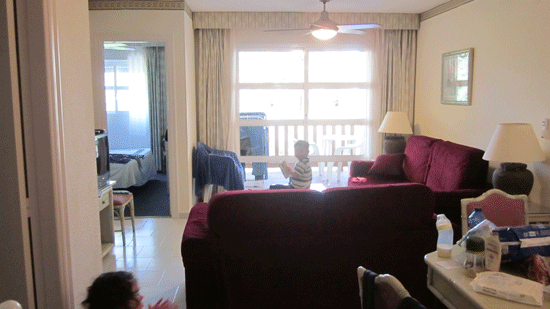 Our 1-bed room with attached bathroom.

The kids' room. They did well sleeping in the same room together. If they were both awake when we put them in there they usually were awake for a while; we'd hear giggling and Wes saying, "Dissa!" ("Carissa!"). But they always settled eventually and went to sleep. It helped that Carissa was in the crib.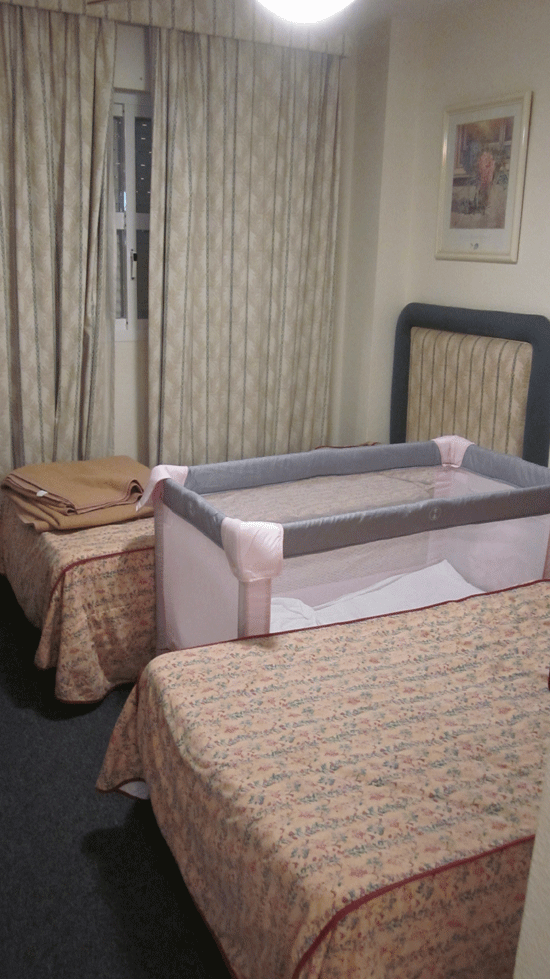 The other bathroom (with bidet).

Kitchen. It was small but it had everything we needed.

The balcony. The balcony was a wonderful feature; it let in lots of fresh air and had a nice, peaceful view. It was a pleasant place to sit and eat breakfast. But we used it cautiously because of the kids.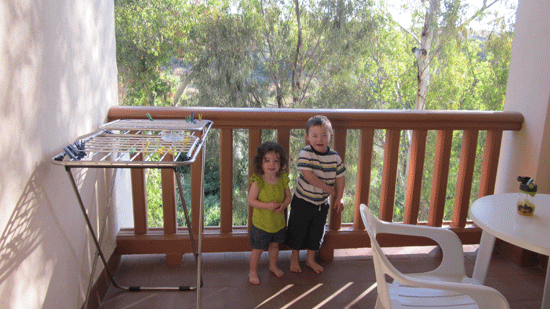 It also came with a drying rack that we used for laundry. After doing laundry in the bathtub in England and strewing wet clothes around the room, having a washing machine and drying rack was pure luxury.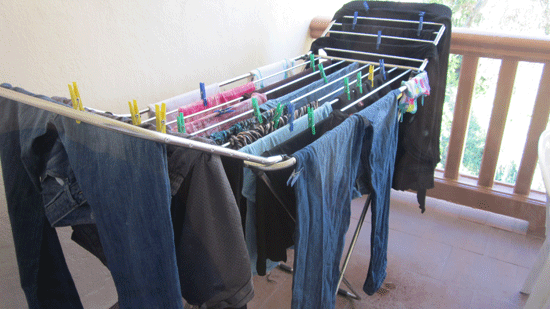 And, oh yeah, there was a pool. They offered Aqua Zumba (although not by name, that's what it was) everyday, but I was always either putting kids down for naps then or we were out on a road trip. This is a picture I snapped just after getting the kids to sleep.

There was a separate kiddie pool that we used later in the week and a mini-golf course. The resort also had a restaurant where we ate breakfast and dinner a few times.
After getting settled on Sunday we prepared for our first full day in Spain on Monday: a road trip to the city of Seville.