We had some fun treats when we were in York, England. Naturally, Wesley had an ice cream cone. There is practically nothing better than European ice cream. And practically nothing makes Wes happier.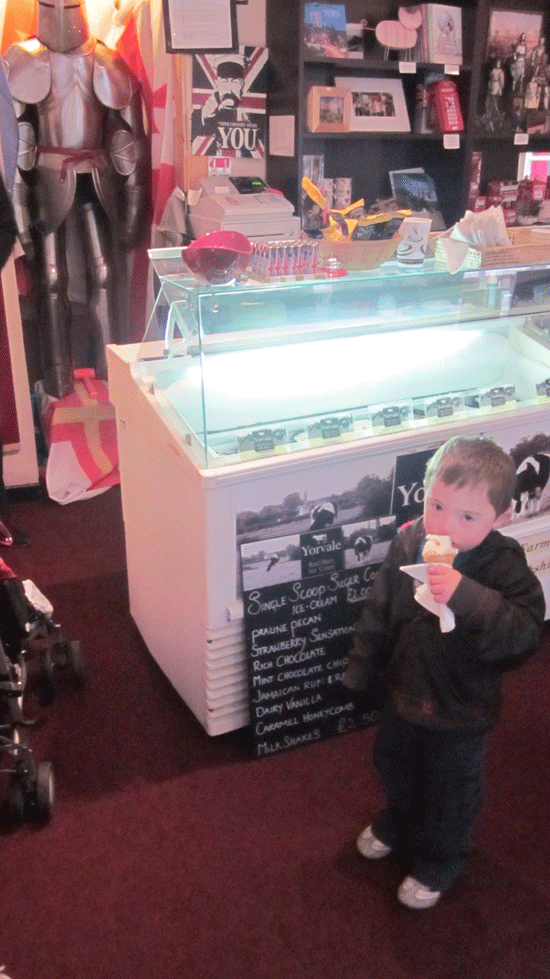 We had to have pasties (pronounced with a nasal "a" sound) at least once in England. They are little handheld pies, usually savory but sometimes sweet, that come from Cornwall. Historically the miners would take them down into the mines for their meals. John and I split a sweet peaches and cream pastie and it was delicious.

We also absolutely had to stop for afternoon high tea. Cream tea is tea with scones; high tea is bigger and better with finger sandwiches, scones, and pastries. We went to Betty's, which is THE place for tea in York. (You know this by the very long queue you have to stand in before getting inside.) John didn't want to do tea again so he took Wes to McDonald's while I had tea with Carissa.
She was the perfect companion for tea. She dug right into the finger egg and cress sandwiches and enjoyed chamomile tea with all the dignity of a real British lady.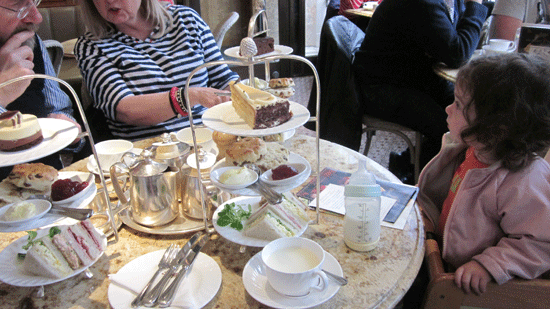 At night we took the train back to Leeds and returned to our Marriott hotel. We enjoyed just chillin' at "home."
The kids relaxed in bed…

…and played with balloons that some nice shopkeeper gave them at the end of the day.

One night we brought back subs from Subway and ate them in bed. And chips too.

Wesley played a lot with this electronic toy that was an absolute life-saver. In fact, when we were checking out of the hotel in Bath we couldn't find this toy. I stayed after everyone had left and searched high and low until I finally found it underneath the bed in Grammy and Guy's room adjacent to ours. I knew our trip would be a lot harder without this toy!

And one of the best things about staying in a hotel: snuggling in bed together, watching TV.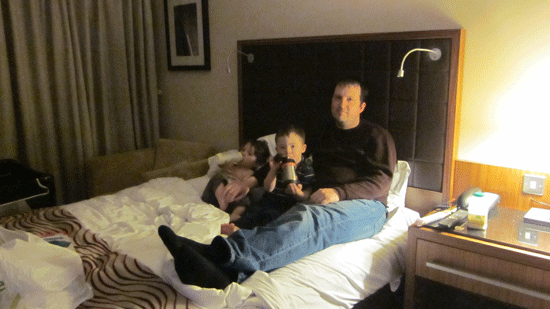 Sometimes when the kids needed entertainment I would sing songs with them. I have a clear memory of singing songs with them in London while waiting for the ferry from Canary Wharf back to our hotel. It was in an enclosed (warm and dry) space, and the other people were watching with amusement. Here my kids are doing "Head, Shoulders, Knees, and Toes" in our hotel room one night.
One of York's famous areas is The Shambles. It's an old street lined with buildings that overhang the cobblestone, and it used to have a lot of butchers who would hang their meat for display. Now there are no butchers, but a lot of quaint shops and restaurants.

We came across a street market on Friday.

Notice the man in the hat. It's called a flat hat, and surprisingly lots of British men wear them.
So when we came across a vendor selling them, John picked up his sole British souvenir. Very handsome, no?

We visited three museums in York. The first one was the York Castle Museum.

The name is misleading because it's not a museum about castles, but it is near the remains of the original castle in York.

This is how it used to look, when water surrounded it.

The museum is really a museum of everyday life from the early days (say, 1600s) up to nearly-modern day. Honestly, this museum wasn't our favorite. It bordered on cheesy, but it had some interesting points. I liked learning about how the women used to live in the days before the technology I'm so used to, like this:

The place is famous for its life-size recreation of a Victorian-period street. We paused for a picture next to a (fake) horse on the street.

Strollers weren't allowed, so Wes had to hang out in this backpack (because he was asleep when we arrived and we didn't want to carry him).

There were some nifty displays of armor and weaponry that John found interesting, and some relics from the 1980s and 90s that took me back to my childhood. We also walked through the York Castle Prison museum, which was kind of gloomy.
We didn't stay much longer than an hour at the Castle Museum, and then we moved on to the Jorvik Viking Centre.
This place was a mixture of strange and interesting. The first thing you notice (OK, are overwhelmed by) is the SMELL. They want you to feel like you're part of the typical Viking life of 975 AD, so they enhance your experience with "sensory stimuli" including the typical smells of the time. WOW. I can't even describe the stench, but I still remember it.
One of the unusual parts of the museum experience is a ride through a reconstructed Viking settlement which includes Viking voices speaking in Old Norse. It was a little like Disneyland, but on a much, much smaller (and smellier) scale. No photos were allowed, though.
We also spent some time looking at this recreated archeological site. It was kind of cool because everywhere in the dirt beneath the glass were ancient Viking relics, like a dice, comb, knife, coins, etc. The kids had fun running across the glass and getting their wiggles out.

Dice

Leather shoe

Comb

We also learned lots about the Viking people from their skeletons. People were not in great health!

We saw coins.

And then we had one of the museum workers dressed up as a Viking make us a coin of our own to take home.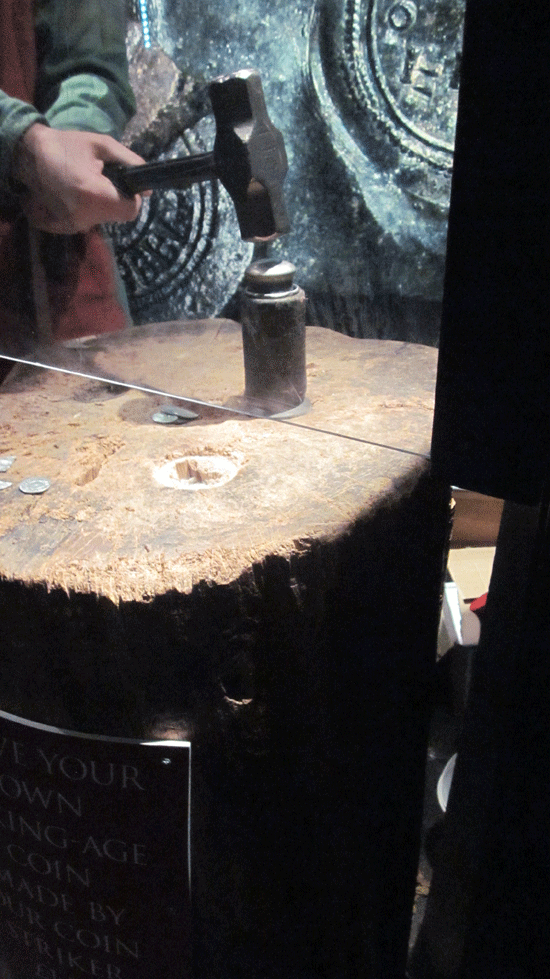 The final place we visited in York was called York's Sweet Story. It's a museum dedicated to chocolate (are you so surprised we ended up there?).

York is famous for its chocolate. It is the birthplace of the Kit Kat, for instance, and has about 300 years history of making chocolate confections.
We started with a chocolate tasting, then learned about the history of chocolate (how ancient Mayans drank cocoa water and it was considered a delicacy; we got to taste some…it's called "bitter water" for good reason! Yuck), and the history of chocolate making in York. Interesting stuff.
(chocolate tasting)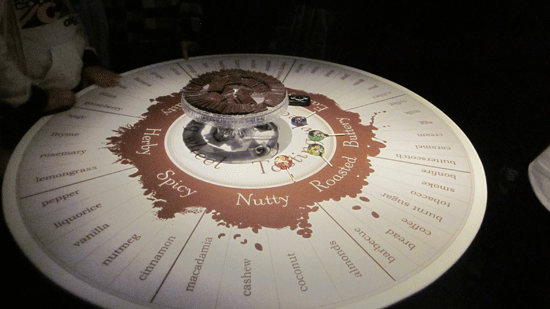 We ended up in this ultra-mod room with interactive displays about chocolate until it was our turn to see the chocolate making demonstration.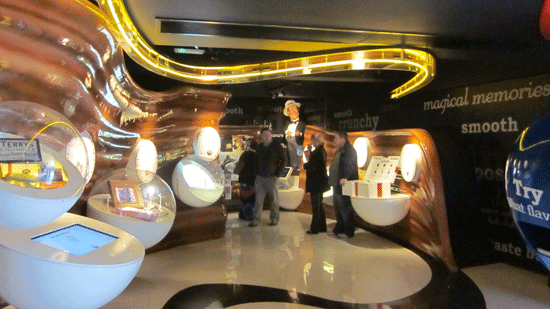 The demo was one of the highlights (because it's always fun to see chocolate made, and fun to taste it, too).
Our confectioner: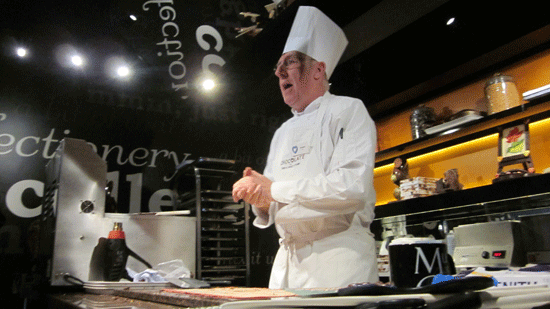 I stood with Wes near the front. He liked watching, and he also liked looking at himself in the mirror above the counter.

And, of course, Wes LOVED the piece of chocolate he got at the end!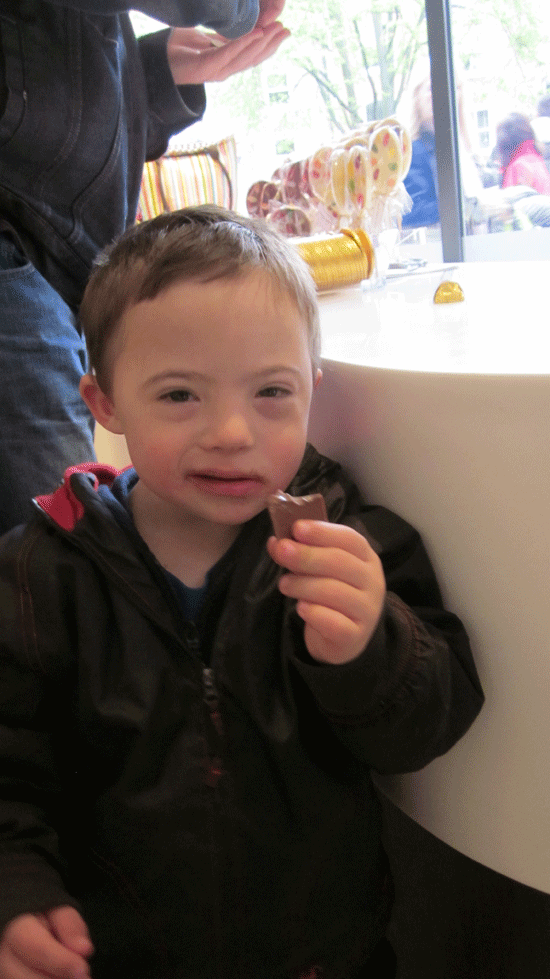 York was good. We spent two full days here. On Sunday morning we checked out and took a taxi to the Leeds-Bradford Airport to leave England and begin the second leg of our adventure–in Spain!