Carissa is a little 19-month-old Diva, demanding everything she wants, when and how she wants it. She loves her blanket (which she calls "Bah"), she loves her bottle, and she loves her big-girl sippy cup. She often eats Cheerios first thing in the morning, if she's not stealing toast from Wesley's plate.
Wes and Carissa both like to play with water. They enjoy transferring the water from one cup to another. It gets all over the floor, but at least it's just water.
The other day Carissa wouldn't go down for a nap. Finally I just sent her into the living room to watch TV with Wes. She didn't last long.
Waiting for Wesley's bus.
Lately I've been changing my diet to include better food, and less of it. Here are some things I've been eating regularly.
I cycle through a couple different breakfast options. They all involve a carbohydrate, fruit, and protein. This is Kodiak Cakes whole wheat pancake mix with bananas, blueberries, and egg whites.
Chicken wrap for lunch, with an 80-calorie whole wheat tortilla and lots of lettuce, tomato, and cucumber.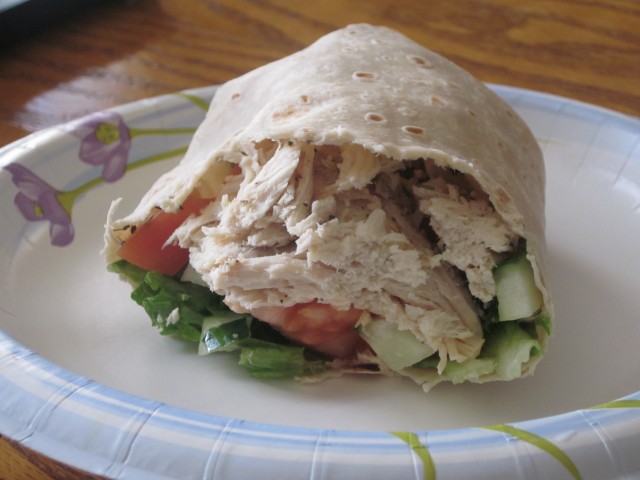 Which Wes also likes. I got tired of him trying to eat mine, so I made him his own. The front of his hair is all sticky from drinking a bowl of peach juice.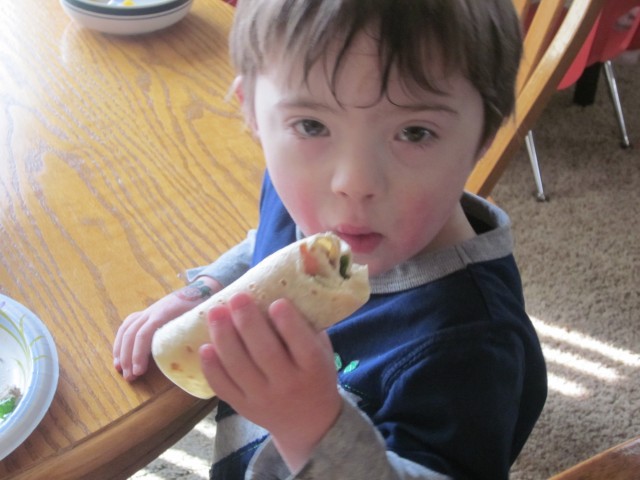 For dinner, shredded pork with a measured amount of cheddar cheese and steamed broccoli. Or I'll have chicken instead of pork.
Or I'll eat the pork with feta cheese instead of cheddar, which is super yummy and salty. I'm becoming a big fan of steamed broccoli sprinkled with salt and pepper.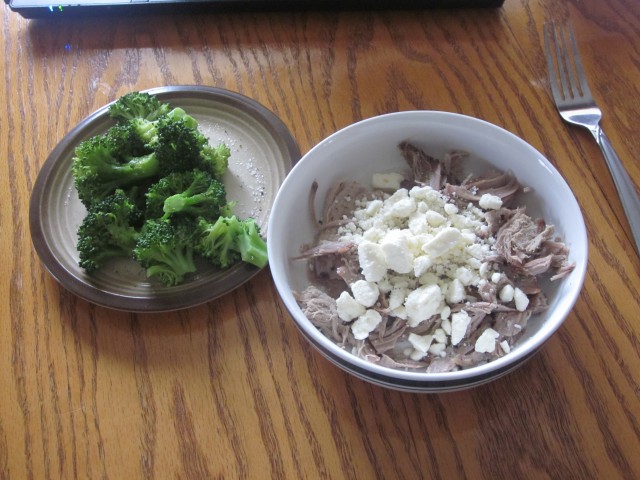 My snacks usually involve Greek yogurt mixed with fruit, or protein powder mixed with peanut butter. Greek yogurt is a fantastic source of protein (Fage 0% Plain has 23 grams per cup). However, I think Greek yogurt tastes bitter, so I always add ample amounts of Truvia, which is a calorie-free, natural sweetener you can find at your grocery store. It tastes GREAT.
This is Greek yogurt mixed with water, strawberries, ice, and Truvia. Maybe some cinnamon, too.
I also use unsweetened almond milk instead of cow's milk. It's only about 40 calories per cup. I like to add sugar-free flavored syrup (usually in the hot chocolate and coffee aisle) and Truvia, which makes it taste like a super sweet treat.
This is one of my snacks made with Gaspari Milk Chocolate protein powder and Adam's Natural Peanut Butter. It is a gooey, yummy, healthier version of the peanut butter cup (which if you know me, I really like). It's just protein powder mixed with a couple tablespoons water. I put half in a muffin cup and freeze it for 3o minutes. Then I spread on my measured peanut butter and top it off with the rest of the chocolate mixture. This milk chocolate protein powder is the best I've tasted. I sometimes eat it with a cup of my almond milk sweetened with sugar-free caramel syrup. So good.