Our friends invited us over for a night of games and crepes. We played minute-to-win-it type games.
The first one: stacking cups as fast as you can with one hand behind your back.
This is Brittanie stacking cups, and Wes looking on (far left). He was the biggest clapper for everyone who participated. He will always be a terrific cheerleader.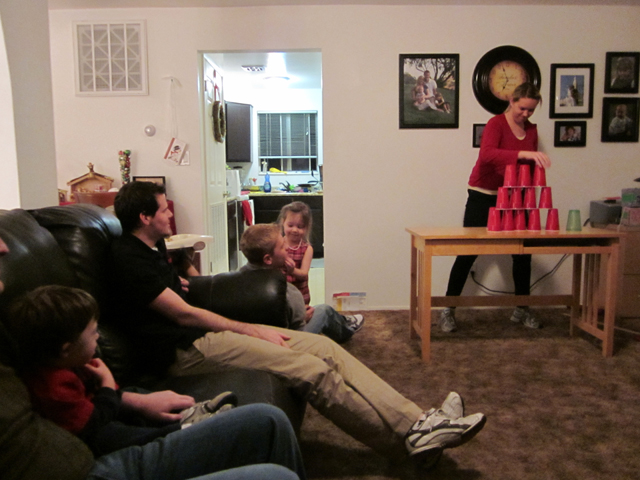 John gave it a shot…
But guess who took home the prize! Moi! In a quick 23 seconds I won a full single-serving dish set: 2 plates, bowl, and cup.
The party hosts were nice to give each kid a turn trying the games.
Wes and Carissa liked to find alternative uses for the cups.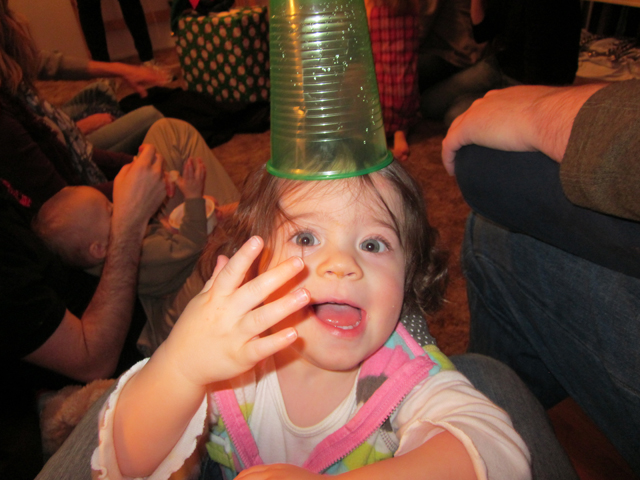 Here's Wes and his soul mate Abby trying the game where you tie a tissue box with a ball in it around your waist and you have to jump/dance around until the ball falls out. They LOVED this one.
Afterward someone opened a mini stomp rocket launcher and let Wes play with it.
The party was for adults, but Wes obviously thought it was a party meant just for him!