Wes finished up two weeks of swim lessons today. It will take many years, I think, before the kid learns to swim for real. But he had fun!
Every time his turn with the teacher was over he'd stand on the pool steps, face his "audience" (the parents) and clap and cheer for himself, saying "Yeah!". The other parents called themselves his fan section and clapped and cheered with him.
Here's his GQ shot.
At the end of each class the kids can go down the water slide and jump off the "high" dive. The first couple of days he wasn't scared and jumped right off. But after that he got more timid and had to be pushed/dragged in. But he always liked it once he was in the pool.
Here he is standing in line.
And preparing to jump.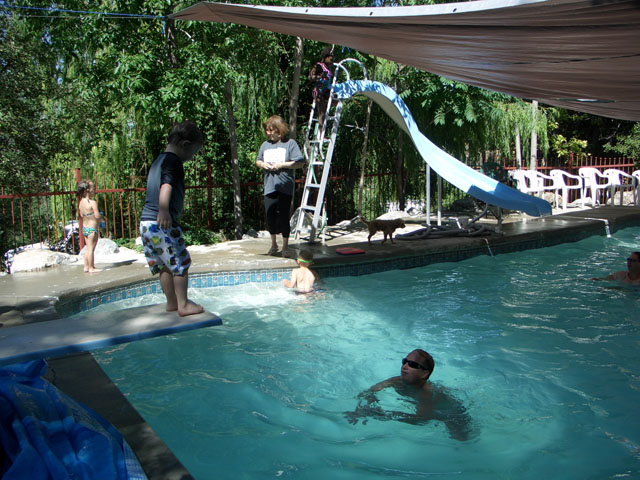 Here he is jumping in, before he lost his nerve.
Today after class I took him (and Carissa, who was asleep) to the drugstore downtown for an ice cream cone. I'm not sure he's ever had his very own ice cream cone before. After he threw it on the counter face down I showed him how to lick it, and then to crunch the cone, and after that he was fine and ate nearly the whole thing, occasionally pausing to say, "Num! Good!"