…still pregnant.
This is how I feel:
This morning John looked at me and said, "You know, I don't think you can look any more pregnant."
Well, time will tell.
This baby is definitely more normal sized, which Wesley wasn't. I'm in constant amazement of how HUGE the uterus can grow, and how I can feel foreign objects inside me–like knees, elbows, and feet–nudging me (HARD!) in places where normally internal organs belong. To feel a foot poking out my side is pretty surreal. And it makes me think I'll appreciate the movement more when it's outside my body, where I can just look and not be obligated to feel.
Yesterday was my birthday (I'm officially in the "almost 30" club) and I spent most of it cleaning the house and shopping for baby things. But thanks to my sister I got some terrific cupcakes.
Let the nesting begin! The baby is taking over Wesley's old room. I didn't want her room to look like Wesley's, but I didn't want to spend a lot of time or money on making it different. In the end she gets pink hangers instead of his white and green ones…
…and some floral curtains that layer on top of his sage green ones…
…and, you know, girl stuff.
Unlike last time around, when Wes surprised us three weeks early before we'd had time to even find out where the hospital was located, this time we've already visited the (different from last time) hospital, figured out where to park and which entrance to use, and pre-registered. We've also packed our hospital bag and Wesley's overnight bag for when I'm in labor. I picked out some baby clothes to take to the hospital, including a going home outfit for her.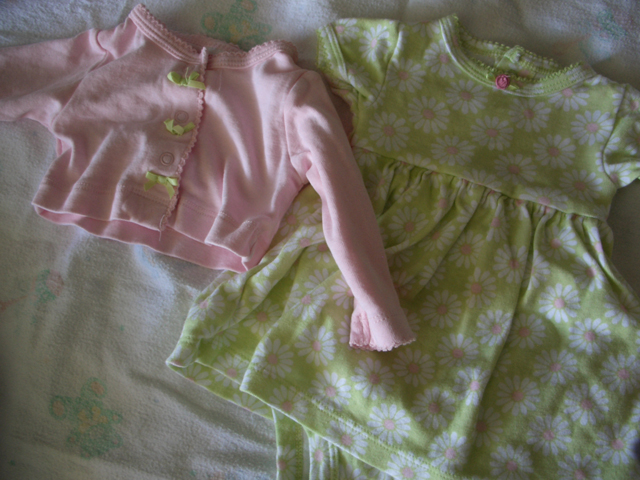 I still feel bad about how when we brought Wes home from the hospital we were kind of unprepared and had to borrow a blanket from the nurses to protect Wes from the rain. So this time I'm ready with blanket, hat, socks, mittens, onesie, sleeper, and of course a dress with matching cardigan.
So now it's the wake-up-every-day-and-wonder-"Is-this-THE-day?" routine for me. So far I've dreamed three times about having the baby. Amazingly in my dreams I either sleep through the labor and delivery part, or she just falls out, or I otherwise skip everything up until the part where she's born and I'm holding her. Wouldn't it be nice if it worked like that in real life?