This week I saw an ad for an ice cream cake from Cold Stone that looked yummy, but I knew it'd be expensive. So I decided to make my own version at home for about half the price.
This is what I saw:
And this is the cake I ended up with: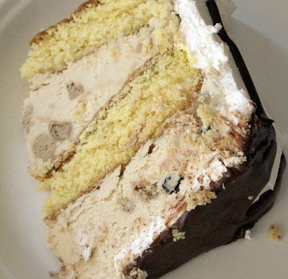 It's two layers of yellow cake with Ben & Jerry's cookie dough ice cream, topped with fluffy white frosting and chocolate ganache.
I also made a second ice cream cake when I discovered I had enough leftover chocolate cake batter in the fridge to make a single layer. I split the single layer in two and used Dreyers lite cheesecake and brownie ice cream and topped it all with chocolate ganache.
This cake was a bigger hit than the original cookie dough cake, which was a nice surprise, considering this cake was spontaneous. I think it worked better because 1) the flavors of chocolate and cheesecake taste great together, and 2) the cake and ice cream layers were thinner, the better to eat both cake and ice cream in one bite.
So here's my recipe for it if anyone else is feeling adventurous.
(FYI, Cold Stone's cakes are in the $30 range, I think, but this cake cost me in the neighborhood of $7. The ice cream is the most expensive part of it, and I could have saved a couple dollars if I had waited for the ice cream to go on sale or used a cheaper brand.)
Chocolate Cheesecake Ice Cream Cake

Cake:
1 devils food cake mix
1 4-serving size chocolate fudge instant pudding mix
chocolate chips to taste

Ice cream:
1 half-gallon Dreyer's lite cheesecake and brownie ice cream

Ganache topping:
2/3 cup whipping cream
6 oz. chocolate chips
1-2 Tbsp. butter

Cake layers:

Make devil's food cake mix according to directions in two 8-inch cake pans, except include the chocolate chips and pudding mix.

Once cake layers are cooled, split each in half using dental floss (makes it easy). I used just one of the layers, but you can use both and split each in half to get four thin layers of cake.

Freeze cake layers until ready to top with ice cream.

Ice cream layers:

Soften ice cream and spread evenly on top of one cake layer. Top ice cream layer with second cake layer and top again with ice cream. If using four half-layers, repeat.

Freeze until firm.

Ganache topping:

Heat whipping cream in large microwavable bowl until hot but not boiling. Stir in chocolate chips and butter and stir until melted and smooth. Ganache will start thin, but will thicken as it cools. If you want, put it in the fridge to thicken it faster. When spreadable consistency (not runny, but not hard) pour or spread over ice cream cake.

Freeze cake until ready to serve. Pull out and let thaw 5-10 minutes before eating.

Enjoy!