Who knew Stewart Falls had so much history to it? I don't mean the history of the falls. I mean relationship history.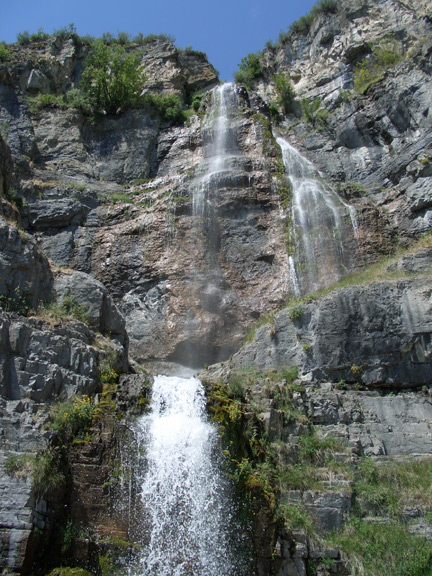 We hiked up there this morning with my brother Josh and his wife Hannah and their boy Logan. Turns out that Josh and Hannah's first date was hiking Stewart Falls. And another lady I met there today had her first kiss (pre-current husband) at Stewart Falls.
John and I have our own history with Stewart Falls, which is:
In August 2001 I had only known John a short time. He was my home teacher and we had some mutual friends in our BYU ward we would watch movies with. The more I talked with him the more he reminded me of my old roommate Melissa, who was one of my all-time favorite roommates. It so happened that my brother's roommate Clint knew Melissa, too. As Clint and I talked about John and Melissa we contrived that it'd be awesome to set the two of them up. But we weren't sure if John already had a girlfriend. So we asked a close friend of John's, Carrie Grant, and she said she thought he was single.
And thus our first hike to Stewart Falls was born.
We arranged a group to go up there one evening later that week. It was a large group, but I know it included me, my brother Josh, his roommate Clint, Carrie, and, of course, Melissa and John.
I'd never been to Stewart Falls and thought it was beautiful. Josh had a lot of fun jumping underneath the waterfall so I could take his picture. I really enjoyed getting caught up with Melissa, since I hadn't seen her in a while. We had a blast walking and talking together.
The hike was great. But the contrived set-up between John and Melissa?
Well . . . let's just say I remember hiking with Melissa at my side and John being just behind us. Melissa and I talked loads. John and Melissa, not so much.
The plan failed.
But, on the bright side, within a week John and I were dating each other and four months later we were engaged.
So even though the plan didn't work, it kind of worked better than expected. Brillantly, in fact.
Today when John and I hiked it again my brother Josh asked us if we had already started to like each other during our first hike six years ago. My answer: "Nope." John's: "A little."
The rest is history.