Last week John and I visited Vegas for the Pioneer Bowl where BYU played Cal-Berkley. BYU lost by one touchdown. Big disappointment. But it was still cool to see a bowl game.
As for Vegas itself… Too much cigarette smoke and noise. It had been two years since I'd been there last, and I don't feel inclined to go back again anytime soon. The city in general was summed up for me when I walked past two college-aged guys at 9:30 a.m. near the casino at the Luxor. One guy was laughing hysterically and pointing at his buddy–who was puking his alcohol-laced guts into a trash can.
Keep in mind that is was nine-thirty in the morning.
Yeah, I really believe those beer commercials now–it's just fun fun fun when you drink!
Some highlights in photos:
View from our room at the Luxor.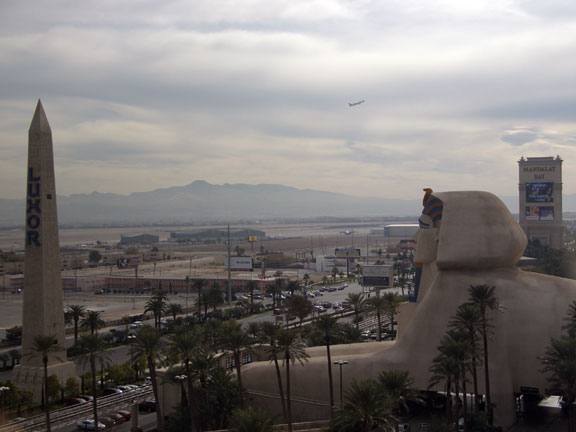 This was actually our second room. The first night our room had a door adjoining the room next to us, which was occupied by several single young men who were L-O-U-D and swore a lot. Imagine rap music at 8 a.m. turned up so high you could sing along if you wanted to, and you'll get the idea what it was like.
My sister Tara and me outside the Ethyl M. Chocolate Factory.
You can't go to Vegas and not stop to walk through the Ethyl M. Chocolate Factory. It's one of the best free things to do in that town. You get a free piece of chocolate when you walk through the place, and then if you buy a box of chocolate, you can try as many pieces as you want as you pick your selection. It was fun. And fattening. But so, so yummy.
And outside is the Botanical Cactus Garden">largest cactus garden in Nevada, and one of the largest in the world. Big whoop, you might say. But it really is a peaceful little walk around the place.
John and me at the Botanical Cactus Garden outside the Ethyl M Chocolate Factory in Vegas.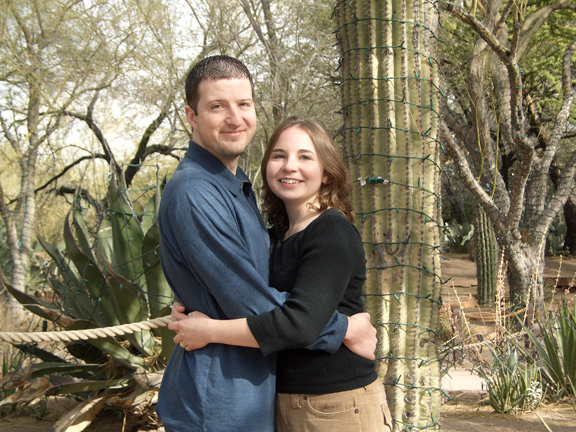 Notice the Christmas lights wrapped around the cactuses? Yeah, the garden was fully decked out for the holidays. There were even lighted gingerbread men and reindeer tucked among the desert foilage.
Very odd, really. But then again, it is Vegas.