Yesterday I turned 32. In the morning I took the kids to a bagel place where I had the most delicious peanut butter and jelly bagel, toasted and schmeared with cream cheese. We sat outside and ate under an umbrella. Then we picked up dry cleaning and headed to a Zumba class for special needs kids (wherein neither of the two teachers showed up, and I and another lady pulled out our mp3 players and made up stuff for half an hour). We ordered pizza for lunch. My sister and two of her kids came for a visit.
This was all great. But the best part of my birthday was about to begin. John and I hired babysitters to watch our kids while we went to Sundance Resort, up the canyon in the mountains. I've long wanted to take a "scenic lift ride," which is what they call the ski lift in the off-season. The weather was beautiful and about about five degrees cooler than in the valley. The lift is $12 per person and well worth it. The views of the mountain range was amazing; there are a lot more mountains up there than you realize when you're standing in the valley.
I'm scared of heights, which is one reason I wanted to take the lift. It's good to do something sometimes that scares you. But when we got to the top I was feeling pretty exhilarated!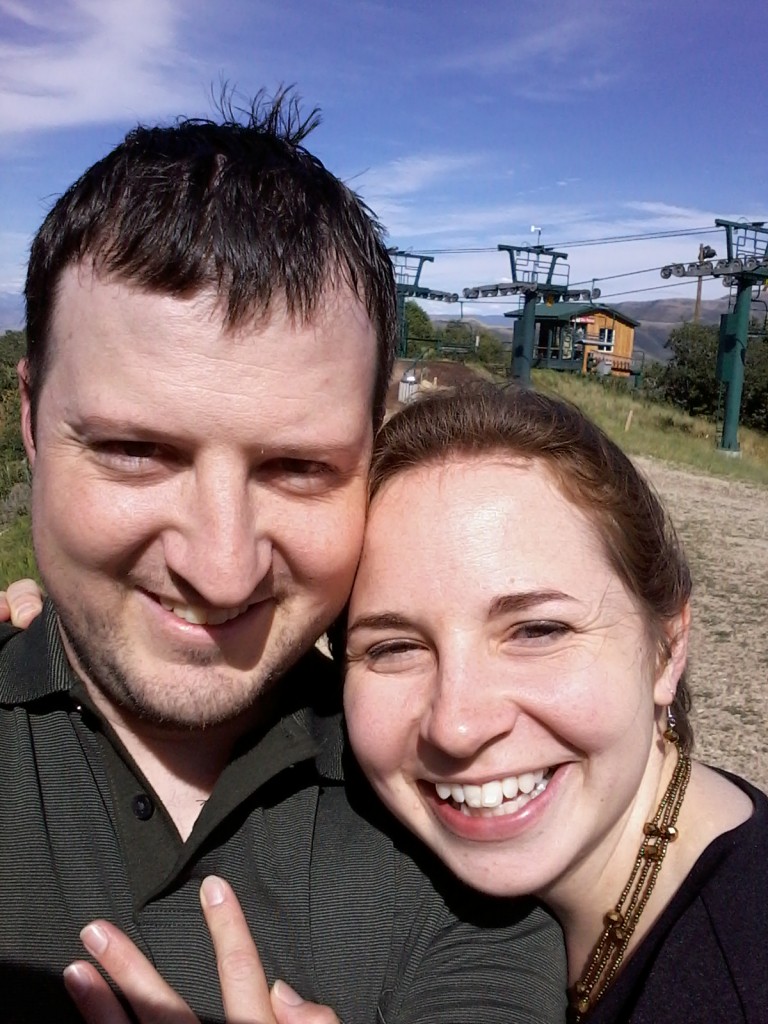 We hopped off at Ray's Summit and took a short hike. There are several hikes you can take, including one to Stewart Falls, but we only had time for about a 1-mile jaunt before the lift closed for the evening. Still, it was really a pleasant and fun way to spend the afternoon. We met several families on hikes, saw a couple taking engagement photos, a mountain biker preparing to descend the mountain, and a hiker climbing a tree. But for the most part we were alone, which was so nice and peaceful. Spending time one-on-one with the person I love reminds me how much I enjoy spending time with him and much I still admire and love him.
The hiking trail was fairly easy but it ran along the mountainside, with drops that seemed to go a long way down. Didn't I mention that I'm scared of heights? So I just kept my eyes to the trail and the mountain scenery.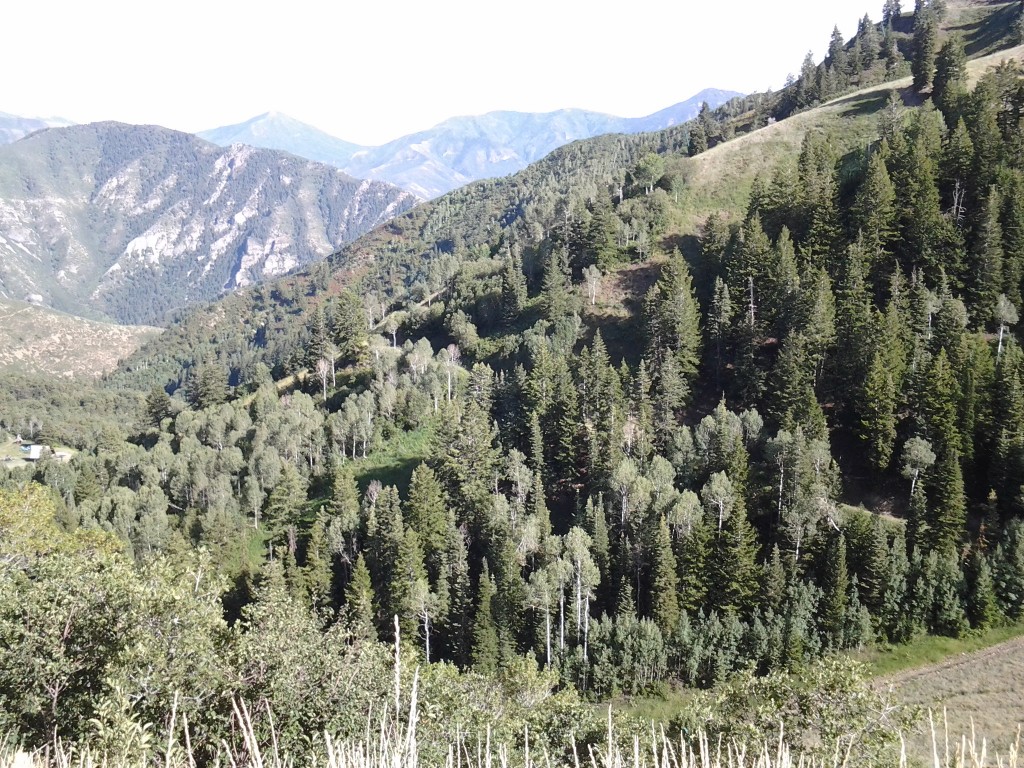 I wish we had more time and could've hiked further. But, alas, the hiking resurrected a a knee injury I have that gets inflamed when hiking downhill. So maybe it was better we stuck to an hour hike.
I loved, loved, loved this time. The evening air was cooling off more as we got back on the lift for our ride back down the mountain. It was peaceful and serene. And high. (Scared of heights!) This might be my hand gripping the safety bar.
Sometimes I may have looked like this.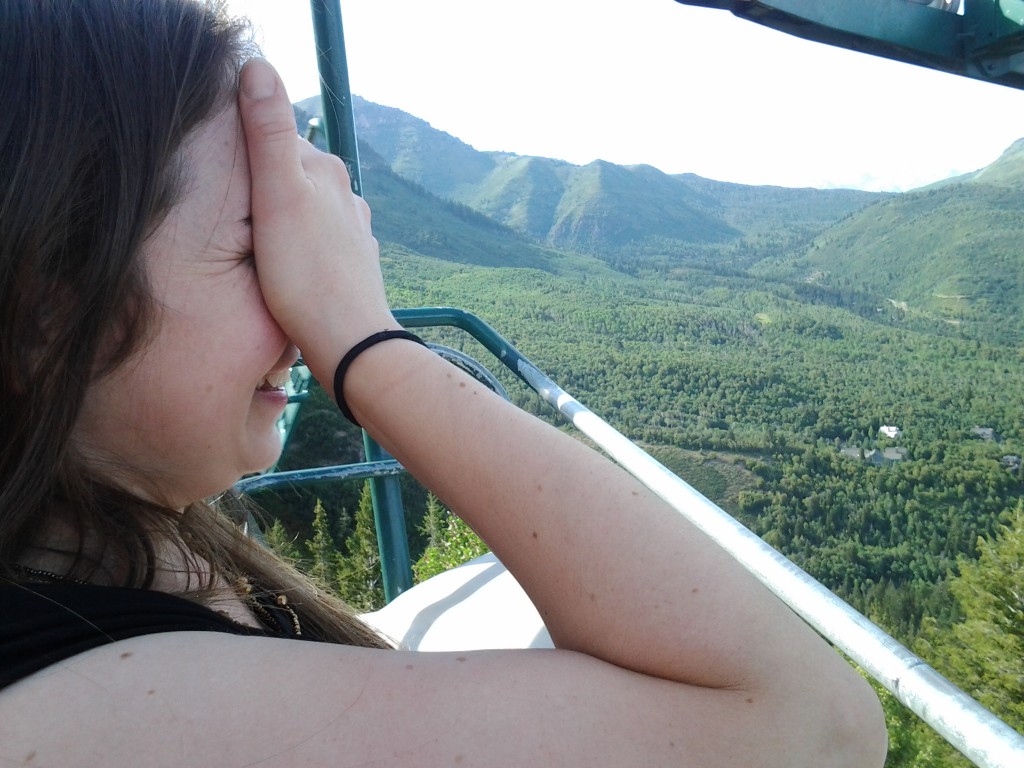 To top it off, when we got to the bottom John and I bought a chocolate-peanut butter milk shake to share from the Sundance deli. When I saw the total was nearly $6 I felt a little bad, but then I tasted it. Dang.
Daaaaaaang.
If there is a chocolate-peanut butter milkshake worth $6, this is IT. I think they used chocolate Haagen Dazs and very little milk.
Sitting there, on the mountainside, with my milkshake and my husband, looking up at the pristine blue sky and forest peaks, I felt things were perfect. It was a happy birthday.