You don't know who Pingu is?
He's Carissa's bestest friend, of course.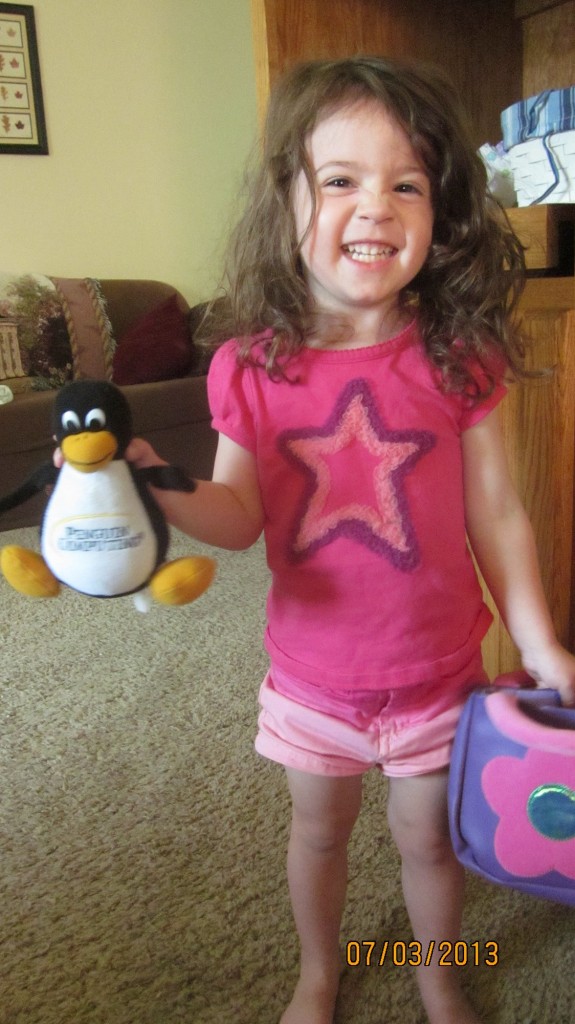 Between you and me, he's actually "Tux," Linux's mascot penguin. But Carissa named him after one of her favorite Netflix instant-stream kids' shows, a claymation series from Sweden called "Pingu."
Pingu goes many places with Carissa, such as the parade.
Sometimes she falls asleep with him.
She has a great sense of imagination. This is a wonderful and somewhat refreshing quality that Wesley lacks. Carissa is always inviting me to "go to Pingu's house." When I ask her where it is, she looks around and points where she's standing: "Right here!" And then we play. When it's time for chores and I ask Carissa to pick up toys sometimes she'll ask, "Can Pingu help?" She'll guide his little penguin arms to help pick up Legos from the floor and laboriously deposit them in the Lego box. It takes longer, but I figure if Pingu is a good helper, he's a good friend for Carissa.
Since John's birthday party earlier this month, and my mom's birthday party in June, Carissa has been really into the idea of having birthday parties for Pingu. Like, frequent parties. DAILY parties.
It's a big to-do. She gathers her favorite group of stuffed animals (which is a very elite and select group to be part of) and arranges them near her play kitchen. The usual invitees are Giraffe, Elephant, Cow, Pingu, and of course Carissa and me, and sometimes Wes. More recently Hello Kitty has made the cut into this prestigious club.
Carissa makes a cake and serves the guests. We sing "Happy Birthday" and Pingu blows out candles. We used to use an electric decorative candle I had on display (the kids thought it was pretty cool when they blew on it and it turned off–thanks to my thumb and the handy "off" switch), but one day Wes took the candle outside and now the batteries won't stay inside the candle and we can't use it anymore. Thankfully Carissa has imagination and we can use pretend candles instead.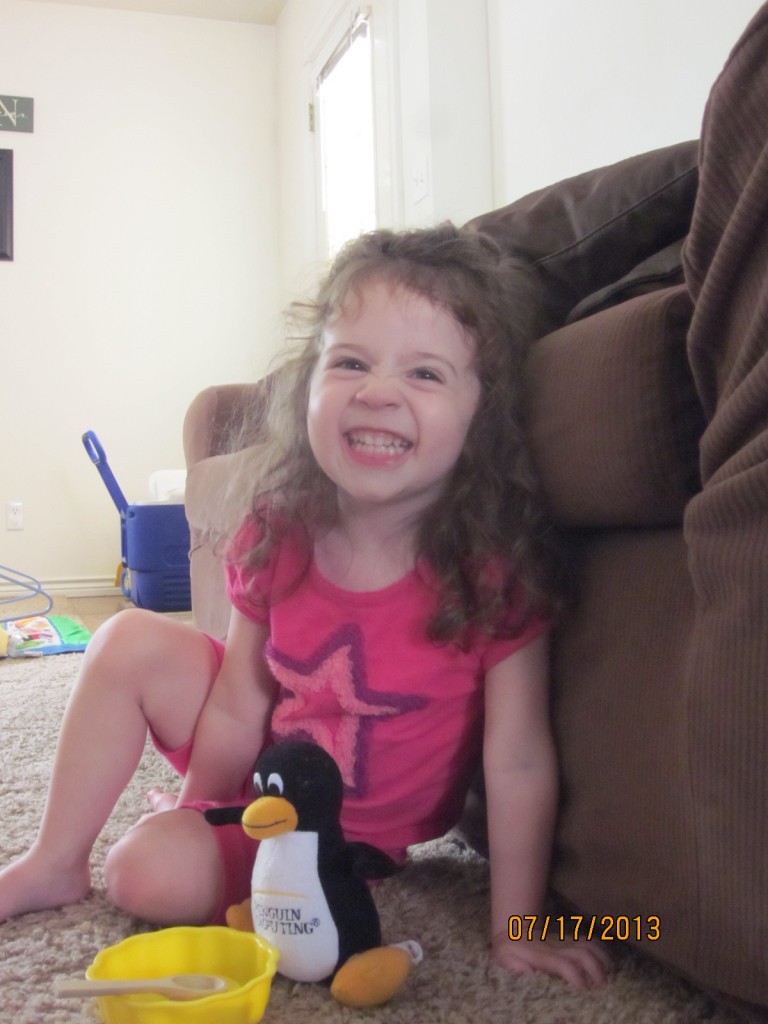 If you'd like a glimpse of such a prestigious birthday event, here you go.
(In this one, at the end you can see why Wes isn't a regularly invited guest.)

When we went to the library a few weeks ago the only book Carissa picked out was this one: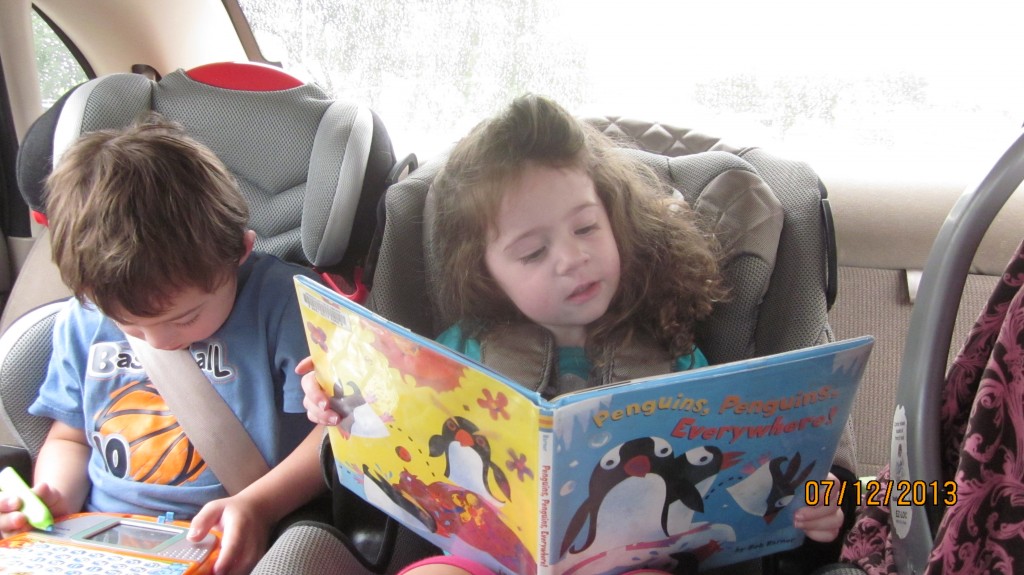 We read it many times in the ensuing week, and even I learned a lot, such as how there are "hot penguins" and "cold penguins." A surprising number of penguins live in New Zealand, including the world's smallest breed known as Little Blue. Then Wesley ripped the front cover and we had to return it and pay a fine. I'm not so keen on checking out more books.
Another great feature about Carissa is that she likes to color and is getting remarkably better at it. This is new to us since Wes doesn't have interest in drawing. I'm so proud of her adorable artwork. It's like seeing a part of her personality and the inner workings of her head displayed on paper for all who pass by our refrigerator to see.
This is a picture she drew of Pingu. She told John she wanted to draw Pingu, and asked him to do it for her, but he guided her instead. He said, "Look at Pingu's head. What shape is it like?" She drew a circle. Next, "Look at his body. See how it's a little bigger." She added the body. Then he pointed out his eyes and mouth, and she drew them. The arms and legs came next.
Pingu is the orange one in the middle, and the red one to the right is "Pingu's friend." I attempted the igloo at the top, and then she did her own version in red on the left. (I tried showing her how to make the ice blocks.)
I think it's a terrific rendition!