On Tuesday we checked out of our London hotel and took a taxi to Paddington Station to catch a train to Bath. Taking a taxi in London is expensive, but it was a nice change to see the London streets from, well, street level instead of using the underground. We crossed the bridge we had been walking along on Saturday, right past Big Ben and the houses of Parliament.
The train to Bath takes just 90 minutes. The train actually had TV monitors on the seat backs that you could tap to see our location, elevation, etc. (as well as news and TV programs if you wanted to pay for it), and Wes had fun with that. Ever since John got a tablet Wes and Carissa have both learned how to tap screens to make them work magic, and they're pretty good at it.
The scenery in England is lovely. Lots of green, hilly fields and quaint old buildings. We saw bright golden yellow fields everywhere but I wasn't sure what type of agricultural crop it was. My mother-in-law asked someone and she said it was rapeseed, which we would know as the maker of canola oil. It was stunning.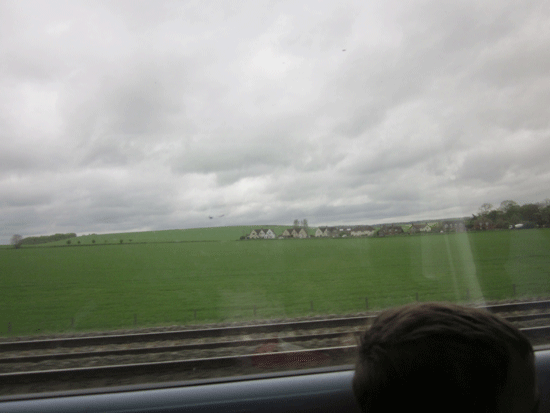 Bath is a fairly compact area with lots of interesting things to see within near walking distance of each other, so we made sure our hotel (the Bath City Hilton) was centrally located and within walking distance of the train station.
It WAS within walking distance of the station, but it was a bit of a walk. John and I didn't mind it but his parents didn't appreciate the scenic stroll while lugging baggage. Bath really is a beautiful city to walk through but I felt bad that it was hard for them.
We finally arrived to the Hilton–Carissa was dead asleep by now, and Wes was winding down for nap time–and we were told that they had overbooked and moved us to a different hotel. This was probably the last thing my poor mother-in-law wanted to hear after walking all that way, just to be moved someplace else, and she made sure they knew it.
I didn't mind, personally. The Hilton transferred us to a 5-star hotel called the Macdonald Bath Spa Hotel. It was a little further from city center, though, so the Hilton arranged for free taxi service during our entire stay in Bath. My mom-in-law was satisfied.
When we arrived we had to wait for them to sort out our room needs, as there was some misunderstanding between them and the Hilton. We requested adjoining rooms with my in-laws, and of course we needed a room with space for our two kids. We hung out in the lobby, Carissa sound asleep on my shoulder, and we chatted with the butler. Yes, there was a BUTLER.
At last our rooms were ready and I got to deposit both kids on the posh King-sized bed for their naps.
And then I had the most peaceful hour of our entire trip as everyone else left for lunch and I stayed in the nice and quiet hotel room for an hour of relaxation. It doesn't take much, sometimes.
The hotel was nice, although maybe not quite five star quality. (Then again, have I ever stayed in a five-star hotel?) Our room was small but it had a nice balcony overlooking the front gardens.
At one point during our stay we walked from the city center to our hotel, and it was a nice walk. We walked along the famous road where Jane Austen once lived (in one of the homes on the left), and at the end of the road you can see the Holbourne Art Museum.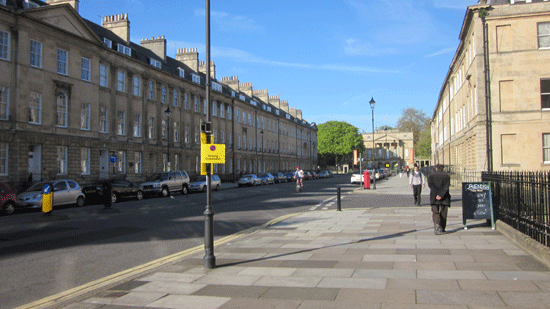 We turned down a side street before we reached the Holbourne, though, and walked up a steep-ish hill to our hotel.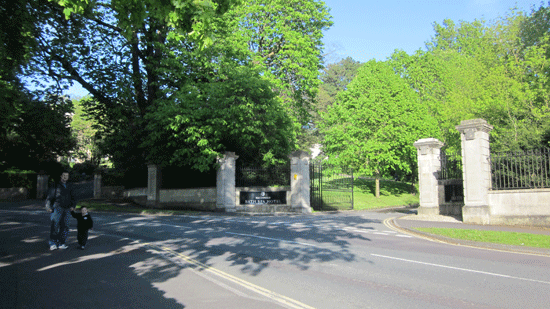 It used to be a private school and was later turned into a hotel. The gardens were lovely and English.
There was a leafy garden house (seen here with John and Wes) out front that had a fountain.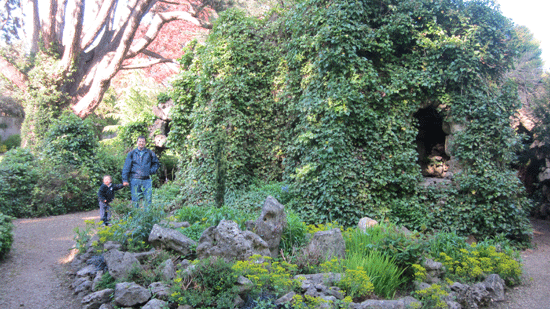 The hotel's exterior: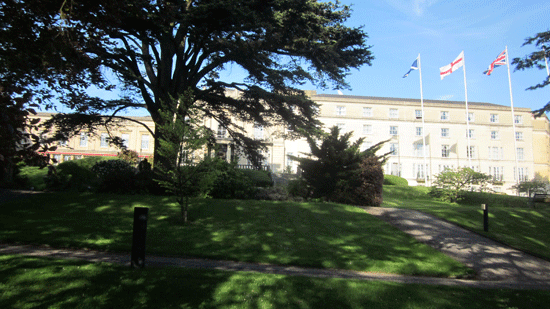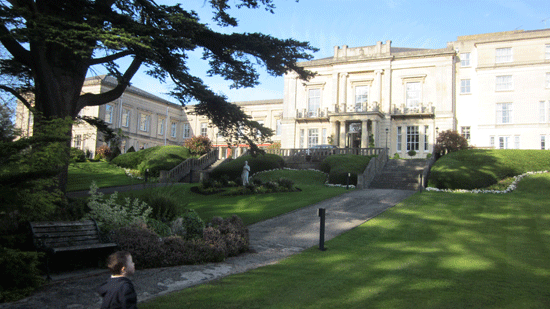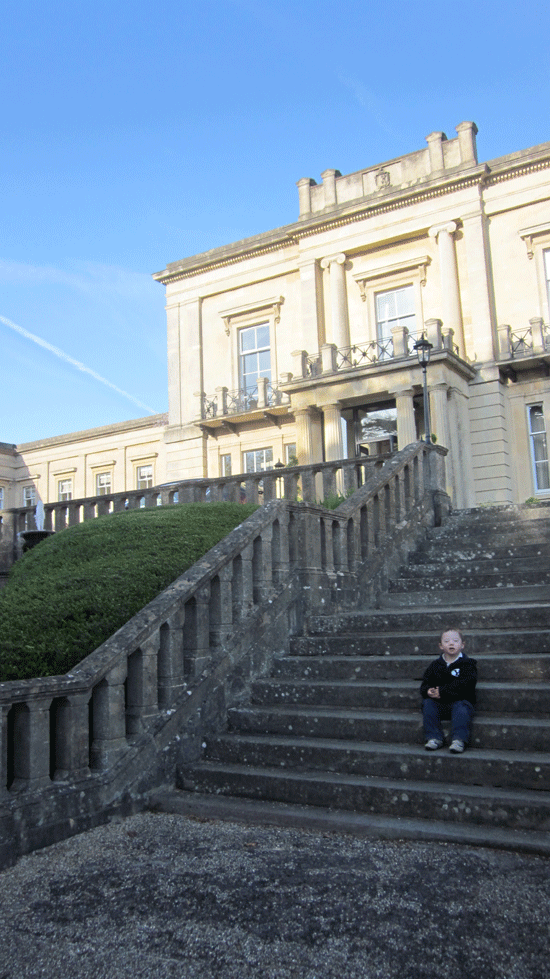 I didn't think to take pictures of our room (and if I sound like a nerd for documenting our hotel in such detail, that's just how I am about hotels. And I always write reviews about our stays on Tripadvisor.com), except for this picture of the kids playing, and the next picture of John doing laundry one night in the bathtub. We had bought some detergent at the grocery store in Bath and cleaned our clothes the old fashioned way and hung them all over our room to dry. No laundromat nearby, and it wouldn't have been practical to go do laundry with our kids anyway. So we did our laundry twice this way while in England. (It worked fine, but I have to say, it was super nice to have access to a washing machine once we got to Spain.)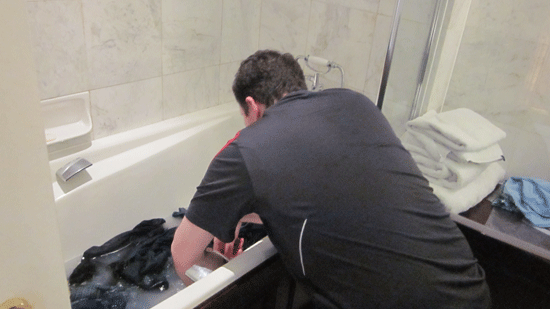 The very best part of the hotel, hands down, was the spa. Not that we used the actual spa ($$$$), but we did use the pool area each night we were there and it was the best I've ever seen at a hotel. The pool itself was nice and big, as was the indoor hot tub. But my favorite was the outdoor hot tub, which was big and had a waterfall thing.


(Not my picture.)
And instead of just a sauna, they had two sauna rooms at different temperatures. They also had an aromatherapy shower, steam room, salt room (where salt sprays from the ceiling and you sit in it a while; good for the skin?), and an ice room, which I walked inside once but didn't dare try (you splash ice on yourself and take a cold shower; refreshing?).
Anyway, the pool and spa area alone made our stay at this hotel worthwhile.
But I digress. The afternoon we arrived in Bath, once the kids were awake, we took a taxi downtown to THE Roman Baths.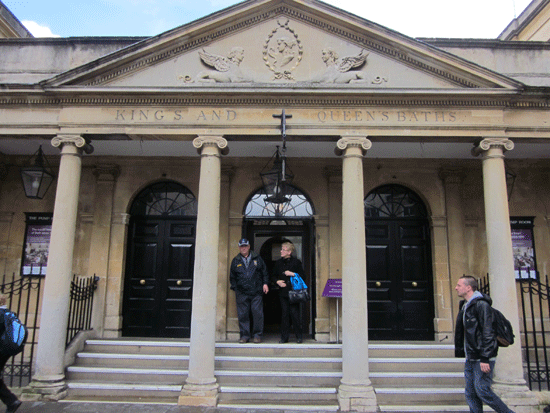 Bath is a beautiful, old city. Here is the cathedral that we didn't have time to visit.

Ceilings in the Roman Bath Museum: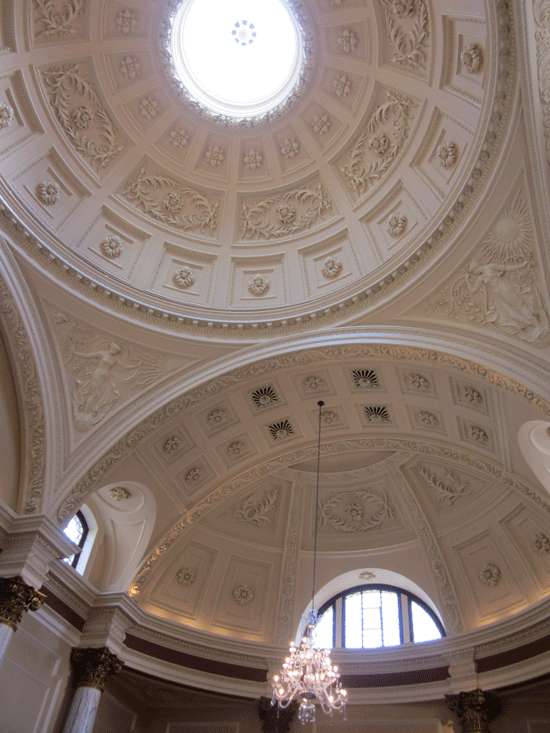 The museum didn't allow strollers but they provided baby carriers. Carissa was not, I repeat NOT, happy to be forced into one of these. Poor John could barely hear the audio tour.

She was much happier once we finally abandoned the carrier and let her wander (and use my audio tour).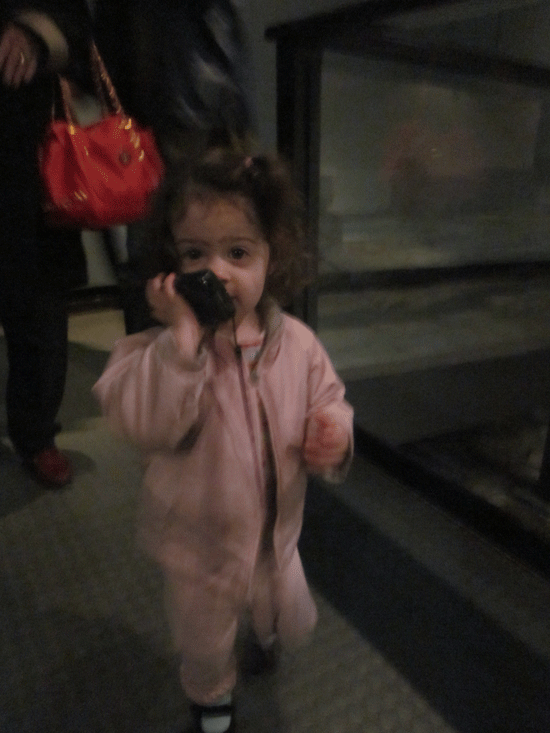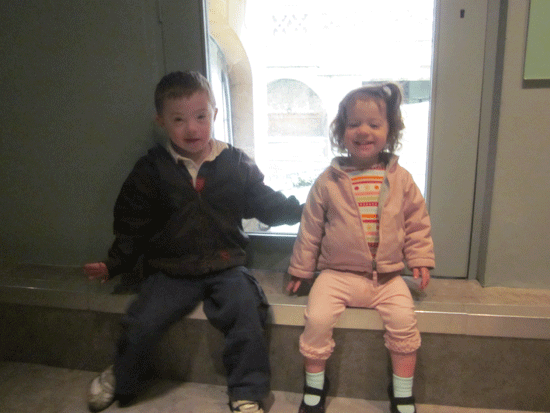 The main bath area:

Bath was anciently known as Aquae Sulis ("waters of Sulis"). Sulis was their goddess. People would come to the baths to bathe and to worship. There was a temple overlooking the baths. This is remnants of the pediment on the temple, featuring the face of the god Gorgon.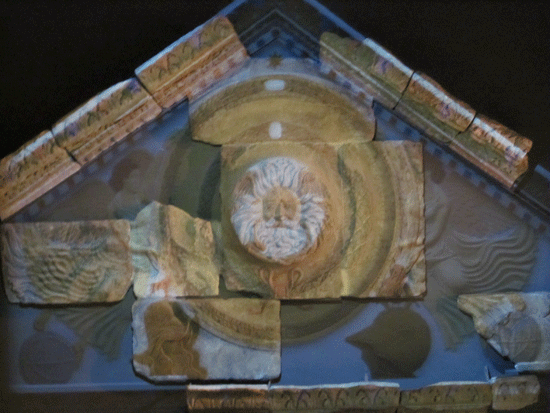 Another interesting tidbit was the curses that people would toss into the baths, believing that the goddess Sulis would read them and avenge them their wrongs.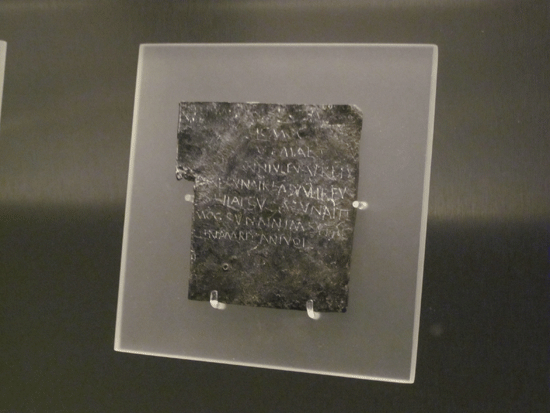 The baths were famous and popular in part because of the natural hot springs they were built upon.

But some of the water still needed to be heated, so Romans came up with a heating system involving stones and hot air called "hypocaust."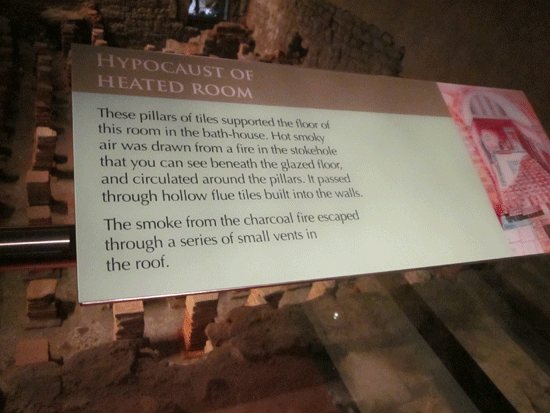 When we started our tour the weather was cool and wet.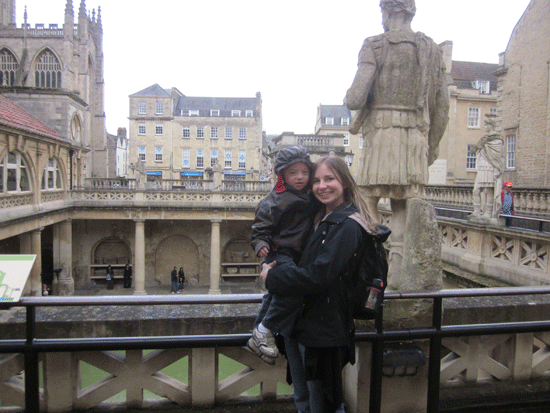 But by the end the sun had emerged, warming everything nicely. When the sun shines in England, there is no place more lovely. Even the ducks came out to swim in the baths.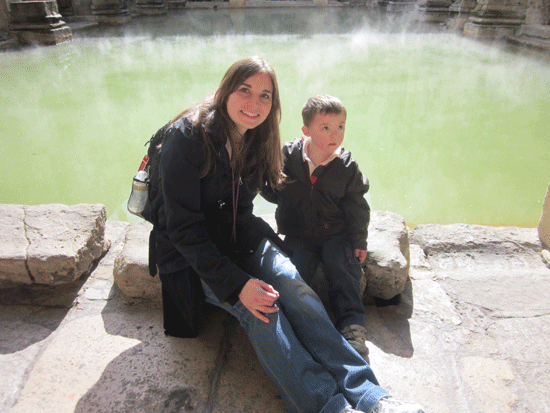 We enjoyed our time learning about the Roman baths and the ancient people who once lived there. By the time we finished it was nearly 6 pm—and, it turns out, the whole city of Bath basically shuts down at 6 pm. We were fortunate to find this coffee shop café open and willing to cook us food for dinner.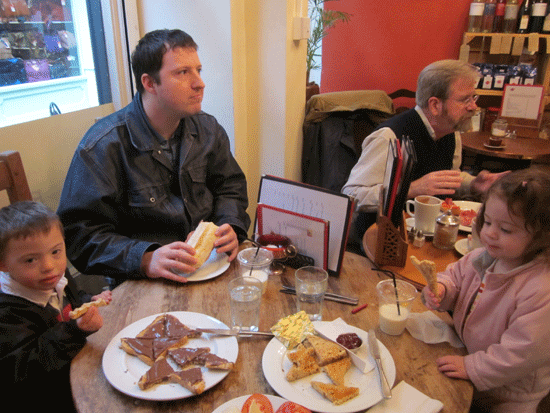 After stopping at the grocery story for snacks, laundry soap, and milk (which we were ever on the hunt for for our kids) we took a taxi back to the hotel. John and I ended the night with an hour at the pool before doing laundry and preparing for our next day's adventure: an all-day tour of Stonehenge and the surrounding area.