Carissa is 15 months old today.
We are continually in awe of how fast she grows up. She catches on to things fast. She seems bright. She is silly. She is starting to test boundaries. One of her favorite games is, after I tell her "no," to keep doing it and watch me with bright eyes and a smile to see how I react (usually it ends in tickles and giggles, hence the game).
She uses two signs: "milk" and "more." She is starting to say more words. It used to just be "keh" for "cat," "meh" for "milk," and "oh-oh." Now she says "baby," "ite" for "light," and sometimes I think she's saying "mama."
Tonight at dinner we watched her use a cup really well.
Ironically, Wes is just starting to practice using a cup (instead of a straw cup, which is what we finally graduated him to after bottles. In fact, Wes is finally 100% weaned off of bottles–except for the ones he takes from Carissa–as of last week).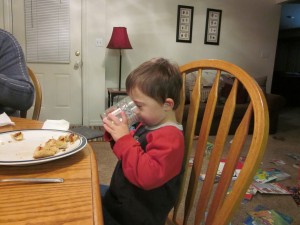 Carissa likes to eat at the table with all of us–no more booster chair nonsense. Tonight she ate about five strawberries, signing "more" after each one.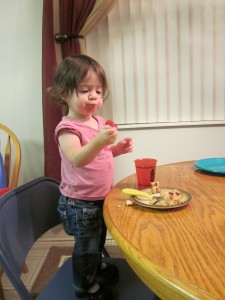 I wonder what kind of talker she'll be in another year?