Thanks to John's sweet mom and step-dad, who were visiting from out-of-state, and who for some reason agreed to stay with our kids overnight without bribery, John and I were able to celebrate our ninth wedding anniversary without kids in Salt Lake City.
Let me just tell you what it means to have a night away without kids:
1. You can eat your dinner peacefully without having to feed other mouths. You can also carry on conversation without being interrupted.

2. You can do things that you can't do with kids, like get a massage.

3. You can hold hands with your sweetheart because your hands aren't occupied by your toddler's or holding a baby.

4. You can sleep in.

5. You can sleep in.

6. Did I mention, you can sleep in?
At one point while walking the streets of Salt Lake City I turned to John and said that it feels like it did when we were first married–wonderfully carefree. No one to worry about except ourselves and each other.
Kids are priceless; breaks from parenthood are, too.
We took time to get a massage. Wonderful.
And–bonus–the massage place was right next to this treasure that I never knew was in Salt Lake:
I practically broke John's arm, dragging him inside.
Oh, the wonder! Hobnobs! McVities! Cadbury chocolate! Clotted cream!
Things I haven't seen since I lived in England on study abroad nine years ago. John graciously let me browse and come away with a package of McVities digestive biscuits and a mint Aero bar.
Then we walked outside and lo, and behold, right next door is this:
Elizabeth's Bakery and Tea Shop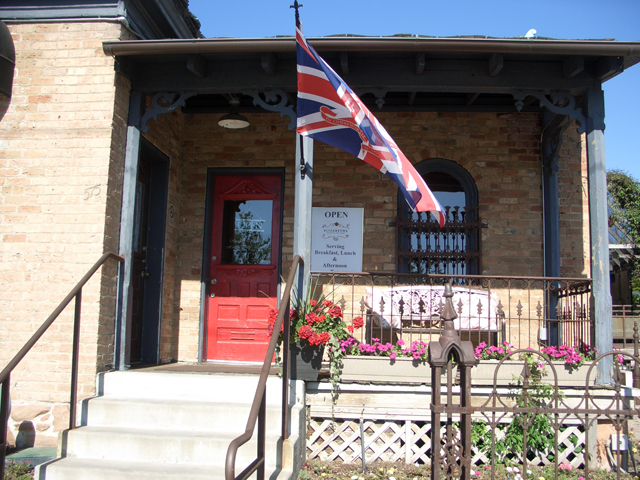 I mean, how could you not love this place? Just look at this:
And this:
Real English biscuits (cookies) and scones (biscuits)! Pasty's and shepherd's pie!
I was in heaven.
But we didn't eat anything here, because next on our agenda was The Melting Pot.
Since we had never eaten there before we opted for their Big Night Out feast, which is basically a sampler of everything they offer.
First course: Cheese fondue.
John let me pick the type of cheese, so I went with the Wisconsin variety. We ate it with apples, veggies, and bread.
Second course: Salad.
Very tasty, but I didn't bother snapping a picture. We both thought the cheese fondue and salad together would be meal enough. But there was more.
Third course: Meat entree.
They brought us a platter of uncooked meat, some veggies, and a pot of hot vegetable broth. We speared the meat and let each piece cook in the pot for about 2 minutes. There were seven dipping sauces to choose from. Overall, it was tasty. My favorite was the ravioli.
Last, and best, was the fourth course: Chocolate fondue.
We selected the classic fondue, milk chocolate and chunky peanut butter. We rated each dipping item. Our #1 pick was the cheesecake, followed by the pound cake, brownie, and marshmallows. Easily the best part of the meal. But don't even think about how many calories it might have been.
After our food settled we went back to our hotel and swam in the pool. We asked for a room on a high floor looking south. When 10 o'clock came we could see fireworks all over southern Salt Lake valley. We sat in the dark and watched.
Morning came and I didn't have to get up for anyone else. I opened my eyes, decided to go back to sleep, and I could. I won't get to do that again for a long, long time.
Happy nine years to us!