As far as I know, I made this up.
I was baking cookies and decided to put some cookie dough in the bottom of a mini graham cracker pie crust. I baked it and then topped it with ice cream.
Um. Yum.
So here's the step-by-step.
1. Take mini graham cracker pie crusts (I used Keebler Ready Crust) and press cookie dough into the bottom of each.
(Every time I make cookies I only make part of the batch and store the rest in the freezer. I happened to have whole wheat chocolate chip cookie dough and snickerdoodle cookie dough on hand in the freezer.)
2. Bake the crust and cookie dough at 350 degrees for the approximate time that the cookie is supposed to bake. For my cookies it was about 10 minutes.
Here they are, cooked.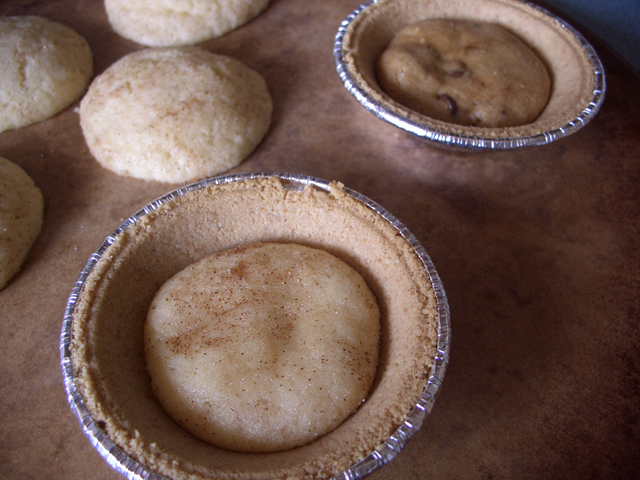 3. Let it cool a smidge, and then top it with ice cream and any other toppings you want.
For the chocolate chip cookie pie I used monster cookie ice cream (from Target). The snickerdoodle pie was amazing with strawberry cheesecake ice cream (also from Target).
This is the snickerdoodle pie cut in half with the monster cookie ice cream.
And here's Carissa. I was trying to get a shot of her pulling herself up onto her knees to play, but she wouldn't cooperate.