Wesley's preschool held their end-of-year program today. And yesterday. We actually got to go twice since he's in both sets of afternoon classes.
Both days I met families who have kids with Down syndrome. None of these kids are actually in Wesley's preschool (he's the only DS kid), but one family has a 7-year-old with DS and another has a 7-month-old. It was nice to connect with their families.
The family who has the 7-year-old with DS told me that every day their 4-year-old who is in Wesley's class would come home and tell them about his day, and that every day they would hear about Wesley. Apparently this kid and another of Wesley's classmates liked Wes so much that they would compete to see who could be Wesley's helper during school. I was happy to learn that he has friends at school, not only in his teacher but also his peers.
The mom of the baby with Down syndrome said that her preschool-aged son was the last picked up on the bus route, and that every day as she helped her son onto the bus Wesley (whose seat is up front) would smile and wave at her. And she said it just made her day, every day. I imagine that seeing Wes meant something more special to her after having a new baby with Down syndrome herself.
The kids sang songs and read a story together, and then we watched a DVD slide show of photos from their year.
The theme was "Spread Your Wings and Fly," hence the bug hats (which Wes had a very hard time keeping on).
Wes did a pretty good job with the actions that went with the song they sang.
Jumping…
Rowing the boat…
Here they're running through the woods as fast as they can. Wes liked the part that went really fast.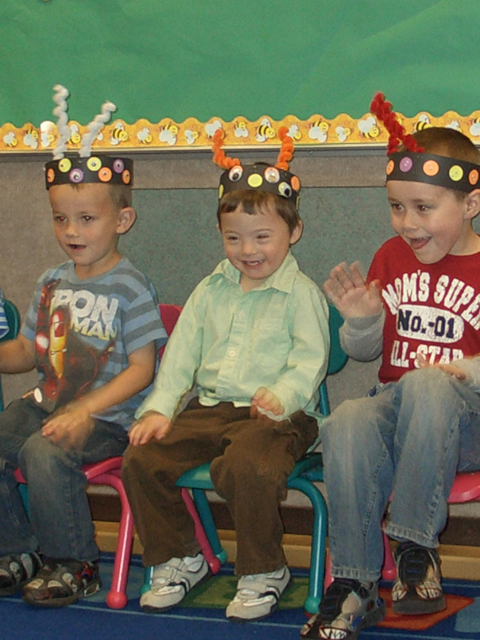 Wesley and his preschool teacher, Miss Rachael.