1. Carissa is getting her first two teeth (front lower).
2. Wes is doing better about sleeping in his big boy bed, but he doesn't usually make it through the night. So we still have a crib in his room that we use as a backup when needed (which is still somewhat often). I kind of feel like Carissa is missing out on some important rite of babyhood by not sleeping in a crib herself. She's still in a cradle. (Also, I have some gorgeous baby girl crib bedding that I want to actually use, but I'll wait until Wes is really done with the crib and it can officially be hers.)
So the other day I put Carissa in the crib next to Wes. He thought it was pretty fun to share it with his sister.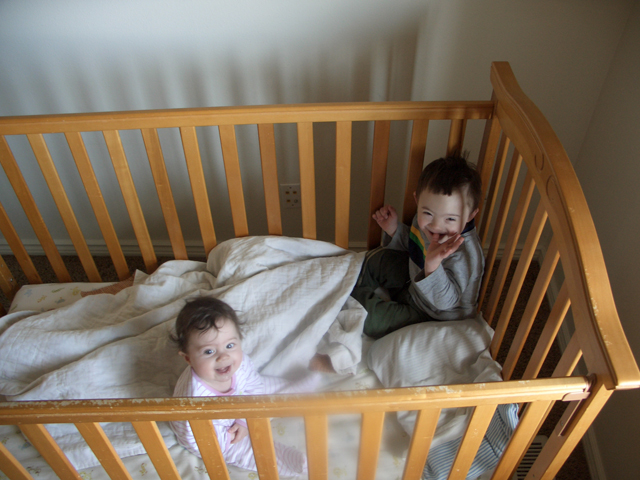 3. I tried to take photos of Wes and Carissa beside each other on the couch. Carissa is nearly always a ready model. Wes, not so much.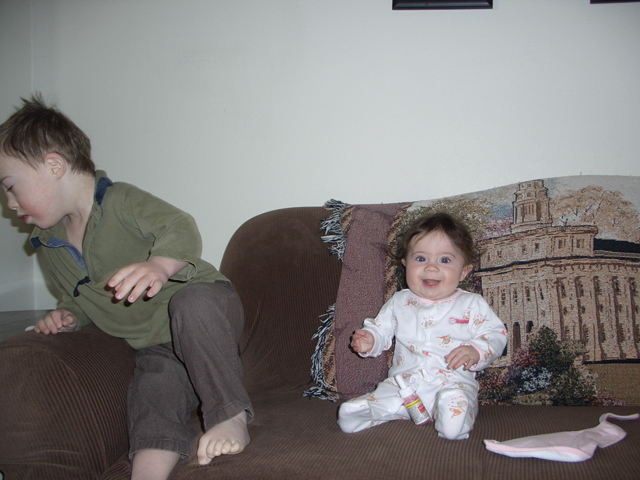 Good thing we got another round of professional photos taken of the kids yesterday. Here's a sneak peek.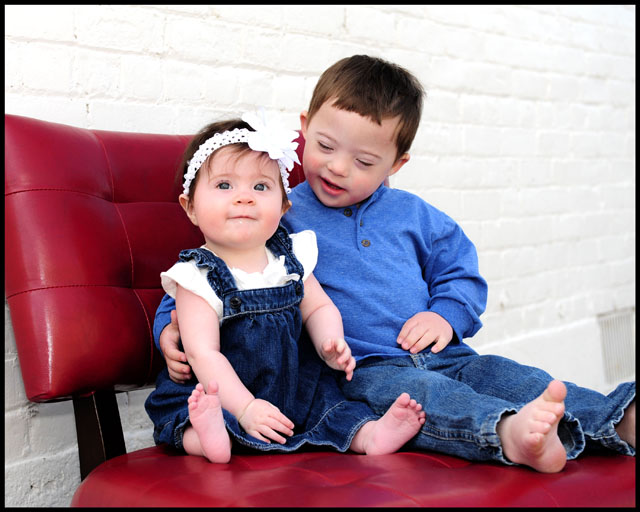 And here's a link to our photographer.
4. I made chicken and dumpling soup tonight for the first time. We had leftover cooked chicken, celery, carrots, and sweet potatoes in the fridge and I wanted to use them. I used a combination of Rachel Ray's recipe and Bobby Flay's. Rachel Ray's recipe actually calls for biscuit mix for the dumplings, but I didn't have any so I followed Bobby Flay's directions for making real dumplings (so easy).
Here's basically what I did:
Chicken and Dumpling Soup
2 Tbsp butter
1 Tbsp olive oil
3 carrots, peeled and diced
1 celery stalk, diced
1 sweet potato, peeled and diced
1 tsp. onion powder (OR 1 medium onion, but I didn't have one)
salt and pepper to taste
1 tsp. poultry seasoning (I used a poultry rub we got at Costco)
2 Tbsp. flour
4 cups chicken broth
shredded chicken, cooked
Cook vegetables in the butter and oil in saucepan over medium-high heat about 5 minutes until tender. Add salt, pepper, and poultry seasoning. Add flour and cook for 2 minutes, stirring constantly. Add chicken broth and bring to a boil. Stir in chicken.
(All of the above is basically from Rachel Ray's recipe. Now for the dumplings, by Bobby Flay…)
Dumplings:
* 1 cup milk
* 1/2 cup butter
* 1/2 teaspoon salt
* 1/2 teaspoon nutmeg
* 1 cup all-purpose flour
* 3 eggs
Bring the milk and butter to a boil (I used a microwave), add salt and nutmeg. (Warning: It will smell good.) Remove from heat and immediately add flour stirring until dough leaves the sides of the pan. Incorporate the eggs, 1 at a time, forming a sticky dough.
Drop tablespoonfuls of dumpling dough into the pot, spacing dumplings evenly. Cover pot tightly and reduce heat to medium low. Steam dumplings 8 to 10 minutes (they will rise).