We've had gifts stashed under our tree for a few days now. Wes hasn't seemed to notice. Yesterday, when we were playing near the tree, he suddenly noticed the presents and started removing them and stacking them nearby. I helped him put them back.
This morning I emerged from making breakfast in the kitchen to find him in the living room with a pile of presents around him. I helped him put them back.
Later this morning we were playing up in his room. More like, I was reading a book and holding Carissa while Wes dumped his dirty laundry from the basket and put it back in, over and over again. One of his favorite things to do.
After about a half hour of that I went in the other room for a few minutes. When I came out, Wes was no longer in his room. His laundry was gone (although the basket–empty–was in his closet where it belongs).
I went to the end of the hall and peered over the banister to the living room below.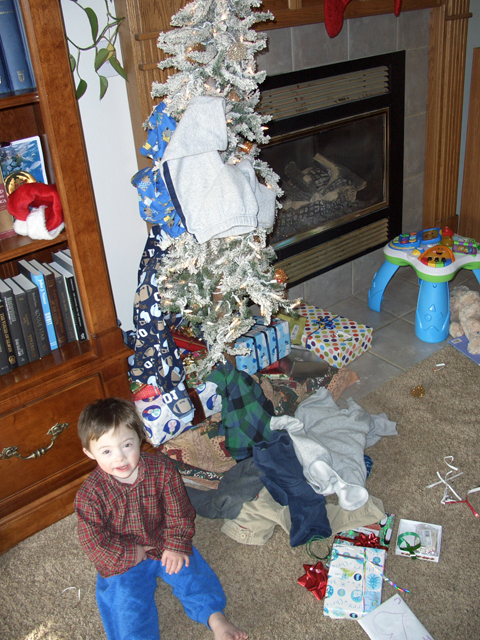 A new look for our tree. Plus, he opened a gift from my folks. At least it was addressed to him AND John and me.