This month we took Wes to the annual Christmas activity for families of kids with special needs in our county. There are a lot of kids with Down syndrome around here.
I remember first attending this event when Wesley was just three months old. We were adjusted to the fact that our son has Down syndrome by then, but I wasn't ready to consider what Wes would be like when he's older. It was hard for me to hold my tiny infant son in my arms and look around at the older kids and young adults with DS and see my son becoming them. It was scary to me. A little uncomfortable. I couldn't process it yet.
Now Wes is three. This year when we attended the party, where there were more kids with Down syndrome in the same room than I've ever seen before, I was relieved to realize that I wasn't uncomfortable or scared anymore. I guess some things take a little time.
Here's Wes through the years with Santa at the party.
Dec. 2007: 3 months old
Not aware and doesn't care.

Dec. 2008: 1 year old
A little more aware and willing to care.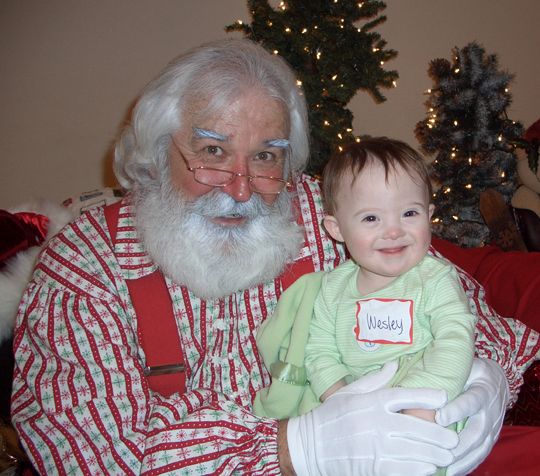 We missed the 2009 party.
Dec. 2010: 3 years old
Well aware and doesn't care.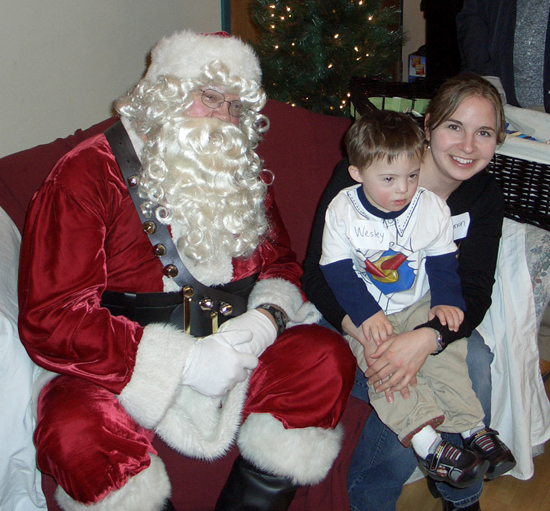 But he liked the coloring table and spent about 30 minutes there.