First off, here's our resident princess.
She's nearly five weeks old now, growing, and I think her blue-black hair is starting to go more dark brown/black.
This week I start teaching Zumba again. I'm looking forward to it and hope I don't keel over in the first hour from lack of stamina. Five weeks postpartum might be a little early to start, but I hope it will be good. I'm following a new eating schedule that so far I love. It's helping me feel healthier, more energetic, and I'm starting to lose a little weight. All good things.
A lot of big changes lately for Wes. He turned three on September 12. First, he got a bouquet of balloons from my folks. He went nuts over those.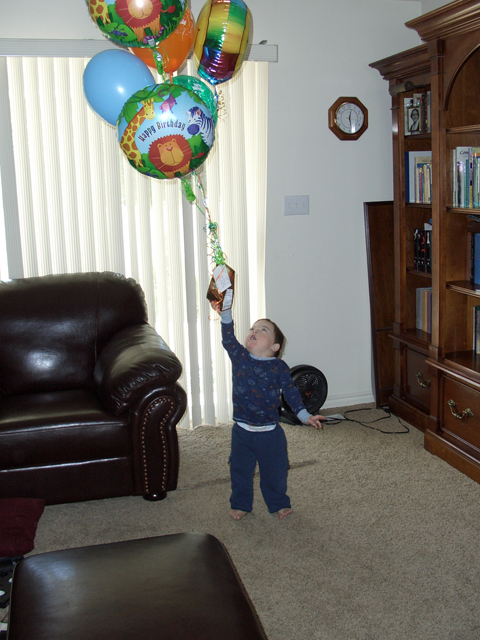 His occupational therapist (whom we love) brought him a terrific and timely gift of a memory matching game. We've been working with him on matching, and he's doing so great. Instead of flimsy cards, the pictures are on more of a cardboard material so Wes can't destroy them as easily. There are pictures of balls (his favorite toy), and even of pretzels (his favorite food)!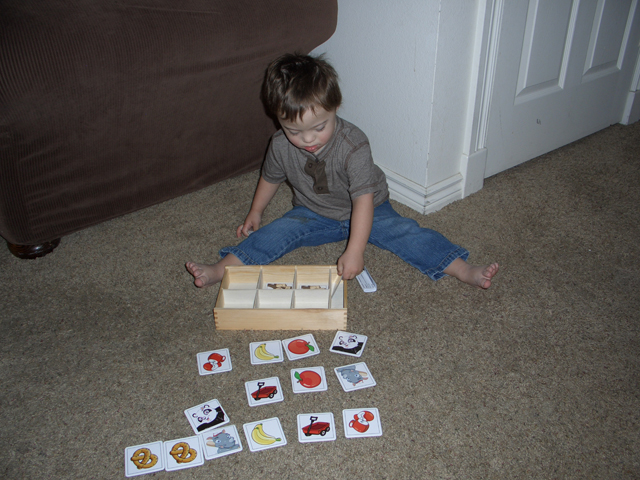 We took him to an indoor bounce house place. Wes is completely in his element there. He jumps off everything and is braver than I am on the really tall slides. Here he is climbing with his cousin Savannah.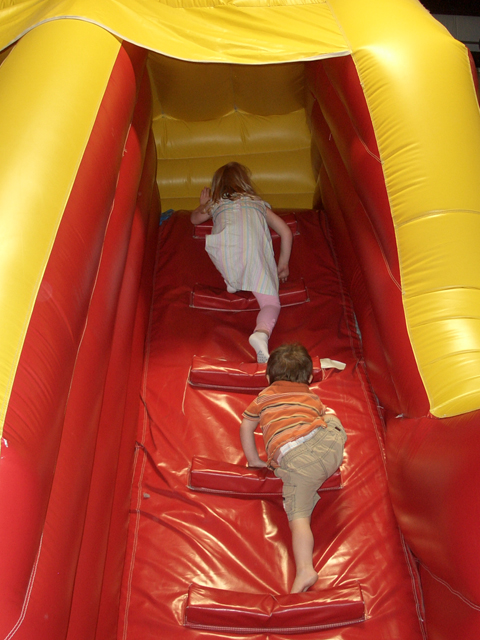 For his birthday I made cupcakes, more for the tradition of it than for Wes to eat. He's not into cake. Too bad, as these were cream-filled chocolate cupcakes with peanut butter cream frosting.
I bought him some pretzel M&Ms that he ate instead. But we still lit a candle and sang to him, and John blew out the candle for him. Maybe next year he'll know how to blow on things.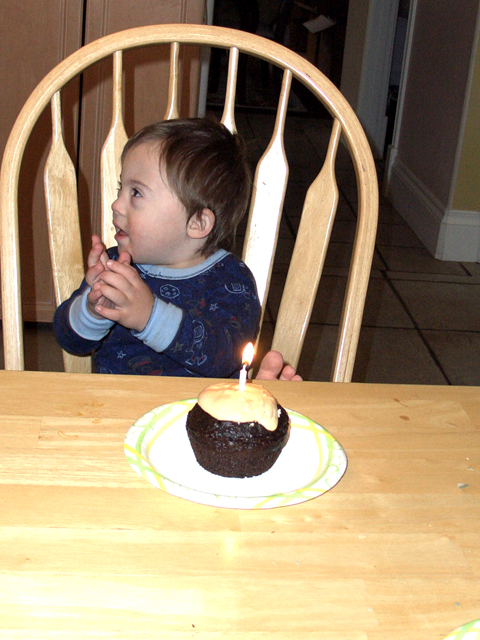 But he does know how to open presents, and he got to do that.
Now that Wes is three he starts preschool. He's been there twice so far and, as far as I can tell, he likes it. He doesn't really talk, so I actually have no idea what he truly thinks of it, or what exactly he does each day, but the teacher has a blog where she posts highlights of what they're learning about.
I know he likes riding the bus. We sit outside on our front porch and wait for it to come. When it pulls us, Wes jumps up and walks down the steps and gets on the bus without even looking back. And when he comes home from school he is tuckered and takes a great nap. So far, preschool is good.