DAY 9
Our final port stop was Cabo San Lucas, which is a beach community on the very tip of Baja California Peninsula. I loved our time at Cabo.
It's a tender port, which means you have to wait in line to get on a smaller boat and be tendered to the pier. It took a long time before it was our turn, about forty-five minutes. Wes was getting antsy while we waited and, sure enough, the second we were seated on the boat and started moving he fell dead asleep.
John carried Wes through the streets of Cabo as we explored. Cabo has a ton of pharmacies that will sell you anything, no prescription required. If you wanted cheap Viagra or anti-depressants, this would be the place to go.
We actually didn't explore a whole lot; Alicia and I bee-lined for a store called Del Sol, which sells products that change color in the sun. I bought a gift for someone else, but then John wanted to know if I had gotten myself anything. No, of course not. With his encouragement I bought myself a necklace whose beads change from white to brilliant blue in the sunlight. It's my new favorite necklace.
We didn't have any other activities planned at Cabo, but no matter; tons upon tons of merchants stand along the roads trying to get your attention to purchase various tours through them. John struck up conversation with one guy who gave us a good deal on a glass bottom boat water taxi tour. The water taxi has a couple of clear panels in the bottom where you can see fish swimming, which the driver attracts by tossing fish food into the ocean.
This tour was our favorite part of Cabo. The driver took us south along the peninsula and pointed out rock formations, all of which had names. We also saw bonus sites: couples totally making out on the beach between the rocks. I didn't take pictures of them, but here are a couple of rock formations near the famous Lover's Beach.
The weather was gorgeous and the ride was pleasant. Cabo has a lot of sea lions that we saw both in the water and sunning on rocks.
The most famous landmark here is the Arch, which you can see behind us here.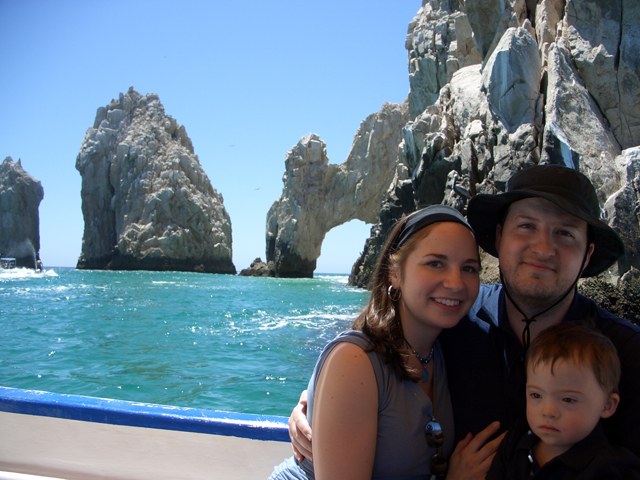 We also saw the Key of the Pacific, which is the first place where the Sea of Cortez meets the Pacific Ocean.
Here's Land's End, which is the last rock formation in the Sea of Cortez before entering the Pacific Ocean, plus a sighting of a baby sea lion on a rock.
Once we were past Land's End they took us around the edge of the rocks and we entered the Pacific Ocean. It was a more bumpy (and more fun!) ride. We saw the opposite side of Lover's Beach, which they jokingly call Divorce Beach.
The taxi dropped our friends off at Lover's Beach for some swimming, but John and I decided to head back to the mainland and then to the ship for lunch.
Wes ate some of his signature cheese pizza.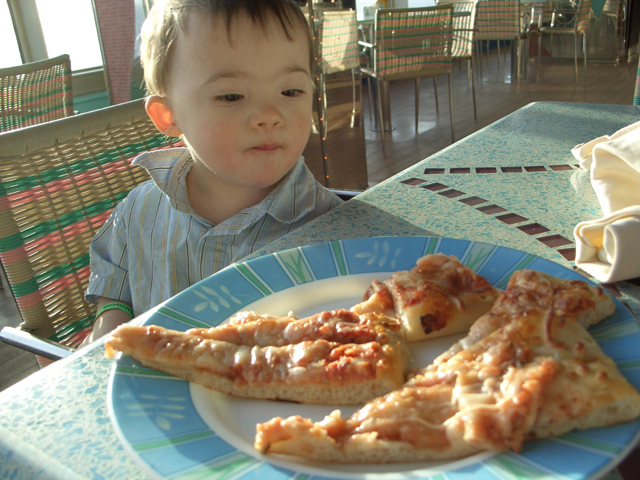 He also saw a lot of birds. Some passengers on the decks above us were throwing food to the birds, so they were hovering near our window. Wes knows the sign for bird (although he does his own version of it) and can say "buh" for "bird."
Days 10-11
All day Saturday we cruised towards home (a.k.a. Long Beach). We played a card game called Dominion with our friends and worked out in the gym. On Sunday we disembarked in the morning (very slowly; it took longer than we were told it would, but there was a good movie on TV so I didn't mind too much). John's mom picked us up and took us back to Calabasas to the Hilton Garden Inn. We hung out and watched Titanic on TV (maybe a good thing our cruise was over by then).
Day 12
Our last day we started in Malibu, which is about twenty minutes from our hotel (John, who grew up in Newbury Park, used to say that he lived over the hills and million dollars from Malibu). John's mom took us to the Malibu Country Mart, a small up-scale outdoor shopping center with a playground in the middle.
We ate lunch at John's Garden Lunch and Snack Shop. In addition to selling salads, sandwiches, wraps, smoothies, and shakes it's also a health food store that sells things like meatless jerky. Our sandwiches were pretty tasty, but the milkshakes were particularly good.
John and his mom popped into a chocolate shop called K Chocolatier by Diane Kron, which has locations in Malibu, Beverly Hills, and NYC and touts itself as "the finest chocolate in the U.S." It also boasts about some of its clients, like Whoopi Goldberg, Gucci, Microsoft, Lauren Bacall, etc. When they went into the shop John's mom picked out some bags of candy and said, "Let's get these." John reminded her it might be good to know what it costs first, and its a good thing he did, because along with being "the finest chocolate in the U.S." it might also be the most expensive. So they reduced the size of their purchase, and I got to try some fine chocolate by Diane Kron. I liked the chocolate-covered teddy bear crisps.
After lunch Wes went to the playground while John read a book.
Wesley liked the swing.
…And the sand.
…And the slide.
…And the monkey bars.
After we finished in Malibu we headed to Hollywood. I've always wanted to visit Grauman's Chinese Theatre, after seeing the "I Love Lucy" episode where Lucy and Ethel take John Wayne's block.
I didn't find John Wayne's block, but I saw the signatures and hand/foot/nose prints of a whole bunch of famous classic stars that I've grown up listening to on old radio shows and watching in movies and on TV.
My hand's about the same size as Marilyn Monroe's, but that's about all we have in common.
It was fun to be in downtown Hollywood. There's a lot to do and see there, but we only had about an hour before we had to head back to the airport.
Our flight home was really good. It was a night-time flight, so I thought sure Wes would sleep on it, but he was awake the whole time, from about 7:30 PST to 10:30 MST. We let him watch some of his favorite shows on our portable DVD player and he was perfectly quiet and content and didn't cry once. Flying doesn't seem to bother him at all.
It was our first real family vacation, and it was a good one, but we were glad to be home.