DAY 4
On Sunday we went to church and then headed to the cruise pier to board our new home for a week. We met up with our friends Koby and Alicia and their baby and stood in line for about 45 minutes. The silver lining was that we were waiting in luscious warm California weather.
We were on the Carnival Splendor.
Once on board we started to get settled. Here's Wesley "helping."
Our room was in the middle of deck 4, which is close to the water. I liked it down there because we were close to the water, and the boat's rocking was less noticeable. Wes liked watching the water go by.
The ship is decked out in a lot of pink, I'm not sure why. The elevators were decorated with big pink circles that every time made me think of Homer Simpson's sprinkle-topped frosted donuts.
DAY 5
On our first full day on the ship we took a look around. Wes liked to play in the water of the fountain by one of the swimming pools.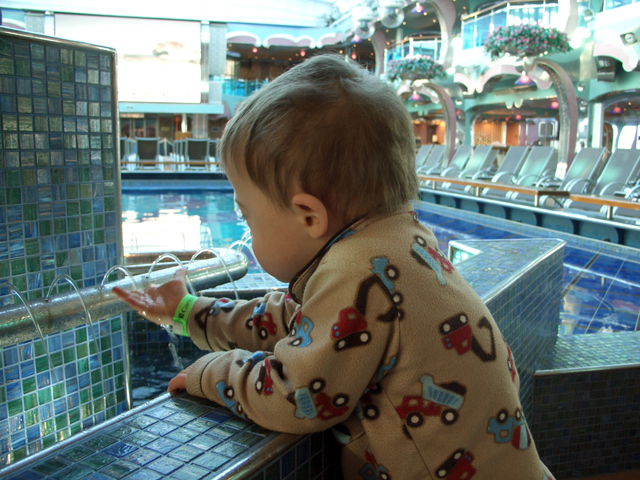 He also lounged a little in the sun.
But mostly Wes enjoyed letting off steam by cruising up and down the extra-long hallways on the ship. After a while the crew members knew to watch out for him when they heard the pitter-pat of his feet coming their way.
DAY 6
On Tuesday afternoon John and I took Wes to the splash park on the top deck. It's like a playground with slides, only with lots of water shooting up everywhere. Wes pretty much hated it at first, walking around with great apprehension and clinging to John's fingers. After about twenty minutes he found one thing he liked to do, which was bat his hand in this fountain.
The big thing we had planned for Tuesday was dinner at the specialty fine dining restaurant on the ship, The Pinnacle. Before our dinner, I went to an afternoon cooking demonstration by the Pinnacle chefs. I didn't know what to expect, so when they started bringing out free sample dishes of the food I knew I had made a good choice. Here's the cheesy chicken and pasta dish they demonstrated for the main course (it was delicious):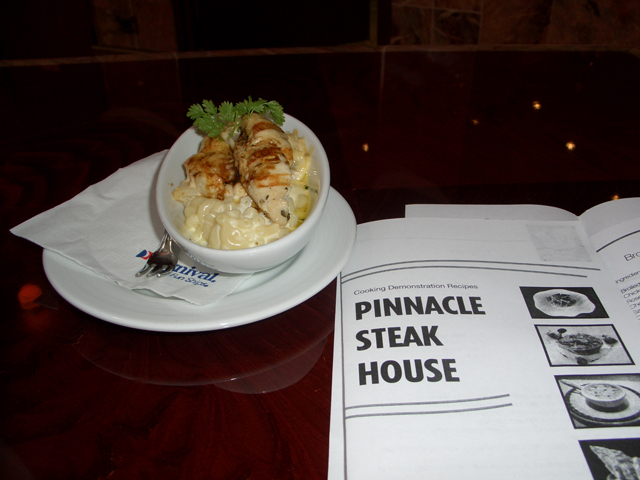 The Pinnacle cost an extra $30 per person. When I heard about the $30 fee I was skeptical because, hey, we're already paying a bunch to be on this ship, and all the other food is included, so why pay more?
But now I am a believer. The food and service was incredible, and we compared our $60 bill to the well over $100 bill we've had at nice restaurants back home where the entree alone costs more than $30.
From the start the food was amazing. They brought out a tempter dish based on what we had ordered (pictured below) and the most delicious bread and spread.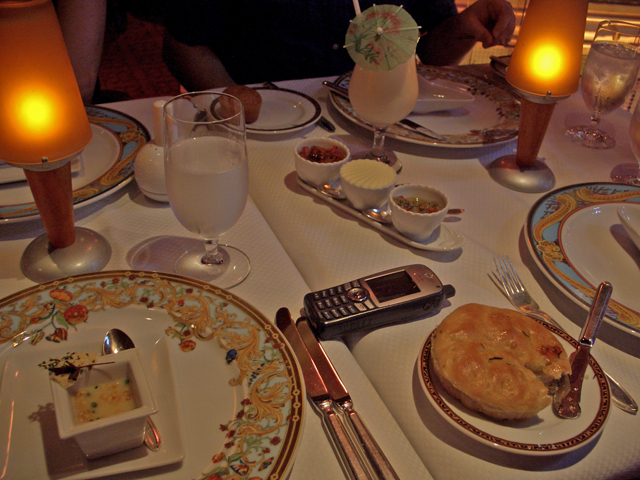 Here is my specialty non-alcoholic mudslinger drink (basically a milkshake-smoothie flavored with amaretto and chocolate) that I savored.
We dropped Wes off at Camp Carnival before dinner, but he didn't last long. They called us after our appetizer and said he was crying and wouldn't be comforted. John went and got him and brought him back to dinner. We set him up in the highchair and watched as his eyes settled into the half-closed position and didn't move. He was so sleepy! John finally took Wes onto his lap and Wes was dead-asleep within a couple of minutes. So the rest of our meal looked something like this: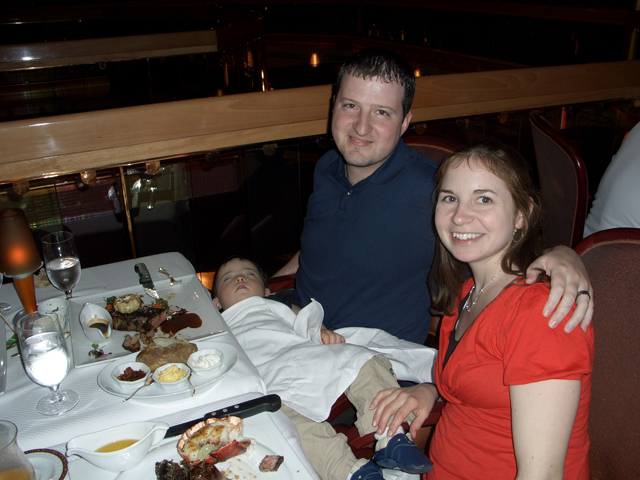 For dinner John ordered New York strip steak and I had lobster tail with fillet Mignon. It was right up there with the best meat I'd ever tasted anywhere–flavorful and melt-in-your-mouth delcious.
Here's all of us with dessert: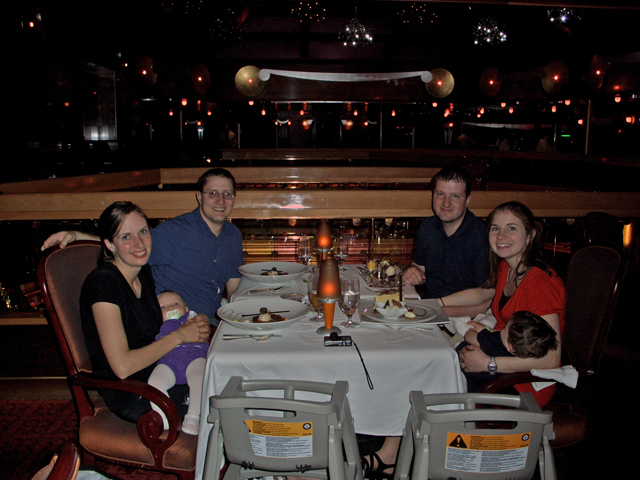 For dessert I had cheesecake with homemade honey ice cream (which tasted aMAZing).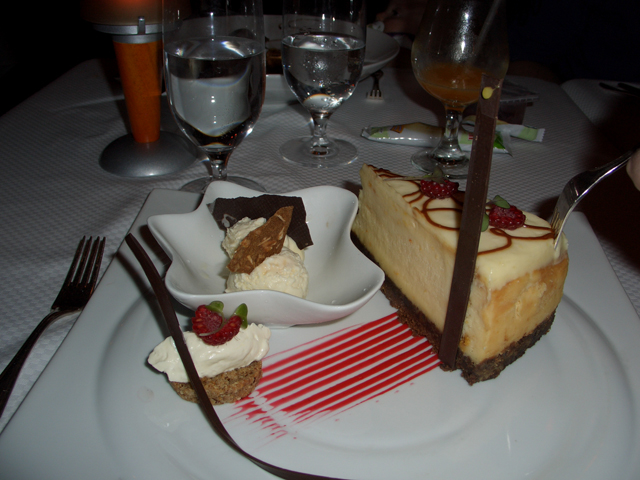 The sunset on Tuesday was gorgeous.