For anyone who cares, here's what you've missed in our house lately:
1. Wes has been sick, it feels like non-stop, since about Christmas. But in reality it comes and goes. Last week it really came and he had a fever five days in a row.
He would wake up totally fine, then get a fever and become listless around 3 or 4 in the afternoon. The next morning, he'd wake up and be fine…until the fever came again. On the fifth day he woke up with a fever, so I finally took him to a doctor. The doctor couldn't pinpoint the trouble, except to say that Wes had a very mild ear infection in one ear (not really enough to cause 5 days of fevers, though). Wes is on an antibiotic and he is doing much better this week.
2. Wes got a trampoline (on loan from his therapists). He's been trying to jump for weeks and this is great for him to practice on. When it first came he wouldn't go near it. Eventually he ventured on top to test the buttons. Then, finally, he started to bounce.
Eventually he started to full-out jump.
3. Wes can climb into his booster seat all by himself.
4. He can also do dishes.
This is a long video. He likes to stack things, whether it's toys, crayons, dishes, whatever. He's very organized.
5. He still likes to dance.
6. Wes loves our two cats.
They usually eat in the basement, but now and again I'll feed them upstairs because Wes likes to watch them eat. Sometimes he flips their food dish upside down while they're eating, which causes him to end up in the Bad Boy Chair and gives me a chance to learn how to discipline.
7. I'm still teaching Zumba and aerobics. I love it and learn a lot. One of my aerobic idols, Kathy Smith, said, "The more you get out of your comfort zone, the bigger your comfort zone becomes." I'm finding this true as some of my current classes are more challenging to teach than others. Here I am with three other local Zumba instructors at a recent Zumba benefit that we all taught at.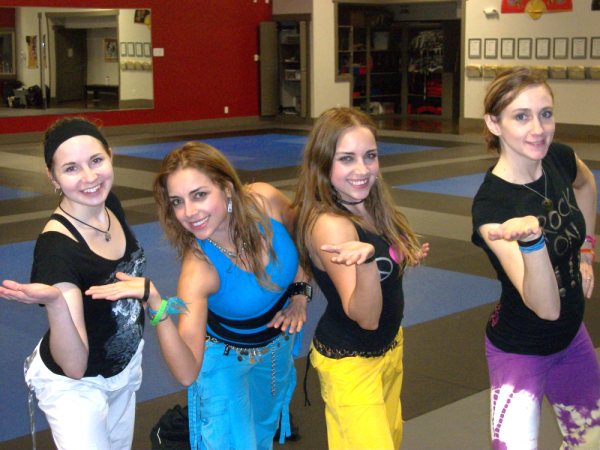 8. We're going on a cruise this spring to the Mexican Riviera.
I've traveled with Wesley before (to Iowa and San Francisco), but this will be the first time John comes with us. Our first bona fide family vacation! We're stopping off in LA for a few extra days to visit John's mom, and we got tickets for a taping of The Price Is Right.
I also hope to hit the Getty Museum, the LA Farmer's Market, take a walking tour of Hollywood, and maybe tour the Queen Mary.
9. We're expecting an addition in August.
Let me clarify that this shows two pictures of the SAME baby.
Since I had four miscarriages in a row last year, ranging between 5 and 11 weeks, I was allowed to get an ultrasound at what was supposed to be about 6 1/2 weeks. It showed only an empty sack.
When I was pregnant with Wes ultrasounds were these magical experiences that let me see and connect with our future baby. In the last year I've had so many ultrasounds I've lost track, and they were purely medical and very unmagical things–mostly checking on the progress of reducing uterine lining during miscarriage.
So to see yet another empty sack wasn't particularly unexpected nor encouraging. The technician told me to come back in two weeks to see if maybe our dates were just off.
Two weeks later the magic reignited when we saw this: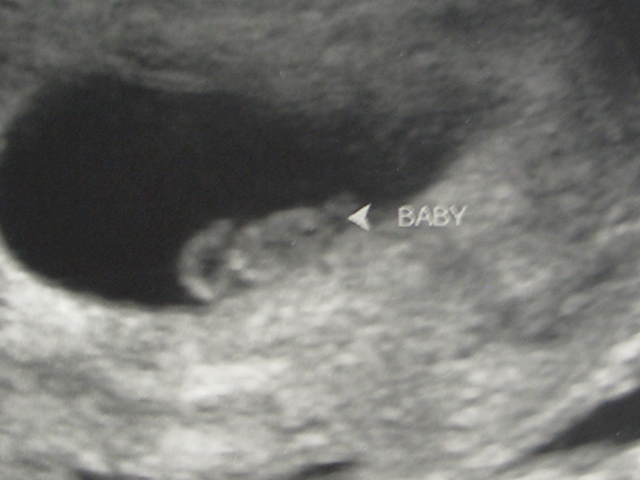 And heard a heartbeat. It was surreal–after SO many empty, silent ultrasounds–to finally see and hear something promising life. This little guy is 7 weeks and 2 days. It's basically a yolk sac (on the left) and the body attached to it.
Three weeks after that we went back for my first "real" appointment and saw this:
This guy is about 10 weeks 5 days (even though it says 3 days). And has a heartbeat.