Wesley's latest thing is putting stuff into containers. This is great when it's time to clean up because he can help me put toys back in their baskets. It's not so great when he does what naturally comes next: dump all the toys back out again. Our house doesn't stay clean for long.
He's discovered the lower shelves in the pantry. His favorite thing to do is pull down the basket where I keep our instant pudding and put the boxes in…and out…and in…and out….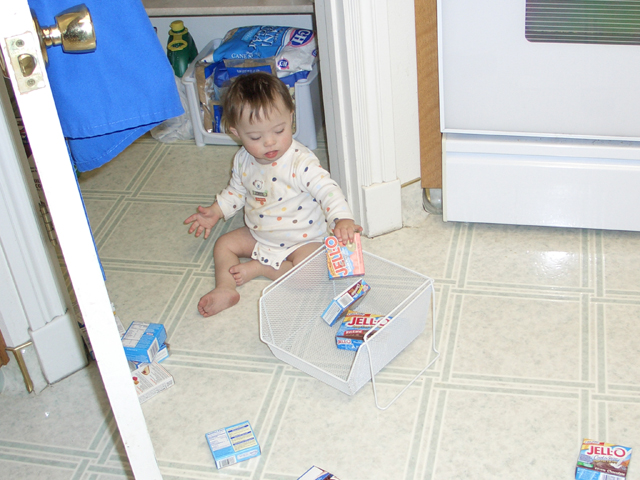 He's non-discriminating when it comes to what items can be put where. If there's a container, Wes thinks he ought to put something, anything, in it–as we learned when I found John's shoes in our kitchen trash can.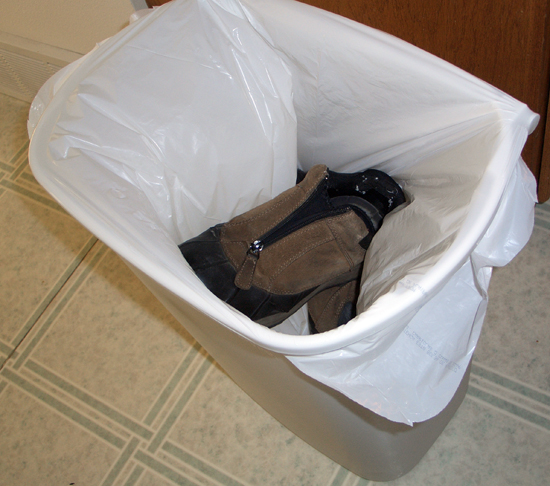 Every Friday morning I take him to a playgroup for kids with special needs ages 18 months to two years. He LOVES the ball pit.
They have an indoor playground area that he's a fan of, now that he can climb up the stairs and (with help) go down the slide. Here he is at the top, giving me his "more" or "yes" or "I want some, please" sign, signifying he wants to slide down.
He still has the one tooth. I think it's getting lonely. When I want some peace and quiet I give Wes a Biter Biscuit because it takes him at least 15 minutes to gnaw through one. But it's m-e-s-s-y.
Wes is the proud owner of a camp chair, complete with cup holder. It's supposed to be for toddlers, but he's still a little small for it. To get out, he has to kind of fall out.
He likes the Zumba-green pool noodle I bought to use for Limbo in my Zumba Kids classes next month. It's a lot bigger than he is, but he doesn't seem to notice.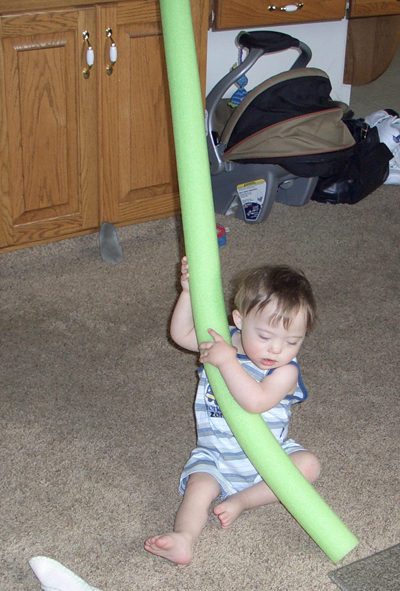 Wes is turning into quite the climber, much to our joy and chagrin. This morning I was sitting next to him on the living room couch and for the first time saw him climb onto the arm rest in order to reach the window blinds behind the couch. And later this morning I was sitting at the dining room table while he played on the couch nearby. When I heard him whimper I looked over to find him here, with his leg stuck between the table and the couch:
Hmmm. Will have to keep a closer eye on him now.
Lastly, any of you who have met Wes while he's asleep knows he's a loud sleeper. He not only breathes loudly, but he's a snorer, too. I think it might be related to the Down syndrome, which makes his nasal passages narrower than other kids'. Recently I videotaped him during a nap when he was unusually loud. I think it's the loudest I've ever heard him.