Last month John and I spent a week in Mexico on vacation (sans Wesley). It just so happens we picked the one week of the year that the swine flu was making international headlines. We were staying south of Cancun and north of Playa Del Carmen, which is miles away from the heart of the swine flu problem, so we weren't much affected by it.
We stayed at the Mayan Palace Riviera Maya. It's right on the beach, wherein I did lots of this:
The hotel had an amazing pool that went on forever. Here's just one small part of it: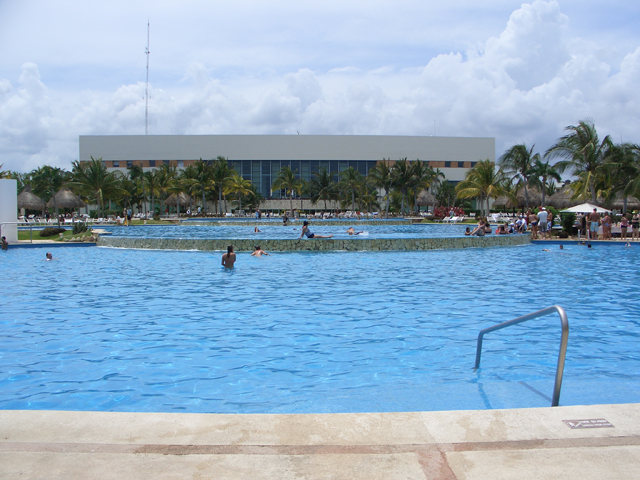 One day we spent all day lying on the beach, reading, and swimming in the pool. The pool has a swim-up bar (a bar IN the pool, with actual stools in the water). Being a non-drinker, this was kind of a foreign experience. I knew strawberry daiquiris and pina coladas could be made virgin, so that's what we had. And we discovered something called a mudslide, which is a pina colada with chocolate syrup. Truly heavenly.
Check out the blue water of Mexico:
The one major way the swine flu affected our trip was that the Mexican government closed all the Mayan archeological sites to help contain the spread of the flu. This was a major bummer to us, since a primary reason we chose Mexico was to see the Mayan ruins. The only tours we had booked in advance were two full days with LDS guides. And the night before our first scheduled tour our guide called and said the sites were closed. Disappointed as we were, we managed to find other things to do that we probably wouldn't have done otherwise.
One of these was a romantic lobster and steak dinner cruise on a lagoon in Cancun. We really didn't know the details of the cruise until we got there, so we were happy it turned out well in spite of our ignorance. The guides picked us up, drove us to Cancun, and got us on board an old Spanish sailboat, like so:
There was an open bar (more strawberry daiquiris and pina coladas for us!) and a terrific saxophone player that reminded me of Kenny G. We cruised out to the middle of the lagoon near the famous Cancun hotel strip and cast anchor. We watched the guy put the anchor in, and John asked him if the water was very deep. (John served an LDS mission in Guatemala City ten years ago, and the locals said his Spanish was still very good.) To our surprise the guy said the water was only teen feet deep. Then he thought a second and amended it to five feet. So any fears I had of drowning that night immediately fled.
Dinner was surprisingly good. They grilled the lobster and steak right there on the deck. I wasn't sure I would like lobster because I'd only had it once when I was eleven and in Boston, and what do eleven-year-olds know about fine cuisine? Turns out I like lobster.
When we finished dinner we went back on deck and sat and watched the sun set while the saxophonist played and the breeze warmed us. Such a nice night.
One day we went to Xel-Ha (pronounced Shell Ha), which is an ecological park. We floated down a lazy river in inner tubes, went snorkeling and kayaking, and got mildly sunburned. Here's a photo; see how clear the water is?
Iguanas were everywhere: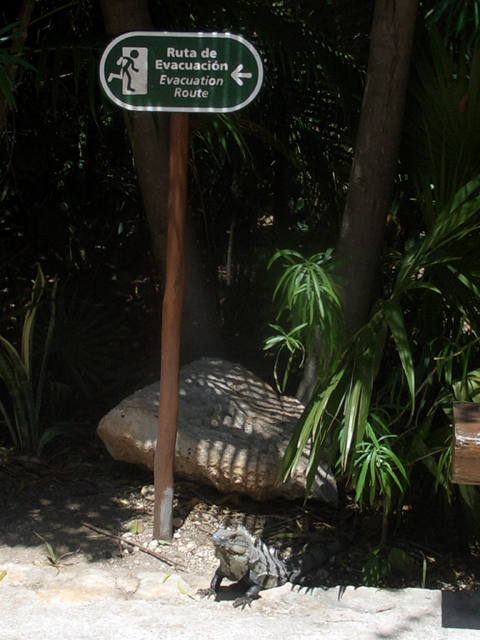 On our last full day we took a snorkeling tour to Cozumel, an island twelve miles off the coast of Mexico. Apparently it's only second to Australia for coral reefs and amazing snorkeling/diving. Our tour picked us up at our hotel and drove us to Playa Del Carmen where we caught a ferry to Cozumel. The ferry ride took about 45 minutes and was very choppy. The ferry boat had two levels; we were in the lower, enclosed level, and pretty much the whole time we watched huge waves of water crash up against the windows as the boat rocked side to side. Yeah, I got motion sick.
Cozumel was a fun day trip, though. We met our snorkeling guides on a boat that took us around the side of the island to two different snorkeling spots. We were provided snorkeling equipment, snorkel vest, and flippers. The water was clear and there were a lot of fish that would swim right up to your face to say hello. It was like swimming in Finding Nemo-land. The snorkeling was great, and I also enjoyed the boat ride back to land.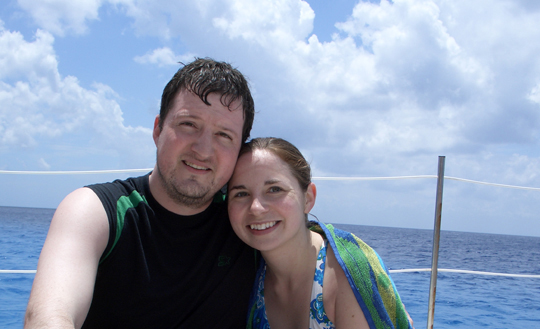 We sprawled on the deck, drying out in the sun and warm breeze, listening to Latin music. This was an unexpected benefit of being in Mexico–Zumba music all the time! I loved hearing tunes on the radio and being like, "Oh yeah, I know that song. And how to dance to it." I heard a few new songs I'm going to add to my Zumba line up, too.
After our snorkeling was finished we went to Mr. Chili's, a restaurant that provided lunch as part of our tour. We had fajitas and orange soda. Man, we were so famished by then that the food was the best food I'd ever eaten. I can still taste it. Best. Food. Ever.
Then we had time to walk around and shop. Normally Cozumel has thirteen cruise ships docking there EVERY DAY. But with the swine flu NO ships were docking. (In fact, when we got back to the states we learned that our bishop and his wife had been on a cruise to visit the western coast of Mexico the same week we were on the eastern side. Their cruise ship didn't dock once. They spent all week on the ocean.)
Normally the streets of Cozumel are buzzing with shoppers, like this (photo from Internet):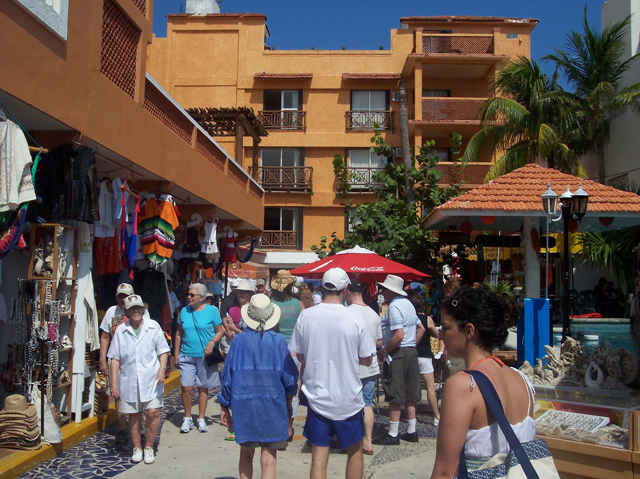 But with only the lone ferry bringing people from the mainland (and our ferry wasn't even half full), the streets looked like this (my own photo):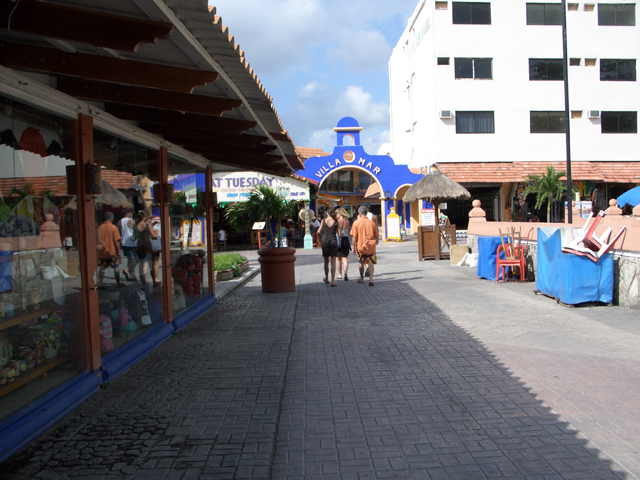 Other things I liked about our vacation were taking a nap if I wanted to without worrying about Wes waking me up, the banana and Nutella crepes with gelato in the hotel creperie, and having lots of time with John. Things I don't miss about Mexico include using bottled water to brush my teeth, the huge gap between the touristy areas and the actual living conditions of most Mexicans, and speed bumps on the highway. Seriously. BIG speed bumps.
We're glad to be back.