Wes loves loves loves to stand up. He likes to stand and play. He'll try to pull himself to standing using anything he can as a prop:
His car seat…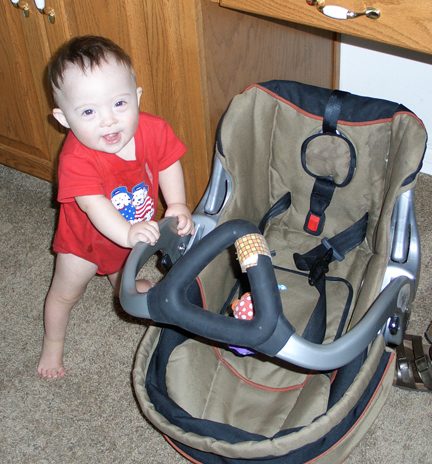 His toys…

Even things taller than himself, like this desk.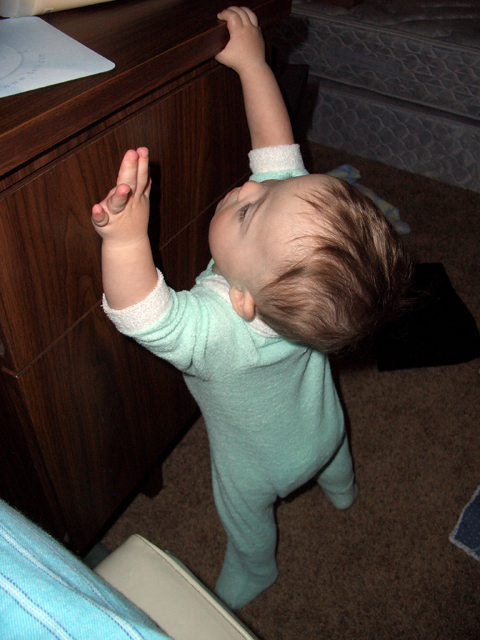 His therapists have been coming and going and all (he has three) are happy to see he's doing so well. Yesterday the speech therapist brought a toy that has three skills involved with it. The baby has to put the ball in the top of the toy, push it down, and then retrieve it when it comes out the bottom. After watching the therapist a few times, Wes started putting the ball in the top himself, and after a few more times he figured out how to push the ball down. He was really enthralled by the toy and the therapist was very impressed by how quickly he understood how to work it. My baby's a smart boy.
Wes is crawling like a maniac and has discovered every nook and cranny of the house. Plus every trash can, every tissue box, every book on the shelves…pretty much everything I don't want him in.
He's also really great about climbing the stairs. A little too great. The other day I answered the phone in the kitchen (which is around the corner from the stairs). I was away from Wes maybe a minute and a half before I realized I had left him alone in the living room, and when I rounded the corner, there he was on the stair landing, sitting and looking down at me with a big grin. He doesn't know how to get himself down the stairs yet (we're working on it), but once he gets that he'll be safer on the stairs by himself.
I took Wes to the hospital lab for a blood draw to get his thyroid checked. People with Down syndrome frequently have thyroid problems. The test checks two things: free T4's and TSH. I don't exactly know what T4's are, but apparently they're something to do with the thyroid that attaches to proteins, and free T4's are ones that don't attach to anything. TSH stands for Thyroid Stimulating Hormone. The results: Wesley's TSH looks fine, but his free T4's were a little high. But the pediatric endocrinologist said that this is not uncommon for kids around 12 months of age. Wes will have to get another blood draw in 4-6 months and be tested again.
Last week I took Wes for a walk outside. Because it was a chilly day I put him in a blue bear jacket that was a gift to him when he was born. I remember looking at it, and looking at him (barely four pounds), and thinking, "He's never gonna fit into this." Well, it took a year, but it fits him now. I think it's size 6-12 months.
I enjoyed the walk and the scenery, but Wes was sound asleep by the time we got high enough to see a nice view of the valley and mountains.
It is hard to discipline Wes because he doesn't seem to get that I'm disciplining him. I always tell him "no" when he gets to pulling at the trash can bags, but what do you do when all he does back is smile at you? And then go for the trash bag again?
Wes loves our cats. They encourage him to move.
Wes can open drawers. And smash his toes in them, too.
Wes had a little trouble on the kitchen floor in his sleeper jammies.
Wes slip and slides on linoleum
In other, non-Wes-related news, I taught part of an aerobics class at BYU yesterday and it was so much fun. The teacher was impressed and got my number for her sub list. It was my first time teaching a class, and the class at BYU is huge. Teaching aerobics is one of those things that even though you think you like doing it, actually doing it is the real test. And I'm glad to discover that for me it is 100% fun. Now I know that I will keep doing it and loving it.