This week I flew to California with my dad and Wesley to visit my dad's parents so they could meet their great-grandson Wes.
Wes was a natural flier. On our flight there he fell asleep as we were taxiing for take-off and slept for over half the flight. When he woke up I fed him a bottle and then he was bouncing around on my dad's lap in the best mood ever.
As we prepared to land at the Oakland airport we got a great view of the bay and the Golden Gate Bridge. It was remarkably clear.
We got our luggage and took the shuttle to the car rental place. When we got there we realized we had left the car seat at the baggage claim and would have to go back. We had to sneak Wes into the rental car (which was illegal with no car seat) and drive back to the terminal. I was so nervous that the car rental officials or the Oakland airport security (who are wandering all over the place) would catch us out. But the car rental guys hardly even glanced at us as we drove off with Wes in the backseat on my lap, nor did the lady in the booth who took our ticket as we left the car rental area.
When we got to the terminal Dad pulled over and I hopped out with Wes and walked right past a security guard who had seen that we were sans car seat. As I went inside I saw him hollering towards my dad, who was about to pull out. When I came back outside with Wes (in the car seat at last) I asked my dad if he had gotten in trouble. To my surprise, he said that the security guard had realized we were returning to get a car seat and was telling him he could stay parked in the no-parking zone since the terminal wasn't very busy just then. I thought that was really nice and human-like of the security officer. And how nice of him to notice we were breaking the law but trying to fix it, even though the car rental people were blind to the whole thing.
On our way to Concord, where my grandfolks live, my dad took me to the Oakland Temple.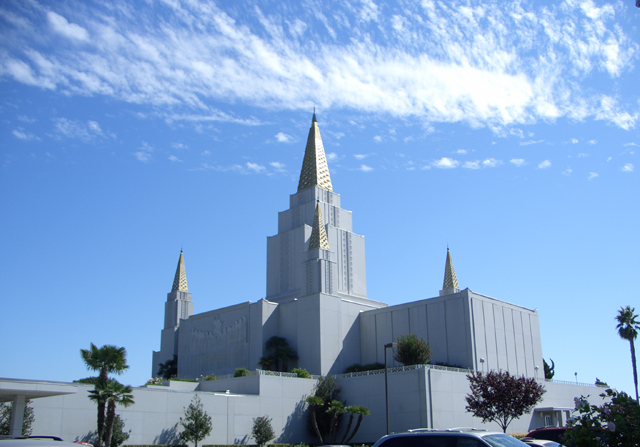 He and my mom were married there in 1976. I had only been there once when I was seven and only vaguely remember standing by a fountain out front. This time we walked through the Vistors' Center and strolled through the garden terrace that encircles the second level of the temple. It was a beautifully clear day, and from the temple we could see all the way across the bay to San Francisco. Wes was asleep the whole time.
Our hotel was the Summerfield Suites in Pleasant Hill, which was pretty much The Most Perfect Hotel Ever. I booked us a two-bedroom suite so my dad and I could each have our own room, and Wes slept in a crib in the living room between us. We each had our own bathroom and television sets, so we didn't see each other much. Just kidding; one time we actually congregated in the living room and watched The Fresh Prince of Bel Air together on the flat screen there while Wes ate a bottle. (Side note: I found out recently that my 18-year-old brother has never heard of The Fresh Prince of Bel Air. Am I that old already?) The hotel also had a large outdoor swimming pool and hot tub that I looked at longingly every time we passed it but, sadly, never had time to actually use.
After we checked into our hotel my dad and I went across the street to get a snack at Coco Swirl. It's a frozen yogurt place that has a brilliant setup and would absolutely make a fortune if it came to Provo, Utah. There are five self-serve frozen yogurt machines lining the wall, each with two flavors and a swirl. You grab a cup, fill it with as much yogurt as you want in any flavor you want, then add all the toppings you want. The cup is weighed and the price is by the pound. I got Ghiradelli chocolate, cookies n' cream, cake batter, strawberry…and a few others, I think. I topped mine with strawberries and M&Ms. It was super delicious. Wes, as you may already know, is crazy about ice cream, so we had to share.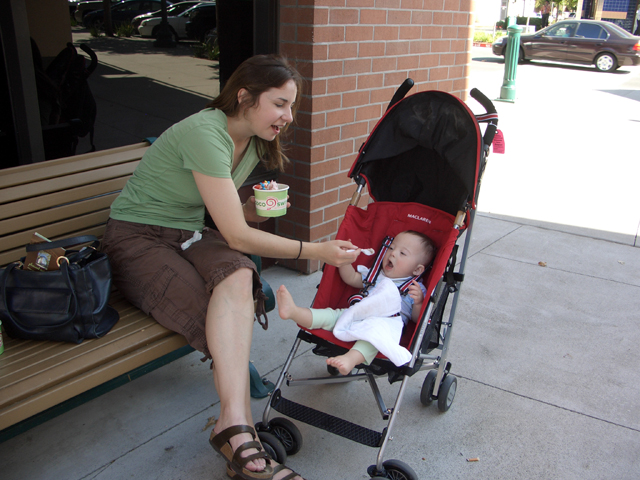 On Friday we wanted to do something touristy that my grandma would enjoy, too, so we went to Pier 39 in San Francisco and took a 2 1/2 hour tour of San Francisco on a motorized trolley. Just before we got lunch at the Boudin Bakery (egg salad on sourdough slices), which was tasty.
Here's what our tour bus looked like, and that's the Golden Gate Bridge behind it. That is all we could see of the entire bridge because it was so foggy.
Wes was strapped to me in the Baby Bjorn, and he slept for most of the tour. We stopped at three places where we could get out and walk around. The first place was near the Exploritorium, which was also the site of the 1915 world fair. A lot of tours stop here, so a lot of tourists–especially foreign ones–were milling around with cameras and camcorders in hand.
One of the first things I saw when I got off the bus was a man, obviously a local, with headphones on and six dogs in tow.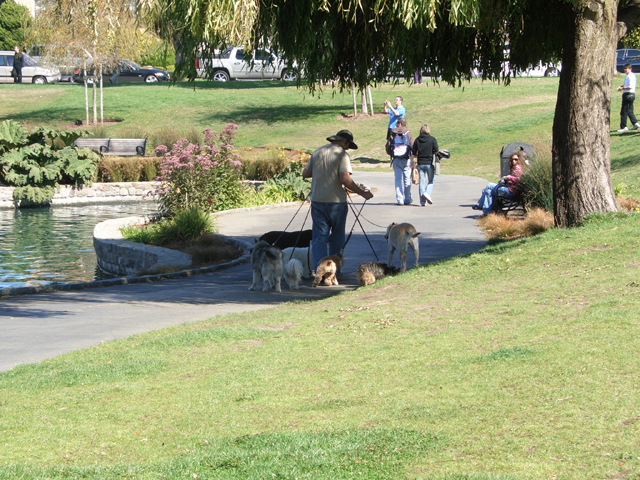 It's not something you see every day, so I grabbed my camera and snapped a photo. The two Asian girls next to me did the same. Then they turned and saw me and Wes and started smiling and exclaiming in their language. I think it must have been something like, "Oh, how cute–that woman has a sleeping baby strapped to her chest in some weird contraption we don't have back home." And then they snapped a photo of us! As I walked further on there was a Japanese man videotaping the architecture. When he saw me walk by with Wes he zoomed the camera in on him. Wes is now a Japanese superstar.
We also stopped at the Golden Gate Bridge, which was FREEZING, and amazingly foggy even though it had been clear and warm half an hour earlier. We couldn't see much of the bridge for the fog, but it was interesting to see the fog roll in (it moves fast) and to learn that there are 1300 confirmed suicides off the Golden Gate Bridge. (I thought it was ironic that after telling us this fact they stopped the bus and encouraged us to get off and walk up to the bridge ourselves.) My dad bought us a nice hot chocolate to share, which hit the spot.
Following our tour we drove to Heaven on Earth, more officially known as The Bittersweet Cafe. I'm kind of a nerd, in that when I travel I have to find at least one cool local place that is non-touristy and will leave me with good memories and satisfied taste buds. This was that place.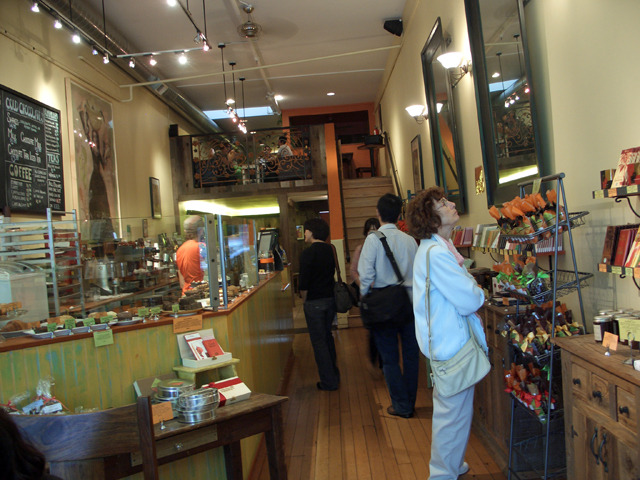 (That's my grandma standing and looking at the merchandise.)
This place has chocolate confections, pastries, drinks, and–oh, yes–hundreds of chocolate bars from around the world. I already mentioned that this place is Heaven on Earth, didn't I?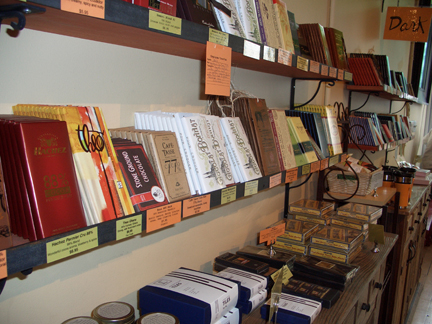 After perusing the selection I picked out a few bars of chocolate for my chocoholic husband back home and bought myself a drink to go: peanut butter hot chocolate. No mixes here. This was real chocolate melted down and blended with 2% milk and peanut butter. It was rich and creamy and warm. Pretty much, if I could pump it directly to my bloodstream, I would.
That night we got together with my cousins and their spouses. It was delightful to meet my cousin's wife Coila, whom I've talked to in the world of blogging but had never met. Plus I got to hold the newest addition to our family, the 26-day-old son of my cousin Melissa. It was a fun get-together and was over too quickly.
Wes handled the flight home fine, falling asleep about twenty minutes in and not waking up again until we were halfway home in the car on I-15.