Being a mom, you don't really get paid vacation hours. Or unpaid vacation hours. Or vacation hours of any kind.
But, unlike with normal desk jobs, you're not limited to x-number hours of vacation. You can go where you want, when you want, for as long as you want. You just have to take your work with you. And he or she has to be somewhat cooperative with your plans.
So today I took Wes to Salt Lake City for a little sight-seeing. After living around here for nearly ten years, I realized I've never done proper touristy-type things, and there's no time like the present. I also got to try out our new lightweight stroller. I needed something light and compact (unlike my very bulky, very heavy jogging stroller) and after some research and hands-on experimentation I decided on the Maclaren Triumph. It only weighs about 11 pounds and turns on a dime. It's fantastic.
The first thing Wes and I did was take a guided tour of the Conference Center. It was the first time I've been on the roof to see the garden up there. Wes and I enjoyed the view of downtown Salt Lake.
Then we stopped in at the Lion House Pantry and picked up a lunch to go (chicken, mashed potatoes, veggies, and a world-famous roll). It was "to go" because I had to go and feed the parking meter again. Two hours went by fast.
Next we toured the Church History Museum and peeked in at the original 1847 log cabin right next door.
Lastly, we walked around Temple Square, took some photos, and watched a wonderful presentation on eternal families in the Visitors' Center.
With all the construction happening in the downtown area, walking through Temple Square really does feel like the most peaceful experience on Earth. You can't hear the construction (which, I can attest, is loud). It's so quiet and comfortable. Here are our attempts at photos on Temple Square.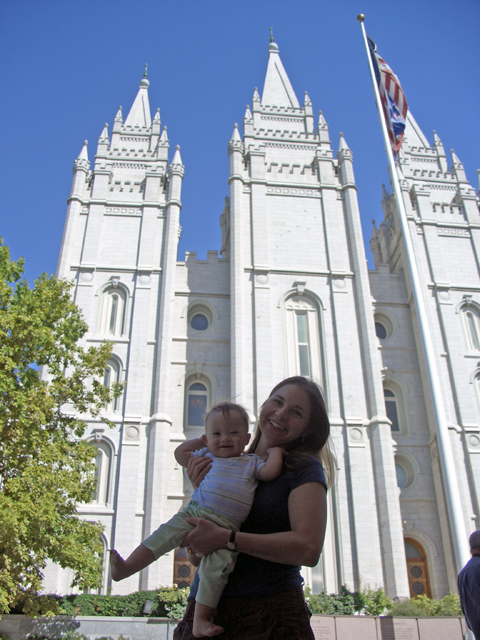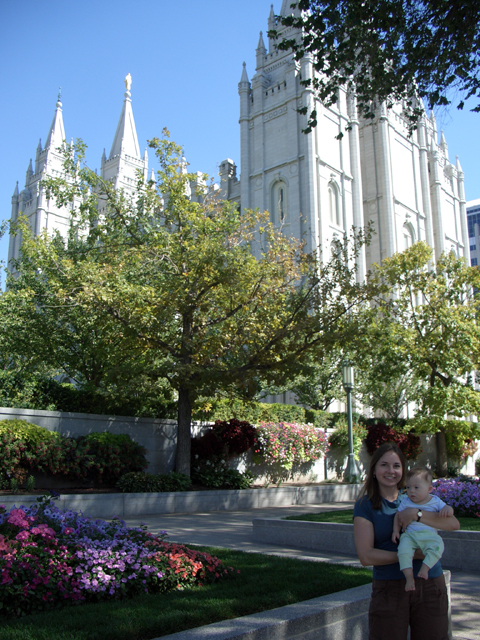 We stopped at my brother's place in the Avenues for a visit with his wife and their two kidlets. Wes got to play with his six-month-old cousin Ethan. This photo makes Wes out to be a giant, but actually Ethan has the edge on Wes in the size department.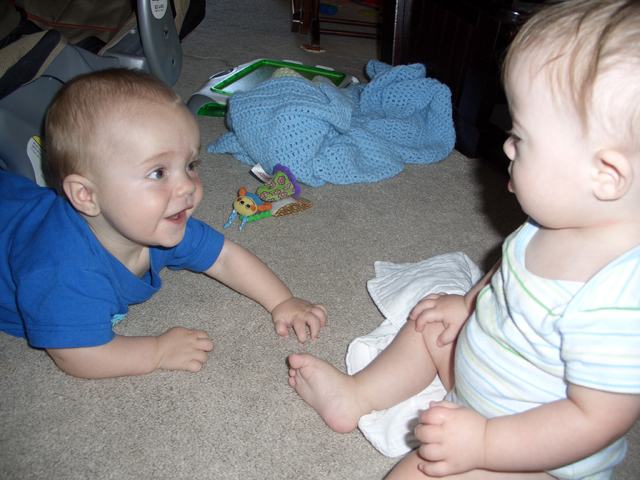 There was a lot of this going on:
On the way home we listened to Harry Potter and the Deathly Hallows on tape and stopped in American Fork at my favorite bakery, where we had ice cream and a slice of Asiago cheese bread and bought two cupcakes to go.