Wes has only been in Iowa for six days, but the Iowa corn air must be good for him because he has picked up several new skills since coming here.
1. Holding up his own bottle
John's been working on this with him for months, but suddenly, when John's not here to appreciate it, Wes decided to start holding up his bottle by himself. I find it extremely liberating for both of us. Now I can eat my own breakfast while he eats his.
2. Eating in high chair
We don't have a high chair at home, but my folks have one. Yesterday was his first eating-in-a-high-chair experience.
3. Holding onto feet
A few months ago his therapist asked me if Wes was beginning to grab onto his feet yet. I told her that I thought he didn't know where his feet were and didn't care. Well, all at once he's found his feet (finally) and likes to hang on to them, too. Yesterday I saw him sucking on both big toes simultaneously.
4. Playing in bath
At home Wes sits in an infant bath that is reclined and not roomy enough for toys. But my parents have an inflatable rubber ducky bath that lets Wes sit up while he bathes and has room for him to play.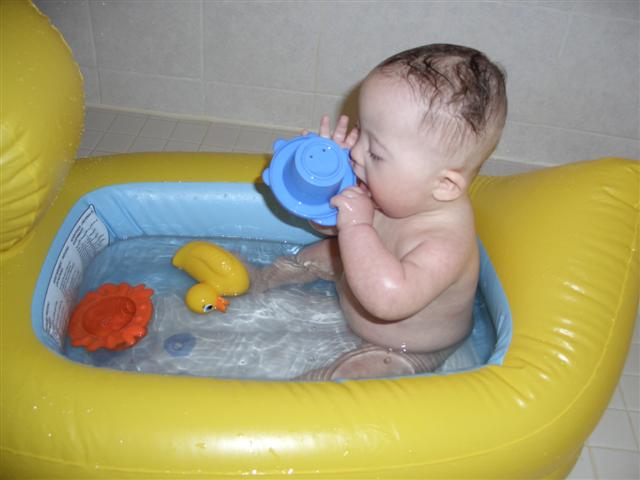 He loves it. He's not totally stable because the bottom of the bath is inflated like an air mattress, so he bounces around while he plays. But he generally manages to keep his balance.
Here are a couple videos from bath time. After the second video ended Wes reached so far forward to grab a toy that he fell face-first into the water. I pulled him up before he had a chance to inhale, but that was the end of bath time.