We used to have other things to post about on our blog before Wes was born. Honest. I can't seem to remember what those things were . . . but I know they were there.
So, in other news, here are some things that have been happening around here that don't necessarily involve our baby.
1. John and I went skiing last week at Sundance. It was John's annual company Christmas party wherein the employees and their significant others bundled up and spent all day in sub-freezing temperatures just to strap on thin metal deathtraps and slide helplessly down the side of a mountain. Well, a lot of the others were sliding a bit more in gracefully than I was. Let's just say skiing doesn't make sense to me and I'm not sure why people pay money to do it. But John enjoys it and so I try to. At the end of the day we ate a yummy dinner catered by Sundance and exchanged white elephant gifts. John and I ended up with a $25 Applebees gift card and a neat-o vacuum. But we were nearly stuck with a box of golf balls (thankfully one of the men exchanged his vacuum for it).
2. I have begun to learn the art of coupon clipping. It's exhilerating. Really. I live for the part of shopping where the sales clerk hands me my receipt and it says at the bottom: "You saved $-.–". The best savings come when you use a coupon on an item that's already deeply discounted by the store. Double savings. I added up my receipts this morning, and since I started using coupons in November I've saved $56.44.
3. Did you know we have a kitten? He's Grayson and he terrorizes our older cat, Kyra. We brought him home in July and he's grown like crazy since then. He's almost as big as Kyra now.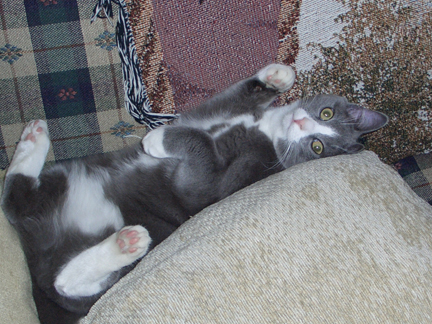 4. After a nine-year hiatus I've started playing the cello again. I played from the age of nine until I left for BYU at seventeen. My cello stayed at home in Iowa because it's the family's. But my parents brought it out to me this summer, and I've been playing it ever since. I gave myself a reason to practice by volunteering to do a musical number in sacrament meeting the week after Christmas. The song was Silent Night. A teenage boy sang, a woman played the piano, and it was a lovely arrangement. It's refreshing to be playing again.
5. John is working on his writing again. He's been studying Joseph Campbell's A Hero with a Thousand Faces and learning a ton about archetypes and how to structure a hero's journey in literature. We were watching Star Wars the other night (George Lucas wrote the script after reading Campbell's book), and John pointed out to me each stage of Luke Skywalker's journey. Really interesting.