August in a wink:
My Birthday

John watched Carissa in the morning while Wes was at school so I could get my hair cut and have a pedicure. Later my neighbor watched both kids so I could enjoy a peaceful lunch at one of my favorite places with this guy: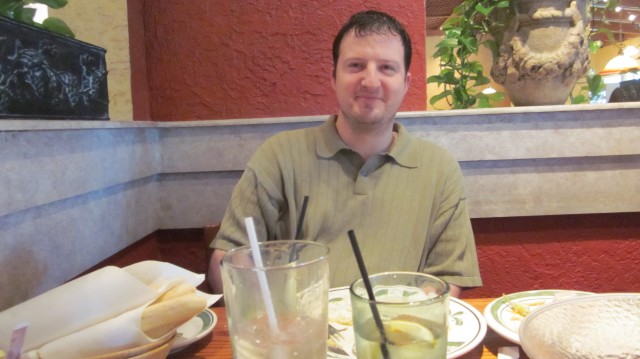 It is always so much nicer to eat without children around. And I got my birthday ice cream.

We kept it simple with pizza and a cake from Costco. My sister and her family shared the festivities with us.

Popcorn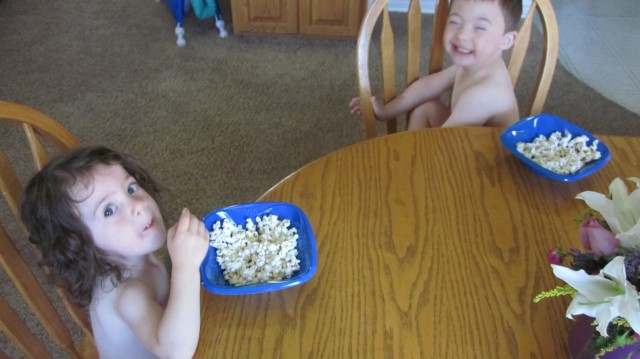 Mail and Name tags
When Wes finished his summer session of preschool he brought home his name tag. Carissa instantly cottoned on and wanted one of her own.

She hand-decorated it with her signature scribbles.

Wes saw a segment of Sesame Street where Elmo talked about mail. And all of a sudden he was really into writing letters and posting mail. I think he likes to lick the envelope best, and Carissa likes to put on the sticker-like stamp best.

Our cousins, aunts, and grandmas and grandpas have been getting a lot of mail lately from Wes and Carissa.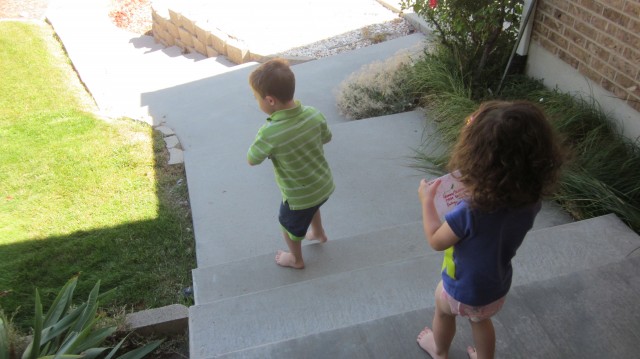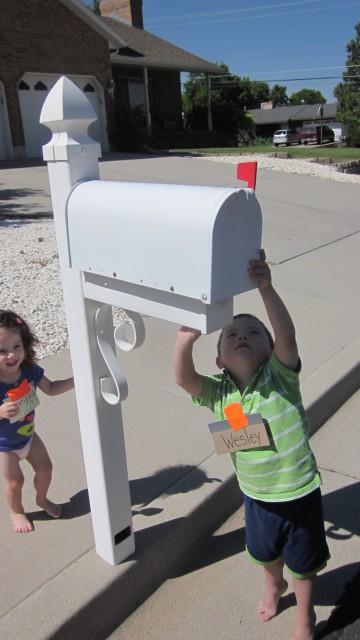 Olympics
We watched the Olympics on TV a lot, which Wes loved because he is really into sports. He cheered on the athletes, and if they struggled or missed a shot he'd say, "Oops, try again!"
I started to recognize the influence the Olympics had on Wesley pretty quickly. He started doing flips and gymnastic-type things like headstands all over the house, and I caught him directing an Olympic-style race with Carissa, complete with the crouched start.

Sundance
A week after my birthday I got the other thing I wanted (the first being a lounge chair for the backyard so I can appropriately lounge while the kids play): a night out to watch a play up in the mountains. The performance was "Seven Brides for Seven Brothers," one of my favorite musicals of all time.
John had a headache, and I didn't have Tylenol with me like I usually do, so he spent the first half of the play like this:

During intermission I asked random people if they had any Tylenol or such, and I finally found a nice girl in the ladies' room who led me back to her seat and gave us a couple from her purse. Relief! And John could enjoy (as much as he can enjoy) the rest of the musical. I loved it.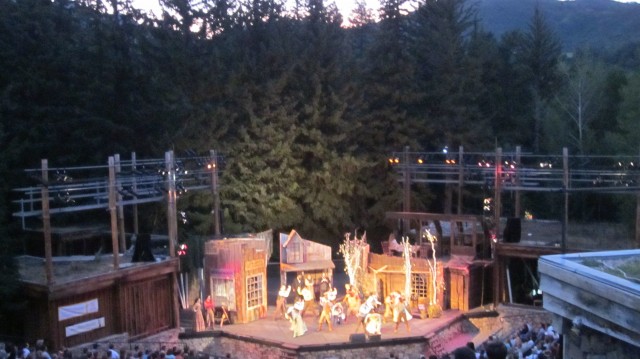 Carissa's 2nd Birthday
This little princess turned 2.

I wanted to get her a special girly cake for her birthday, but as I looked around they were all so expensive. I decided to compromise: I made the bottom layer myself (using cake mix, even) and bought the top mini cake at a grocery store. I ordered the little Dora figurines online for just a few dollars.
My thoughts about trying to make a cake myself: 1) I'm not very good at it. It looked kinda sloppy up close, but from a distance it wasn't too shabby. 2) I'm not 100% convinced the saved money was worth all the time it took to bake, cool, frost, and decorate myself.
But, she had a cake. And it was pink. And it had Dora, her most favorite character in the universe right now.
The cousins came over to share her birthday.

Wesley blew out her candle, but she didn't mind.

After cake the kids went outside for ice cream cones ("ice keen cones")…

…and to play.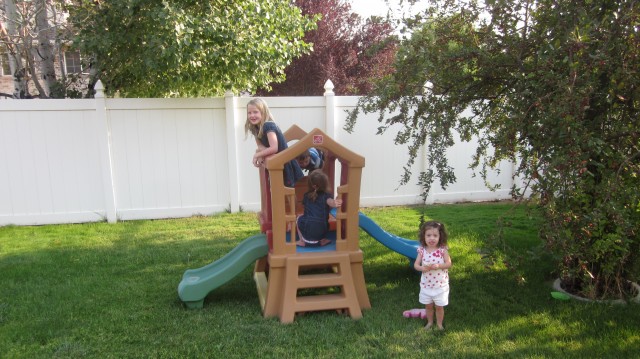 The kids trooped back inside for gifts.

With cousins around, there were many helpers to open the gifts.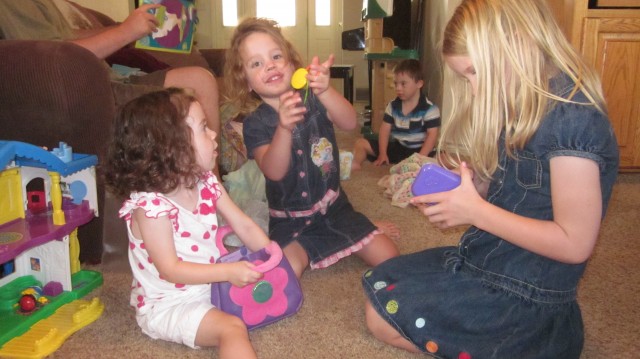 This was the first time we got Carissa real girly toys, geared directly at her; previously she just played with the toys we already had, which were originally Wesley's. The verdict: She LOVED her new toys!
We got her some Dora the Explorer books, which even now (two months later) are her favorite books.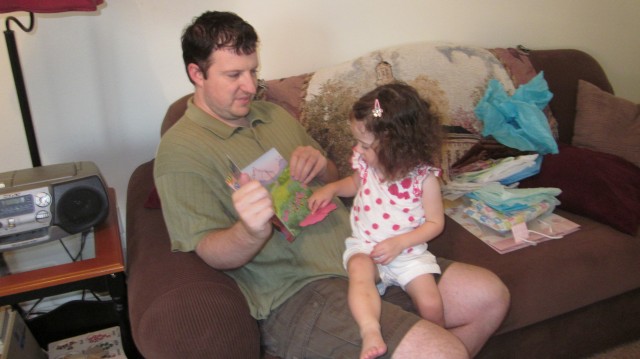 I found a used play kitchen for cheap in the online classifieds.

Her aunt Tara gave her a doll, which she instantly fell in love with. Add the doll to her new baby stroller and toy purse, and Carissa was in full Mommy mode. She loved it all.

Cruisin'
One day I looked out back to find the kids and didn't see them anywhere.

Upon closer inspection…

They live the good life, for sure.
Carissa's Outfits
We are constantly amazed at Carissa's creativity and strong-headed independence. Wes is a little (a lot) more subdued. For instance, he doesn't care what he wears, but she usually has an opinion about what shoes to wear, whether or not she wants to wear a hat, or if a walk outside necessitates certain accessories like a backpack, purse, and balloon.
Her favorite accessory is definitely her pink Hello Kitty sunglasses. And her favorite place to eat anything is the back steps. She likes cereal and milk, which is also different from Wes. Her favorite kinds are the Dora the Explorer cereal and Cocoa Krispies.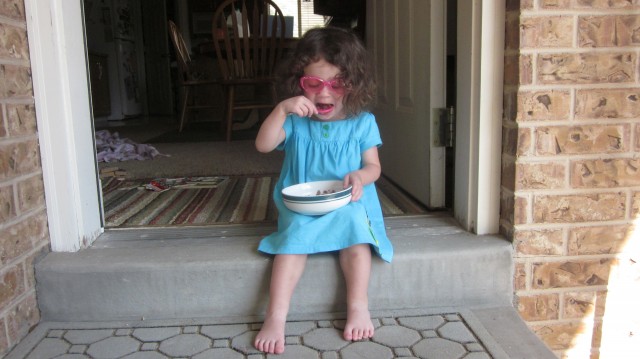 Water
Wes loves playing in the water. He wanted to go to the swimming pool a lot (like, almost every day), but I just did not have it in me to take him more than twice (it's a lot of work for me). As a consolation prize we have a wading pool in the backyard, which he still really enjoys. He likes to put rocks in the water and toss them around. I also invested in a water squirters, which both kids like.
Umbrellas
I found Carissa's pink umbrella for 50 cents at a yard sale. She likes it almost as much as her sunglasses.