On Thursday we left Bath, England and took a train to Leeds, which is about four hours north. We were using BritRail England passes, only available to tourists. It costs a bit of money but offers flexibility. We just showed up at train stations and hopped on the next train to wherever we wanted to go. First we took a short trip from Bath to Bristol, and then a long train to Leeds.
There are a few different train companies in England and we used about three of them. Each one was different. The train from Bristol to Leeds was different than others we had ridden. It was a long train, going from southern England to Scotland. Above every seat was an electronic strip that indicated some seats were reserved for certain legs of the journey. So we had to find seats, together, that were open for the duration of our trip. We managed it. And we managed to get the kids to sleep for a least a small portion of the trip.
We actually wanted to spend two or three days in York, which is a smaller, historic town near Leeds but it was so expensive ($200+/night for cheap accommodation) that we opted to stay in Leeds instead. It's only about a 20 minute train ride between the two places. I used Priceline to book our hotel. Sometimes Priceline can be a real gem. Instead of $200+/night we booked a Marriott in downtown Leeds within walking distance of the train station for $78/night.
Our hotel:

I think this was my favorite hotel we stayed at. Our room wasn't giant (two double beds with a little port-a-crib squished against the wall for Carissa) but it was nice and comfortable. It also makes me feel better that we got a good deal on it.
When we arrived the mini fridge was stocked full of treats and drinks with a sign warning us not to move anything unless we were willing to buy it. An electronic sensor automatically detects if something is moved, and it charges it to your bill. We asked them to come clean it out and turn off the sensor, and then we had room for all the stuff we actually needed to put in there, like our many liters of milk and pots of yogurt.
What can I say? Wes loved having a big double bed with down pillows all to himself.

Carissa was fond of her crib. This was the only hotel that gave us a baby blanket to use with the crib in addition to just a sheet. It was a nice touch; Carissa loves blankets.

The kids also loved playing with the many, many pillows and cushions, transferring them from the bed, to the chair, to the floor, to the crib, and back again.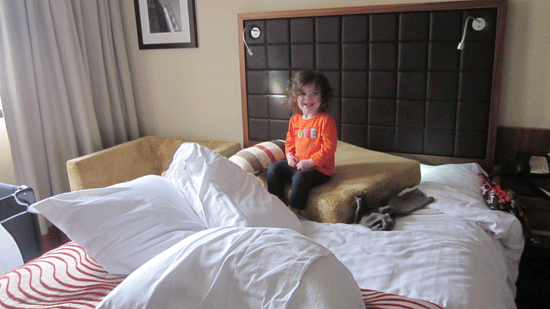 Our first night in Leeds was spent getting groceries at M&S (love that place; it's a department store with clothes on the main floor and a posh grocery store in the basement) and eating dinner at McDonald's. McD's was such a welcome break from typical British food. However, the menu was different than ours in America. They served American-style glazed donuts in cases on the counter instead of the cookies you see here. They had different styles of sandwiches. And when I asked for a hot fudge sundae (a McD classic, right?) they were confused and gave me a caramel sundae, which is all they offered.
Kids looking at the second floor window at McDonald's at the buses.

The next day, Friday, we took the train to York. We could never figure out which platform had the next train to York (the electronic signs show the final destination, not the next stop) so we always had to find someone to ask.
At the Leeds station:

With Grammy and Guy:

The York station: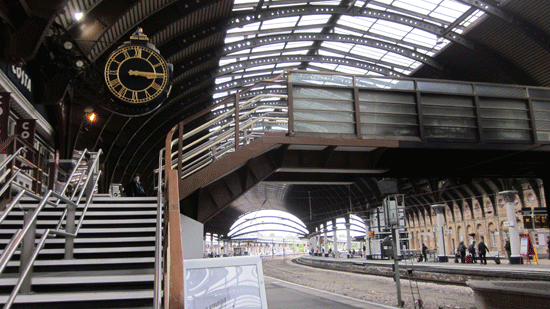 We really liked York. It's old, founded by Romans in 71 AD, and the original city walls still stand and you can walk along them.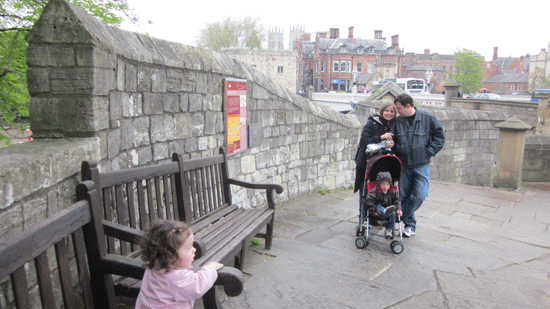 You can see famous York Minster in the background:

It even has the old arrow slits in tact, used for shooting arrows at enemy attackers.
Our attempt at a group photo, but Carissa just wanted to hold the camera.

Some of the sights along the pleasant walk from the train station towards the York Minster. (That's the nice thing about York: you can walk to everything.)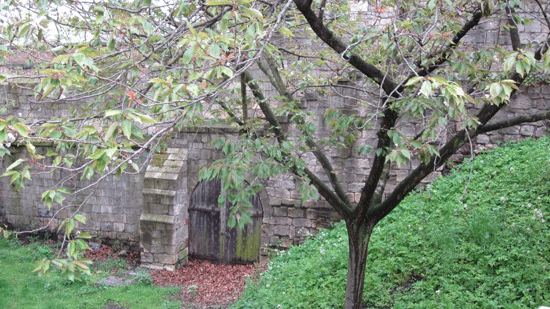 The big attraction in York is the York Minster. It's home to the Archbishop of York, the second-highest office of the Church of England. I saw a lot of Gothic-style cathedrals when I was a BYU student touring England, but I never saw the York Minster, and it is one of the best. Seriously stunning. Probably second only to the Canterbury Cathedral (which is home to the Archbishop of Canterbury–THE highest office of the Church of England). Seeing the York Minster was one of the highlights of our entire trip.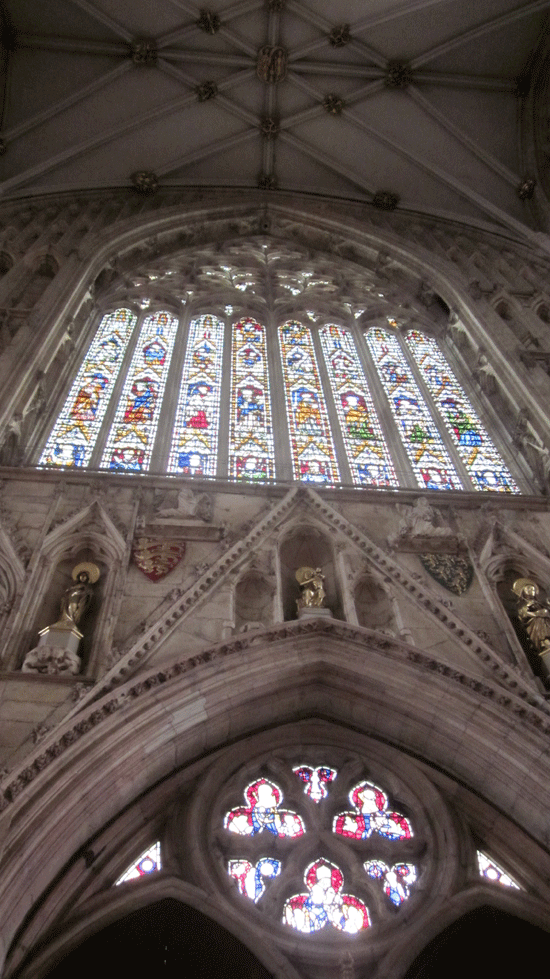 One of the best parts of our visit was that it was during a live organ concert. There is nothing better than walking through an ancient Gothic cathedral with the organ music reverberating all around you.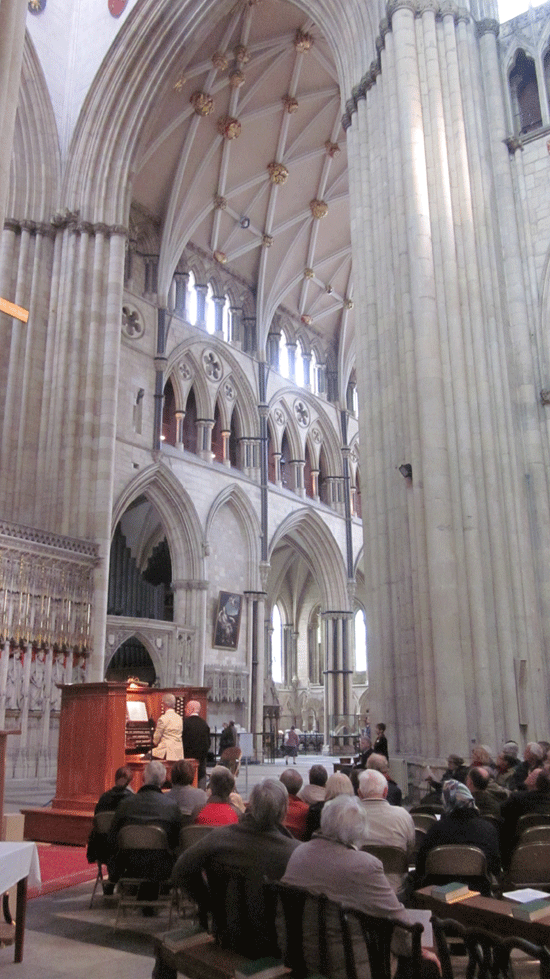 There was a cool line of statues depicting kings.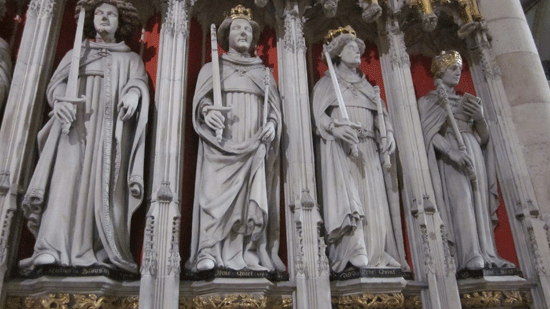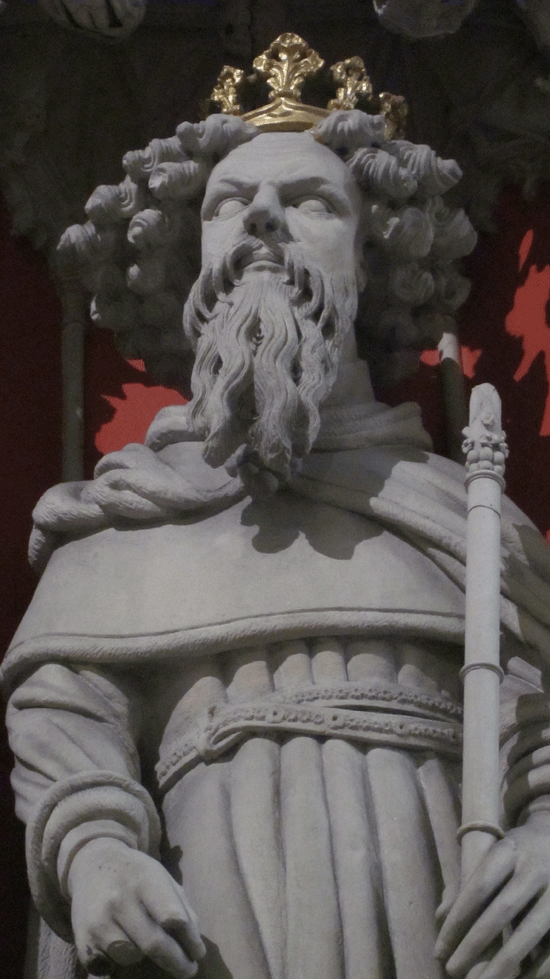 Wes examining a coffin.

Carissa slept through the whole time.

The York Minster is famous for its East Window, the largest example of medieval stained glass in the world. But it was under renovation. Instead, they had a huge digital picture of the window hanging in its place.

Some cool architecture on a door to the Chapel House.

Part 2: museums, treats, high tea, and getting ready to go to Spain!