The thing with having kids and no (other) full-time job is that you really can make your day what you want, but you have to be willing to do it more patiently and usually at a slower pace, accepting that you'll probably accomplish a smaller portion than you would if you were on your own, when you have your kids in tow.
I've decided that it's silly to wait around until my kids have had all their naps and it's convenient to go someplace, because by then the day is better than half gone. So we go when I'm ready to go and take things as they come.
This week we spent a long afternoon visiting Parade of Homes houses. Wes took a nap in the car (within close sight) while Carissa and I ate a rather leisurely lunch at My Dear Lizzie. We (I) had a nice salad and croissant sandwich while Carissa played on the floor.
I didn't buy any sweets here, but don't they look good?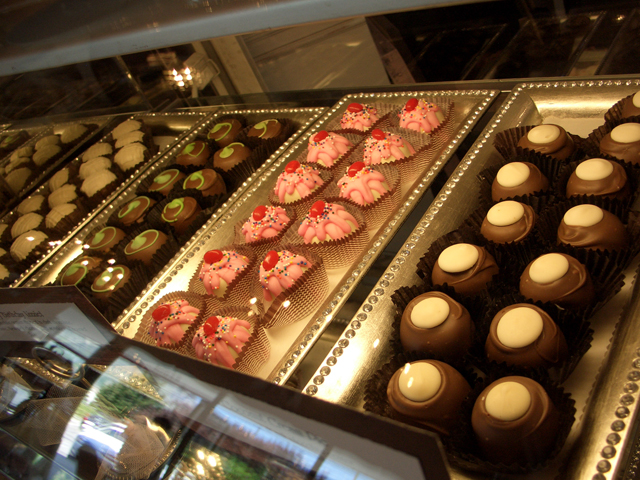 Today I took the kids out for lunch and a stroll in the Riverwoods shopping area.
And I discovered the best-kept secret of the Rocky Mountain Chocolate factory. John never wants to go in when we're in the area together, but since he wasn't there I figured I'd do what I wanted for once.
Did you know they sell this?
Chocolate dipped frozen cheesecake.
No, I am not making this up. Such heavenly dessert fare actually exists here on Earth. They fresh-dip the frozen slice in melted chocolate so when they hand it to you it's still wet and takes a few minutes to harden.
It was so yummy.